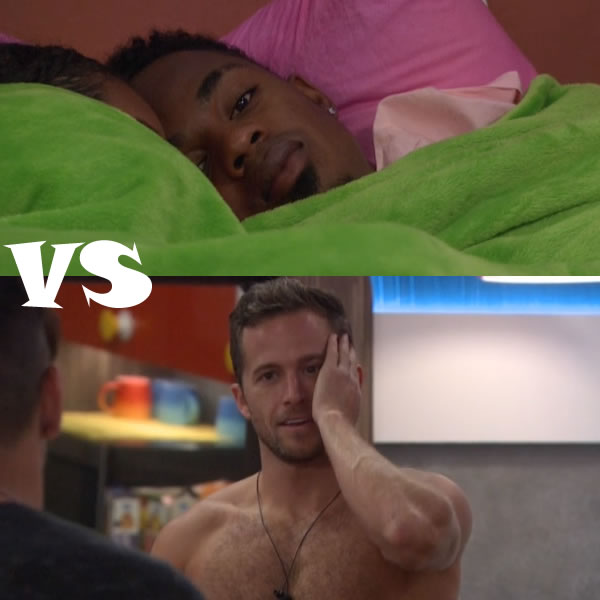 When Kaitlyn won the Head of Household I sent Dawg a message "Buckle up we're entering loony toons". I was wrong the week wasn't loony toons but the HOH sure the hell is. In Kaitlyn 's own mind the fandom is blown away from her move, it's more like we're blown away from her crazy. She pulled the backdoor off and got one of the more talked about Big Brother 20 house guests on the block slated for eviction. With powers still in the game there's no guarantee someone will be going home for good. Wouldn't it be crazy drama if Swaggy came back two weeks down the road to enact revenge? (production is sitting around with b****s right now thinking about it)  This season is different than what we've gotten use to watching. These houseguests are playing pretty darn sloppy but are playing hard and are learning the game as they go along, I love it!
Part 1 Catch Up From Last Week
Last week Sam and Steve were on the block for eviction. There was 2 side in the house, the side with the numbers wanted Sam out. Sam got the BBapp powerup. Tyler used this knowledge along with a falling out Kaitlyn had with Swaggy and his group to convince Kaitlyn to flip her vote thus saving Sam from Eviction. Kailtyn goes on to win the Head of household and blow us all away. read more –  Big Brother 20 Week 1 summary .
Part 2 Nominations
On July 6th Friday morning @10:30am Kaitlyn had this conversation with Tyler. sealed with a pink swear.
Kaityln – I want to backdoor swaggy this week that would be a cool move..
Tyler – I would say Bayleigh and a pawn
Kaitlyn – I'm not putting up Bayleigh
Kaitlyn – I might use Scottie as a pawn
Kaitlyn – maybe I'll do Scottie and Winston
At 1:53am earlier that morning Tyler told Rachel that Swaggy was the target. This is who Tyler has been pushing to be the target having Kaitlyn win the HOH was perfect because she was already pissed of at swaggy and his group.
Kailtyn nominates Winston and Scottie at this point she is telling her Swaggy side that Winston is the target if Veto is played Angela goes up and is the target. She tells the Tyler side that Swaggy is the target and that POV will get used and Swaggy will go up.
Kailtyn has a conversation with Swaggy at 1:53pm on the Friday asking him if he wanted to be picked as host.
Kailtyn – do you want to play or Host
Swagz – yeah I'll host.. I'll gladly host.
Part 3 Power of Veto
The power of Veto players were picked:  Scottie, Winston, Kaitlyn, Tyler, Fez, Rachel. Kailtyn starts spreading that SwaggyC is the target she wants to be remembered for big moves.
Kaitlyn – I have not forgiven Swaggy.. so he has to leave..
Rachel – so everyone will technically use it
Kaitlyn – yes everyone will use it.. there's no options where this won't work (unless Fessie wins)
Kailtyn – I just really hope Fessie doesn't get it because that will be F*****ed up
Tyler wins the power of Veto there isn't much play that goes on. He makes it clear he's using it on Scottie so that Kailtyn can put up Swagz. Her plan can be summarized by the quote below..
Kailtyn – I'm going to play it up like I'm putting up Angela, at the very last minute I'll be like Ohh I'm so sorry Swaggy get up
Kailtyn – I want to see Bayleigh next.. (evicted)
Brett – she's going to blow up she'll put a big ol target on her back
Kailtyn – I f***ing love her as a person but last week was traumatizing for me..
Part 4 Power of Veto Ceremony
Parts of the house are finally cluing in on Tyler's game. Rockstar and Haleigh being the prime candidates calling Tyler Palpatine and generally not trusting him anymore. Rockstar starts to make it known she wants Tyler out "Tyler has to go he's the root of the disturbance in our force.. he's Palpatine"
Tyler uses the power of Veto on Scottie and Kaitlyn puts ups SwaggyC in his place. There's s no BLOW up like we were thinking. 
Part 5 Pre eviction
Swaggy starts campaigning..
setting the record straight with what he said about Kaitlyn "swearing on my dad's dead grave"
one on one with in house therapist and the real life coach Sam "Open the Swaggy gate. Straight up, unzip your chest & let your heart fall out."
Change your name from  SwaggC to Sunshine Swaggy (he never did this)
Is Sam getting Second thoughts? She was pretty adamant to Tyler that shes not using the BBapp power up on Swaggy. 
Does Kailtyn want Swaggy to stay? Kailtyn is crazy that I wouldn't doubt she's going to flip 90 times before the final vote. She has told Swaggy if the vote is tied she's leaning towards keeping him. She's also said: "Wouldn't be our fault if Sam voted that way .. if that's what she wants to do"
Wednesday there was massive campaigning done By swaggy and Rockstar (here and here) which just made it worse for him. Rockstar now appears to be a major target. This has a lot to do with the fact that Tyler is in the best position in the house. Swaggy and Bayleigh having run through all their options have one last snuggle for us all to see. 
Where does this leave us?
Swaggy is most likely going home. After tonight it's not really Swaggy sides vs Tyler's side anymore. Hopefully Tyler's power gets checked.

This Weeks Big Brother Outrage
July 5th 8:35:40pm cam 1 Kaitlyn says the N word
Scottie – 0 to 100
Kaitlyn – I did go 0 to 100 real quick N****
Kaitlyn – I'm getting F***ing drunk tonight.
Apparently this is a song lyric "We go 0 to 100 ni***, real quick"
Kailtyn's boyfriend is having dealing with Kaitlyn's constant flirting with Fez, Brett and Tyler. I wont' bother documenting all the instances..  There was her telling Tyler she wants to kiss him 
Kaitlyn's Boyfriend sister and Ex friend @cbkay89
I'm aireatlantica's sister and Kaitlyn's former friend. Stop tweeting at him. We are all aware of her psycho and out of character antics. Trust me, he can and WILL do much better than her and doesn't need anyone's pity. If you want to support him, follow and share his music
Head of Household and Eviction results
SwaggyC superstar.. "SwaggyC SwaggyC SwaggyC"
Winston "I'm not swaggyC"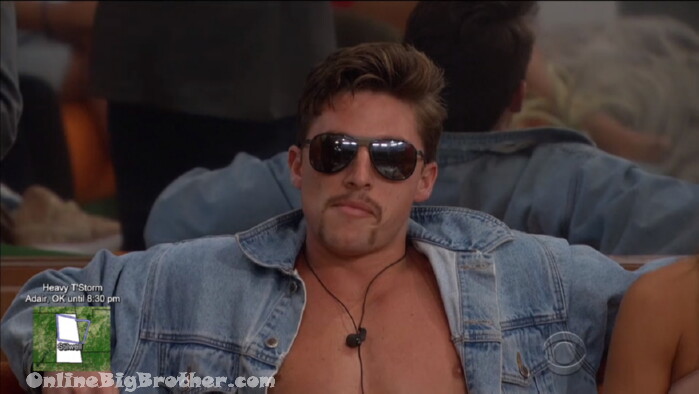 Brett's awesomeness…
Scottie Votes to evict: SwaggyC
FEs Votes to evict: Winston
ROCKSTAR Votes to evict:Winston
Angela Votes to evict: SwaggyC
JC Votes to evict: SwaggyC
Rachel Votes to evict: SwaggyC
Bayleigh Votes to evict: Winston
Haleigh Votes to evict:Winston
Tyler Votes to evict: SwaggyC
Kaycee Votes to evict: SwaggyC
Brett Votes to evict: SwaggyC
Sam Votes to evict:SwaggyC
Swaggy Evicted..
*** Note Julie told Swaggy that Haleigh voted for him to stay. therefore no pre-jury return.
*** Last week for BBapp store
*** Swaggy is pissed off at Tyler "don't talk to me after the show ends, you're soft"
Head of Household Competition
Video 1
Q1: Kaycee out
Q2: JC, Haleigh, Brett, Tyler, Bayleigh, Winston, Angela out
Q3: Sam out

Video 2
Q4: all got it right
Q5: ROCKSTAR out
Q6: Fes out
Q7: all got it right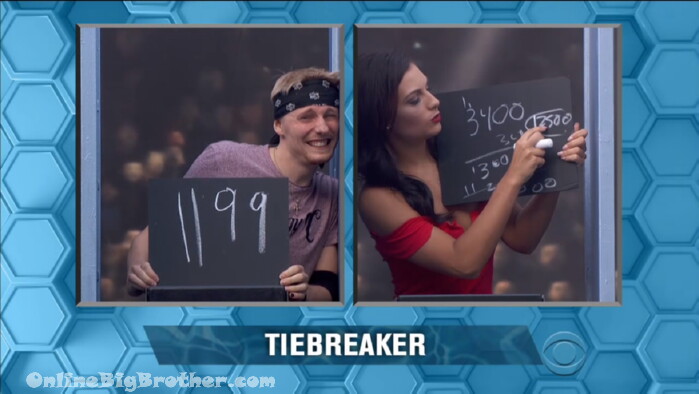 Tie breaker question: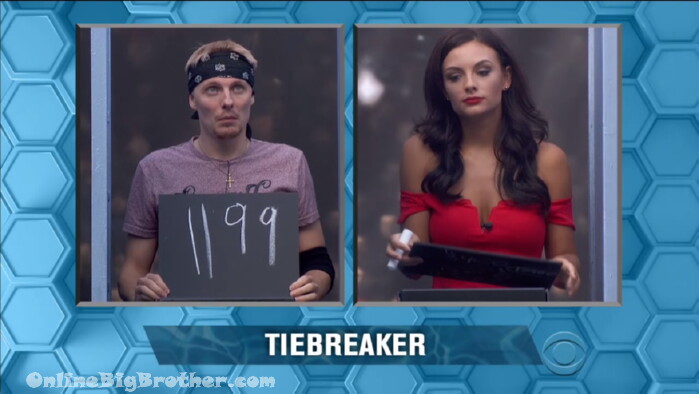 HOH Winner is Scottie
For all you folks that need a VPN I use this one
Rank the houseguests!
Easiest way to Rank the house guests use link below