| | | | |
| --- | --- | --- | --- |
| POV: | Scottie | Next POV: | July 21st |
| POV Used | ? | POV Ceremony | July 16th |
| HOH: | Scottie | Next HOH: | July 19th |
| Noms: | Brett & Winston | Have Nots | Angela, Sam, Tyler, Brett |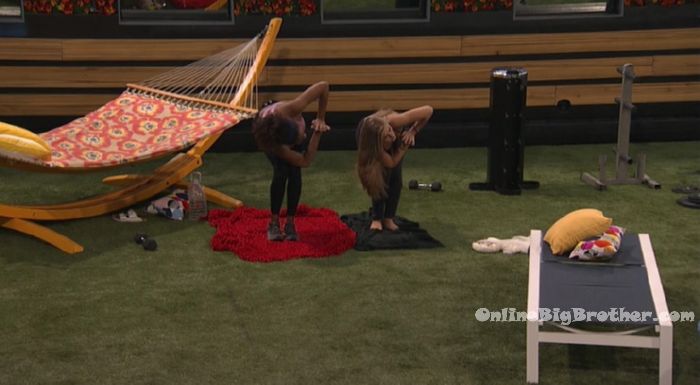 9pm Backyard. Tyler tells Fes, Haliegh and Bay that Scottie wants to talk to them in the HOH room. Just about some miscommunication. Bay – tell us? Fes – the paranoid sh*t. Tyler – yeah. Haliegh – that scares me right there. Bay – I think Kaitlyn said something she shouldn't have said. Haleigh – to? Bay – to Scottie. If she did, I swear to god I will kill her.
9pm HOH room. Scottie, Haleigh, Bayleigh and Fes. Scottie – so from what I hear, Kaitlyn came to you and said that I was putting her up basically. That is not what was said. You got called to the havenot room to read and I said I had to go to the bathroom real quick and I would be in there. I was in a hurry and Kaitlyn asked what's wrong? I said nothing I am going to listen Haliegh read. She asked if she had something to worry about and I said point blank unless he (Brett) has a power, you have nothing to worry about. Apparently she took that the wrong way and left, told you two and Rockstar that what I said was that I was putting her up. Bay – she actually told me, Brett and Winston at the pool table. Scottie – it doesn't matter if they know because they don't have a power anyways. Rockstar came up here and we talked about it. I said exactly what I said. I then went to bit it in the a$$ and talk to her (Kaitlyn).

Kaitlyn said word for word that Fes was there and he will agree with me. I said no, Fes knows what I actually said. She is making it sound like you're going to go around and say that I actually said that. That's bullsh*t. Fes – why is she doing this right now!? Scottie – Tyler and I talked about it. This is the first time I will break my word to somebody. Right before I saw you in the hammock that night, Brett had that secret meeting with me. Remember when I said this is what I think he.. that was word for word what he said. SO I wanted to tell you without breaking my word. He pitched that the three of us (Winston, Brett, Scottie) should have a final 3. No one would see it coming. We could put each other up as pawns. He said you could put up Kaitlyn and people would see it as a revenge killing. Its revenge, its easy and no one would see it coming. I told him that I had reservations about his plan. One if we make final 3 you two are picking each other over me. Which they denied. Two if you put me up as a pawn I have two comp wins in one week, I am easy hanging fruit and I'm going home. They said think about it. I then went down and told you (Fes) everything without telling you everything. Its funny because she thinks he is defending her but he threw her a$$ under the bus.
FLASHBACK and watch everything you missed: Live Feed 7 day FREE Trial!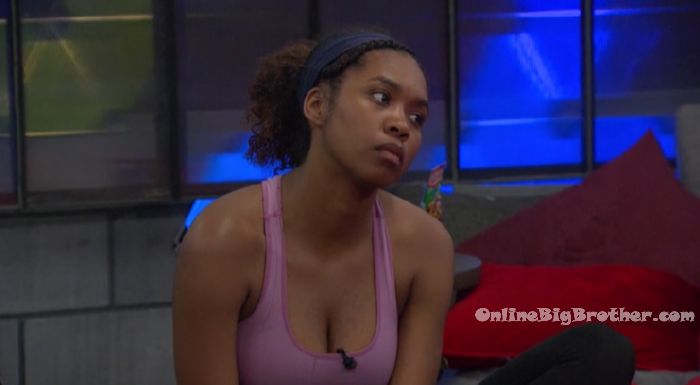 Haleigh – interesting. And the plot thickens. Bay – its actually super interesting. Rockstar joins them. Scottie tells everything to her. Bay – all the extra drama is unnecessary and I want it to stop. Scottie – that's what Tyler and I were talking about.. we don't know why its happening. Rockstar – you can't help it, the doctor (diary room) talks to people and adds drama. Haleigh – I was paranoid on your noms because of the doctor. Haleigh – so what is the next move? Scottie – the next move is to not use the veto and see what happens.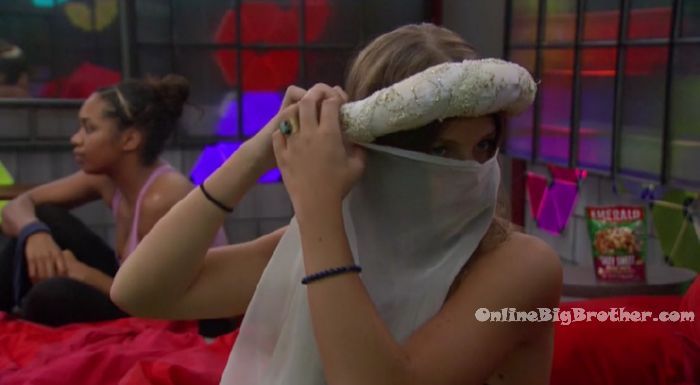 9:35pm – 9:40pm Haleigh goes to get Kaitlyn and brings her up to the HOH room. Scottie – I am going to tell you why I think you're sensing something from me. Kaitlyn – I think I already know. I had a dream that Brett and Winston wanted you to put me up. Then Haleigh wakes me up and tells me Scottie wants to talk to me. So wait was that a real hit!? Scottie – yes. Kaitlyn – I am more impressed with my skills. Rockstar we should have a house meeting. Kaitlyn – wait can I call it!? Scottie then tells Kaitlyn all about Brett & Winston wanting him to put her up as a replacement and about how they wanted a final 3 deal with him. Kaitlyn – you have never seen what you're about to see.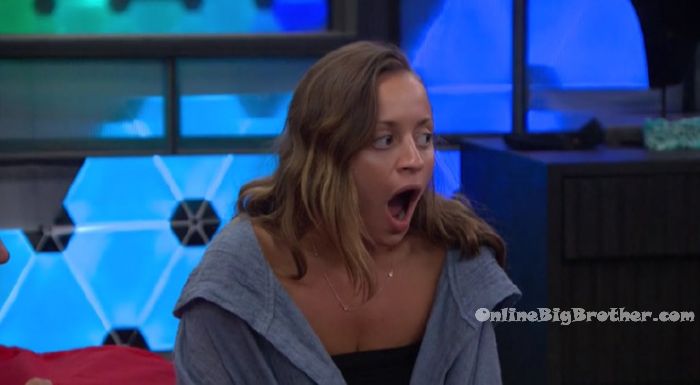 Kaitlyn – wait feel my heart beating.. I'm not trying to be perverted. Fes – wow it is! Kaitlyn – should I call a house meeting? Fes – no do not. Scottie – I would wait to see if he has a power.
9:46pm Kaitlyn come out of the HOH room. She hangs over the balcony and calls down to Brett and Winston. Kaitlyn – YOU AND WINSTON BETTER TELL ME WHAT'S UP!? I am giving both of you the opportunity to tell me what's up! Like just lay it on the line and tell me what's up! Brett – what's up. Kaitlyn – was there a conversation that was had up here last night? Winston – do you have a power? Kaitlyn – no I do not have a power this week. I am asking what you two said about me, yesterday?!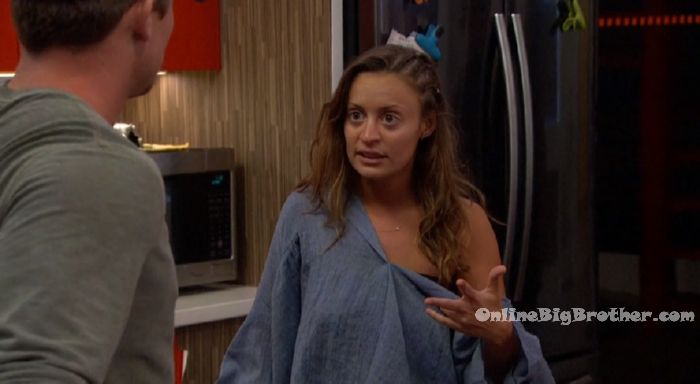 Scottie – did I just hear my name? Kaitlyn – when I say to someone that I have your back .. I don't understand the smirks and what I did to deserve any of this!? I don't get it! Brett – to deserve what exactly!? Kaitlyn – aren't we supposed to be friends?! Scottie – she knows about our secret meeting. Brett and Winston – we are friends Kaitlyn. kaitlyn – not friendly enough, clearly! Scottie – this girl was crying after you said she was good. Kaitlyn – you guys came into my f**King room 5 minutes after I did that.. laid with me in my bed and said like its okay. Winston – we don't have a power. Kaitlyn – and you didn't come up with an alternative in the event… Like what did I do to you or you to make you think you could throw my name out like that. Brett – I said it would put the least amount of blood on your (Scottie) hands. Kaitlyn – for me to go home. Brett – yes! After you campaigned against me this morning. Kaitlyn – MEEEEEE!!!!!! Where's Bayleigh?!!? The only f**king person that I have gone to ..everyone knows that I've tried to keep you safe. Brett – that's not the word of the house. Kaitlyn – okay!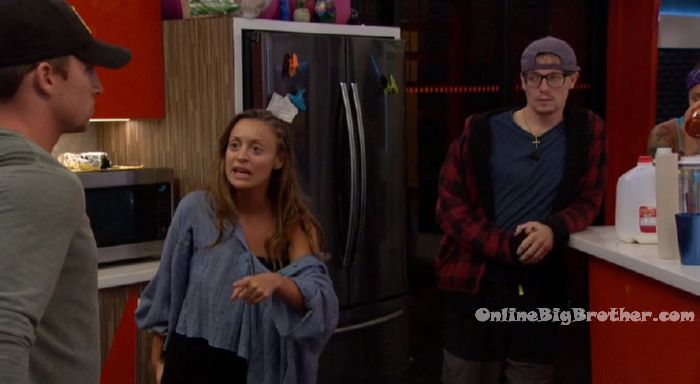 FLASHBACK and watch everything you missed: Live Feed 7 day FREE Trial!
Kaitlyn – but regardless even if that did happen… This happened last night! Brett – I didn't say the word of the house happened today. Kaitlyn – so you think you can go scheming around. I never ever said that. Brett – okay well I guess there are some ulterior motives going on here. Kaitlyn – I guess so. Thanks for that. Brett – you're welcome. Kaitlyn – and it was nobody elses idea to say anything? Brett – I didn't say it was anyone else's idea. I am telling you exactly what I said. I am not going to throw anyone else under the bus. I don't know why I'm getting the heat?! I'm owning what I'm saying here. Kaitlyn – it doesn't make me feel any better about it. Brett – I didn't say it did.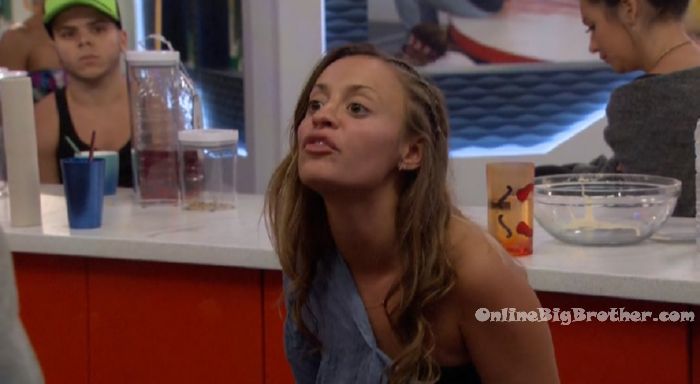 9:50pm Kaitlyn – and this is exactly what I did last week because I am tired of stupid f**king people thinking that they can control everything else lying to peoples faces. Just for anyone else if you find out if someone is talking sh*t about you.. step into your power and stand up for yourself. And don't pretend like its just not happening because that is bullsh*t.
10pm Katilyn and Fes are talking on the backyard couches. JC asks kaitlyn if she is okay. Kaitlyn – yeah, just a lot of sh*t is going on. I've heard what a lot of people have said and different alternatives. This and that. JC – I get out of the shower and hear you screaming. Kaitlyn – Brett and Winston went to Scottie last night and said lets have a final 3 and put me on the block. JC – okay .. what is Scottie going to do? Kaitlyn – he's not going to use it. JC – I don't know what is going on but if they are trying to get into your head .. they are doing it. Kaitlyn – so you didn't go to Brett this morning and tell him to tell Scottie to take him off and put up me? JC – no I didn't. If anyone says I said something come talk to me and them.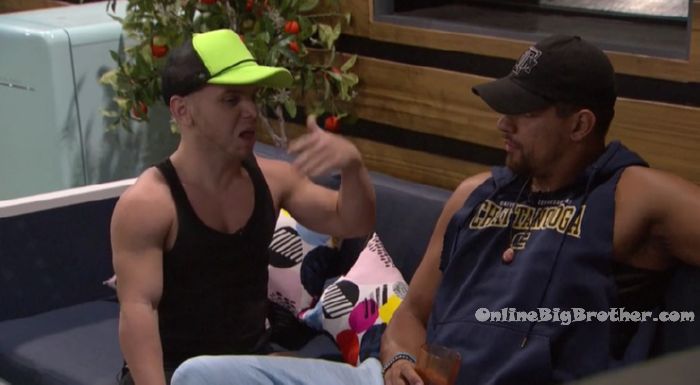 10pm Havenot room. Rachel, Angela, Haleigh, Winston & Brett. Winston picks up the phone and says can we just get a restart on the entire day? Angela – what the f**k was that?! That was insane. Brett – I am perfectly fine. Rachel – she's a lose cannon. Angela – you're playing the game. You're campaigning because you're on the block and your life is at stake. You have every reason to have a conversation with everyone in this house. Just because Kaitlyn was one of the people that came up in a conversation doesn't give you the right to call someone out like that in front of everyone. Its f**ked up. Haleigh – how did that start? Brett – she just came out and started screaming. Winston – I guess because Scottie told them everything. Haleigh – suggesting her? Brett – I was just stating simple facts. I want to come off the block. You have to put someone else up. If you want the least amount of blood on your hands. What is the perfect person, who just backdoored her only alliance. Whoever is working with Scottie because clearly I'm not .. I'm on the block.. probably won't be too upset because they just backdoored one of their people. Winston – and it was logical. I wasn't going to do that until I heard from multiple people that she was campaigning against me. Brett – its not the first time I've been stuck somewhere with a girl that's pissed off at me. Everyone seems to forget the Kaitlyn was the flip vote. I'm not going to hid in here like a rodent.
10:10pm – 10:30pm Backyard couches. Fes, Kaitlyn, Rockstar. Kaitlyn crying – I feel stupid for putting Swaggy up because she was convinced by Brett. Rachel and Haleigh still have not come to see if I am okay. Rockstar – you made him speechless. Haleigh comes out to see Kaitlyn. Kaitlyn – what are they saying. Haleigh – just that they were campaigning and that your name came up. Kaitlyn – it just makes me sad because Brett was my friend and I would never do that to him. kaitlyn regrets putting up Swaggy. Rockstar – life is lessons on lessons on lessons. Kaitlyn – I have to win HOH and send him home. Scottie send who home? Kaitlyn – the other f**king Bro! Which ever one doesn't go home. I don't even know what I said in there .. I blacked out. It might have been risky for me to do that but it was brave of me to do that.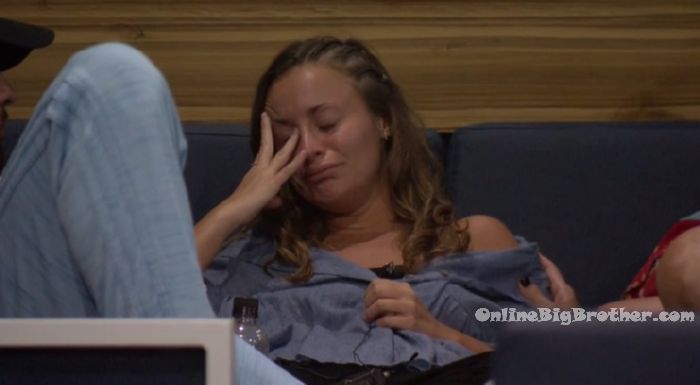 For all you folks that need a VPN I use this one
Rank the houseguests!
Easiest way to Rank the house guests use link below