| | | | |
| --- | --- | --- | --- |
| POV: | Scottie | Next POV: | July 21st |
| POV Used | NO | POV Ceremony | July 23rd |
| HOH: | Scottie | Next HOH: | July 19th |
| Noms: | Brett & Winston | Have Nots | Angela, Sam, Tyler, Brett |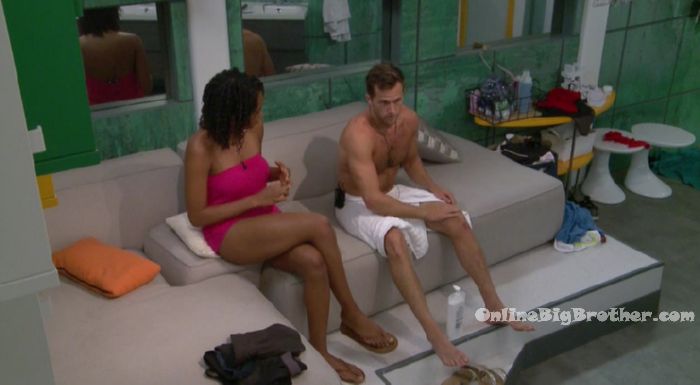 8:20pm Bathroom. Bayleigh and Winston. Winston – I feel bad you know. Its my boy, my buddy. Bayleigh – which is for me.. obviously last week was bed. Winston – exactly, if anyone knows, its you. There's a lot of time, its only Monday… but idle time is.. Bayleigh – Idle minds are the devils playground. Winston – its going to be awkward. We don't want to campaign against each other but but at the same time we should have one on ones with everyone and see where everyone's head is at. I feel genuinely upset that it went this way but I have no control and had every right to win the veto. Didn't win it. It sucks. The one thing that I know that went on last night was eye opening .. I feel bad for him but I know that put a target on his back. Bay – one side of me is like if we were to keep Brett he is a target and that saves us. The other side is yeah but they don't think you're threatening to them so why send you home. Winston – right, like am I going to win an HOH?! Lets be honest. And if I did, you would not be a target. Bay – that thing with Brett was unfortunate because Kaitlyn had made it her mission to keep him here. But on the flip side now its her mission to not. Winston – which I feel bad for but.. Bay – I am just going to sit back. I don't agree with some of the things he said or she said. Winston – I kind of don't like the way he has thrown my name out there. I was angry that he put me up and I had no idea it was happening. I apologized after. I just felt so blindsided. Bay – you have to realize that raise red flags too… if you can look straight in someones eyes and lie to them. Winston – I am just hoping if I just sit back and lay low.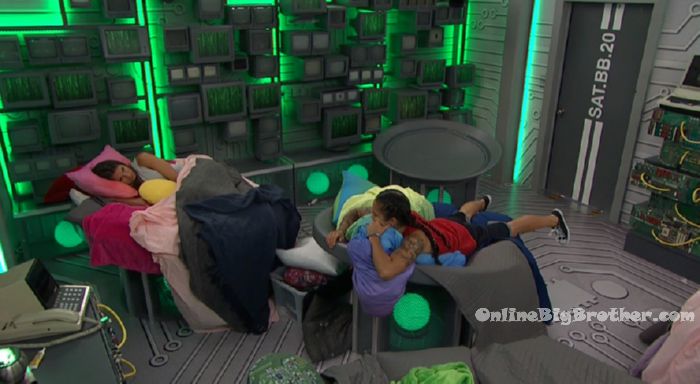 Try the Live Feeds FREE for 7 DAYS! Click here for your: FREE Trial

8:20pm Havenot room. Angela and Kaycee. Angela – I was telling Rachel that the chain is only as strong as its weakest link. I am hoping its endurance HOH. Kaycee – Scottie .. we were talking upstairs .. I don't know who is telling him information about the six. Sam has the power ..is like if she were to go up she can pull herself off and whoever voted for her to go home she can pick who she wants to go on the block. Kaycee laughs. Angela – who said this? Kaycee – I don't know. He knows a little bit of the details. Angela – who's telling him? Kaycee – I don't know .. Kaitlyn? The details are wrong. Angela – choosing who to vote out is like choosing between two little brothers. I am just going to wait to see what the house decides. Rachel joins them. Rachel – for the alliances sake this HOH is crucial for one of us to win. If its endurance or something that we can throw to Brett or whoever, I don't know. One of us have to win. I want those two f**kers out. Angela – we need to make a hit list of who we want out first, second, third (who to knock out of the HOH). The list: Fes, Bayleigh, Kaitlyn, Rockstar. Sam joins them.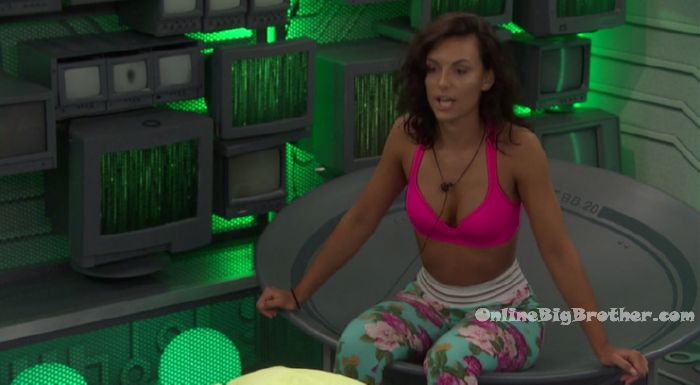 8:35pm Backyard. JC is doing his laundry. Brett comes over and asks him if those are his pink undies? JC – those are Rockstars. Brett – EWWW! JC throws them at him. Brett – aww.. that's messed up.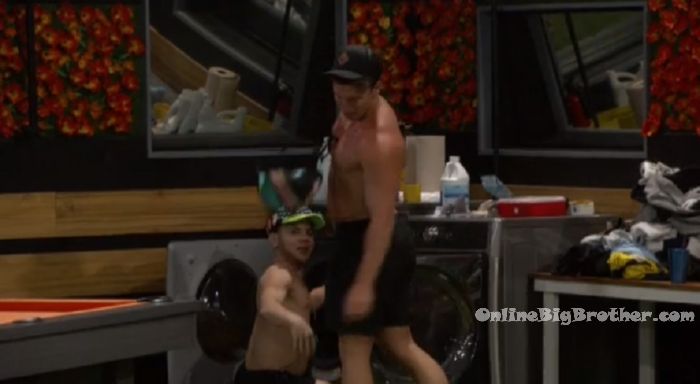 9pm Bathroom. JC, Winston and Brett. JC goes to the washroom and comes out without washing his hands. Winston – aren't you going to wash your hands? JC – it was only my d**k, you've touched it before.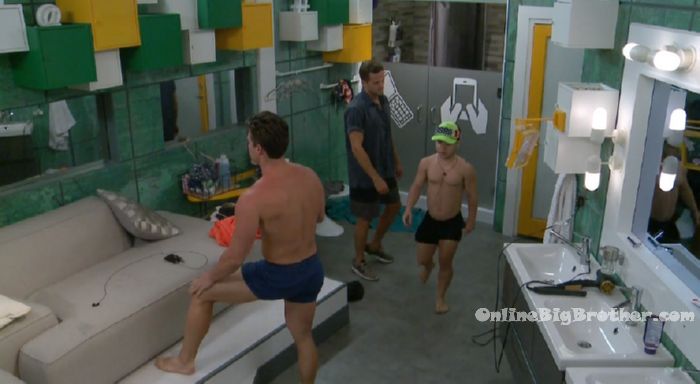 9:12pm Backyard. Winston and Brett. Winston – I think he has one. Brett – I don't think JC has one. Winston – I know Scottie doesn't because he asked you. Brett – that doesn't matter, he could still have on. Winston – not necessarily because why would he ask? Brett – because if he has one doesn't mean he isn't nervous about us having one. Winston – say he has one, there's still one more out there. Brett – I think Bayleigh has one. Brett – they're going to choose who they're going to choose and I would rather leave with some dignity. If there is any hope of us doing anything its with Sam. Winston – I thought the word was that she couldn't use it on anyone else. Brett and Winston talk about talking to Sam about trying to get her to use her power on one of them.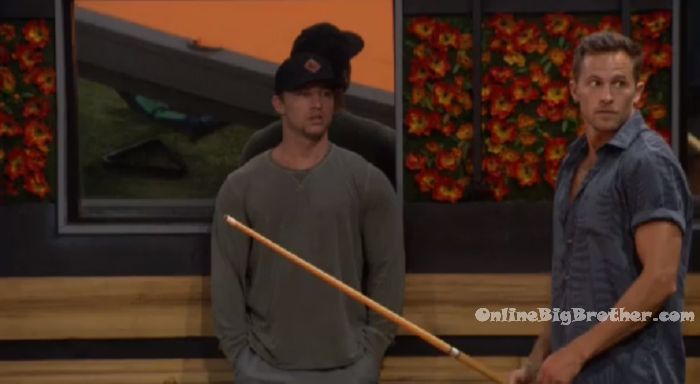 9:40pm – 10pm Bathroom. Sam and Bayleigh. Bay – she was saying that if she hadn't flipped the vote we would have suffered dire consequences. Sam – what dire consequences? Bay – that's why I keep asking what this power is. Sam – it wouldn't affect anyone else. Sam – it doesn't affect anyone else. Its for me and one other person. Bay – WOW! Sam – and its a good thing. Bay tells Sam that they're saying if you used the power, anyone who voted against you would be the pool of people picked to go on the block. Sam – no that's not what it is. I kind of thought everyone would think I got it because I got such a raw deal the first week.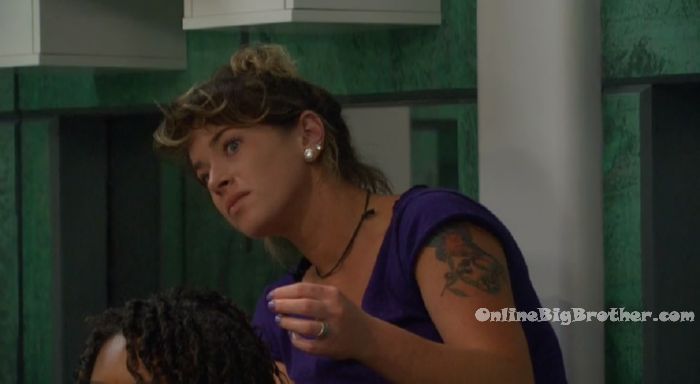 HOH room. Scottie and Rockstar. Scottie – So hopefully if one of you can win this HOH .. we can get some combination of the three up .. which ever bro stays. ..if its Winston why even bother… But get Tyler and Sam up there just to see what happens. I want to see them sweat. Rockstar – I would hope that Fes would get it. Scottie – unless some stupid f**king power gets used on Thursday. Rockstar – I would feel awful putting Sam up there. Scottie – I would have three days ago… knowing all this ..that's gone. Rockstar – I wonder what she's got going on. I would love to win again and put their a$$es on the block. Rockstar – I agree with you that backdooring is a sleazy move but Tyler would win a veto. Scottie – well we're at the point where if he is doing what I think he is doing his entire game is sleaze and if we get to that point then I would consider it (backdooring Tyler). With Brett and Wisnton, they were pretty straight up. I knew what they were doing with everyone and I was confident I could beat them in a veto. With the exception of Fes, every single person I trust in this game is a girl. I am at the point where I want to keep winning just so I can keep putting these shady people on the block.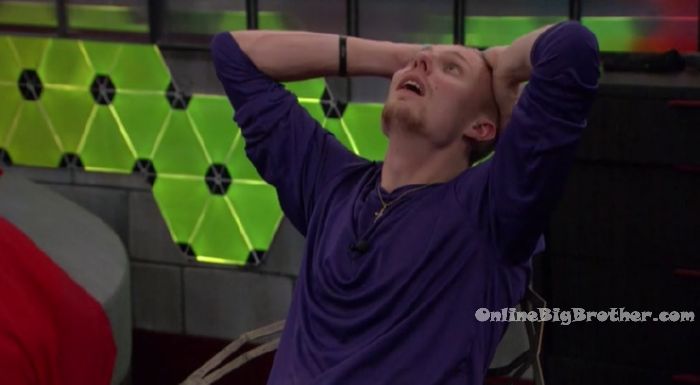 10:45pm Haleigh and Bay. Haleigh – Winston staying here makes me nervous because he is using my name to throw out. Bay shakes her head no. I talked to him. When we were having our little chat he said I don't know why Haleigh doesn't like me. I said she thinks that you were talking about her. He said I have never talked about Haleigh. Rockstar, sure. But I have not talked about Haleigh. I think if he were to stay he would go after Scottie.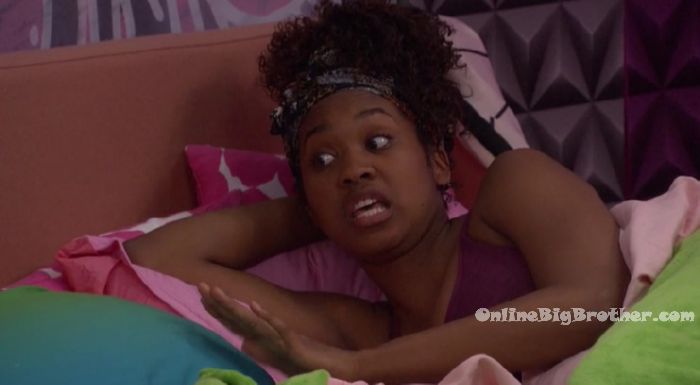 11:30pm – 12am Backyard couches. Rockstar, Haleigh, Scottie and Tyler chatting about random things. Meanwhile Rachel, Brett and Winston in the hammock. Winston – who the heck has these power apps? Rachel thinks JC has one. Rachel leaves and Haleigh joins them. Haleigh wonders what kind of twists could happen like the bb rewind. Winston asks what that is. Haleigh – explains how it would be like the week never happened. Winston – that would be amazing.
12:05am Kitchen. Kaycee – does Kaitlyn know that you know? Tyler – about the power? Kaycee – does she know that you know that she told everyone about the power? Tyler – no. Kaycee – that's cold. Tyler – no the worst thing in the world but sucks for Sam. Kaycee – because did you tell Kait or did she tell you? Tyler – she told me. Kaycee – oh sh*t. So is it safe to say the whole house knows she has the power? Tyler – yeah. It had to be someone from the other side that told her. Rachel joins them. They talk about how the whole house knows about Sams power. Tyler – but I gave Kaitlyn a bunch of bulsh*t details and that's now what the whole house knows. That's how we know that Kaitlyn told everyone.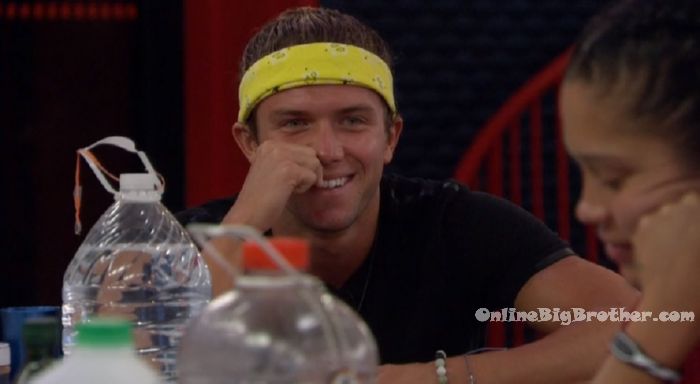 1:30am Kitchen – Winston – it just sucks but we had every opportunity to win. I can't even imagine winning HOH because I can't imagine getting passed Thursday. I am betting the next HOH is something slightly physical. Theres no way the next one is so quick. Its funny that my bad competing will maybe keep me here. Fes – did you talk to JC? Winston – no. Fes – but you're cool with JC right? Winston – yeah but. Fes – I feel like he does what the house does right? Winston – I don't know.
1:40am Big Brother gets Haleigh to read or not to read…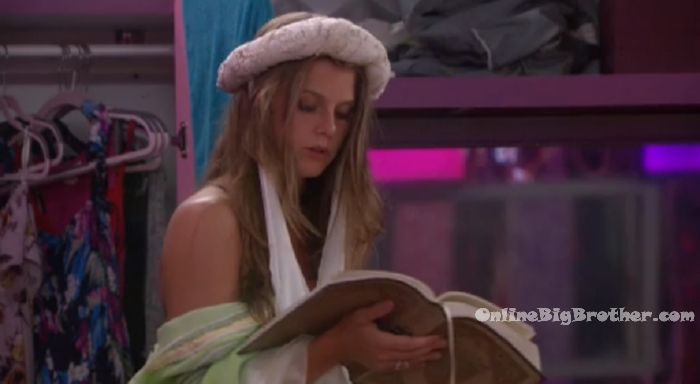 2:20am Backyard.
Fes, Scottie and Haleigh talk about the app powers. Scoottie – I have no idea who has the second week power? Fes – or third. Scottie – I literally don't know what they (America) wants, I did everything to try and get it. Kaitlyn joins them. Fes asks Kaitlyn if he is next. Kaitlyn – I am the type of person that trusts you until you give me a reason not to. So if you give me a reason to put you up, then yeah of course I would but why would you do that. Kaitlyn heads back inside. Fes – what the f**k was up with Brett's veto speech!? Scottie – yeah what the f**k was that. Saying he had this psychic vision. That was a shot at Kaitlyn. All three speeches were completely different. Winston's was lame. Brett's was a shot at Kaitlyn and I don't even know about mine.
***** Added ******
Scottie – how do you feel about Tyler
Haleigh – I think he's covering all areas
Scottie – I think he's playing, I think he has a deal with Brett and Winston
Scottie – I also think he has a deal with Sam, and I think that they were trying to play me and I kind just figured it all out today..
Scottie – two days ago Sam came in, THis was before the veto and they just pinky promised if anyone took Sam or Winston off the block I would put her up as a pawn.
Scottie says he thinks Tyler promised Sam something and it's creeping him out. Scottie mentions how creepy Sam was about it all.
Scottie says he busted ass more than he normally does because he doesn't want to put Sam on the block.
Once he gets the veto Sam came into his room saying she's heard rumour that she was putting her up.
Scottie thinks Sam was playing him so he wold put her up and she would use the power.
SCottie – I don't think you can use it on another person
Fes – I think you can
Haleigh doesn't say that it has to be used on her
Fes – so she doesn't want BRett and WInston to go home
Scottie – that's part of the deal she has with Tyler
Fes – I never thought about that.. it makes sense you can only use it on yourself..
Steve brings up how Kailtyn told him this morning about the power. Scottie went to Tyler right after and he acted like he had no idea about it. Then he talked to Bayleigh and Bayleigh tells him Tyler and Kaitlyn were the first two to know about the power.
Scottie – I think him and Sam had a thing and they were trying to play my F(**ing ass. what else does he have going one.
Haleigh – a lot
Scottie – after this week .. maybe the next one we're going to have to weed out.. as much as I hate saying it..
Haleigh – that's going to be a b1tch and a half telling Kaitlyn
Fes – we don't have to worry about that now
Haleigh – it does if he gets in power
Scottie – I think he threw that veto
They agree Tyler threw the competition. Scottie says when he huggs Tyler his breathe was worried and not a drop of sweat.
Scottie – with him and Sam i'm just going to play dumb for now.
4am All the houses guests are sleeping..
8:00am Still sleeping
For all you folks that need a VPN I use this one
Rank the houseguests!
Easiest way to Rank the house guests use link below