| | | | |
| --- | --- | --- | --- |
| POV: | Scottie | Next POV: | July 21st |
| POV Used | ? | POV Ceremony | July 16th |
| HOH: | Scottie | Next HOH: | July 19th |
| Noms: | Brett & Winston | Have Nots | Angela, Sam, Tyler, Brett |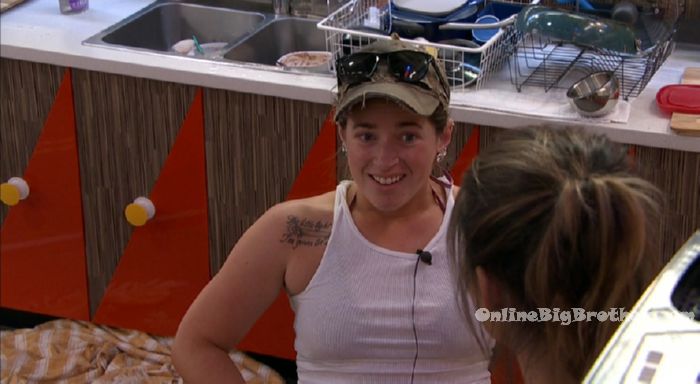 4:30pm Kitchen. Kaycee, Angela, and Sam. Sam – I don't mind the slop. I kind of like it. I think it will make me smarter. Angela – I'm going to go take a cold shower. Sam – that's the thing I've been taking cold showers. Then last night for some reason, I took a hot shower. Then I was glad this morning. Okay cool!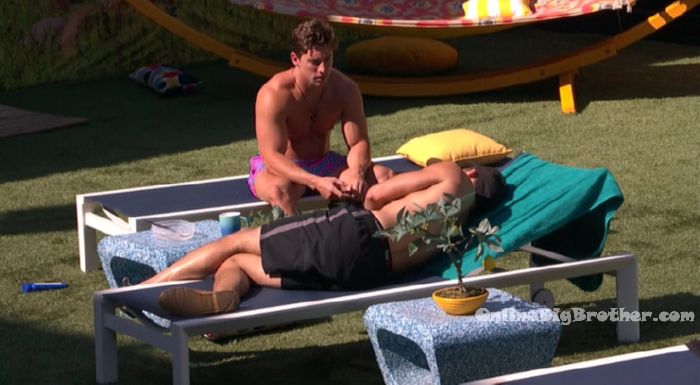 4:35pm Backyard. Winston & Brett. Winston – I have a feeling that I'm going home and you're staying. You're going to have to win the HOH. The veto ceremony… I am trying to figure out what to say.. I want to tell him (Scottie) to take it and shove it up his butt. Brett – I would use it to get whatever you want off your chest. Winston – well I've still got the voting speech. There are two speeches left.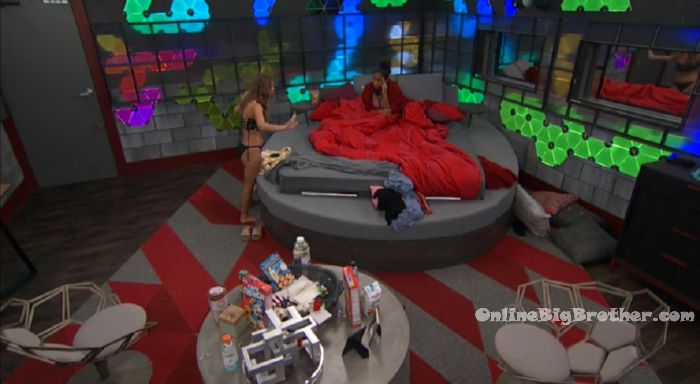 4:41pm HOH room. Kaitlyn and Bayleigh. Kaitlyn gives Bay a play by play of her HOH week. She tells Bay about Sam's power. Bay – my mind is blown. That's why I was annoyed yesterday when I didn't win the power app. I'm like what more can I do America!? Part of me was like maybe I should just vote to evict Sam and let her use her power because I was so sick of my group. Let me just screw them over.. but I couldn't do that. Then it seemed like I really screwed one of them over. But in theory I saved everyone so relax. Bay – so everyone knows this but Rockstar. Kailyn – I can't tell her. I'm scared. Bay – don't tell her not until later. kaitlyn – maybe I should just tell Scottie. Bay – why would you incriminate yourself.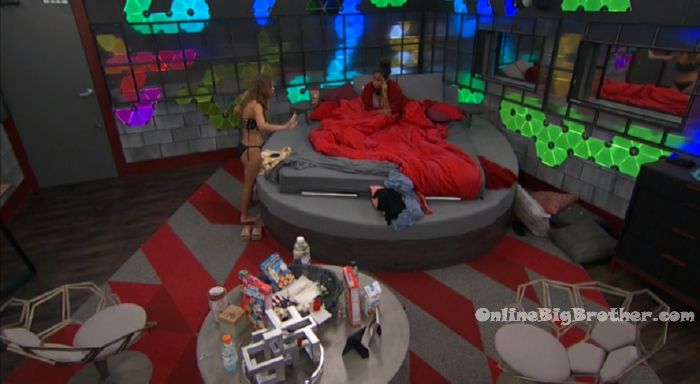 5:12pm Bathroom. Angela, Rachel and Kaycee. Angela – I think that thing about Rockstar is bullsh*t. I think that she is just trying to keep her numbers safe. Such bullsh*T. Kaycee – yeah I wouldn't trust her. Angela – we just need to figure out what everyone else is thinking. Kaycee – to keep Brett. Angela – yeah. Angela – I talked to JC and he wouldn't tell me an answer. Rachel – JC is a no go with whatever we do. Angela – I think we have to keep Brett. Kaycee – we have to. We just need JC's vote. JC was just saying yesterday that Kaitlyn was wants to get Brett out. (Kaitlyn now wants to keep Brett) Rachel – it keeps a big target in the house. Rachel – next week Scottie and Fes will be on the block together. No bullsh*t. We have to have one of them go. I need to work on my relationship with Scottie because he scares the f**k out of me. Angela – Kaycee or Brett need to win HOH next week.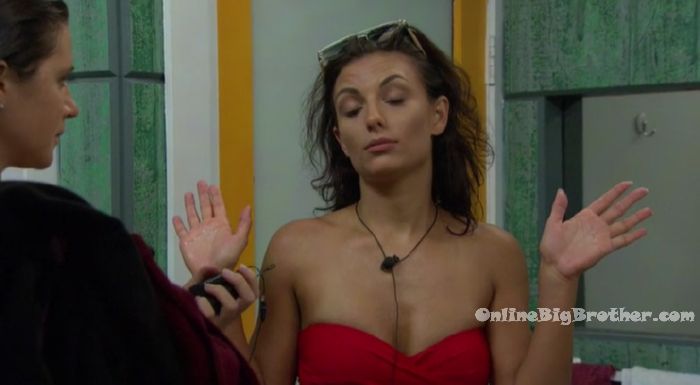 FLASHBACK and watch everything you missed: Live Feed 7 day FREE Trial!
5:30pm – 6pm HOH room. Kaitlyn, Bay and Haleigh. Kaitlyn – Ummm Haleigh.. I told Bay everything. Bay – I'm in shock. I told her I switched the vote. Kaitlyn – JC went up to Brett and said you should probably try to convince Scottie to use the veto and put up Kaitlyn. All f**king week when I was sway-able to putting up Swaggy …JC would sit on my HOH bed and say if you don't do this you're embarrassing yourself in front of America. Kaitlyn – JC has a side by the way he is with them. Bay – this is actually too much. Kaitlyn – I am not a floater. I am with you guys but I am in both worlds. They know what I did. They trust me. Bay – JC has been talking sh*t on Rockstar. Kaitlyn – I spend so much time with Tyler because he knows everything and I can just run to him if I need to talk about something. Bay – moving forward that means a lot. Kaitlyn – I'm so glad you know.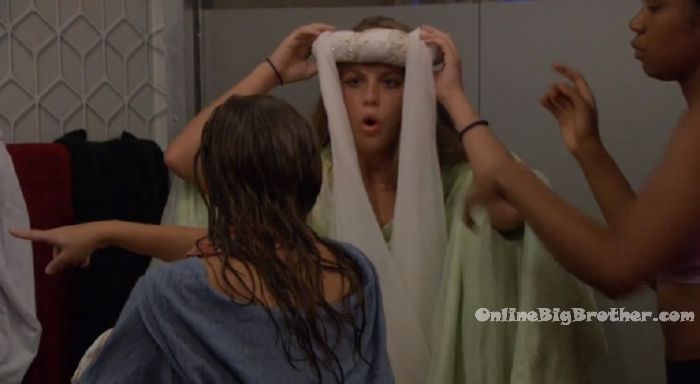 5:47pm Angela and Sam chatting on the backyard couch.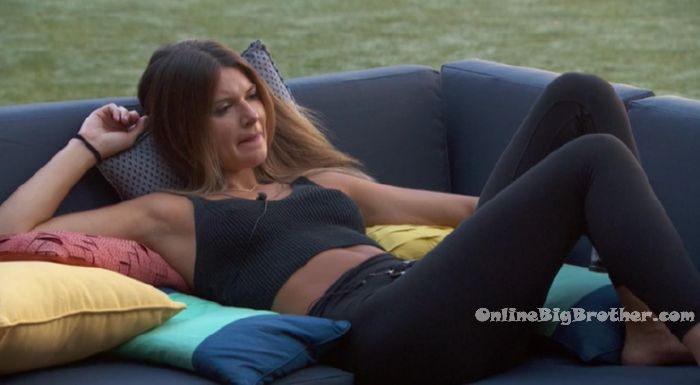 6pm Backyard couch. Rachel, Tyler, Brett and Angela. Tyler – where is Kaitlyn at? Brett – I have no idea. Everyone lies straight to my face. Rachel – we have the votes right? Angela – we don't know what JC is going to do. He wouldn't give me a straight answer. Rachel – JC will vote what ever we do. Angela – I don't know if he will or not. Tyler – JC thinks you still have the power. Brett – I know I would have used it if I had it. Rachel – do you think you can convince Kaitlyn? Tyler – I'm not convincing Kaitlyn of sh*t! I don't trust her at all. Brett – She is literally so .. its on the flip of a coin. There is no predictability there. Brett – Haleigh came to me and said that Scottie said I said she should go up. I told her I didn't say that. They talk about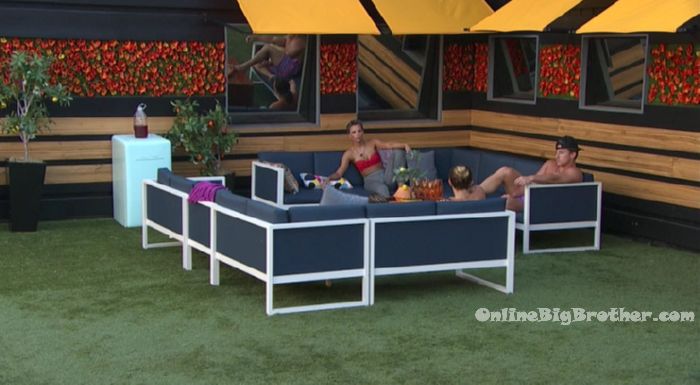 6:10pm HOH room. Haleigh and Scottie. Scottie – it would take the blood off their hands from my stand point. (Backdooring Kaitlyn like Brett & Winston want him to do.) But that would create a rift with the rest of the house because I've been saying I'm going to do this and then I don't. Haliegh – and it wouldn't take the blood off. They would still be pissed and still remember it. Scottie – yeah. Haleigh – yeah that's not a good idea. Scottie – I am also on record in front of the house multiple times saying the backdooring is a b***h move. Haleigh – I think they're just getting stressed because when you hear something like that you start getting really stressed. Like with the Brett situation I am a nervous wreck. Scottie – besides Kaitlyn is? Haleigh – she is trying to convince other people to.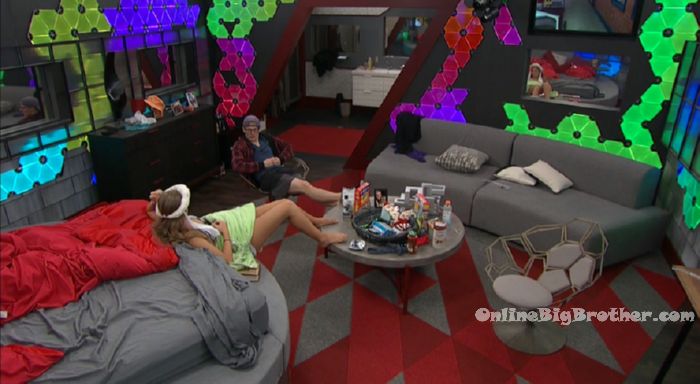 6:48pm Lounge room. Kaycee and Bay. Kaycee – so you and me can be honest with each other and like see how far we can go together. Bay – 100%. We're almost to jury. Bay – I need to see where people's loyalty lies and then we can go from there. Kaycee – you know I care about you and you can be honest with me. Bay – my plan is to let them tear each other a part.
7:05pm HOH room. Sam and Scottie. Sam – Scottie, what are you about to do? Scottie – oh they're staying up there. Unless one of them has a power. They're staying. I am not backdooring anyone, that's a sleazy f**king move. When I put them up I told them they had a chance to fight for the veto. I beat them in the veto, they're staying up there. Sam – you're not going to put me up there? Scottie – nope. They're dangerous and one of them has to go. Sam – I need you tell me the truth. I am never mad at you and if you ever need to talk to me.. we should have a code word. I don't want you to ever feel like I am ignoring you. Scottie – oh I know. Sam – I just want to know if I am going up. Scottie – after that pinky promise (Sam made Scottie pinky promise if the veto was used he could put her up as a pawn. She offered because she has her app power but Scottie doesn't know that.) I knew I had to win that veto. Sam hugs Scottie. Sam – thank you for doing that. Sam – can you tell me whos name has been coming up as a replacement? Scottie – Kaitlyn is nervous I am going to put her up.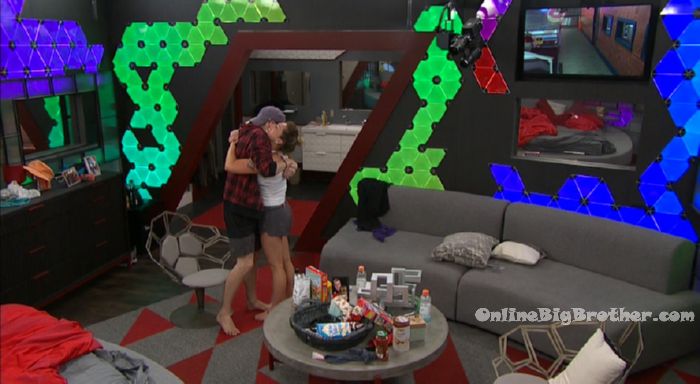 7:20pm HOH room. Brett and Sam. Sam – okay, you need to tell me the truth about everything. Like no bullsh*t. Don't charm me. I'm a f**king stone wall. What is your plan moving forward? Brett – I made an offer to Scottie, which you know as well. If he would use the veto. If he doesn't, then I don't really have a plan its whether I stay or Winston stays at that point. Sam – how come Kaitlyn is campaigning for you to Scottie, and telling others the compete opposite. Brett – I am getting the exact opposite. Sam – does she have one of the power apps? Brett – I have no idea. Sam – you need to tell me! Brett – Sam, I promise. I swear to god. She has never told me or hinted that she has the app. I also do not have the app. Sam – you don't have it? Brett – I don't, I wish I did. If I did I wouldn't be freaking out like this. Sam – but you're not. Brett – because I don't want to be a liability by freaking out. Sam – I am just asking you straight up do you have it? Brett – I do not. Sam – does kaitlyn? Brett – not that I know of. Sam – if you stayed in the house, am I someone you would see working with? Brett – yes. Sam – you wouldn't mercy kill me and throw me up there? Brett – I wouldn't. I've seen you cry saying how much you want to be here.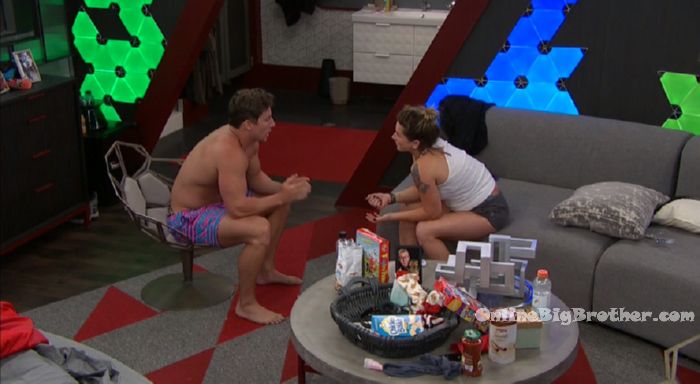 8:35pm Bedroom. Tyler, Kaitlyn and Scottie. Kaitlyn is upset because she asked Scottie if she had anything to worry about. Scottie told her that she didn't have anything to worry about unless he (Brett) had a power. Kaitlyn took that to mean that Scottie would put her up as a replacement. Scottie meant that everyone should be worried if Brett had a power because it could be a coup d'tat where Brett could then name the replacement nominee. Scottie – I've been straight up this whole entire week. I've told everyone the same thing that no one has anything to worry about unless Brett has a power. Tyler – there's a weird energy in the house today.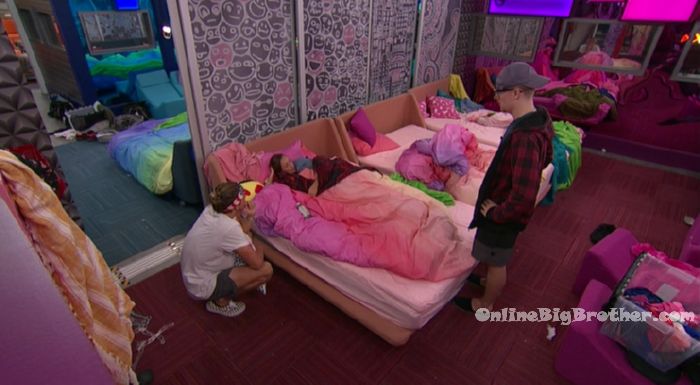 8:40pm – 8:55pm HOH room Scottie and Tyler. Tyler – I just wanted to get you to chill, vent, whatever you need to do. Scottie – Sam came up here and asked me if I would put her up. I told her I worked so hard to win that veto so that I didn't have to honor that pinky swear.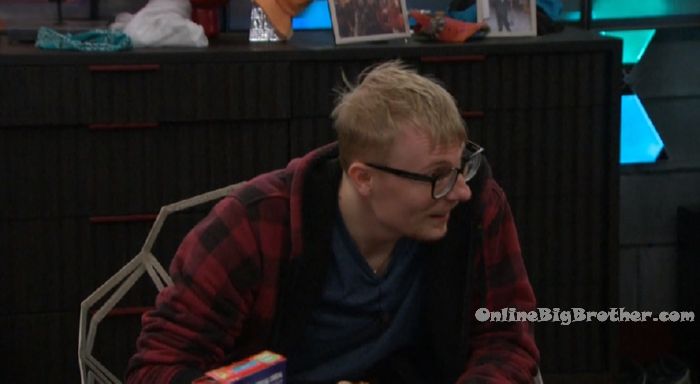 For all you folks that need a VPN I use this one
Rank the houseguests!
Easiest way to Rank the house guests use link below