| | | | |
| --- | --- | --- | --- |
| POV: | Scottie | Next POV: | July 21st |
| POV Used | NO | POV Ceremony | July 23rd |
| HOH: | Scottie | Next HOH: | July 19th |
| Noms: | Brett & Winston | Have Nots | Angela, Sam, Tyler, Brett |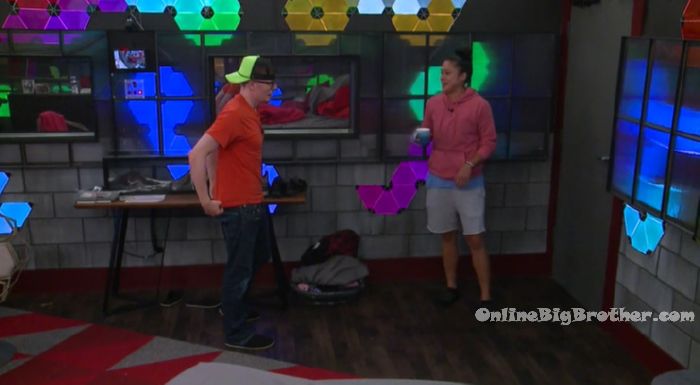 11:30pm HOH room. Kaycee and Scottie. Kaycee – who knows that the circumstances really are. Scottie – I thought about it. I was wondering about that. Kaycee – would I use it on you? I wouldn't use it on Kaitlyn. Scottie – yeah, that's what I know. But I would usually pick… usually till now my picks have been Fes and Tyler. But I think both of them would use it on her before they would use it on me. Kaycee – they would use it on Kaitlyn? Kaycee – I wouldn't use it on Kaitlyn. Scottie – I think they would use it on her before me. Kaycee – well I would use it on you before her. Scottie – that is perfect.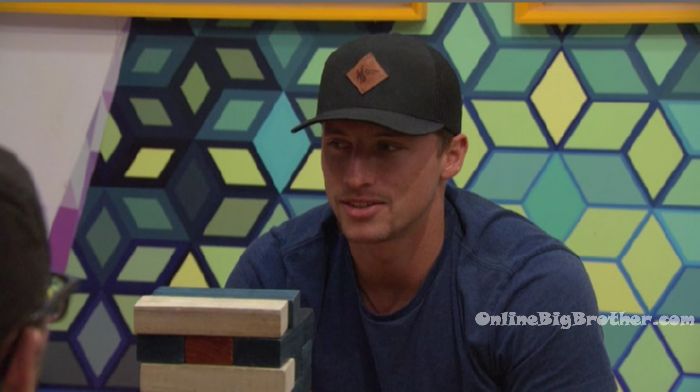 12am Lounge room. Brett and Winston. Winston – you should have seen Tyler rip her during the charades game.
Brett – the whole thing pisses me off so much that she thinks she is so self entitled. Who the F**K are you?! Are you kidding me right now?! The way I got targeted in that conversation was literally like an upset girlfriend. I was like you need to go get a spork and eat my a$$! Winston – if you had handed her a spoon .. I would have literally been on the floor laughing. Brett – I was ready to say some f**ked up things. I was like don't do it. Don't do it. I was fuming! Winston – and you had every right to. Brett – and then she comes up to me and says I hope you know its my choice whether you stay or go. Winston – she said that?! Is she in power? No! Does she have any influence? Brett – she was like right now it is dead even and I'm the deciding vote. You tell me who was campaigning and I'll vote for you to stay and tell my crew and everyone will vote with me. Winston – who was (campaigning)?

Brett – ultimately everyone. Its my fault. I didn't read that Scottie was a spineless b***h. I was ready to walk around this house and tell half the house to literally eat sh*t! But I had to tell myself don't do it because if you stay .. you won't be here next week. That's the thing about this game .. so many people can't swallow their pride. Its control. Winston – its emotional control. That's what pisses me off, no one is here to play. No one is ready to shake things up. Brett – Going into this (eviction) I would like to light people up.. you're a f**king idiot. You're a dumb b***h! Winston – How good would that speech be.. Brett – I have like 15 different speeches. Winston – to go like Scottie you're a spineless little punk b***h. By the way you voted to keep me .. like everybody is ignoring that fact. Brett – JC is convinced that it was Haleigh and not Scottie. Winston – no. I told you I confronted him and he admitted it. I would like to say that and get everyone suspicious about it but what is it going to do. Brett – the thing that drives me nuts about this is one of us is going home. Do you think being here this long is long enough to have an impact? Like outside of here. Winston – yeah I think so. Think about past seasons where people were evicted early but then come back in a battle back. I have to say we've had such a fun time here. I don't know if I'm going to have lots of people that love me or hate me. People are going to say good and bad. I do think there will be a battle back. Brett – you can't count on it though.
Winston – what is the worst that can happen? What if we pull her in here and say look Sam we've heard some rumors and wanted to confront you. We're playing a game of honesty. Brett – I still think it would be bad to do both of us. Winston – right. What about one of us? Brett – yeah, I am leaning more towards one of us. I think if both of us do it she will feel cornered and overwhelmed. Winston – but think about this.. Evidently Tyler told Kaitlyn and then she told everyone on that side. But they don't know what it is or what it can do. Brett – I think psychologically its better for one person to do it. What if it only saved one of us? Winston – he (Scottie) wouldn't put up Kaitlyn. He doesn't have the balls. Brett – he said he would put up the friend of who ever used the veto. I don't think it would be Kaycee or Angela. I don't think he has the balls to put up a girl. Brett – I just feel if we do a one on one with Sam she is going to shut it down… which doesn't matter like I knew going to Scottie the little b***h was going to turn us down. The better way like she got pissed today at Haleigh and Kaitlyn. She was like I'm about to ring the little b***hes neck. She was so mad dude. She said I am about to f**king lose it. I think Sam is nervous that if she uses it she will be targeted. Winston – you tell her that we have a strong influence that Kaitlyn would be the replacement nom if she were to save one of us. Brett – Sam has a stronger influence on Scottie than we do. Winston – you're right. What if it is right before? Brett – that's why I am going to cater my speech to someone using a power. Winston – we don't even know what it is. We need to figure out what it is! Rachel joins them. Brett – I am just trying to think of the best way to provoke Sam to use the power. He is the reality we lose a number if one of us goes. What is the point of getting these things if we're not going to use it.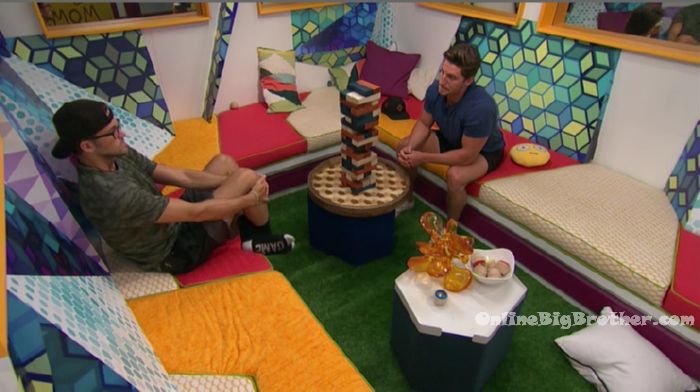 FLASHBACK and watch everything you missed: Live Feed 7 day FREE Trial!
12:25am HOH room. Bay and Fes. Bay – JC has the power. Fes laughs and says JC doesn't have a power. Bay – shut up really?! Fes – no. Bay – really!? Who has it? So he just made that up? We didn't make it up. Rockstar and Kaitlyn asked him. Fes – you know he might but I don't think he does. I think he is just f**king with you. Bay – who has it then? Oh by the way Rachel came and asked me today if I had it. Fes if we are going to be on the same team .. what's said between us stays between us. DOn't tell Kaitlyn sh*t. Fes – I'm not. The way I said it if all y'all girls are sticking together. You don't have to worry about me. I don't tell people sh*t. Bay – Tyler said if Scottie and Kaitlyn were on the block his priority was Kaitlyn. Fes – the way the power works .. its putting two people on the block. Bay – I know what the friken power is, don't explain my power. We already discussed it wouldn't be this week. One of us needs to win HOH and we need to save it for jury or double eviction. Fes – what if one of us don't win it this week? Bay – then we need to figure out what the hell is going on. I am not using my power on anyone else but you and me. I would never burn it just to burn it. Fes – if its an endurance or physical I will win it. (The HOH this week is going to be an endurance competition.)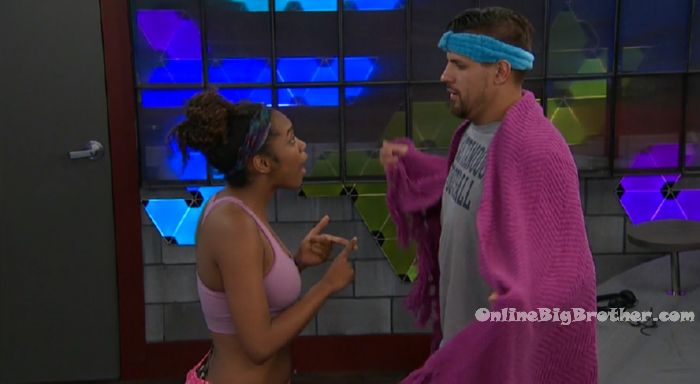 12:50am Rachel, Brett and Winston in the lounge room. Brett – I am debating on whether or not I have a one on one with Rockstar. If I do I am just going to end up flipping her the bird. Rachel – wait you're going to have a one on one with Rockstar? Brett – not a f**king chance. She can eat a d**k! I really like can't stand her. She's had it out for me for no f**king reason. I did absolutely nothing to her. Rachel – she said in the beginning you were like bros bros bros and she was like what about the girls?! She was like offended you were saying bros. And then you made a comment saying the bros are going to run this house. Brett – Oh my god, I can't wait to send that b***h out if I stay! F**K it! I'm going to rip her a part in my speech tomorrow. I don't give a sh*t. Like guess what, you're not 10 years old it looks stupid to have hair like that. The only people with hair like that are strippers and escorts. Winston and Rachel laugh.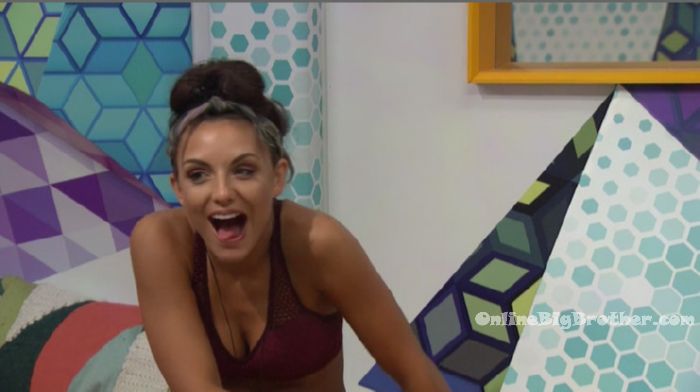 1:40am All the house guests are in bed except or Fes.

2:30am
All the house guests are sleeping..
For all you folks that need a VPN I use this one
Rank the houseguests!
Easiest way to Rank the house guests use link below