POV Holder:
Peter
Next POV
April 13th
POV Used
Yes
POV Ceremony
April 8th
HOH Winner:
JILLIAN
Next HOH:
April 11th
Original Nominations:
ALEC & PETER
Current Nominations:
Alec & Topaz
Last Evicted Houseguest
GARY
Have Nots
No havenots this week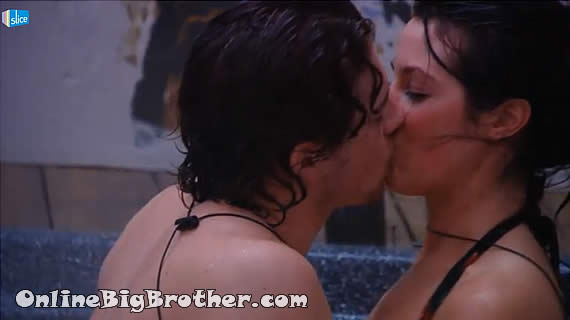 12:15AM Hot Tub Emmett and Jillian Milkmancing
(Cause we don't have enough Images and Videos of Jillian/Emmett milkmancing)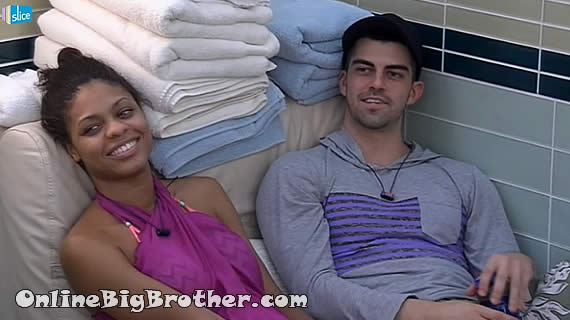 12:36AM Bathroom Topaz, Alec, Andrew, Talla, Peter
random chit chat.. Alec says that he would really get along with Liza outside of the house he just didn't like her inside. Peter says the only reason why he didn't like Tom was because of the entire "Liza thing" Alec asks him about that elastic he wears on his fingers. Peter says it's Liza's Alec wonders if Peter and Liza will hook up. Peter doesn't think so.
Alec and Peter joke that they are going to the Vancouver casting calls for Season 2 of Big Brother Canada. Andrew mentions they should go as Emmett and Tom wearing muscle suits. Peter brings up something Tom said "You ask why.. I have two words.. Why not Bro" ALec breaks out in laughter (Damn i'm missing Tom )
Andrew, Talla head to bed. Topaz says she's going to go into the Hot Tub.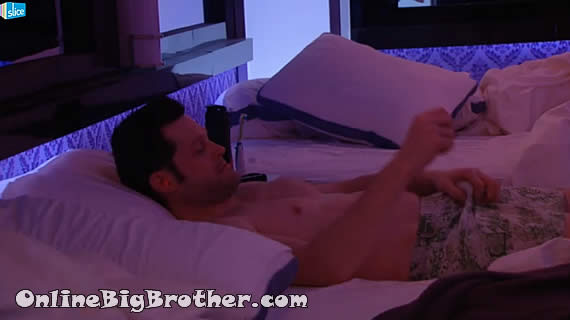 12:46AM The alliance formally known as the stooges
Sleeping and re-positioning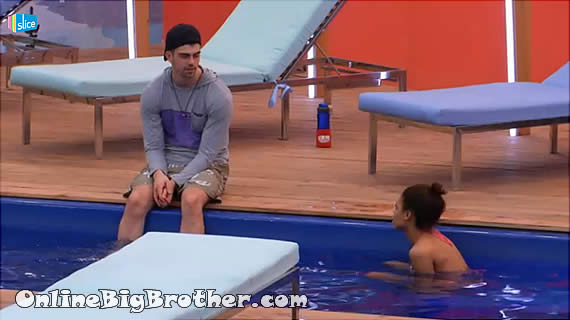 12:47AM Peter and Alec Kitchen
They are still thinking there is a chance.. to save Alec.
Peter says if they survive this week they'll need to lay low for a week before they go guns blazing for Emmett and JIllian . Peter is under the impression that they only need one more vote to secure Alec's safety. He's talked to Jillian a lot and he feels Emmett is the person they need to sway.
12:52AM Topaz and Alec
Topaz says there might be a twist
Alec: "I think if Canada Voted I would get it.. Cause you nap all the time"
Topaz: "What.. they only show a bit of the day on the show "
Alec changes his mind says that Topaz is a very good looking girl "I'm a somewhat good looking guy"
Alec thinks most people would be on his side about the Ipod thing.. Topaz agrees.
Alec thinks Canada likes Aj more than Andrew
Alec says that their showmance was a lot more real than the others this season because they had disagreements like you do in real life.
Alec: "Do you think this is a game?.. Peter calls it a sport.. I think a sport is a game"
Alec admits that he's out the door..
1:08AM Topaz and Alec head to bed.. leaving the milkmance in the kitchen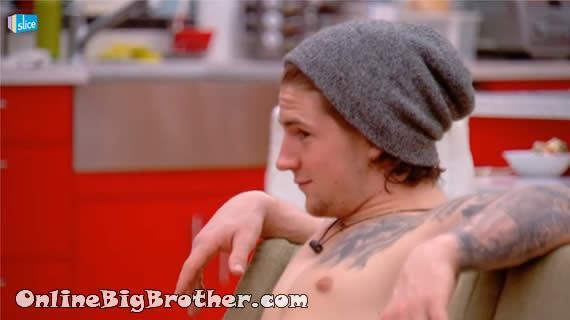 1:10AM Milkmance
Emmett is teasing Jillian about her never being on the block because she's not a threat. Jillian leaves to get ready for bed
1:12AM Kitchen
Alec: "Peter told me what Jillian said to him.. and I know you don't trust me fully.. but I promised I would not come after you "
Emmett doesn't know what he's talking about
Alec explains that Jillian told Peter if the vote is a tie she will keep Alec in the game in return Alec promises to not come after Emmett.
Emmett: "Yup"
Alec: "Let me reiterate I've never lied to you in this game.. "
1:33AM Emmett and Jillian HOH
Emmett is going to talk to Peter in private and tell him that Alec is going home. He'll say Andrew and Talla are voting to evict Alec and Emmett doesn't want to start a war with the Stooges so he's going to vote with the house on this one. Emmett: "I trust Peter without Alec"
Emmett also plans to bring up that Alec is going around telling people that Peter will target anyone that votes against Alec.
Emmett knows that if Peter wins HOH he might come after them. Emmett: "Hopefully Topaz and Talla go up.. that is why you need to get closer with Topaz.. as soon as Alec goes Peter is going to her right away"
Please consider donating. Dawg and I work 24/7 all season long to bring you all the live feed updates and spoilers. ANY amount is greatly appreciated, your donations go directly to paying the server and bandwidth fees needed to run this site. Donation Link