| | | | |
| --- | --- | --- | --- |
| POV: | ? | Next POV: | July 14th |
| POV Used | ? | POV Ceremony | July 16th |
| HOH: | Scottie | Next HOH: | July 19th |
| Noms: | Brett & Winston | Have Nots | ? |
NOMINATIONS: BRETT & WINSTON (The Bros!)
6:17pm Lounge room. Winston – I just need to win the veto. That kid is a snake in the grass. He voted for me. JC – calm down before you say anything because right now you are heated. JC leaves. Scottie knocks on the door and asks if they want to talk? Winston doesn't say anything. After Scottie leaves. Winston – dork!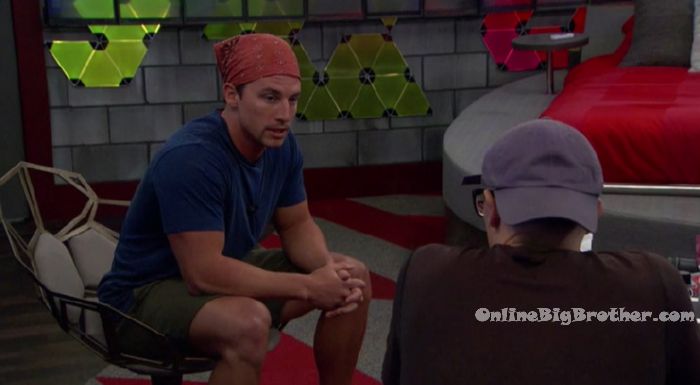 Watch the NEXT WEEK of the Live Feeds for FREE! Click here for your: 1 Week Trial

6:20pm HOH room. Brett and Scottie head up to the HOH room to talk. Scottie – its really straight up. You guys have a connection with literally every girl in the house. By the time we get the votes later, you'll be like Paul and unstoppable. I am not about that backdoor sh*t. Especially if its a competitor that I respect. I want you to have the chance to take yourself off. Brett – I respect that, that's fine Scottie. Scottie – and your votes will always be the same. Brett – I've promised you safety. I've been straight up with you. If you think otherwise, then that's how you feel. Clearly you've drawn the line. It is what it is. I understand if that's how you want to go about it. I think you've made the wrong choice but I respect that you've given me the chance to play for the veto. I am a little clouded right now. I didn't expect this. I think there are some other people that are abusing their relationship with you. I understand wanting to get out strong competitors. There are people that you could take out that don't add to the house and just cause issues. I've tried to talk game with you. Scottie – I definitely would have told you before but its against the rules. Brett – ok. They leave the room.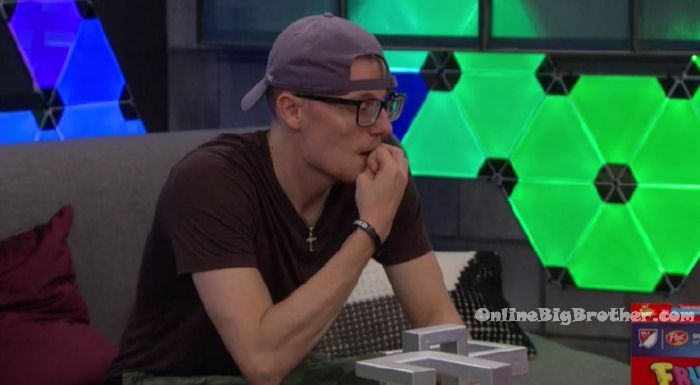 The BROS on the Block Happy Dance @bigbspoilers #BB20 pic.twitter.com/tgIYs8sZ83

— Dawg (@DawgsBigBrother) July 14, 2018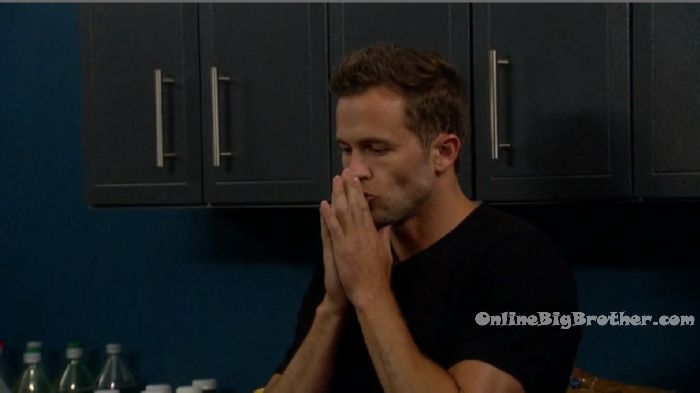 6:23pm Storage room. Winston, Kaitlyn and Tyler. Winston – I need to talk to Brett before he talks to him. Well he did it! Trying to think my way out of this. Putting both of us up is pretty rough. One of us needs to win the veto there is no question. Kaitlyn – what you need to do if one of you don't win the veto is .. you need to separate from him for a hot minute. And start going around literally and telling people why you need to stay over him. Its f**ked up and sad but you want to make it to the end. Winston – Its also like Brett's my boy. Right now there is now campaigning .. theres the veto. JC, Sam and you two (Tyler & Kaitlyn) are the only ones that came up to me right now. Kaitlyn – I think everyone is shocked. Winston – I can't understand why he is lying to the house. Or who is lying!?
6:27pm Havenot room. Brett & Winston. Brett tells Winston his conversation with Scottie. Winston – I need to calm down because right now I want to take him by the throat and slam him up against the wall like high school. I will be like your game is done! Next week you're gone! Brett – I said you drew the line in the sand. Winston – I'm going to say last night I came to you in confidence and even told you about the Sam thing. You've got both of the girls that I said would be up here all day. And everything that I predicted in this game has come true. You just wrote your own death sentence. I won't do it in front of anyone. I will do it one on one and I will scare the little sh*t sh*tless. I'll scare him, done! Don't try to be coy with me its done! They head out of the room.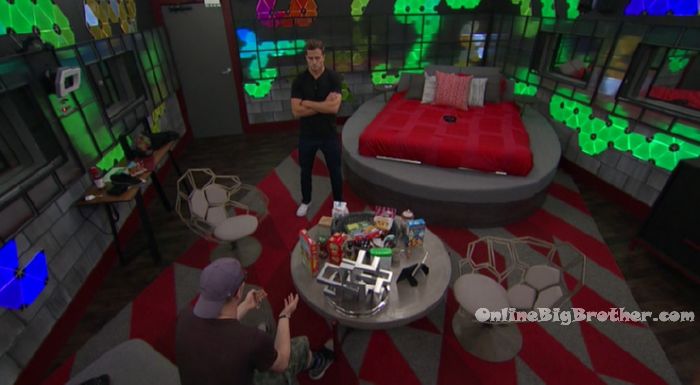 6:30pm HOH room. Scottie and Winston. Scottie – first of all I won't tell anyone about what you said about Sam. that was an issue and cleared it up. The simple matter of it is.. you two are always going to be a vote. Once we get to the final 8 I am going to be able to beat you guys. How good he is socially.. Winston – no I respect it. But I came to you last night and told you exactly what was going to happen today. You can see who's been up here kissing your butt and .. that's going to go on all week. You've forgotten about the two people in your alliance that have flipped. There was an eighth vote out there and I'm convinced you voted for me and just lied to the whole house. I have no idea how what your incentive is on that .. I know Haleigh didn't vote for me. (Yes she did) You did. You just drew a line in the sand. You're gone next week! You just wrote your own eviction so you better hope I go home. Because I am telling you right now I am coming after you! You're gone! Zero questions asked. You better hope I'm gone! You better hope I don't win that veto. Good luck! Winston storms out. Scottie – I respect it.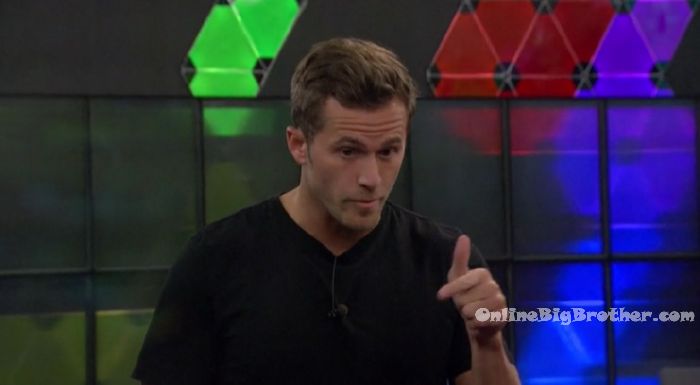 6:35pm HOH room. Scottie and Fes. Scottie tells Fes about his conversation with Winston. Fes – he's an idiot and he's going to get voted out this week. Socttie – Brett was a lot more calm… that's why he's more dangerous. Fes – if one of them come off who goes up? Scottie – whoever is closest to the person that comes off. Fes – the way they're reacting .. they don't have the power. They're going to try and feed you what every they want to feed you. That definitely showed me how big your balls are! One click – Brett! They talk alone all the time.. now they can't do that.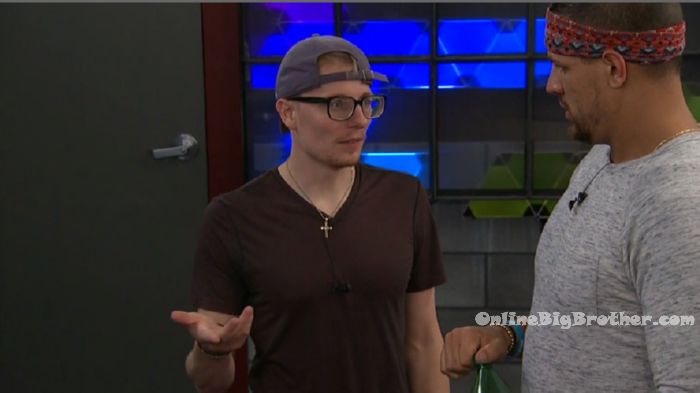 Winston goes to the Havenot room and tells Brett what he said to Scottie. Winston – I think I scared him. I need to climb that rock wall. I need to get some of this aggression out. Or I am going to punch the kid.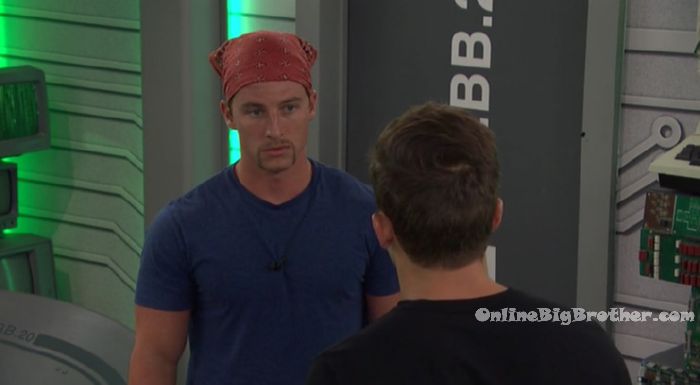 Winston – Bros got to win the veto. Rachel joins them. Brett – I have no one to blame but myself. I should have won that one (HOH).
7:20 HOH room. Rockstar, Fes, Tyler and Scottie. Rockstar – hopefully its the veto with the prizes in it. I think that's when there are only 8 or 10 of us. Rockstar – so if everything stays the same with the veto, we're getting Brett out because he's more charismatic right? Scottie – at that point we can all decide what to do. I am literally not even scared with his (Winston) threat.
For all you folks that need a VPN I use this one
Rank the houseguests!
Easiest way to Rank the house guests use link below