| | | | |
| --- | --- | --- | --- |
| POV: | ? | Next POV: | July 14th |
| POV Used | ? | POV Ceremony | July 16th |
| HOH: | Scottie | Next HOH: | July 19th |
| Noms: | Brett & Winston | Have Nots | ? |
Big Brother Spoilers – Power Of Veto Players Scottie, Brett, Winston, Rachel, Tyler, ROCKSTAR – Haleigh is hosting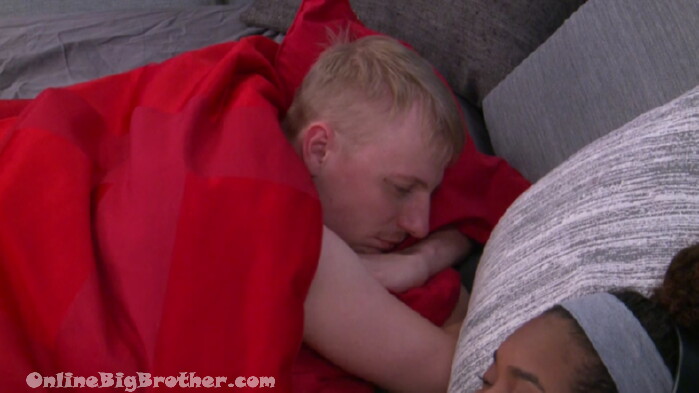 8:55am Bayleigh and SCottie
Scottie says Winston was trying to intimidate him last night.
Bayleigh mentions how that's not a very plan.
Bayleigh says the idea about getting Brett out was floating around yesterday. Everyone thinks he's the bigger threat.
Scottie – ohh definitely
Bayleigh talks about how awesome it would be if Swaggy would come back.
Bayeligh – we would flip everything upside down..
Bay – it's so hard to figure out who to trust in this house.
Bay – I actually enjoy the company of a lot of people in here..
Bay – lets say Brett has one of the powers.. it might not be a pwoer to take himself off the block.. it might be a veto power.. or taking himself off slop.. you know what I'm saying..
Bay – it could be anything.. it couldn't be you take yourself off the block..
Bay – I haven't talked to angela yet./. she gave me a hug..
Scottie – right now it's simple just win the veto..
Bay – hopefully the picks are random..
Bayleigh says Haleigh, Kailtyn and Rockstar are worried about fes winning another veto and putting a bigger target on his back.
Bay – I got intel from Rachel saying the things we know are confirmed.. there's some people that want to lay low..
They assume Angela is one of them.
Bay – if they get picked they won't go all out.
Scottie says he's picking Fes because he'll go all out.
Bay – I'm sorry your HOH room is quiet..
Scottie likes it.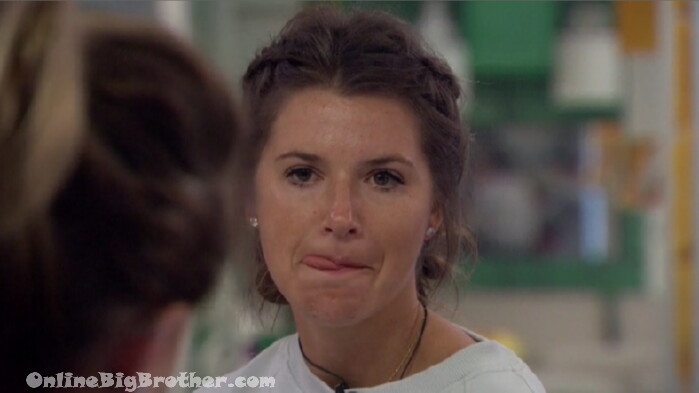 9:00am Angela and Sam
Sam comments that Winston is freaking out. Angela says the bros feel blindsided because Scottie had promised them safety. Brings up Scottie always pontificating about peoples loyalties.
Angela – it's such a hypocritical thing for him to do
Sam – I think something else happened
Sam says she's been trying to comfort Winston..
Winston comes back..
Sam says "pure logic.. "
Angela asks her if Sam would have made the same logical deicsions.
Sam – same thing Kailtyn said.. you aren't guaranteed this same position again.. and he's.. I mean.. yeah Brett and Winston are probably the two strongest competitors Male in the house. (LOL no they are not they are pathetic.. Tyler? or comp beast fes?)
Angela thinks Fes went to Scottie and said "we can run this house come to our side we'll run this.. "
Angela says they are replacing Swaggy with Scottie..
Winston says Scottie lied to him and blindsided him. Winston would not have been as angry if he had been told the night before.
Winston leaves..
Angela says she told Scottie she'll leave the noms the same
Sam and Angela agree they want to keep Brett over Winston. "Brett would be easier to live with.. Winston freaks out too easily"
Sam – Brett actually wanted to get to know me.. Winston ignored me forever… I don't think Winston voted to keep me winston voted against that other side.. he really liked Steve
Sam doesn't think Winston really likes her.
Sam – also Winston made me cofee in a orange mug and that made me mad.. they laugh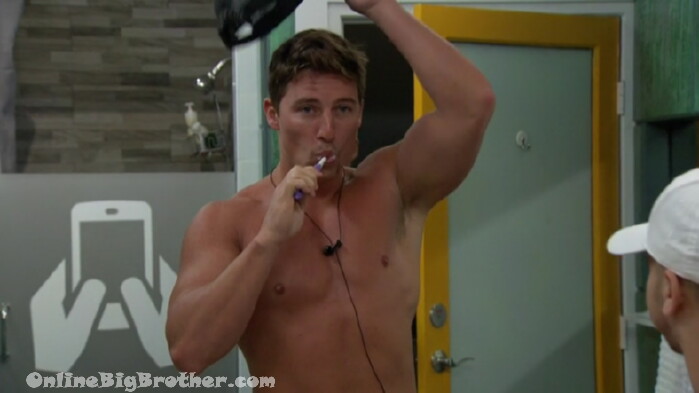 9:44am POV players have been picked..
Brett – has Tyler officially played in all the vetos?
JC – he's played in all the vetos..
JC – Rachel is following him though.
Brett – it's could be f**Ing memory who knows…
Brett – I had a vision to I was on a beach playing with BOOb!es..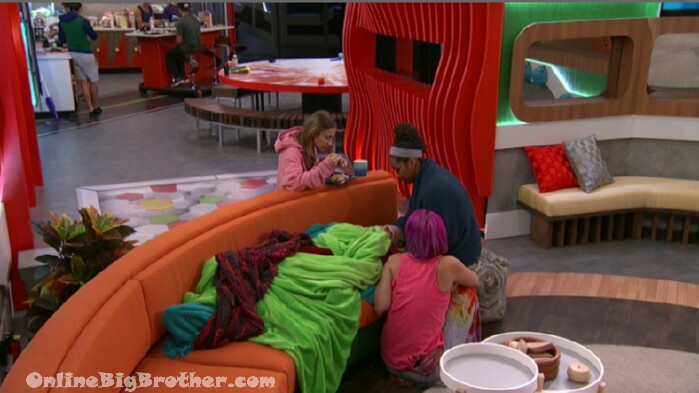 Witchcraft (to counteract my shrine.. I see what you are doing Rockstar.. hmm.. well played)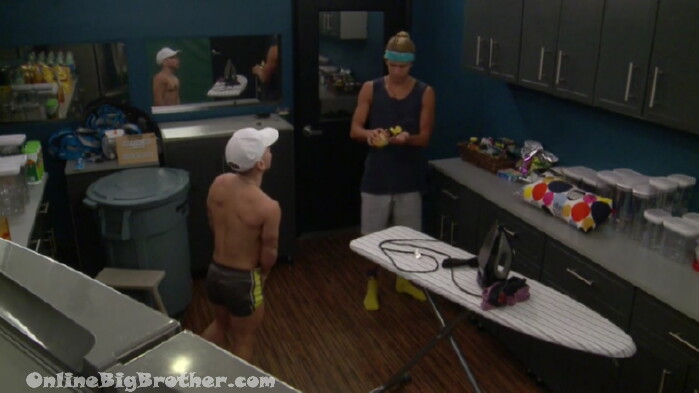 9:57am Tyler and JC (JC playing with his balls the entire time.. wtf)
JC – you have to throw that competition
Tyler – I know .. I'm going to
JC tells him to go out after Rockstar.. "don't go top 3 don't go 4 or 5th after Rockstar"
Tyler says Scottie is telling everyone not to use the veto and if they do he will put up their best friend.
JC – the four is already too powerful.. who do we vote out
Tyler – I'm not sure yet..
JC says everyone is thinking Winston because he blew up.
Tyler points out how calm Brett is he's good
JC – if we don't get BRett out now.. he'll make it all the way.. lets talk about it..
10:10am Winston and Angela
Winston saying how he was lied to and blindsided by Scottie. goes on about how the night before he was nominated they talked in the HOH and everything seemed fine.
Winston – it's alright it's a game i'm not worried about it
Winston says Scottie is in 8 different lies right now..
Angela says she wishes he hadn't blown up on Scottie.
Winston – he came to me like a man I came to him like a man..
Winston says Scottie is making it out to be bigger..
Winston says Scottie has been lying since day one..
Angela reminds him that Scottie is HOH
Winston – you can't double put me on the block..
Winston – this is my second week for crying out loud..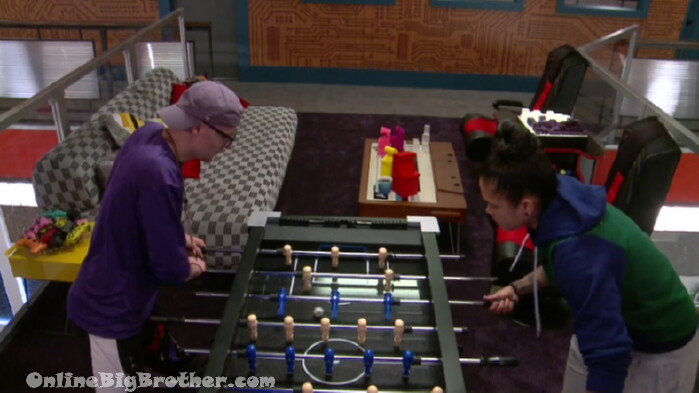 10:13am Kaycee and Scottie
Scottie tells Kaycee if anyone uses the veto their best friend goes on the block. (Damn more b@lls in these players than all the players last year combined)
Kaycee – I got your back.. and when I say it I mean it.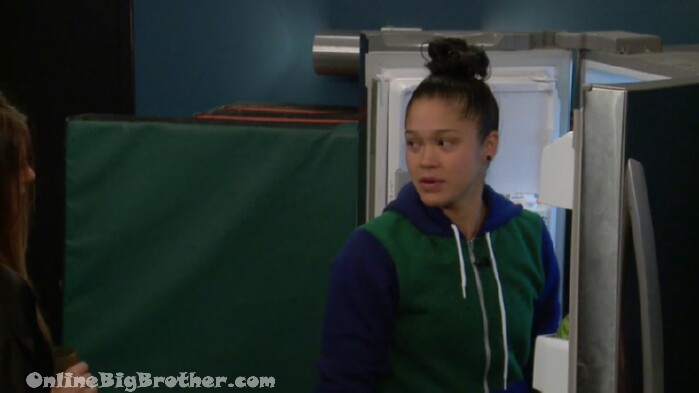 10:21am KAycee and Angela
Angela bring sup Winston blowing up on Scottie now Scottie is mad at them all
JAycee – ohh yeah yeah
Angela says Winston needs to calm down
Kaycee is scared one of them is going up because of that.
Angela – Scottie promised we would be safe.. do we trust him?
Kaycee – I don't know
Angela – he said KAiltyn was the replacement.. that was before Winston's freak out
Kaycee – WINSTON
10:34am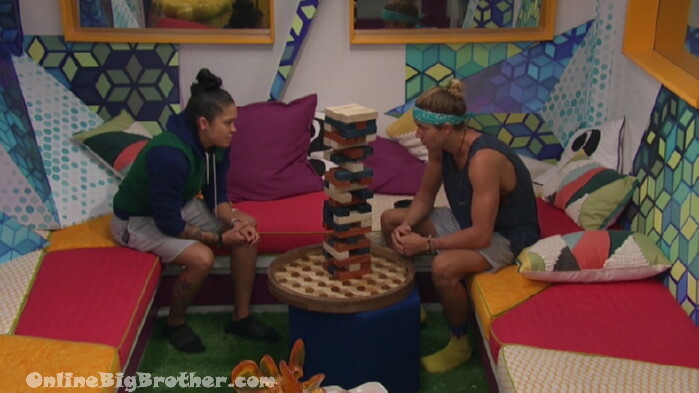 11:00am Tyler and Kaycee
Tyler says Scottie thinks KAitlyn is his number one.
Tyler says once Rockstar is out of the veto he's throwing it to the guys.
Kaycee – we might need to convince Sam to use it this week
T – I got to talk to yo about something with Sam.. yesterday.. I was with Scottie and Sam. Sam made Scottie promise that if the veto gets used
T- She thinks she wont go home.
Tyler- I told her you don't know how many alliances Brett has.. what if you me or Kayce actually need it next week
Tyler says it's important to save the power for next week.
Kaycee says both her and Angela said they wouldn't put Scottie up so they can't be the ones to take him out but if he does put her up she'll take a shot.
Tyler shares Sam's worry that next week they won't have control over who goes up and the power will be automatically used.
Kaycee- I feel like we'll have a good chance to win HOH next week. If we can save one of our numbers this week with the power
Tyler is worried if the bros stay and Sam stay Scottie will be pissed at her.
Kaycee – yeah.. it is what it is..
Tyler – we have to protect Sam for a long run..
Tyler – who would you target next week
Kaycee – Fes
Tyler – and Rockstar
Kaycee yeah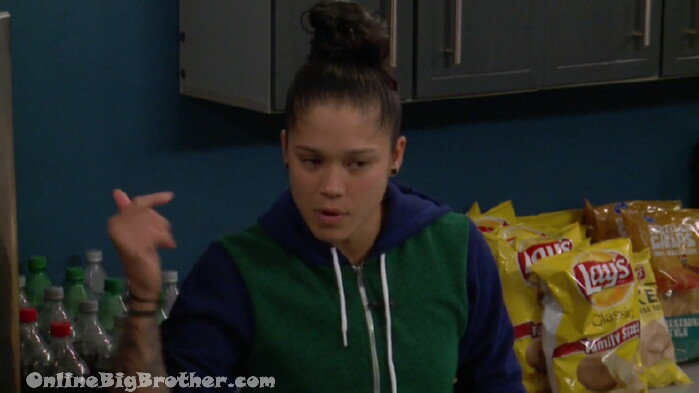 11:10am Kaycee and Angela.
Kaycee says Tyler is throwing hte Veto to the guys, "Rachel needs to do the same"
Kaycee – If Rachel wins one of us would go up
Angela – you or me
KAycee – yeah probably
Kaycee – we still have Sam's power
Angels – I need to talk to JC
Kaycee – if we get two people on that are on our side Sam will have to use her power..
Angela – can Sam use her power on someone else
KAycee – this is what I know.. This is the last week to use it if she doesn't use it it is automatically used next week it give them a chance to come back
Kaycee says if they are evicted she can pull it giving them another chance to come in
Kayce – hopefully one of the guys win.. you would think they put Kaitlyn up.. it would be less blood on their hands.
Kaycee – it was Fes idea to put the bros up
Angela – I know
Kaycee – he (Fes) would put me and Tyler up
KAycee says she's targeting Fes.
NOON
Scottie getting his hair done..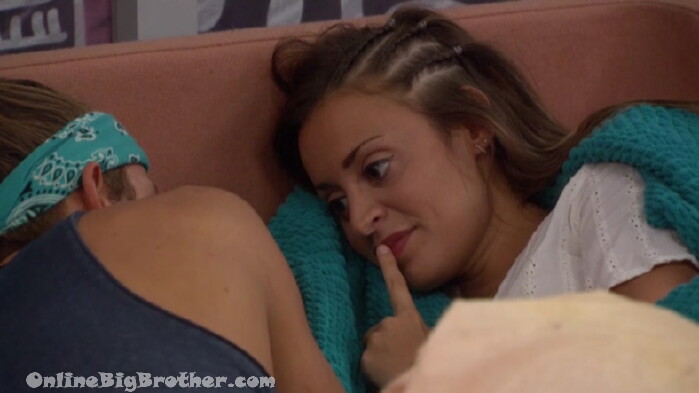 12:46pm Love birds.. (barf)
T – it'll be ok
K – what do yo mean..
Tyler laughs.. "it's just a thing I say"
Kailtyn tells him Sam will use the power on her she told her last night, "I didn't even ask"
Kaitlyn tells him they can send Winston home at any time. Brett, even though she "F*ing loves him" this is their shot.
Tyler – he's really good.
They agree Winston sucks.
Kaitlyn thinks Brett will be more loyal to her.
Tyler questions that says maybe she just thinks that because Brett is more charismatic.
Kaitlyn – the only way you go on the block is if ROCSKTAR won
Tyler – Or Bayleigh
Kaitlyn – you'll be safe OK .. you will
Kaitlyn – if you win you're putting up ROCKSTAR?
Tyler – F**** yeah, who else would I put up
Kaitlyn – and Bayleigh
Kaitlyn – Winston
Tyler- maybe..
Kaitlyn – I really want a girl to win this season
Tyler – I do not
Kailtyn says she'll put up Angela and Rachel and tell them the plan is to Backdoor SCottie
Tyler – is that your plan
Kaitlyn – no
Kailtyn would want to keep Rachel changes it to Angela and KAycee, "she's my f**Ing friend," Kailtyn would see how Rachel does in Veto if she does well then they know she's a strong player in competitions.
Tyler – Kaycee is someone you can get on your side like a jury vote
Kailtyn asks if it's her, Tyler and Scottie final 3 who does he take
Tyler – I would never think I would beat Scottie but I don't think I could beat you either
Kialtyn tells him he would win against Fes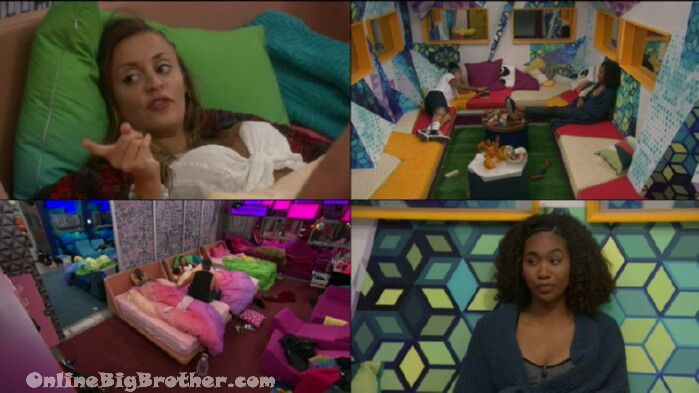 1:45pm Chit chat before POV….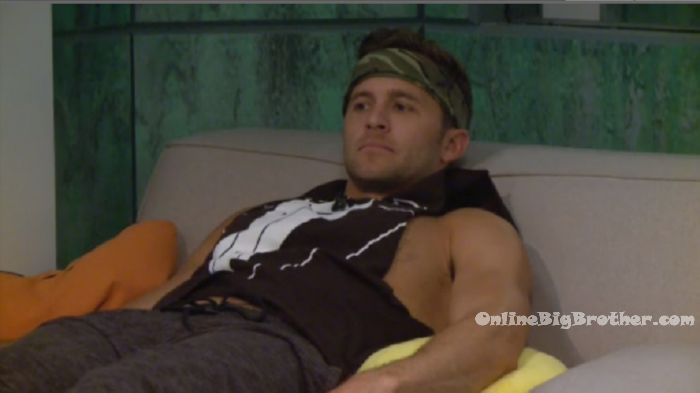 2:04pm Bathroom. Winston – This is the weirdest group of people. Great job on casting ..unbelievable at the amount of personalities in this house. And Rachel is scared of him (Scottie)?! What?!
Bedroom. Kaitlyn – you're my best friend. Tyler – and you're mine .. and I don't say that to just anyone. Kaitlyn – Do you think I would pick him over you one day? Tyler – no.
HOH room. Scottie and Haleigh. Scottie – if you use it your best friend is going up in your place. Haleigh – Damn, Socttie. You're ruthless. Theoretically who do you want gone? Scottie – it really doesn't matter. Its better if everyone argues and they campaign against each other. Haleigh – if I were to win HOH. I would put up whoever didn't go home and I'm not even sure who else. I am more scared of Brett. He needs to go.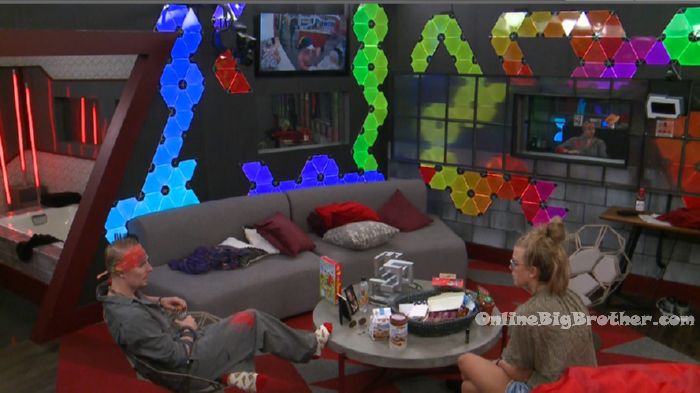 2:28pm Big Brother switches the feeds to the BB re-runs for the power of veto competition to take place.
4:10pm Still blocked..
For all you folks that need a VPN I use this one
Rank the houseguests!
Easiest way to Rank the house guests use link below