| | | | |
| --- | --- | --- | --- |
| POV: | ? | Next POV: | July 14th |
| POV Used | ? | POV Ceremony | July 16th |
| HOH: | Scottie | Next HOH: | July 19th |
| Noms: | ? | Have Nots | ? |
Big Brother Spoilers – Bros going up…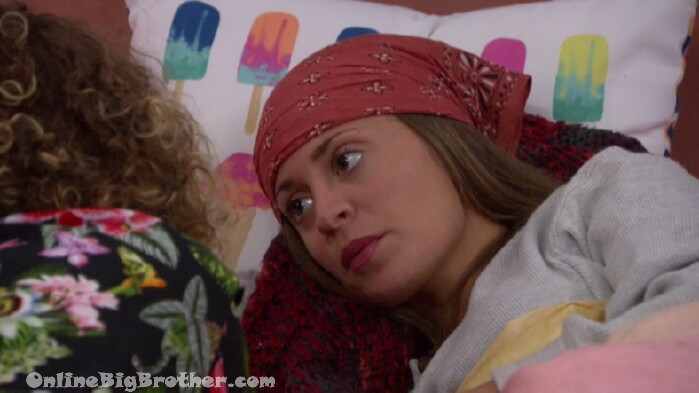 1:37pm Tyler and Kaitlyn
Kailtyn doesn't have the powerapp they speculate who has it. Tyler says he's worried about a potential backdoor done on him.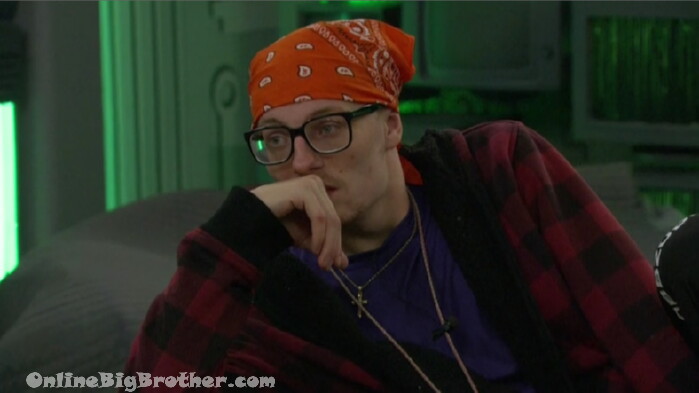 1:47pm JC and Scottie
JC brings up a examples of him looking for what's best for Scottie's game.
Scottie – you're not on my radar at all.. the only reason I would consider it is the power app
JC – I haven't got the power app and a lot of people think I have it.. They're putting the target on me..
Scottie wonders if there is a power app maybe productions is making us paranoid.
Scottie- I have a pretty good idea who I am putting up
JC – no one is targeting you so there's no necessary for you to make a big move
JC adds that if he gets a lot of blood on his hands he might be a target next week. if he makes a small move and does it smart no blood.
JC throws out BRett's name "He's done nothing to you.. "
Scottie says he can't beat BRett
JC – no as an example
Scottie – did he vote to evict Steve
JC – I don't think so
Scottie – Steve did not trust them..
JC – swaggy's group has been really sketchy from the beginning straight up i'm telling you they have someone flipping their votes.. what kind of alliance isn't trusting each other..
JC – I trust Haleigh.. she will do whatever you ask her to. I don't trust ROCKSTAR
JC points out that putting Kailtyn up isn't bloody because she put Scottie up.
JC – she' Literally like a leech she's moving her votes all around
JC – who ever is in power she up there.. when Tyler was up there.. she was like ohh you are such a pretty boy Tyler is so cute.. you know
JC – don't you remember her saying that
JC – now that you won she's wearing your hats ahh Scottie ahah ah (JC is hard to transcribe)
JC – It's like her game is to literally licking the HOH's a$$
JC again reminds him not to get too much blood on his hands because he's safe next week if he does.
Scottie wants to get a big threat that he can't beat out.
JC says he needs to take out the person you has the same strengths as he does. Mentions memory and points out how good Rachel did in the HOH.
JC – I don't work with the four .. they talk to me a little bit
Jc – if you do something crazy scottie remember next week you won't be HOH
Scottie – I was thinking of doing some crazy sh1t.. I was considering the BRos up.
JC – maybe you can get the bros on your side.. I've never heard them say anything negative..
JC – it's better to know who your enemies are more than your freinds..
JC says the other group is crazy, "I don't trust ROCKSTAR"
JC agrees with Scottie if he's going after the bros he's going to have to put both up.
JC says takign out a bro is doing what 2 people want.
Scottie says even the people on the BRos side is saying that the Bros are teh scariest..
JC – ok go for it you have my support..
Scottie – I didn't come here to be scared..
Scottie says the Bros have done nothing so why is everyone scared of them.
JC – why not ROCKSTAR and a pawn.. she has no loyalty to you
Scottie – she hates those two
JC asks him if the veto is played who does he put up
Scottie says if it's Kailtyn that will guarantee 2 votes against the Bro left on the block.
JC – if you want to make a big move like that go for it BRO
Scottie warns him how "Smooth, Charismatic and Charming Brett is.. that's why he's dangerous that's why I can't beat him.. if he can use that charm nobody is going after him "
JC – Winston is literally like a standing thing right there (A Lamp.. LOL)
Scottie says Winston is BRett's shield.
JC – I don't want you to do home Scottie..
JC says if he takes ROCKSTAR out the people in "the powerful part" of the house will not target him.
2:10pm Sam, Tyler and Kaycee
Sam says the people she loves Scottie loves she is so happy he won the HOH tells them they are all safe.
Sam thinks the robot is coming back.
Sam says production spent 60 thousand dollars on the robots each one cost 20grand.. Feeds cut..
Just a bro #BB20 pic.twitter.com/GLqGMY0Udi

— OnlineBigBrother.com (@bigbspoilers) July 13, 2018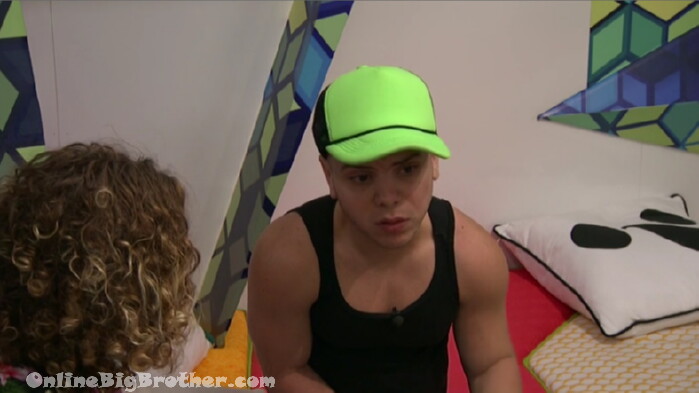 2:20pm JC and Tyler
Tyler says that Scottie knows Rockstar is the only person throwing his name out there and he still won't put her up.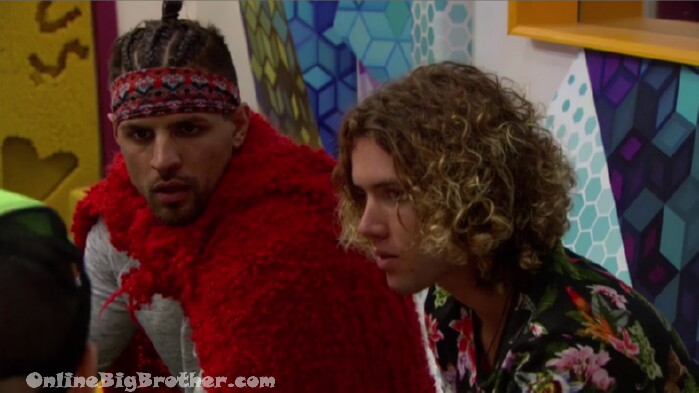 Fes joins them JC tells him that SCottie is looking for blood JC thinks Scottie is looking to make a big move.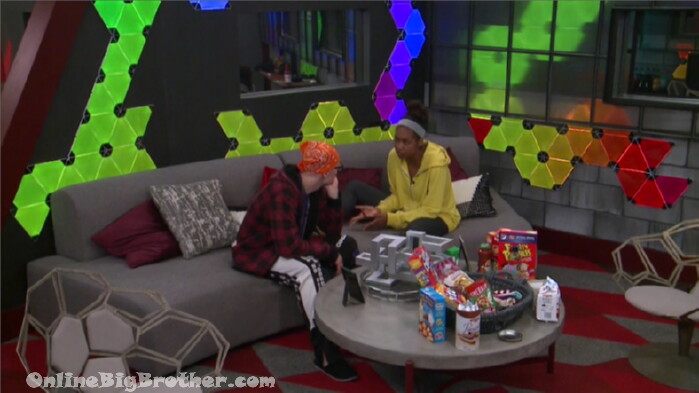 2:38am HOH Scottie and BAyeligh
Scottie and Bayleigh agree Brett is the most dangerous Bro and person in the house.
SCottie want Bayleigh to solidify the four of them.. Angela, KAycee, Bayulee and Rachel. She can unify the girls.
Scottie says ROckstar's name is getting thrown out by a lot of people. "Apparently people are saying she is the one that flipped apparently she's saying I flipped both weeks"
Bay warns him about her spreading the evil genius rumour about Scottie.
Scottie says if on of the bros get off the block he'll put up Kaitlyn as a replacement< "i'll want to put someone up that I know people won't vote for"
Bay – she'll be crying..
Bay brings up Kaitlyn coming to her about being overwhelmed with guilt.
Bay – you are going to go down in history for making a game move..
Bay – everyone loves BRett so much …
Scottie reminds her that Brett isn't impressive in competitions.
bay points out his muscles, "he's not going to be good at endurance"
Scottie says Brett's game is based on his superior Charisma and not having to do anything.
SCottie will pick Fes for the Veto.
Bay – Anglea told me she wants to lay low..
Scottie tells her that Tyler's number 1 is Kailtyn his number 2 is probably him.
Bay asks if she's approached them with a final 3.
Scottie hasn't but they were joking around about the "COre" saying now that Swagyz is gone they need a 3rd member. "it's a joke at this point, it's over "
Scottie says Kaitlyn was very interested.
Bay – was that what the fights about.. remember her and swaggy got in that fight
Scottie – they got in a twitter poll thing
Bay – that's what the twitter poll was about
S – it was about the core?
Scottie – I thought it was about joe (Kaitlyn's boyfriend back home)
bay – no the alliance.. she was like what alliance and Swaggy was like I don't have to tell you
S – Tyler's the one that told me about joe and like .. I guess Kailtyn had a crush… Feeds cut…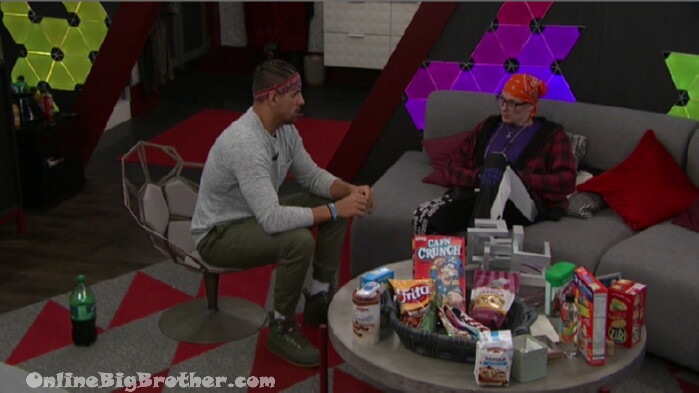 3:08pm Fes and Scottie
Scottie tells him he's putting up two bros.
Scottie tells him to get close to JC because if it's endurance he has a good chance to win it.
Fes says he likes JC a lot, "for whatever reason him and me clicked.. we're tight he trusts me 100%"
Fes – when you got HOH he was a little nervous.. basically what he said was.. I like Scottie..
Fes – the thing I like about JC is he's a straight shooter.
Fes – he tells me right before the vote what he's thinking.. so he tells me a lot.. I trust if I tell him to do something and he doesn't want to do it he'll tell me.
Scottie – he's a total straight shooter.
Fes – I feel like he's on my team heavy bro..
Fes – are you serious about this move
Scottie – yeah.. i have the backing to do it
Scottie says Brett talks a lot like Paul.
Fes – I'm straight up if that gets me to week 8 it does I'm going out with a bang.
Fes asks him when the nominations is Scottie doesn't know.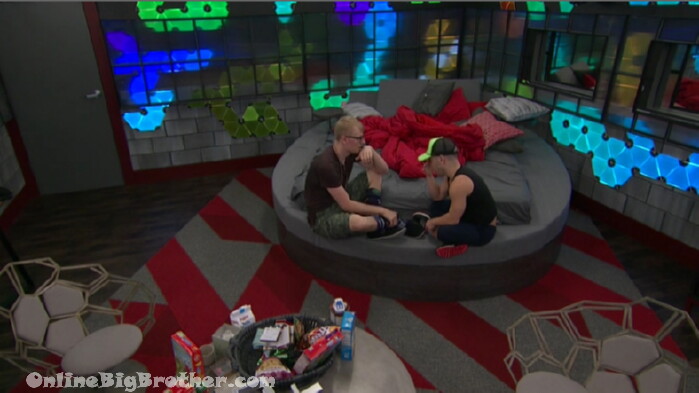 3:49pm JC and Scottie
JC pushing to get Rockstar out. The same reason stated above.
Scottie won't budge. JC says he supports his decisions.
JC – what about Rachel, she is more dangerous than Winston..
Scottie – if I take out the Rockstar side now there's not votes let to take out Winston and Brett
JC agrees.. "you are right.. I came up here to put thing in your head but when you are right you are right.. "
JC says he's glad he's had this talk with Scottie he's right, "keep the house balanced.. "
JC – what if one of them gets out.. they will be in your head..
JC – if one of them take themselves off I will probably have to put Kaitlyn up as a pawn that's the easiest thing to do ..
Scottie wants Brett gone, "Bigger fish"
SCottie says he's going to pick Fes for Veto. JC offers to keep the Nominations the same if he's picked.
Scottie – you're such a straight shooter..
JC says if winston leaves it will be very hard for Brett not to want to take revenge.
Scottie knows this, "I trust one of you win HOH"
JC thinks BRett comes from "some military thing… "
Scottie – we put him on the block it will flush him out..
JC – go for it make your move man and I'm pulling the entire house against ROckstar next week..
Scottie – that's ideal
JC – ROckstar doesn't have any alliance, She wants you out, She wants Tyler out She gives me dirty looks.
JC – you don't even know who the f* she is working with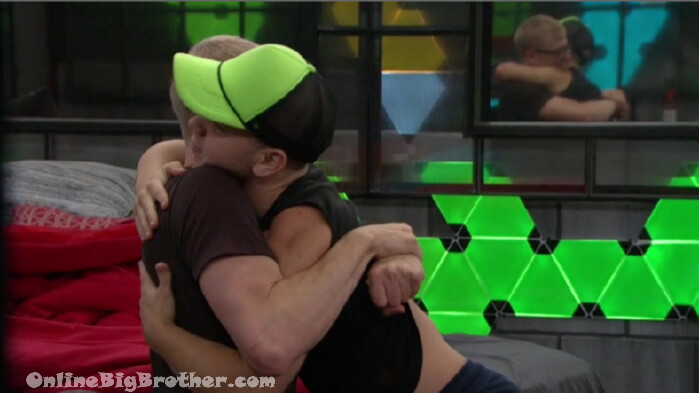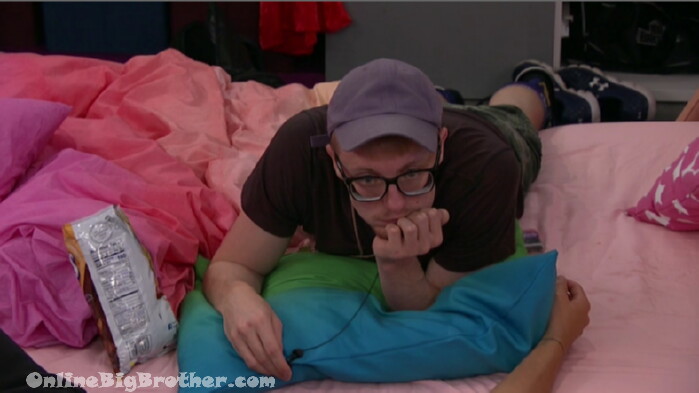 4:10pm Scottie, Kaitlyn and Tyler
Scottie tells them they are both safe the only way they will end up on the block is if some power is played..
Kailtyn – I asked my guides last night what I would do in a tie.. Feeds flip… (WTF…)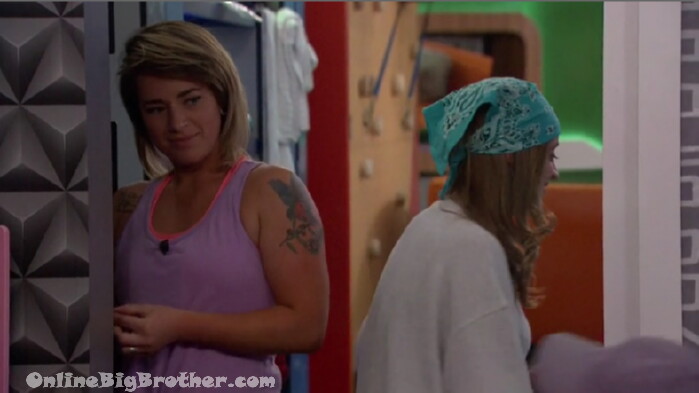 4:14pm Damn Sam is super ridiculous pretty.. (BTW Bayleigh did the hair)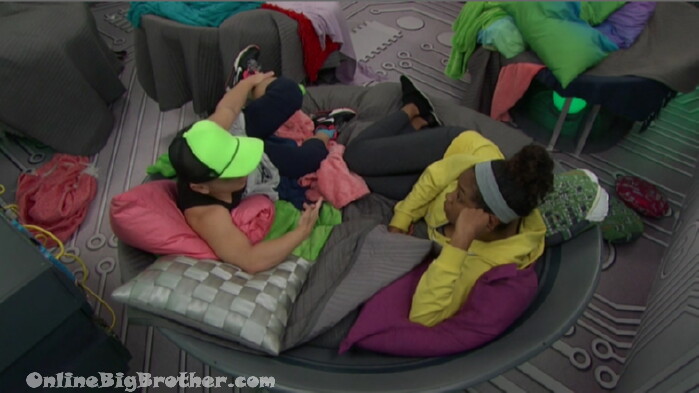 4:23pm JC and Bayleigh
He tells her if she has the power keep her mouth shut about it.
Bayleigh says she doesn't trust ROckstar. Bayleigh was only close to them because of Swaggy.
JC warns her about Rockstar, "No matter who is in the HOH room she's always there.. it's a$$ kissing.. "
Bayleigh – we still don't know what happened two weeks ago..
JC goes on about getting Rockstar out, wants to do it next week.. JC says Rockstar is trying to get into Scottie's head.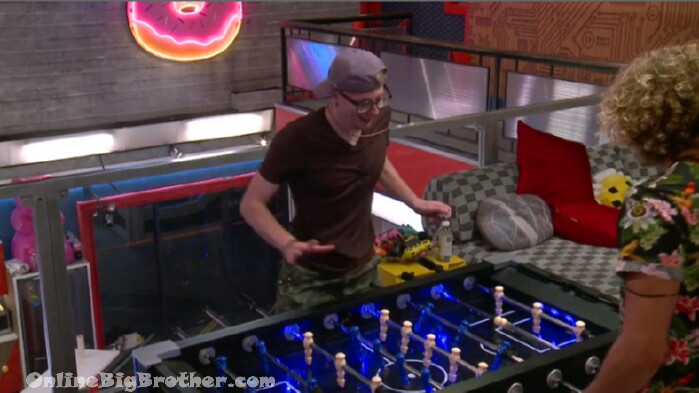 4:38pm Scottie and Tyler Bonding over the computer game Backyard baseball and backyard football
Tyler – backyard baseball 2003 or 2005 what one do yo think
Scottie doesn't remember
Tyler doesn't either but he figures one of those was the best.
For all you folks that need a VPN I use this one
Rank the houseguests!
Easiest way to Rank the house guests use link below