| | | | |
| --- | --- | --- | --- |
| POV: | Scottie | Next POV: | July 21st |
| POV Used | NO | POV Ceremony | July 23rd |
| HOH: | Scottie | Next HOH: | July 19th |
| Noms: | Brett & Winston | Have Nots | Angela, Sam, Tyler, Brett |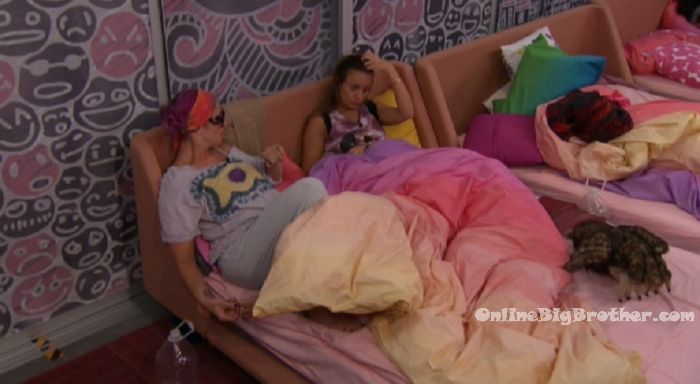 8pm Bedroom. Rockstar the Kaitlyn. Kaitlyn – He was like you think people are voting to evict me and they're not. I will sh*t bricks if he stays. I will sh*t literal bricks if he stays. Rockstar – well hopefully he won't. Kaitlyn – he is going home. He is going home. If its the last thing I do, he is going home. Love him sure.. my brother outside of this game maybe in 3 months from now. And there is nothing he can do to make me think otherwise. Rockstar – my one on one with Winston was suggestive. Kaitlyn – you had a one on one with him? How did it go? Is he not familiar this game? When you're on the block, you're supposed to talk to people. He was like, yeah I'm planning on it. I was like no, last week. Kaitlyn – what did he say? Rockstar – he was like Yeah I really regret that Rock. I said you all want to walk around saying Swaggy drew lines but you guys drew definitive lines. You just stopped talking. If you're talking game and someone walks into the room, you don't just stop talking. You bring them into the conversation. He was like yeah you're right. I said don't bash the person you're up against. Tell people why you're good for their game .. and talk to everybody.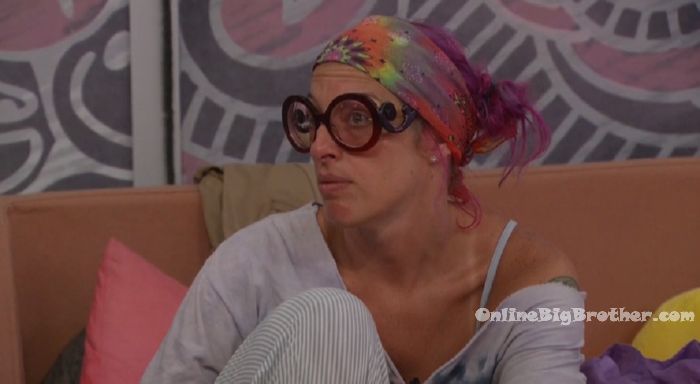 8:20pm Lounge room. Tyler and Kaitlyn. Kaitlyn – when we were talking I was like in the event that you do go home on Thursday. Then I can have an authentic conversation before about what you said. He said he is really embarrassed and said that his family is sh*tting on him. I said I would hope you would want me to go far in this game even if you're not in it and I hope that you can tell me who those people are that were coming to you saying that I was gunning for you. I said lets narrow it down. I know it wasn't Fes, Haleigh, Bayleigh, Rockstar, Tyler. Tyler – you know those things for a fact? Kaitlyn – I am just telling you the conversation I had with him. He was just like okay Kaitlyn, making me believe that it was. I said you never talk to Fes or Tyler.. so you need to tell me whether it was Haleigh, Bayleigh or Rockstar. And he didn't shut me off. Tyler – I love how you know for a fact it wasn't these people. Kaitlyn – the girls were so upset about sending Brett home and I said the facts. Haleigh joins them.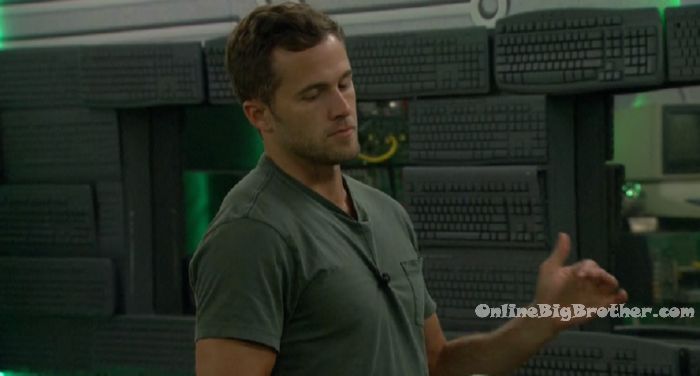 FLASHBACK and watch everything you missed: Live Feed 7 day FREE Trial!

8:50pm Havenot room. Brett & Winston. Winston – Do you know how many people are sucking up to Scottie …when last week they didn't even talk to him. We were in the kitchen talking to the kid. And he put us up!!? Brett – doesn't matter he is the next one out. Brett – He is a f**k dweeb. The only reason I'm on the block is because I'm the f**king man! Winston – Well I've been on it twice so I'm twice the man. There is nothing we could have done to change the situation. Brett – All that I am getting from this is people taking revenge like we're in high school. Brett – I know I need to talk to people but I don't want to talk to her. I can't bring myself to talk to Rockstar. I want to spit in her face. Winston – he (Scottie) voted to keep me and then put me up. He voted to keep me and then 12 hours later put me up?! Winston – its just a bunch of spineless people that are just going with the flow.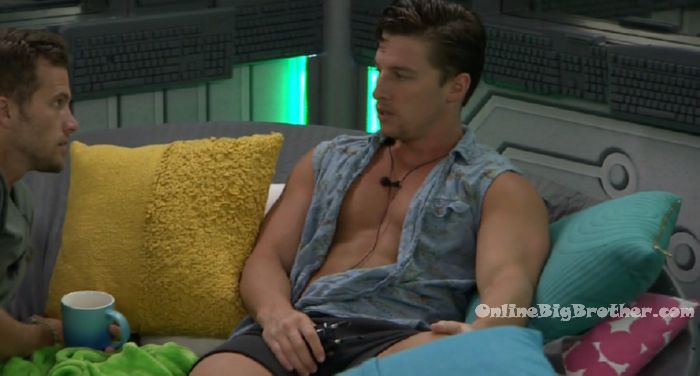 Winston – we just need to put on the facade and talk to people. Brett – I'm going to try and figure out who has the power app. Winston – maybe we can get Sam to use it. Maybe that's why she's distancing herself. Brett – she (Rachel) was all pissed that I didn't come talk to her. Well even if you were my girlfriend I wouldn't come talk to you. And that's why I don't have a girlfriend. Winston – maybe we'll have a few double dates after this. Brett – all the girls hate me here. Winston – because they all want to date you. Winston – I don't believe Scottie has never kissed a girl. Brett – f**king turd! Do we have the softest cast?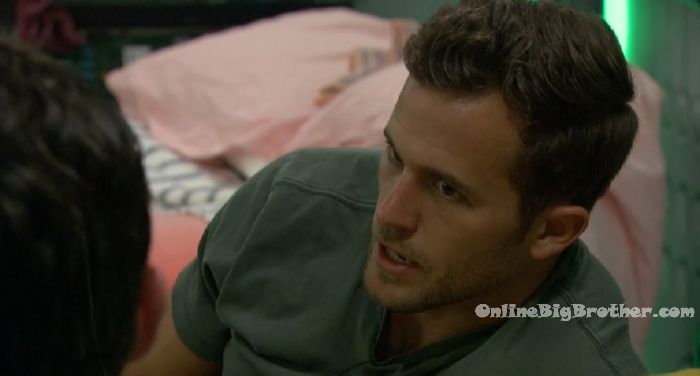 9:50pm Fun with the lounge room wall…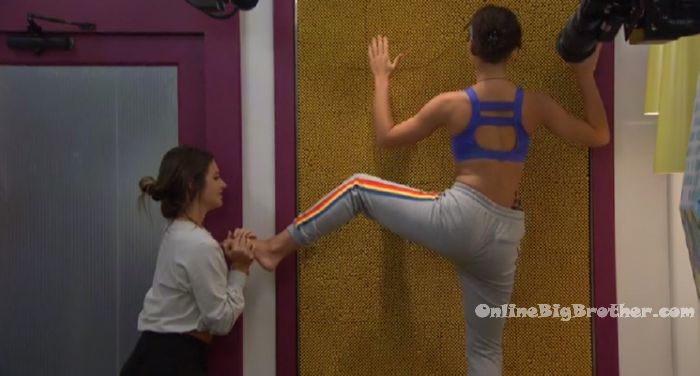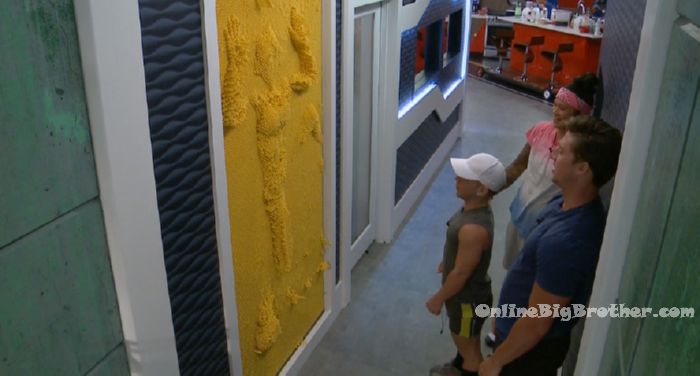 11pm HOH room. Bayleigh, JC and Fes. JC – This Thursday if its an endurance.. I'm going to f**king kill that sh*t! So then I can put Fessie on the block. Fes – don't joke around about that sh*t. I bet you if we had money in this house I bet I would beat you and put you on the block. Just kidding. You ain't beating me JC!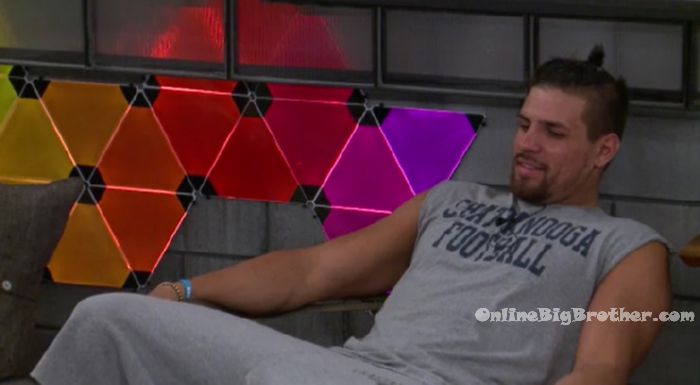 11:12pm HOH room. Rockstar, Fes, Bayleigh and JC. Fez – who do you think America likes more? Rachel or Angela? Rockstar – Rachel. Fes – who do you think is hotter? Rockstar – Rachel. JC – Rachel is very hot. Bay – I think they're both cute. Fes – when Angela dresses up she looks really cute. She looks really good all the time but she looks really good when she dresses up. JC – she is the girl at the party that you don't have any chance with. Fes – well not me but.. JC – I'm not talking about you .. I'm talking in journal (general). Rockstar – but she is not anyone you want to party with. Because she's boring. She is pretty, like I would like to look at her in my magazine. JC – she talked about how she had a zoo in her house.
11:30pm Kaycee and Winston. Winston – Everyone has just been up in the air, which is fine. It might be that way all the way up until the vote, which is fine too. I have to do my due diligence and at lease try. I don't know what happened with all that drama that unfolded in the kitchen. Rachel joins them. Kaycee there has to be more twists, this is season 20. Winston – maybe in a week or so there will be a battle back with vets. Bayleigh – oh don't say that.
12:25am HOH room. JC and Fes. JC – I love Rockstar as a person but she doesn't keep her mouth shut. Fes – so what benefits your and my game. All I know is that Winston doesn't win a lot of stuff. Winston is a weak player so competition wise we could always beat him because he's not that good. Brett is a physical and social threat. If we get him out now that is one less threat we have to worry about however if we get him out now that means he isn't going to e targeted in the future which means I am probably next on the pecking list. JC – I agree. I think Brett is very honest. Winston is more like a girl, very sassy. Also if you send Brett out Swaggy has less of a chance of coming back. Fes – you can't think like that. Brett is coming for Kaitlyn. Winston said that he can't see past the eviction. To be honest I think Winston is coming for you or Rockstar. Fes – why would Winston come for me? If he's not a good competitor then why would he risk putting me on the block if I stay and then come after him.
Last nights Big Brother OUTRAGE *****************
12:38:39
Bayleigh – let me ask you this is there a difference between a mi**it and a dwarf?
JC – Mid** is like saying.. gay for f@got .. or
Bayleigh – so mid**t is just a name..
JC – or n**ger and black
Bayleigh – you are not allowed to say that don't do that again..
jc – what
Bayleigh – that was out of control
jc – really
Bayleigh – yeah..
JC – I think when I am trying to explain something it doesn't…
Bay – no you can't do that..
feeds cut..
(Let me know what you all think in the comments. This is a interesting one that has blown up.. Bayleigh doesn't want JC to use the N word. JC says it's ok to use the N word when trying to explain something. like the similarities between the N word M word and F word.. )
12:40am – 1:25am Big Brother blocks the feeds.
2:10am Kitchen. JC and Brett. JC – I'm so stressed. This is the most stressed I've even been in here. Sam comes to the kitchen to bake.
2:40am – 3am Bathroom, JC and Fes. JC – to be honest Fes, I don't care who the f**k goes this week. If its our destiny to go out next week it doesn't matter. Who would you put up if you won HOH? Fes – I'm not sure. JC – for me Rockstar is probably one of the worst game players in the house. But I talked to her as a person, she has children, she has a house and would like to make it to jury to bring some extra money home. Whoever stays and Kaitlyn is the only person that is getting on my nerves. But is that really beneficial to my game? Fes – its not beneficial to my game because she does what I say. These people make it another week because they are loyal to each other. Fes – who. JC – the four.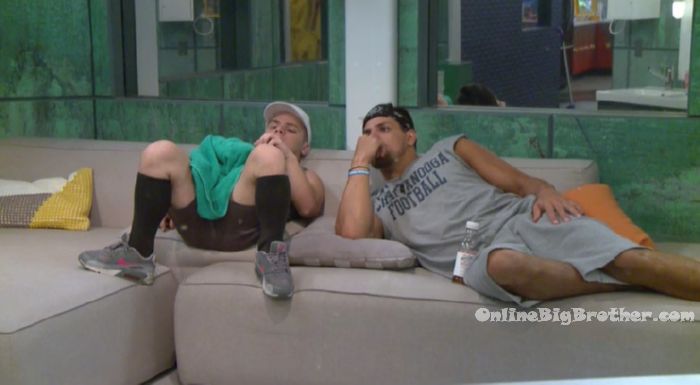 3:30am Sam is still up in the kitchen baking..
For all you folks that need a VPN I use this one
Rank the houseguests!
Easiest way to Rank the house guests use link below