| | | | |
| --- | --- | --- | --- |
| POV: | Scottie | Next POV: | July 21st |
| POV Used | ? | POV Ceremony | July 16th |
| HOH: | Scottie | Next HOH: | July 19th |
| Noms: | Brett & Winston | Have Nots | Angela, Sam, Tyler, Brett |
Big Brother Spoilers – I don't think the Bros will make past Thursday.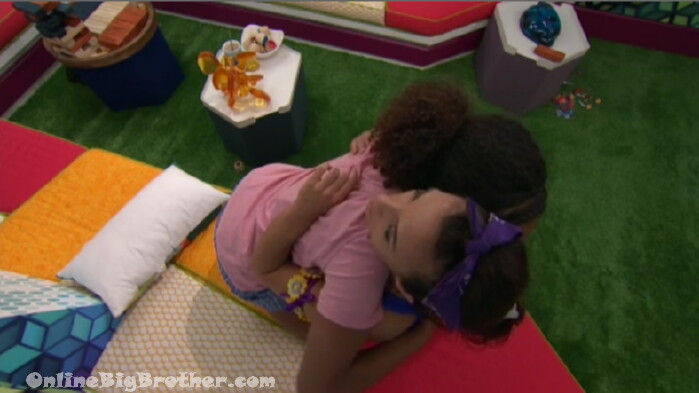 12:10am Rachel Crying.. It's her birthday and she misses her family.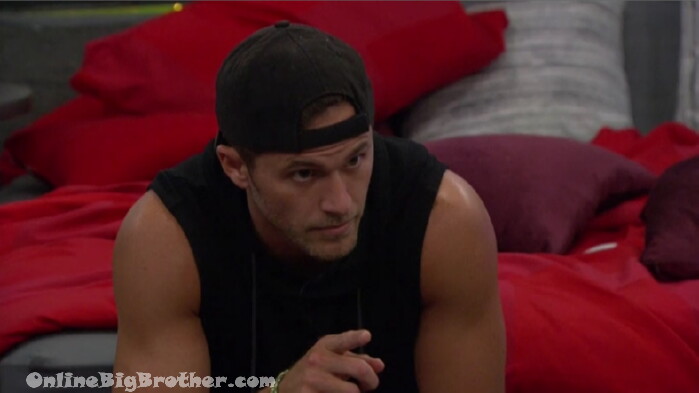 12:58am THe Bros and Scottie
The bros trying to talk Scottie into a final 3 with them. Thee says the blow up Winston had yesterday is the perfect co er for them.
Winston – I don't want you to think this is a last ditch effort.. this has been calculated since you've nominated us
Winston – everyone knows I blew up on you and a line has been drawn.. it would make no sense for you to take me off.. what I am offering you right now.. this right here could work and I will walk you through now.
B – when you look at it it all works out.. when you look at it from perfect game play it all works out.
B – Winston blew up you are upset with him.. no one will see this coming.. you can come out of this unscathed without upsetting anyone.
B – it wouldn't make sense to take Winston off because of what happened..
Brett mentions there's another person on that side of the house that people are very upset with.
B – that's a fact because there was a really dirty move
B – Scottie I've played nothing but a loyal game with you and Steve..
W – if me and you play this up where we don't speak in public .. you use me as a pawn I use you but the real pawn is our target.
W – it's a beautiful hidden alliance that nobody sees coming \
Winston goes on that Fes is a good competitor but he doesn't know the game.
W – You know the other side is very weak.. this is your opportunity to make a phenomenal game move
B – the reality is you have the votes.. you keep both sides happy.
Brett says there's no way Bayleigh will vote to keep Kaitlyn after what she did to the swagyz
B – This is a phenomenal game move the biggest thing I ask yo to do Is sleep on it, Give yourself a moment.
W – if we did this .. I'm telling you right now it's only us three..
Winston – we were debating about coming here at 5am
Winston – what I'm saying is, we know the type of player you are we know you got the brains and eventually these HOHS are going to need some brawn..
Winston – we have a opportunity right now because of the way I acted.. it was the perfect setup.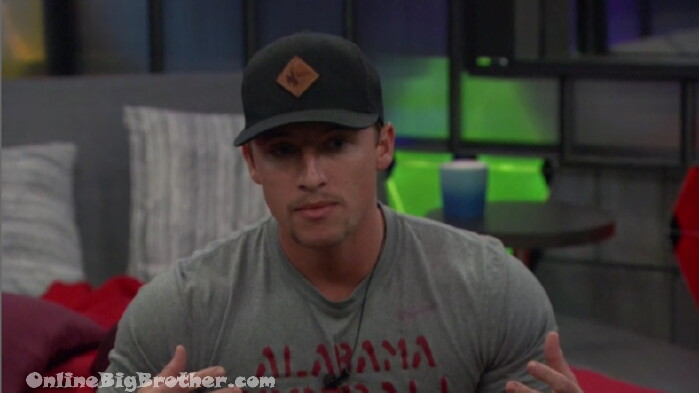 B – you come out unscathed from both sides of the house
Brett says the one side of the house will be happy because he avenged Swaggy the other side will be happy because you pulled one of the bros off.
Winston now tell SCottie next week when he can't play in HOH they can promise him safety, "We have the majority of numbers.. you know it's true"
Winston asks him if he is a super fan
Scottie – I don't like the word superfan
The bros go on about how this is under the radar "that's the beauty of it"
W – this is a great long term commitment
Winston says if they send a bro home Scottie will be fighting with the numbers he's got.
B – you need to appeal to both sides here.. you walk out the reality is you have the votes where she (Kailtyn) goes home
they got on about it being tough to be a early HOH. Scottie needs to minimize blood on his hands.
Winston – this is not a last ditch effort either
Winston says the moment he had the argument with Scottie he thought this is a perfect chance for them to work together because they've gotten along better than 1/2 the people have in the house, "on a personal level"
W – we can ride this thing.. I'm telling you .. You are being quiet, I kinda wanna hear your thoughts
B – we can make this long term..
Brett wants to wrap this up
Winston wants to keep going tells Brett to "Calm down"
W – we're giving you our game right now and it's a danm good game..
W – what's your thoughts..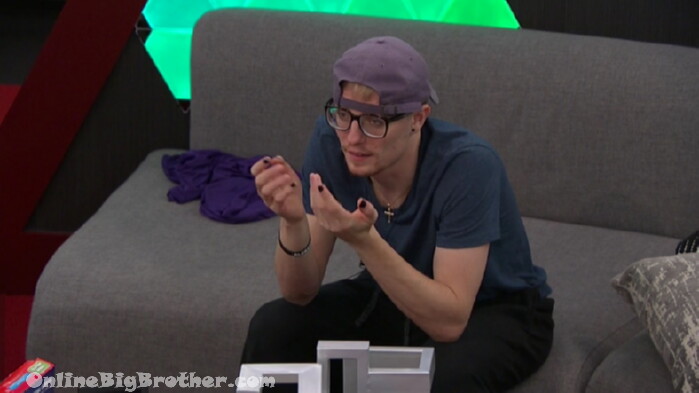 Scottie – there's reservations..
Scottie says that when they get to final 3 they will pick each other over him.
W – from the final 3 on it doesn't matter.. when you beat us fair and square..
Winston goes on about how they have to make it to the final 3 the odds of that happen are slim unless they all work together, "we have the numbers right now"
B – we're not even saying we have the numbers.. it reduces risk ..
S – I don't know if this will mitigate blood.
Scottie says people from both sides were good with the bros going up.
B – right makes sense.. we're boisterous we run around the house .. it makes sense..
Scottie – I'm at the point where I need to sleep on it.
Winston – Backdooring Kaitlyn is a revenge moves.. I love Kaitlyn..
Brett leaves.. Winston goes on about a 'Golden opportunity" where he can please both side.
Winston says Scottie takes their deal they have a "95% chances of running this thing to the final 3"
If Scottie sends a Bro home, "We're all fighting for our lives and you have a huge target on your back"
Scottie says if they are using each other as pawns to keep the secret he's already won 2 competitions. IF Scottie is a pawn that's low hanging fruit.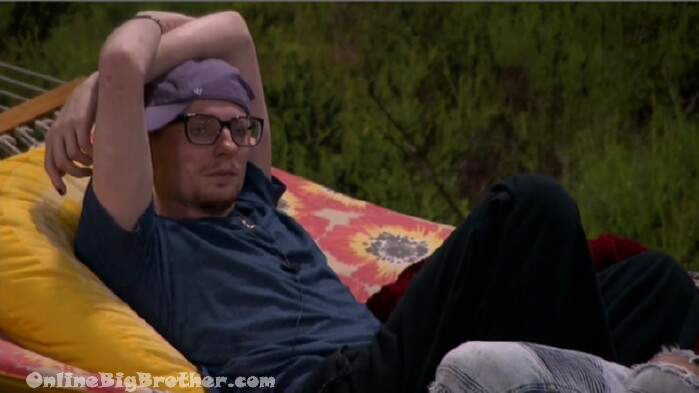 1:20am Scottie and Fes hammock
Fes – they haven't talked to you
SCottie says the bros have asked to have a meeting with him. They haven't had it yet. Winston just apologized to him.
Fes mentions that for the thurd straigth week a guy is leaving. "It might not be the worst thing"
Scottie – if you feel we need to pivot this week.. I don't think so but if you need to let me know
Fes – no..
Scottie – three times Ive seen this giant group (of girls) KAitlyn was the odd one out.. this is the first time I've seen SAm in this group..
Fes – Sam doesn't really talk game..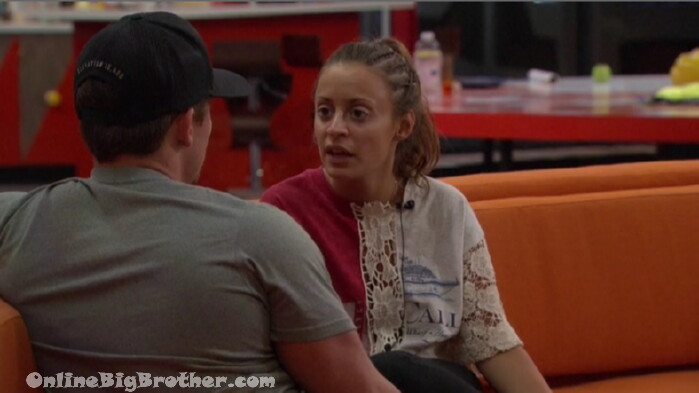 1:10am Kaitlyn and Brett
Kailtyn tells him she will work with the people she's close to to try and get Brett to stay. Brett appreciates this tells her it's tough right now because the season is just starting out and there's not much to go off of. Kailtyn tells him for here there is a lot, "I've put a lot of Trust in you, you were there to comfort me during a hard decision and time.. I still owe you a lot and that doesn't go unnoticed.. "
Kaitlyn – you could easily go to SCoittie and say it was Kailtyn that flipped the vote
Brett – my game play is loyal game play..
Tyler comes out of the DR wearing his POV costume saying they made him put it back on.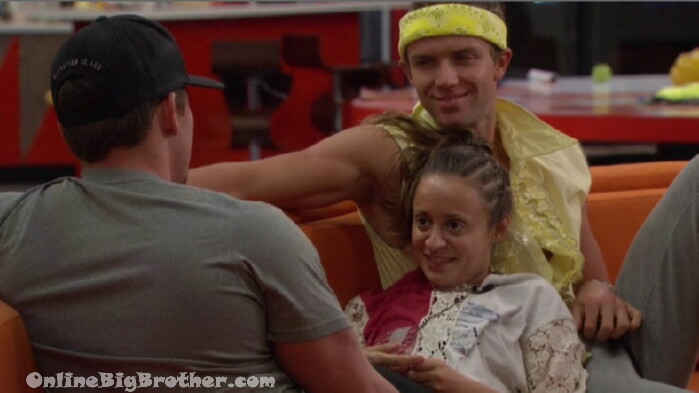 Kaitlyn – Tyler we need to make sure Brett stays…
Camera flips back to the Hammock with Fes and Scottie. They are trying to figure out what the Bros are going to pitch. (Scottie pretends they haven't ye t)
SCottie says they will probably want him to put up Kaitlyn.
Fes – the talk is everyone loves BRett they might wantt o vote him out becuase everyone loves him so much..
Fes says the only person that will oput SCottie up is Winston and Wisnton won't win any competitions.
Scottie and Fes agree Wisnton is really bad at competitions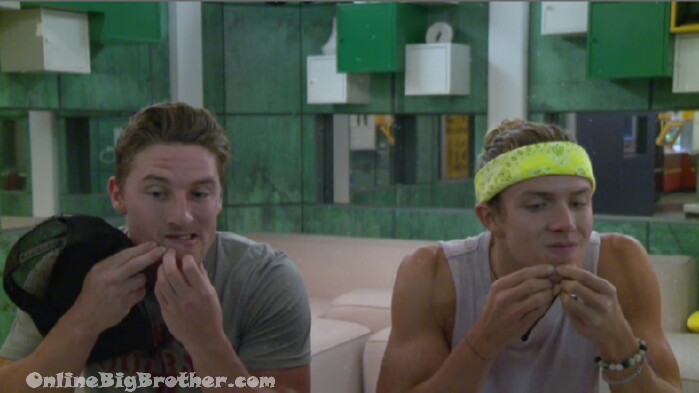 1:46am a Bro and Tyler
They agree Rockstar hates them both "for no f*ing reason"
B – all I hear is her name out of her mouth 24/7
T – me too
Tyler says Winston has lost a lot of comps and Brett is a larger Threat. Brett is nervous.
B – we're down to 4 votes..
Brett says JC caame to him saying that Winston is a liability so he;'ll vote for Brett. Brett doesn't know what is true rigth now.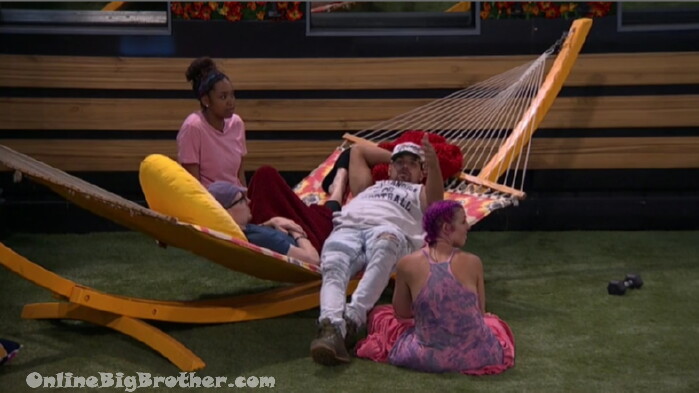 1:54am Fes and Scottie
Fes is talking about never throwing a comp even if he doesn't need it. He says hes sticking to his alliances .
Fes says season 18 was the first season he watched.. Bayleigh and ROCKSTAR join them. Chit chat about twists..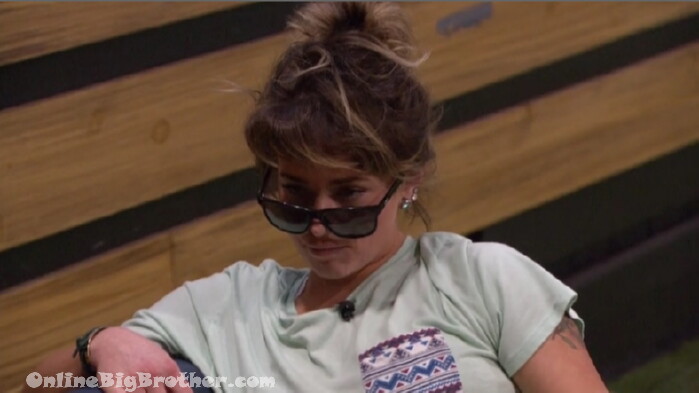 2:02am therapy session with Sam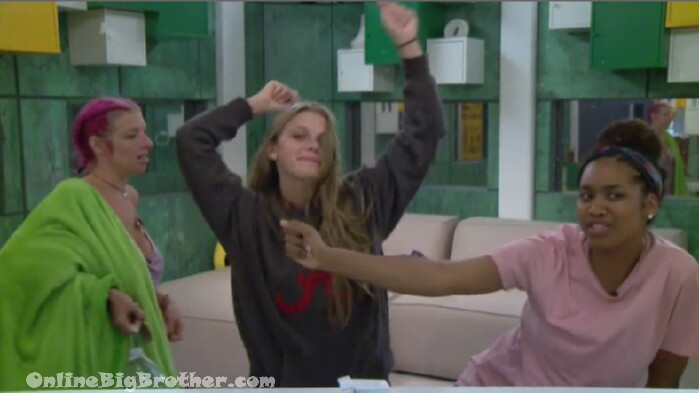 2:45am Bayleigh, Haleigh an ROCKSTAR 
Bayleigh brings up a conversation she had with Kaitlyn where they formed an alliance call "team this"
Cheetah sisters..
Team this..
They talk about the dumpster fire the Bros have created with lying about who flipped.
Haleigh – Honestly, today when I was getting a massage, I considered maybe this wouldn't be the worst thing.. we could keep him until Jury so if I end up in Jury I could get massages.. it's a thought..
"Team THIS" #BB20 @DawgsBigBrother pic.twitter.com/aTlnxPMzS0

— OnlineBigBrother.com (@bigbspoilers) July 15, 2018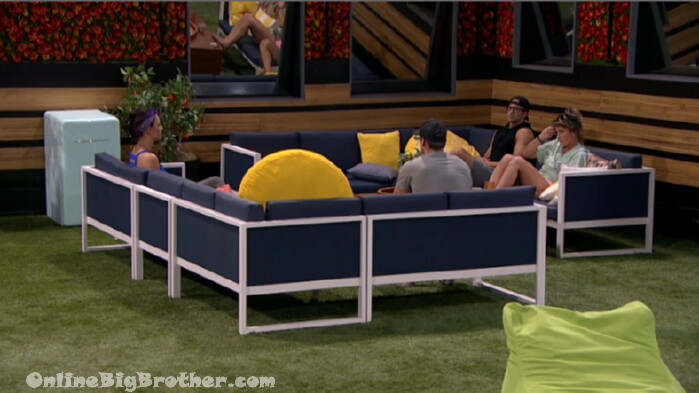 2:57am Backyard Sam, Rachel. Brett and Winston
Rachel thinks Bayleigh has the power.
Winston says the only chance they have is if Scottie pulls Brett off
Brett tells them if Scottie pulls one of them down he makes both sides happy.
Sam – I think y'all are living in the the two sided house and thats gone.. it's smaller groups.
Rachel – do you feel really close to Scottie
Sam – f* yeah… I thin kit was easier for hinm to talk to the robot..
Sam says Scottie is leaving her alone, "He's playing the game now"
Sam doesn't mind because it's less she has to worry about.
Rachel again points out that after the BBapp was awarded bayleigh ran up to the HOH and had a meeting with Scottie for 30 minutes. Sam shots that down and says it had something to do wtih Swaggy and avenging him. Sam says Scottie is avenging Swaggy by taking out a bro. Rahcel says Scottie is avenging Steve. They talk about Swaggy and Rockstar forming an alliance day one and hosting meetings.. Brett says they were the ones left out. SAm agrees.
Sam is surprised when the Bros say if Kaitlyn goes up she'll be evicted. The bros mentioned how pissed off Fes was at her.
They compare notes about Scottie being a rat for Swaggy.
Winston – I saw him laying on the floor talking to Swaggy thinking he can't be seen..
Brett gets called into the Diary roon..
Winston calls Scottie a "Chump" based on how Scottie made him feel and what Scottie said during the one on one before nominations.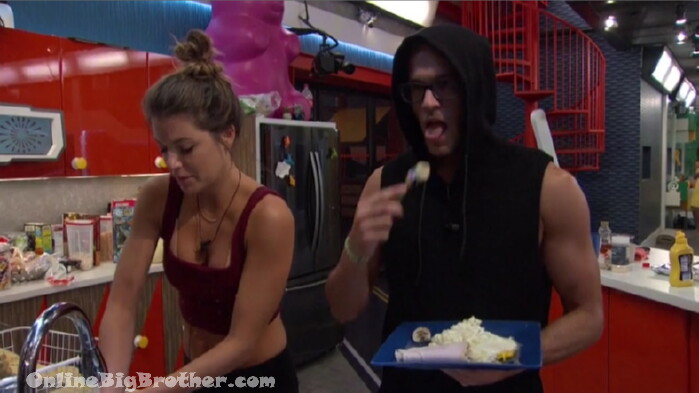 10:12am Angela and Winston
talking about how him and Brett had a serious discussion about the boundaries of their campaigning. They're not going to play it dirty just meet with everyone one on one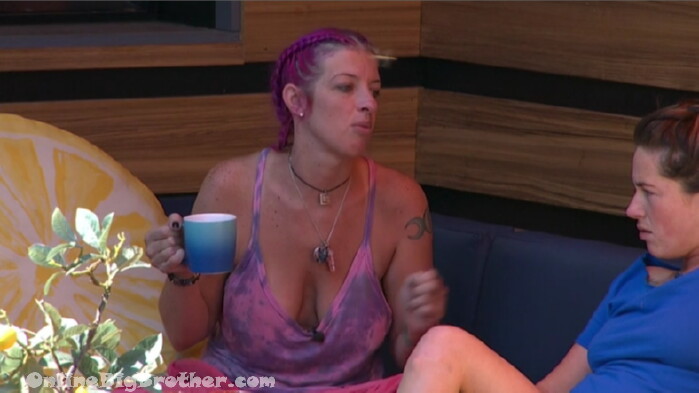 10:14am Rockstar and Sam
Rockstar mentions that Brett was pitching to Scottie that haleigh and RS are the two floaters that are always in the HOH's ear. Adds that he was trying to pin the vote Flipp on them.
Rockstar says Brett doesn't need the money calls him Silver tongued sale man.
Rockstar say Brett's family is loaded. He travels to ST Croix.. i'm not being judgy
RS – I'm not being judgy the kid doesn't need the money.. he's doing great in life. He stands in the way of the people that need the money (u need a bra)
Rockstar – it's the best game move to get rid of Brett..
Sam – alright between me and you
RS says Brett has every lady wrapped around their finger except for me and you
RS talks about all the girls being in an all girl alliance. The only girls that don't know are Rachel, ANgela and Kaycee.
Rockstar – Angela refuses to talk to me.. I can't tell if it's me being judgy of her or her judgy of me I thin kshe's a total b1tch she seemsvery snobby
Sam – she's not.. you have to put that idea out of mind.. you have to change your way of thinking.. I was close to her she is not..
Sam – you have to clear your mind and your heart of that and you will see your new way…
Sam thinking Angela will come out once Winston and BRett are gone.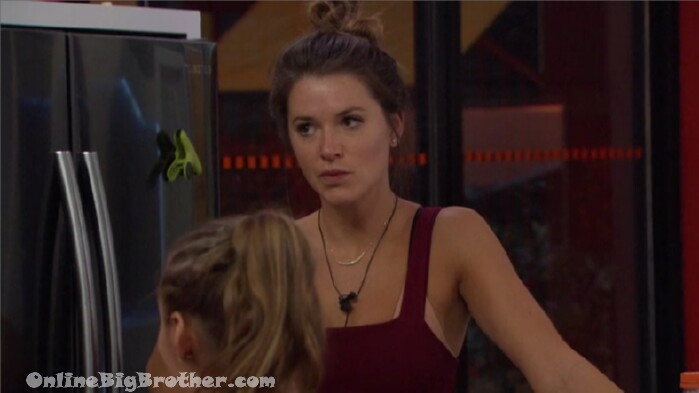 10:29am Kailtyn and RS
Rosckstar goes on about her conversation with Sam
Kailtyn says she wants Winston out this week she can't stand living with him.
Angela walks in..
Kaitlyn – what the F*** are you going to do.. on Thursday..
Kaitlyn says the person best for her game (Winston) is the person she can't stand to live with and the person she likes to have fun with is worst for her game (brett)
Angela – I told myself I was going to have a fun summer
Kailtyn – SAME
Angela – if that's what it takes..
Kaitlyn – also spoiler alert think on day 2 I said to him I have your back… now that I've f**ed up all the other loyalty in the past IO'm trying to show America this b1tch isn't loyal.
RS – if he doesn't go this week he'll win 500 thousand dollar
Kaitlyn – you think
RS – he's got all the girls with his massages.. wrapped around his little finger
Kaitlyn – We're stronger that that ..
RS – are we.. he talks to the men he's liek Paul.. these are teh facts you're smart I'll let you draw the conclusions.
They go back and forth..
Angela says Brett will take them far
Rockstar says he'll take Angela and KAiltyn far he's targeting her.
Kailtyn – I respect that.. you gotta do what's better..
RS brings up that BRett is loaded.
Kaitlyn – yeah he comes from money.. whatever..
RS goes on about how Brett will go after Scottie
Angela – I fee lliek BRett we can figure out
RS is dead set on taking Brett out.. Angerla and KAiltyn are on the fence leaning towards keeping Brett.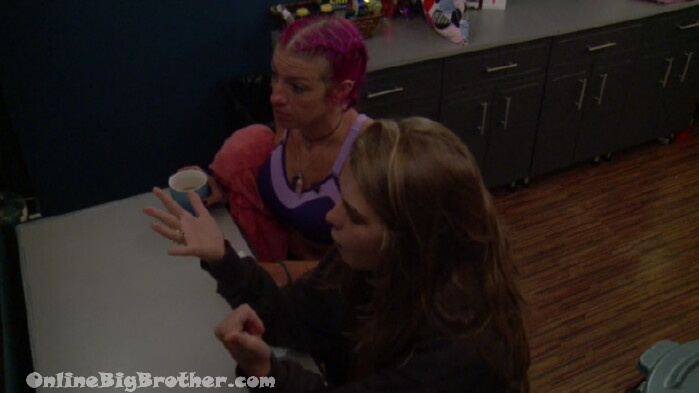 10:50am Storage room
Rockstar going on about Kailtyn not wanting to vote out Brett.
Rockstar says she wants to corner Kailtyn and remind her that she said her true loyalty was with them..
Haleigh – Me, you, Bayleigh, Fes,
RS – I think SAm .. she agreed.
Haleigh that's 5 we don't need her.. f* her
Haleigh – don't talk to me about loyalty..
RS – got she's annoying..
RS impersonates KAiltyn "I just don't want America to think i'm not loyal .. Brett will take us to the end"
RS – brett will take you to the end.. Brett just tried to get me and Haleigh on the block
Haleigh – F* her..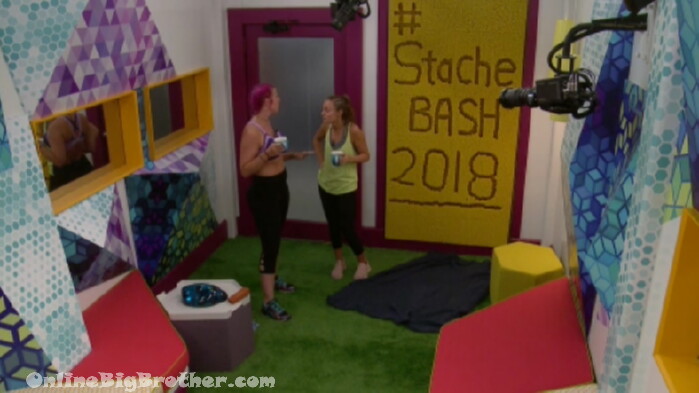 Rockstar still going around rallying the votes to get Brett out..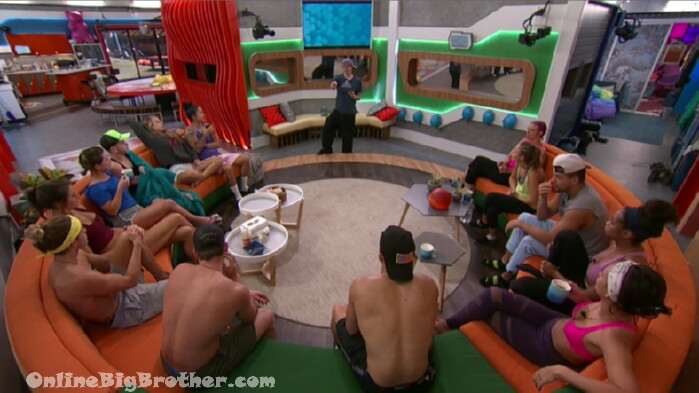 11:07am
Scottie – in addition to Brett who became a have not in the veto competition I also have to nominate three more have nots, Angela, Sam and Tyler
11:38am meditation
For all you folks that need a VPN I use this one
Rank the houseguests!
Easiest way to Rank the house guests use link below