| | | | |
| --- | --- | --- | --- |
| POV: | ? | Next POV: | July 14th |
| POV Used | ? | POV Ceremony | July 16th |
| HOH: | Scottie | Next HOH: | July 19th |
| Noms: | ? | Have Nots | ? |
Big Brother Spoilers – Sounds like Bros are going up..
2:00am HOH Scottie, Bayleigh and Fes
Bayleigh – lets be honest Kailtyn isn't someone that is coming after you
Scottie – but how myuch is she telling Tyler
Scottie – he was trying to ask me about the flip today
Bayleigh – if her and Tyler are close does that create a problem for you
Scottie – if she tells him everything than yes..
Bayleigh – will Tyler be pissed if you did that
Scottie- he better not be he put Steve on the block and Steve left../
Scottie asks BAyleigh is Kaitlyn and Tyler are final 2 close
Bayleigh doesn't know but the way Kailtyn made it sound to the girls is that whatever Tyler knows she knows
Bayleigh – aren't you and Kailtyn close
Scottie- closeish
Bayleigh – if her and Tyler are close does that create a problem for you
Scottie- if she tells him everything than yes
Scottie asks them if he takes a big shot does he have their backs
They say yes.
Bayleigh – it's loyalty till I die.. maybe it's a fault I would rather have that than anything else, period
Scottie goes on about wearing the swaggy shirt for hours before the eviction
Fes – you shouldn't have a problem with me and them backing you because these first two I voted and it went the opposite way ..
Fes – you know I'm not doing it for teh house I'm doing it for what I stand for
Fes – if shot is fired back I'm here to go to war
Bayleigh brings up the rumours going around about Scottie being a evil genius, "I hope to hell that he is because he's on my side.. "
Fes – it's time to even out
Bayleigh asks him if Tyler will be pissed if he puts Kaitlyn up. Scottie doesn't think he will be since Kaitlyn put him up.
Bayleigh says if he takes this shot there will be a split up "it goes from a 4 to a 3"
Bayleigh says she likes Rachel the best out of the 4. Adds that they can take one out and pull Rachel in SHe doesn't like to be associated with the rest of them.
Scottie – make sure you talk to her this week, tell her she's the furthest thing from my radar.. make her comfortable.. tell her she's the farthest thing from my radar..
SCottie – if we get her we can reel in KAycee..
Bayleigh says Angela and Winston are close but Rachel told her that Winston, Brett and Angela will go into a room and talk game and leave her out with Kailtyn.
Bayleigh – the world is at your fingertips right now
Scottie – it's nice to have an HOH that's not a pansy
Fes – I can't wait.. lets go to war
Bayleigh calls the house 4 plus floaters. Says that Tyler is on SCottie's side.
Bayleigh – he has you and has Kailtyn..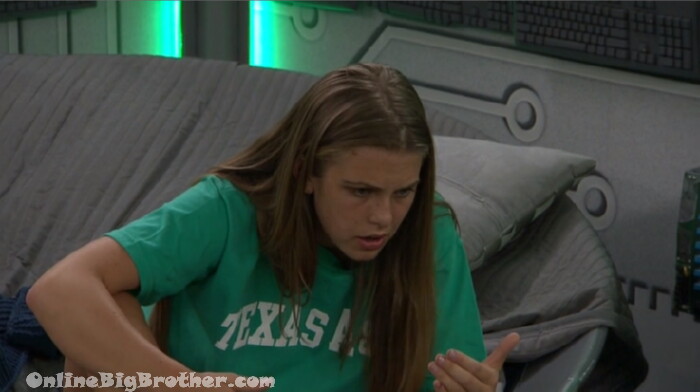 2:05am Haleigh and ROCKSTAR
Haleigh – Kaitlyn flipped she told me she flipped
Rockstar – last week right
Haleigh goes on about the reasoning Katelyn said. she gave because of the power. Haleigh doesn't think this is a legit reason, "that would break the integrity of the game" (poor thing thinks there's integrity)
Haleigh – she said she was saving all of us .. it was in all of our best interest..
H – she didn't tell me she flipped until 4 day afer.. I mean I knew I'm not a  idiot..
H – She such a f*ing wild card
RS – yeah
H – like all over the place, erratic, up and down up and down
RS- her and Tyler need to go
H – she's latching onto Winston right now
RS laughs, "That's a good one to attach yourself to.. gawd"
H – I'm so over this house..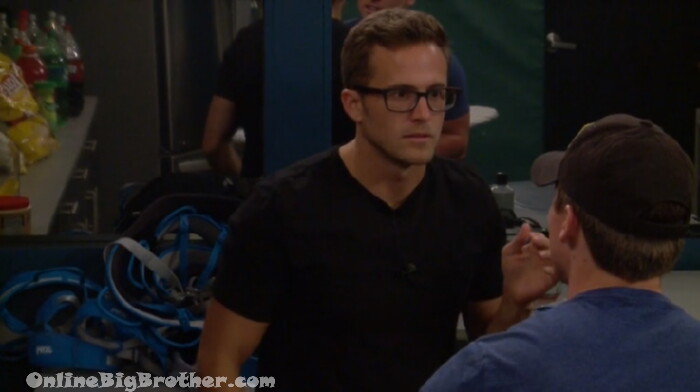 2:06am Winston and Brett
they are trying to figure out the votes.
BRett – Scottie is the one that voted Swaggy to leave..
Winston – scottie did not
BRett – yes I've talked to multiple people.. he lied..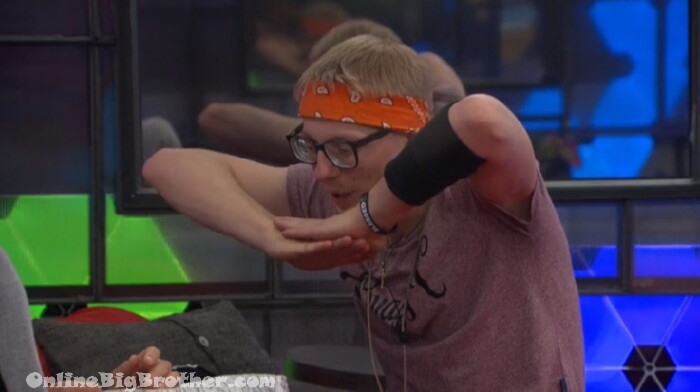 2:16am Scottie and Tyler
Scottie – i think it's best for me to start that war..
Tyler – yeah
Scottie – we're at the point if this side loses another number they don't have enough people to go after the other side..
Scottie – they put you and Kaitlyn together no
Tyler- I got a lot of shit to f**ing tell you..
T – first of all we made a really good decision to vote Swaggy ot
T – Swaggy told bayleigh about the core.. bayleigh told Rockstar about the core.. Rockstar told Kaitlyn about the core and Kaitlyn asked me about the core
T – Kaitlyn was mad… I was like you want to be in teh core we hneed a replacement
T – second of all Kailtyn won't tell you this personally because Kaitlyn has a good relationship with Rockstar..
T – Rockstar is telling Kaitlyn that you are the swing vote for Steve…
Tyler – ROckstar is throwing everyone's names up
T – from what I've heard from JC is Rockstar is using that as a cover up because she did it
S – I'm not going after her yet she's a number on my side… She lost Swaggy and Swaggy is her knight in shinny armor
T – what's the the f*ing sides?
S – Rockstar, Haleigh, Fes, Bayleigh and me
S – apparently there's a rumor going around that i am a evil genius… who started that (rcokstar)
Scottie thinks Brett and Winston are a pair and KAycee/Rachel are a pair../
Scottie – you pluck a bro out they scramble
Scottie – we need to break that up. They literally pull in these floaters. For some reason… they;re scared of them
Tyler asks if he's putting them up directly are is he a backdoor option
Scottie- I'm not a backdoor kinda guy
Tyler – now I'm starting to think the Brows voted Steve to stay
Scottie – they lied either way
Scottie goes on about how the bros don't do F8ing sh1t in competitions.
Tyler – I'm worried about Rockstar she throws my name out she throws your name out
Scottie  about Haleigh – She was like I have nobody in this game… I'm like you have me in this game
Tyler – you have to keep Haleigh good she loves you
Scottie – does she
Tyler -yeah.. she crawls in you rbed every morning
Scottie- not this morning
Tyler – do you have a good relationship with Rockstar, Bayleigh and Fes.. like a good one
Scottie – yes..
Scottie – are you kidding me, I told them I wasn't a pansy I'm making a big move.. they were f*ing eating that shit up "
Tyler- let's f*ing go
Tyler – I haven't heard your name from the bros, I haven't heard your name from Fessy and Bayleigh and kailtyn the whole time never wanted you to go
"I told them I wasn't a pansy I'm making a big move.. they were f*ing eating that shit up" #BB20 @DawgsBigBrother pic.twitter.com/ln1DaFbn8d

— OnlineBigBrother.com (@bigbspoilers) July 13, 2018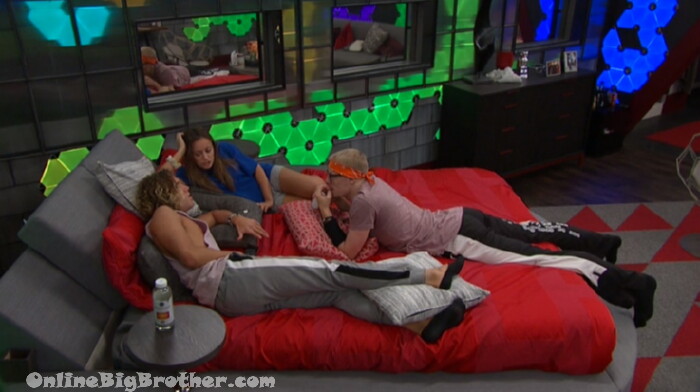 Kailtyn joins them
Scottie – we need to cross reference who is su***g my d*ck
Kailtyn -whats up
Scottie- whos the people that were up your a$$ and Fake
Kailtyn – Bayleigh… it wold be different for you ..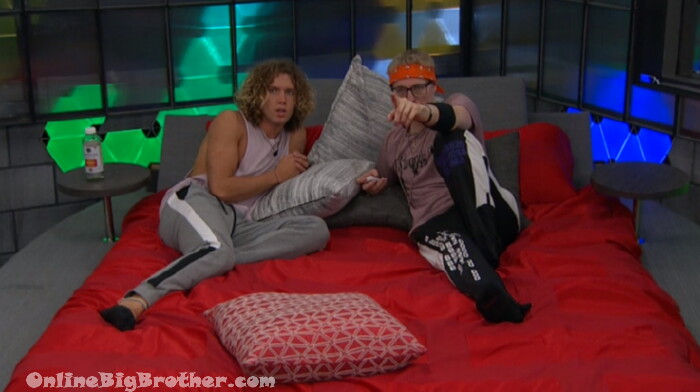 Kaitlyn leaves so Tyler and Scottie can continue their conversation.
Scottie – as HOH do you feel the people in this house will honor what you want to happen.
Tyler – I would say yes.. But I said multiple times that I wanted Steve to go
Tyler – Rockstar is crumbling right now because she's a havenot.. she's the only one that's throwing my name out there
Scottie- from my conversations.. she doesn't like yo
Tyler – she hates me she thinks I was in Kaitlyn's ear telling her to do all this sh1t
Scottie – if I take this shot I will at least have her with me
Tyler – I hope you have her with you
Scottie tells him he will never put RS up as a pawn because she's a vote against that other side.
Tyler – I will vote against that side, Kaitlyn will vote against that side.
Scottie – there's not a lot of hate in this house the one hate is Rockstar and those two.. she hates them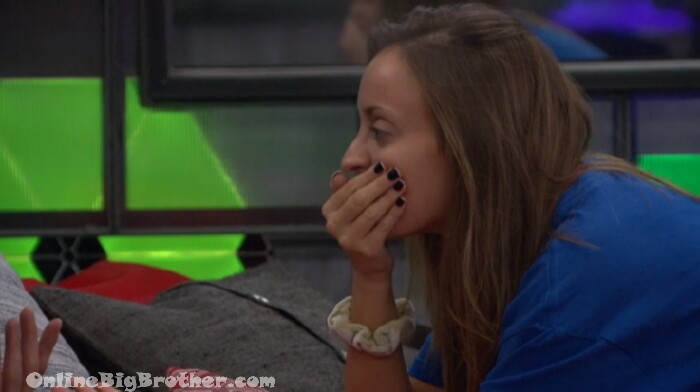 2:43am Scottie and Kaitlyn
Scottie invites her to "the Core"
Kaitlyn – wait am I invited
Scottie – you are definitely and option
They talk about Swaggy's Day 1 alliances
Kaitlyn brings up Rockstar coming to her about the CORE alliance she told her it's Tyler, Swaggy and Scottie but it's missing the OR part.
K – she was like the core.. I didn't f**ing know .. Haleigh told me she was going to evicted Swaggy so I didn't have to break a tie.
Kaitlyn brings up Ros bringing her into the geometry pushing Scottie as a mastermind
Scottie – I kept Swaggy.. I told Winston to his f***ing face I kept Swaggy
K – wait what.. you kept Swaggy…
Kaitlyn goes on about Rockstar telling people he's a mastermind genius
Scottie- me Fess, Rockstar, Haeligh and Bayleihg… isn't, think about it
Kaitlyn – if it wasn't you or if it wasn't Haeigh someone elase did it …
Scottie – Im' still trying to figure out week 1 I haven't got to week 23 yeat..
kaitlyn – don't you think the power was used
S – they would have announced it that is what happening last year with the den of temptations
S – whatever these powers are they're the only thing that will f* up my week
S – it's between me, Fess, Haleigh, rockstar and Baylegh, one of those 5 didn't vote..
Scottie – either way those 4 are good with me
Scottie goes on that Brett and Winston told him that they were voting Steve to stay
Kaitlyn Winston … either one that would be cool
Scottiue that's the plan
Kaitlyn says she'll understand to be the pawn.
Scottie – the only thing that can go wrong is a power
Kaitlyn says she's getting the power "Look what I did last week sweetie"
Kailtyn starts spreading that she thinks JC has the power
Scottie says Sam has the power "she was the robot.. she's very very likley"
Scottie – if none of them have a power the veto is their only hope
S – if I make this big move do I have your back
K – duh…
K – I don't think Rachel kaycee and Angela are loyal to them
K – Rachel is not
K – I'm telling you right now the one thing I learned this week (her HOH).. they are not loyal together they are not in a final 4
K – I don't even believe in the side.. Rachel hates teh way Winston treats her.
K – I'm seeing people as people.. (instead of th wicked sides)
K – I don't really believe in the side anymore.. I don't see side.. I just see targets
Kaitlyn says America watching this are going to be "what the f*" because the first 3 people are going to be "Insane" (LOL is Steve insane? )
S – Brett is the core Winston is the shield I'll take either.. you lose Winston, Brett will say someone to piss people off..
Socttie says if Brett goes Winston will isolate himself.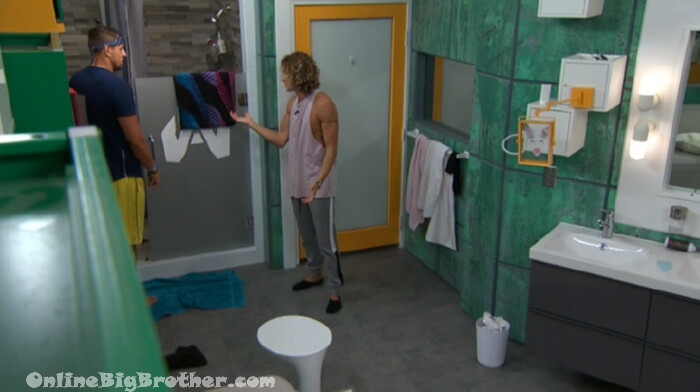 2:46am Tyler and fess
Fes – what's done is done, now we're in a good spot..
Tyler – we are and we're big ol targets too.. me and you
they start talking about keeping physical threats in the house as targets.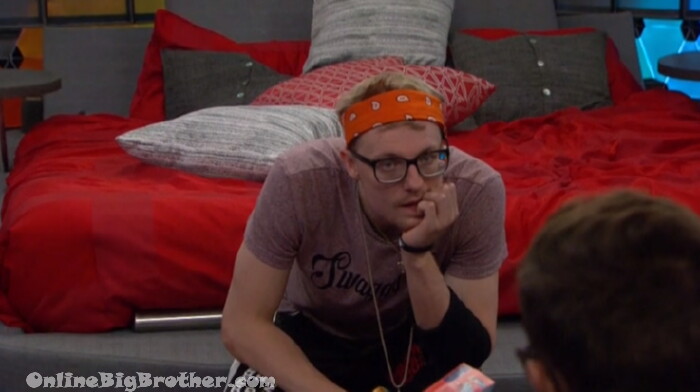 3:04am Winston and Scottie
Winston – congratulations.. everyone buggin you.. take a night and just chill
W – dude first of all today was crazy
W – were you the 8th vote
S- no.. I voted for Swaggy.. like I said
S – one of my objectives is to eliminate bullshit
S – I'm trying to figure out the Steve votes.. and you are telling me you voted Steve
W – Yeah I did.. I lied to Sam.. told her I voted to her..
W – I convinced her I voted for her and I didn't she threw a vote to me today..
S – who do you think the bullshitters are
W – dude I don't know (both of you)
Scottie brings up the day one alliance he had with Swaggy called the CORE
they laugh..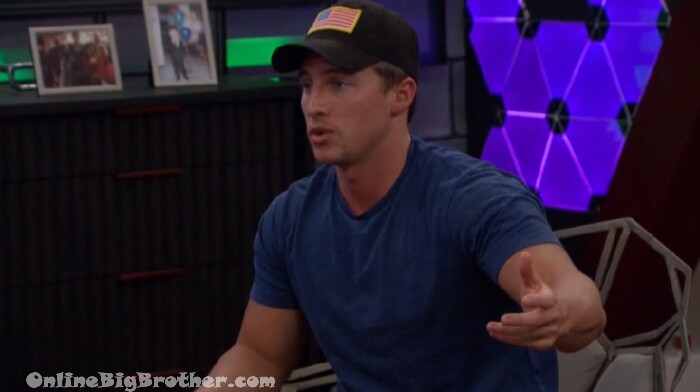 3:30am Brett and Scottie
scottie- I don't know what is going on in this house I'm asking people about week 1..
Brett – I can speculate for you.. I can't give you an answer,..
Scottie wants to know the Steve vote, Power apps and the dynamic of the house.
Brett – I'll address Dynamic first.. I don't even know..
Brett doesn't see as many teams anymore.
Brett – it's pretty obvious who flipped.. who was up here 24/7
Scottie – Rockstar's name came up a lot, Bayleighs name came up a lot and Haleigh's name came up a lot
Brett goes on about Steve being his hommie…
Brett thinks Rockstar and Haleigh Flipped week 1
Scottie says he kept Swaggy.
Scottie – the powers.. I want to weed those out..
Scottie says Brett has covered everything he wanted to talk about and did it in the most efficient way.
After Brett leaves.. Scottie says into his mic "Damn hge's good.. he's so f***ing good"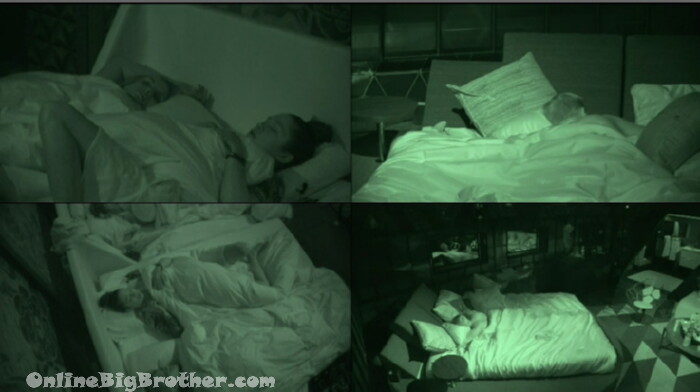 4:10am ZZZZZZZZZZZZ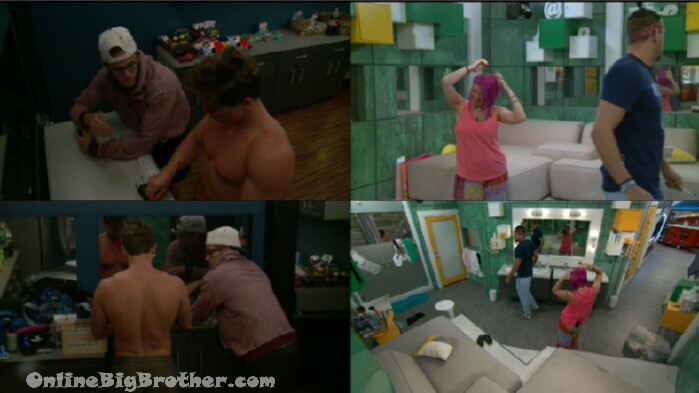 9:33am WAKE UP TIME
For all you folks that need a VPN I use this one
Rank the houseguests!
Easiest way to Rank the house guests use link below