| | | | |
| --- | --- | --- | --- |
| POV: | Scottie | Next POV: | July 21st |
| POV Used | NO | POV Ceremony | July 23rd |
| HOH: | Scottie | Next HOH: | July 19th |
| Noms: | Brett & Winston | Have Nots | Angela, Sam, Tyler, Brett |
Big Brother Spoilers Power of Veto Ceremony Results – Scottie did not use the Power of Veto Leaving the nominations Brett and Winston. There will be a hefty level jockeying  these next couples days as the vote is going to be damn close. Looks like Sam's game got a bit blown up during Crazy's tirade.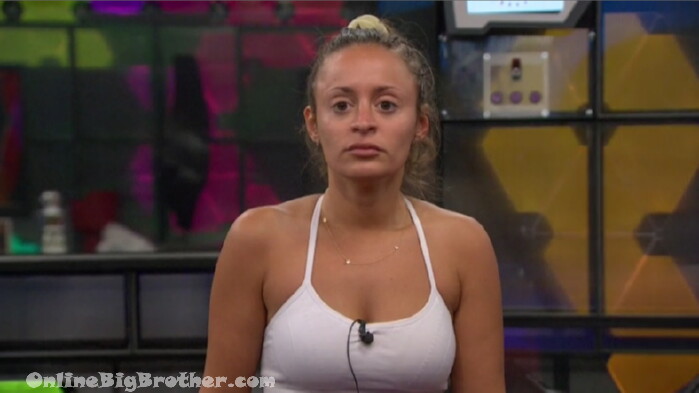 11:13am Kaitlyn and Scottie
Kaitlyn tells him she flipped the vote. "I f*ing hated my alliance.. they told me I was shady"
She explains how she was told that threw as a power that if she doesn't vote out Steve the person with the power was goign to put her up. She goes on to exoplain how crazy the week was with her flipping on her alliance and winning HOH.
Kaitlyn says when she was HOH all she wanted to do was tell Scottie.
Scottie says he had his suspicions.
Kaitlyn – the fact that I didn't win a power up is Disrespectful.. what more could I have done.
Kaitlyn – there's so many parts to this.. it's not my power.. it's more of the power thing.. it wasn't my place to say this person has a particular power.
Scottie- ohh so she told you
Kaitlyn – she did when I won HOH
Kaitlyn says she told Haleigh, Bayleigh and Rockstar..
Kaitlyn "I was so scared top tell you I didn't think you would understand it"
Kaitlyn – I didn't do it to be an as$$hole I loved Steve… the power goes against everything.. the whole thing about Big Brother is an anonymous vote..
Kaitlyn claims that the power is that Sam will know who voted and she would be able to switch the one nominees..
Scottie – that would have been nuts..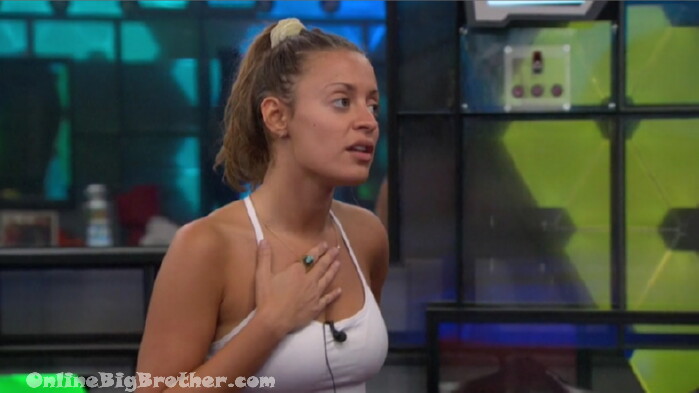 Kaitlyn – I feel intuitively that I am being received very well by the world.. I think because I am aligned with my general truth and I'm so dissociated with everything else I just want to be authentic..
Scorttie- I always had my feeling that you did it never once I was mad at you
Scottie says he's going to make sure the bros are going he blames them got s lot of lies in teh house.
Kailtyn says the bros are manipulating her.
Kailtyn says this is the last week Sam has the power
Scottie- ohh so it's only three weeks.. so that means the people that have it could burn next week and the week after that..
Kaitlyn says the bros don't have the power.
Scottie- so they are going to sit on the block all week .. that's exactly what I want.
Kaitlyn says is she goes on the block Sam will use the power on her. Sam doesn't want anyone to know that because it'll F** up her game.
Scottie mentions putting Rachel up as a pawn if a power is used.. "it'll be a 10-1 vote.. I'll say in my speech she is a pawn"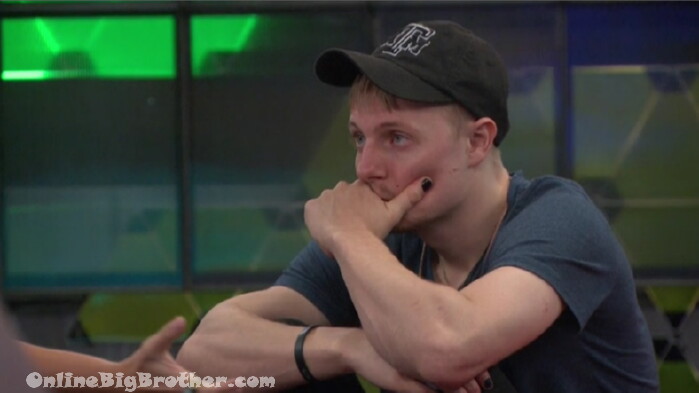 Kailtyn says JC has a power.
K – are you mad at me
S – no
K – you swear
Scottie – I tried so hard to get one.. I tried so F**ing hard..
kaitlyn wonders who has the power "What more could I have done" (Not be annoying)
kaitlyn – what Sam did see is when she picked her power there was four icons and the one she picked was HUGE the other two were small.
S – like physically
kaitlyn – it was almost like they wanted her to pick it..
K – she did say she was drawn to it because it was the biggest one and had gold things coming out of it
S – did she tells you what the other power pictures were
K – yes.. one was a cloud that had a up arrow, like you go to the top.. she didn't remember the other one..
S – that one flip vote was never a concern for me I knew who the rats were and I had to get them
K – Brett's going home this week we have the votes to evict him
S – Good
K – me, Bayleigh, HAleigh, Rockpuke, Fessy, Tyler and Sam will vote to evict him.. we need 6 votes I believe
S – right there is 7
K – maybe Sam or maybe JC will evict him, Brett is going home..
k – the following week, My, fess, Haliehg or Rockstar or Bayleigh will win or Tyler.. and .. the other one will go home.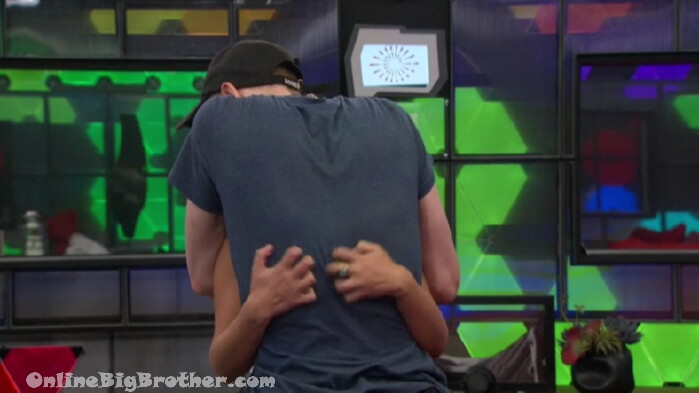 They hug it out..
K – WE're fine.. I have you..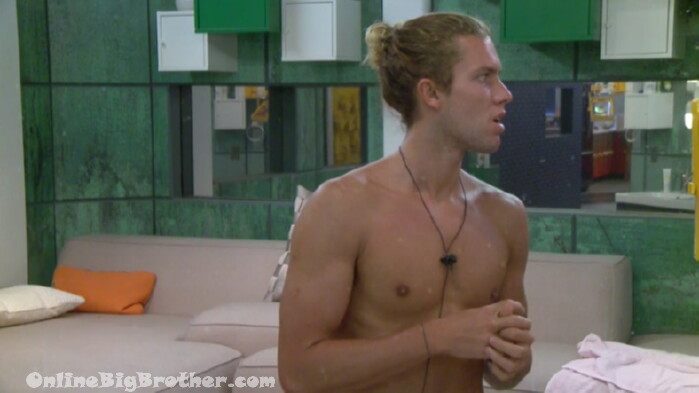 11:43am Scottie and Tyler
Feeds come in with them talking about Sam's power.
Scottie – she can only use it if she is voted out .. IF someone gets voted out and she wants to switch it.. like Brett got evicted and she would use the power and then anyone who voted against BRett can be switched on the block and re-vote..
S – that is why she's so confident about it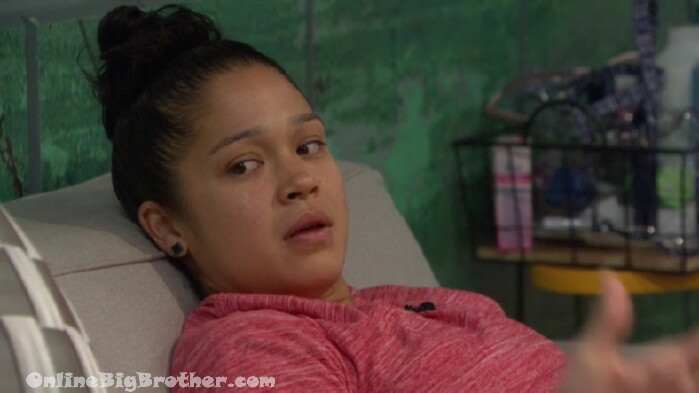 11:45am Tyler and Kaycee bathroom
(talking about Kaitlyn)
Kaycee – she's diggin herself a big A$$ mother f***ing hole
Tyler – yeah
K – ohh well
T – she has to go.. but next week if she has to go she comes back..
K – then we can take her right back out
T – she'll be pissed
K – true dat
Tyler says Kaitlyn is pissed at her
K – it's so stupid.. trying to put sh1t on you
T – every day.. f***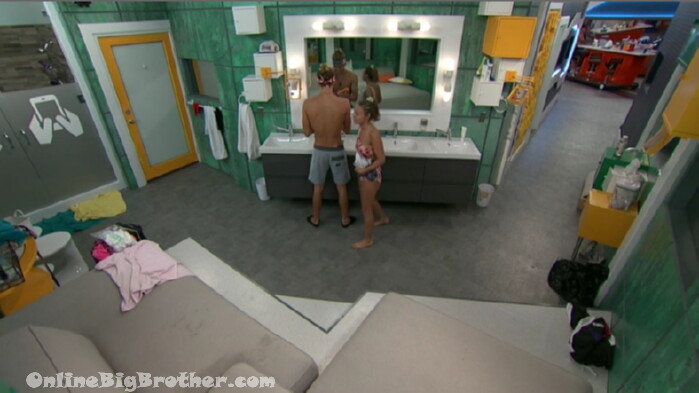 11:46am Tyler and Kailtyn
Tyler – just had a interesting conversation with Scottie
Kaitlyn – you have to trust my intuition .. I respect you and love you..
Kaitlyn tells Tyler that his dad comes to her in her sleep.. he tells her not to trust Tyler and is abrasive .
Workout before the Power of Veto Ceremony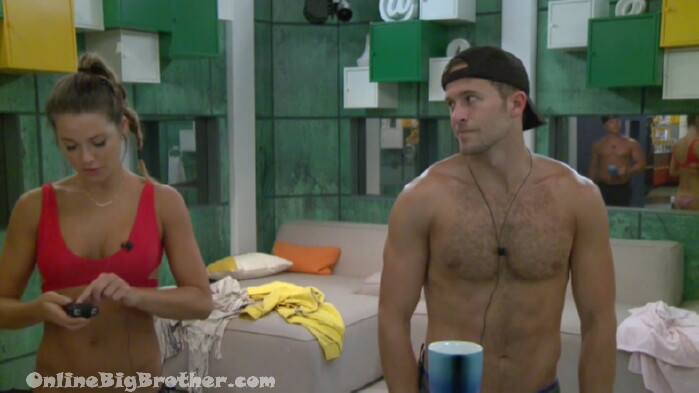 1:00pm Feeds back Winston and Angela..
For all you folks that need a VPN I use this one
Rank the houseguests!
Easiest way to Rank the house guests use link below