| | | | |
| --- | --- | --- | --- |
| POV: | Tyler | Next POV: | July 14th |
| POV Used | yes | POV Ceremony | July 16th |
| HOH: | Kaitlyn | Next HOH: | July 12th |
| Noms: | Winston, Scottie Swagz | Have Nots | JC, Fessy, Haleigh, Rockstar |
Big Brother Spoilers Swagz is handling this well. Rockstar, Haleigh, Swagz and Scottie are 100% onto Tyler it'll be interesting how this plays out.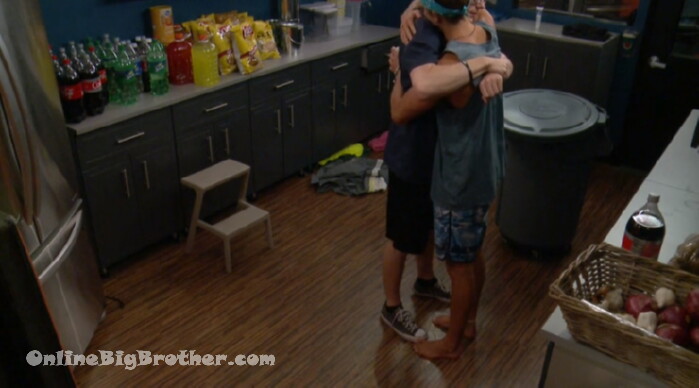 1:18pm Scottie and Tyler
Scottie says he wants to stick with Swagz and Tyler he would never vote against Tyler.
They talk about argument Kaitlyn and Swagz had.. Something to do about Swagz and Fez had a deal with the bros and when Katlyn found out she got pissed. Swagz thought Fez would have told her about it.
Scottie thanks Tyler for using the Veto. Tyler tells him if he didn't use the veto on Scottie and instead on Winston Scottie would have gone, "It was too close for me to leave you up there"
Tyler – I did not want you on the block and I made Sure Katlyn knew that.
Tyler claims that the three of them are "So TIGHT"
Tyler – at this point.. he's going home.. (Swagz)
Tyler – swaggy has made deals with everyone..
Tyler – the more I talked to the other side the more deals I realized he made.. Rachel, the Bros.. Angela but Angela tried to shut it down
Scottie – you are voting for him
Tyler- I have to I have to… i'm not 100% but it's looking like he going
Tyelr knows Bayleigh and Fes will be coming after him next week because ROCKSTAR is going around saying it was his plan to get out Swaggy.
Tyler – this was literally brought to me and I had to work with .. I couldn't deflect..
Tyle r- I have a lot of numbers right now behind the scenes that are against Swaggy
Scottie – if either yo uor me wins next week what should we do
T – my main opportunity is to make sure Bayleigh and Fes to not win the HOH.
Scottie asks him if the Bros would touch im.
Tyler recommends SCottie talks to them to see where their heads are at.
Scottie – I did tell Kailtyn I wold go after the Bros.. do you think she told them.
Tyler – no
Tyler says the best thing for them moving forward is for Scottie to build relationships with the Bros and Haleigh
Tyler- ROCKSTAR , Bayleigh and Fessie PISSED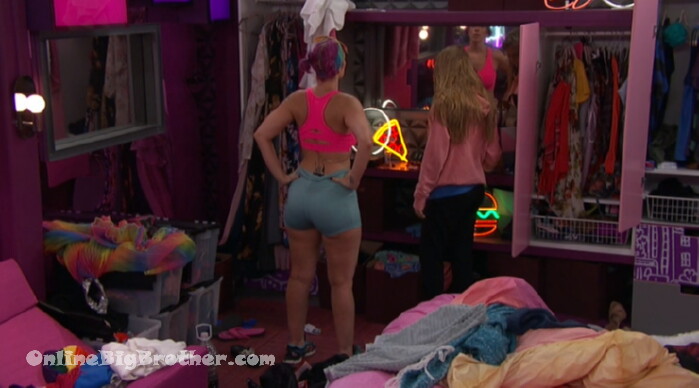 1:56pm ROCKSTAR and Haleigh
Haleigh – she's upset right now..
Haleigh says Brett/Tyler told Kaitlyn that little girls will look up to her for standing up for herself
Rockstar "Tyler and Brett really know what little girls look up to. They look up to a girl that does what all the guys want her to do.. f*ing a$$holes.. "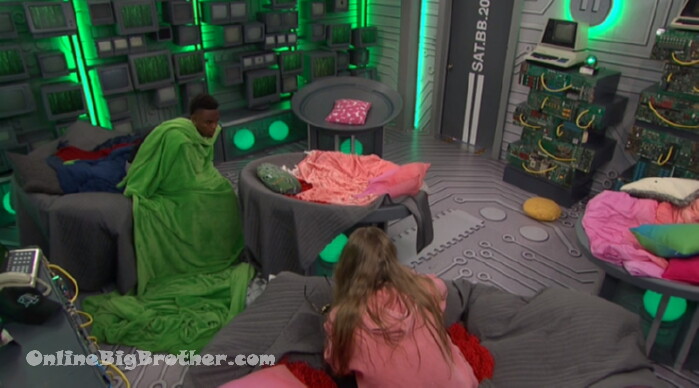 2:01pm Haleigh and Swagz
Haleigh says give it time a lot can change.
Haleigh brings up Kaitlyn mentioning to Brett and Tyler that SCottie toldf her that Winston said he was going to target her. Brett and Tyler both shot it down.
Haleigh – the thing that pushed her over the edge is when Tyler told her about that conversation
Swaggz admit he did say the "shady" shi1t about Kaitlyn but did say bottom of the totem pole.
Haleigh warns him that Tyler tells one thing to Swagz then another thing to Kailtyn.
Swagz – I genuinely really like this girl.. we've gotten really close and we have 2 weeks together.. that really hurts along with the money aspect.
Haleigh says production told her that the power ups can happen at anytime so one of those might get dropped in.
Swagz didn't know that.
Rock joins them says she's "aggressiveivly sad" mentions that fes has been in the bathroom all day he's really sad.
Rock – How did this happen.
Rock – Tyler is Palpatine..
Rock – Tyler's a competitor he needs to get the f* outta here..
Rock – he's smart but he acts stupid..
Haleigh agrees.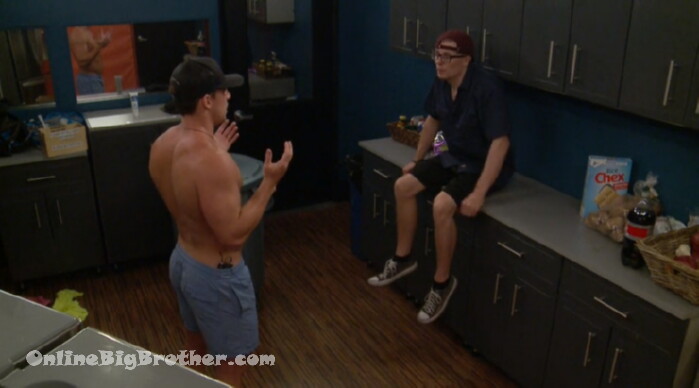 2:03pm Storage room Scotty and Brett
Scottie says the Ceremony came as a complete surprise to him, "Apparently I'm in the dark about a lot of sh1t"
Scottie asks why did Kaitlyn do that was there a fight?
Brett explains that he's not 100% what happened, "honestly it was a big surprise to me as well"
Brett says "I'm human" and he say her crying so he comforted her.
Brett – essentially.. I don't think it was a fight.. her name was in his mouth a lot and it was along the lines that crying to position her the last man on the totem pole.
Brett brings up Fes and Haleigh flirting "kinda a cutesy thing"
Brett – Swaggy positioned it as Kailtyn's getting jealous of course Kailtyn is in a relationship.. that really upset Kaitlyn.. he made a target outta her for doing that.
Scottie – I've been hanging out with Swaggy a lot and apparently he doesn't tell me everything
Brett – you know why Steve went home right..
Brett – Steve made a deal with Swaggy, I loved Steve I wanted Steve here..
Brett mentions how Scottie and him were going to battle for Steve and they told him but when the veto players were picked Steve picked Fessie.
Brett – Weird.. he looked at me then he picked Fessie.. the one person he picked didn't pull him off the block..
Scottie – really looks like I was getting f**ing played.
Brett says Bayleigh and Swagz are 100% in a showmance
Brett – where are you at.. obviously Tyler and you are good he took you off.. Tyler is my Hommie
Scottie says he's pissed at Swaggz for not tell him about the "twitter poll" fight with Kaitlyn
Brett – when you cast that vote.. thats for you Steve..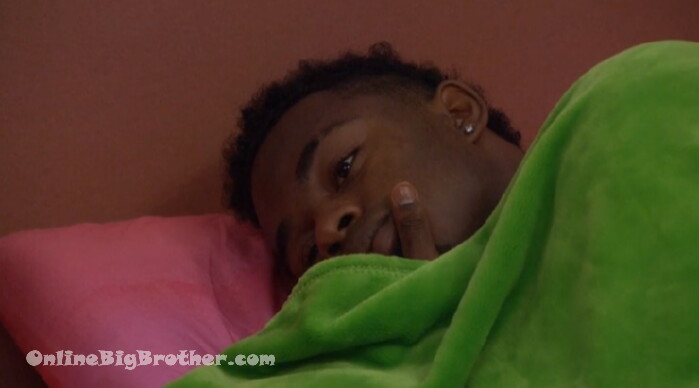 2:24pm Swagz and ROCK
Rock about Kailtyn – She's so stupid.. why she keep saying you bullied her what did you bully her about
Swagz – I never bullied her
Rock – I don't think you did but what is she talking about
Swagz – I know what she is talking boat
S – she had her little twitter poll talk show with Tyler. And she asked me a question and I said well.. umm ..umm.
S- She asked who do I want to see go next if I win HOH
S – I said Winston and she asked why I said he's talking about me behind my back
She asked him about the Deal with the Bros
S – I was like it was nothing adn she's like F*ing tell me right now
S – I was like OK first of all relax.. I'm a grown ass man don't talk to me like that second of all they approached me we didn't know what to do we never took it serious
S – she got mad that i yelled said Don't talk to me like that
Swagz – swaggy just so you know I'm a 12 year old girl and you're a grown a$$ man you're scaring me right now ..
S – at the end of the day we talked it out..
RocK – Tyler and Bret told her So many little girls will be so proud of you..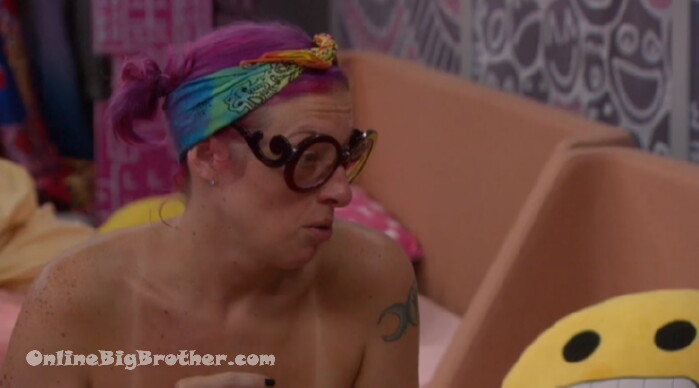 ROCK – did you ever tell Tyler she was on the bottom of the totem pole
Swagz – no I said she was shady
Swagz – I swear on my dads dead grave I never said Bottom totem pole..
Rock – Tyler is so shady .. the dude is underestimated initially not stupid .. and shady as F**
Swagz – On my dads dead grave..
2:25pm enjoying the outdoors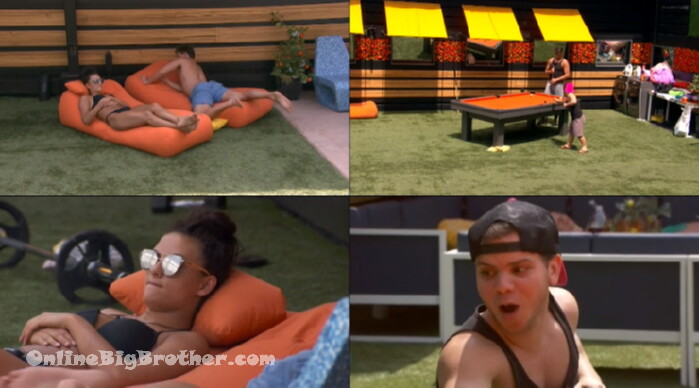 2:50pm Chit chat.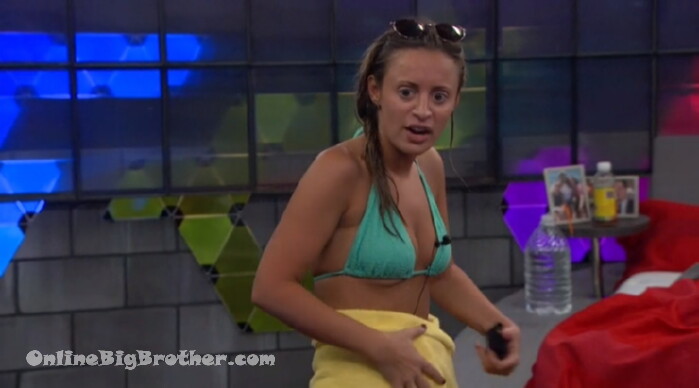 3:16pm Kaitlyn and Rockstar HOH
Kaitlyn says there was no reason for her to send Winston home this week. Swaggy was the only person talking sh1t about her, "I did this for my younger self.. I did this for myself that never stood up for myself"
I get that you're pissed..
Rock – I'm not.. you had a pretty face in your ear.. you were talking to Tyler
Kailtyn – this wasn't Tyler's idea.. truthful he backed me up.. the only person that talked about me is Swaggy
Rock – we had a 5 person solid thing
Kaitlyn – she said to Tyler I was a liability to the group
Rock says Tyler has been trying to get her to talk about avbout KAitlyn
Kailtyn – ROCKSTAR you beign on the defense about this I get it..
Rock goes on about how they were in a good spot with their 5.
Kaitlyn says Bayleigh came up here and told her she gets it based on what Swaggy said to her. Kailtyn – 2 days ago JC heard him say I was a liability
Rock – you are with Brett and Winston and Tyler
I'm no with anyone.. the only person I've gotten close with is Tyler.
Rcok – you could have talked to me
Kaitlyn could have talk to ROCK but says Rock is with Bayleighand Swagz she needed someone neutral
Rock doesn't thin kTyler is neutral
Kaitlyn – he literally told Tyler and Scottie that he like runs us.. he controls us.. that is why he was sitting pretty when we were telling Tyler to put up Angela.. he sat there a smiled while we did his dirty work.. that came off sketchy to Tyler
Rock doesn't think it was dirty work.. she say getting rid of a threat..
Rock – I guess we say our goodbyes when these people betray you and I go up.. Winston don't give shit about me, BRett doesn't give s1t.. Tyler doesn't give a shit about me.. Angela.. no.. so maybe Kaycee and JC..
Kaitlyn – I'm changing the trajectory of the game..
kaitlyn says Brett and Wisnton don't want to work with Rachel and Angela they think their morons.
Kaitlyn says Swaggy was the one that created the group in the house. Everyone wants a fresh start.
Kaitlyn – I'm sorry.. I love you to death..
Rock – I look forward to these tapes where you need to stick up for yourself..
Rock says Brett and Tyler got in her ear. Tells her Tyler always plays dumb.
Kaitlyn says there's more people in the game looking for a change up suggest they can now team up wit BRett, Tyler along with Haleigh, Rock and herself.
Kailtyn doesn't understand why Rock thinks her game is over because of this. "I'm sorry that you think your game is now just over. It's not. You are f*** stronger than that "
Kaitlyn feels horrible not because of Swaggy going up he talked sh1t about her she's upset because she did this to ROCK, Haleigh and Fessie..
Rock goes on about Kaitlyn never spending time with her. (Rock spends all her time with Haleigh)
Rock says she never heard Swaggy say anythign last week.
Kailtyn mentions Swagz brought up Foutte to Bayleigh, "I don't trust him"
Kailtyn – I can sense their energies change as soon as I won
Kaitlyn adds they spent the entire week before "Ignoring me threatening me.. making me feel like a piece of sh1t"
Rockstar says she just can't get close to Winston and Brett they remind her of the mean guys in College. Points out that Winston is a "Trumper" he probably has a "confederate flag" at his house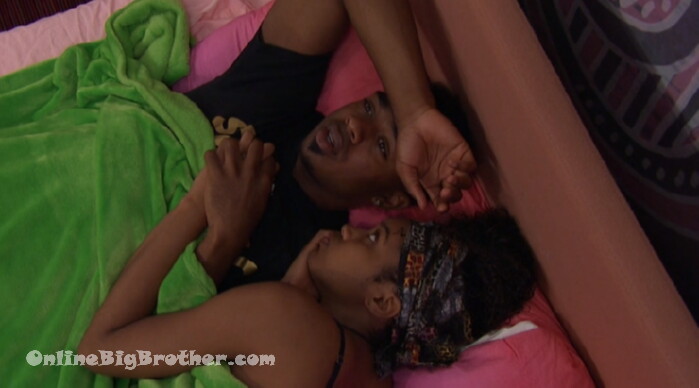 3:22pm
Rank the houseguests!
Easiest way to Rank the house guests use link below