| | | | |
| --- | --- | --- | --- |
| POV: | Tyler | Next POV: | July 14th |
| POV Used | ? | POV Ceremony | July 9th |
| HOH: | Kaitlyn | Next HOH: | July 12th |
| Noms: | Winston, Scottie | Have Nots | JC, Fessy, Haleigh, Rockstar |
Big Brother Spoilers – Veto Ceremony has not happened yet.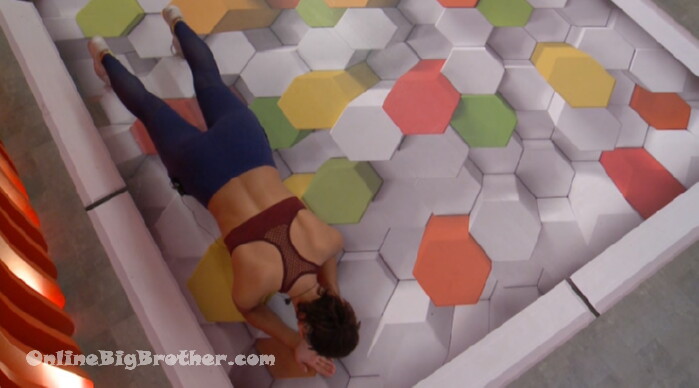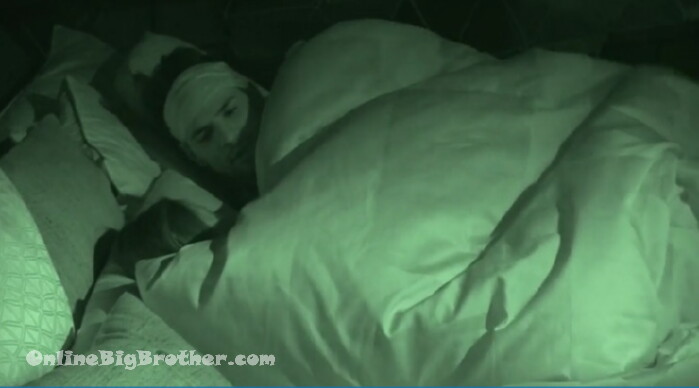 9:22am Kailtyn and Fez
Kailtyn – can you please go.. seriously..
Fes – give me 10 minutes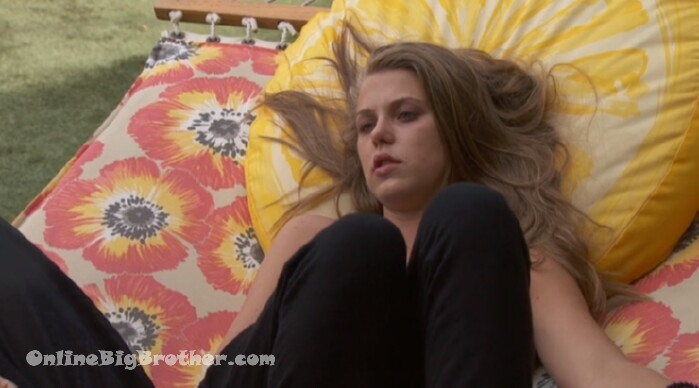 9:27am Haleigh and ROCKSTAR
Haleigh – JC cannot take direction I hope they penalty vote his a$$
Haleihg – My neck hurts
ROCKSTAR – my back hurts.. Day 20
They bring up Kailtyn saying Swaggy has the power. Neither of them believe that.
Haleigh – It's going to be so dramatic Rockstar I really don't want to be involved.. I don't want to be involved..
ROCK – I hear you.. like I don't want to be part of it either
Haleigh – I'm already trying to plan out where I'm going to go I think I'm going into the Have nots room..
Haleigh says Bayleigh is not going to handle it well.
Baleigh joins them. Rockstar says that they were talking about Scottie sleeping without a blanket becuase of JC>
9:32am Rachel and Kaycee
Rachel – if anyone backdoors me someone better f***ing tell me.. none of this backdoor shit give everyone a fair shot to win this thing
They talk about making a deal with their 6 not to backdoor anyone
Rachel says Winston is not going to last if someone from the other side wins power they'll take him out.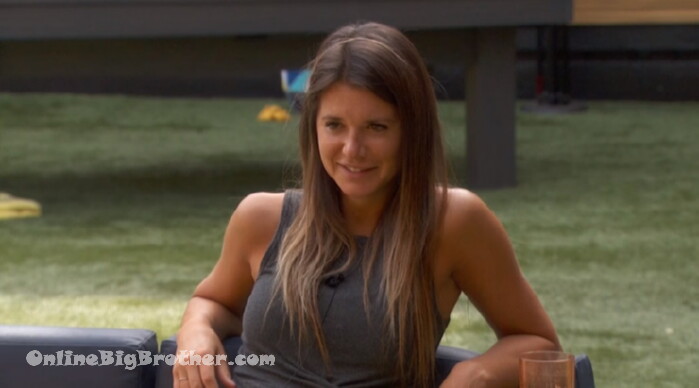 Angela and Sam joined them..
Sam tells them last night Swaggy and Scottie got in a heated debate about past Big Brother seasons and strategies. She thought it was really interesting.
They all found this interesting…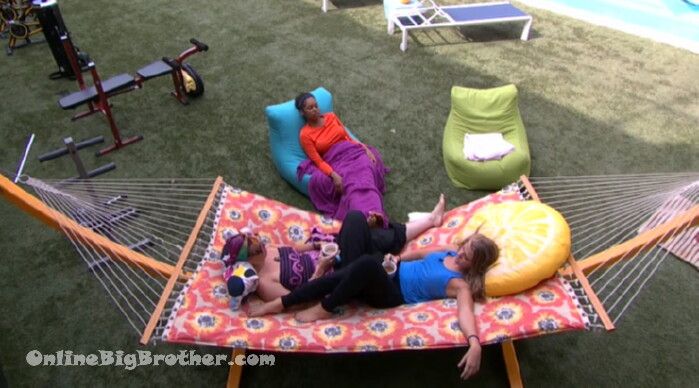 9:35am Bayleigh, Haleigh, ROCK
ROCKSTAR – Tyler is with the other side
Bayleigh – why would he use the veto to put one of them up
Rock – Kailtyn told him to
Rock and Haleigh explain how in this game people "play different" angles" Tyler's playing different angles right now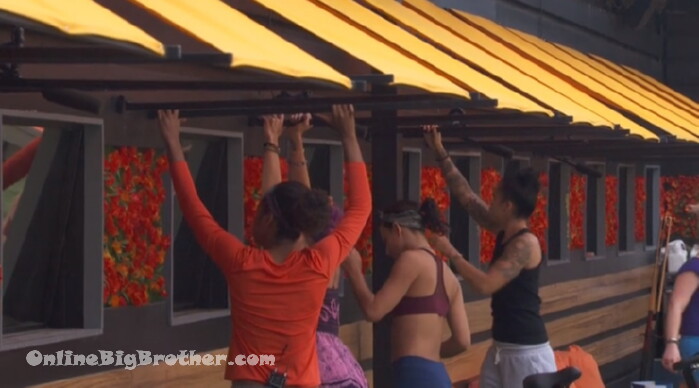 Rockstar and Bayleigh leaves to do the awnings.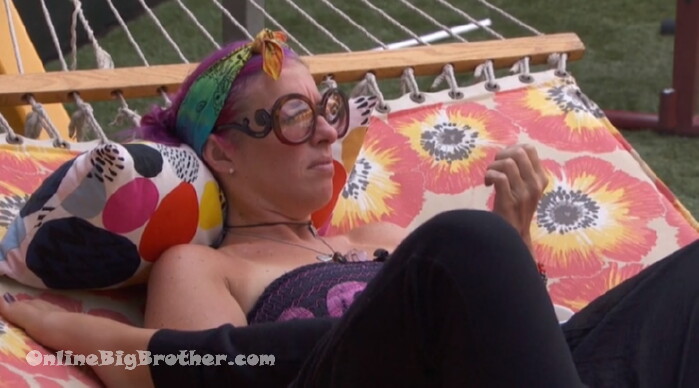 When they Awnsings are up ROCK goes back to the hammock to talk to Haleigh.
Rockstar – I hope she wins
They agree if Bayleigh wins HOH Kaitlyn will backtrack and try to be BFF's with Bayleigh
Haleigh – I guarantee this loyal flip bite her in the a$$ they'll put her up in a heartbeat.. probably right nest to Fesyal
Rock – they'll probably put up one of us.. she made the deal
Haleigh – in their mind they want a Physical threat out that threat scares them the most.
Rock – you don't think she told Fessie
Haleigh – She didn't
Haleigh says that Kaitlyn is going to tell Rockstar and Faysal Swagz is going up 30 seconds before she does it.
Haleigfh – when the Veto ceremony is called she's going to whisper it to you
ROCK – so we can vomit..
Haleigh – I want to be 100% shocked
Rock – that side of the house is so wacked.. they're the people you kick out of the club because they are ignorant
Haleigh – I know that but we have to play nice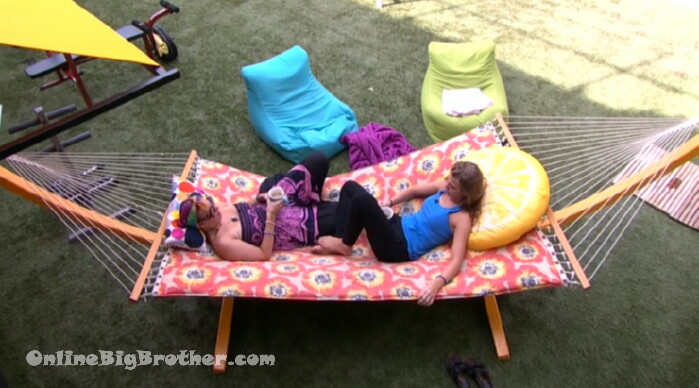 Rock – F**ing Tyler has to go..
ROCK – Tyler has to go he's the root of the disturbance in our force.. he's Palpatine.. because Anika thought Palpatine was good.
Haleigh mentions how Kailtyn is going to make a statement about how Swaggy started things so early with the teams.
Rock – he didn't start anything early.. he was just Black .. Brett and Winston started things early
Haleigh says Kaitlyn wants to work with Brett and Winston
Haleigh – I will evict myself before I align with Winston
Rock – Winston is so whack.. he needs to go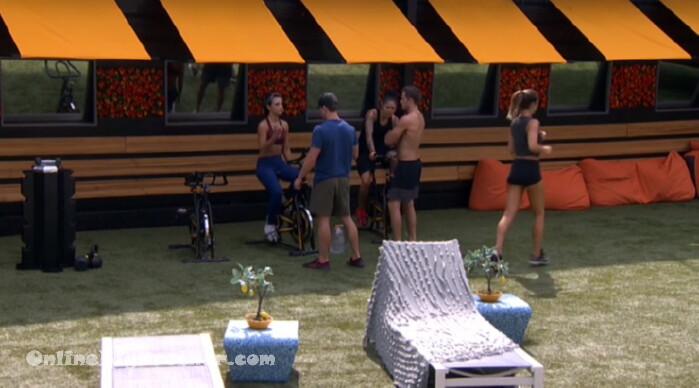 10:18am Bros, Kaycee and Rachel
Speculation about who has the power.
Scottie thinks Scottie has it.
Rachel and Kaycee think Scottie/Swaggy
Brett says Scottie is a improve actor.. he's very hard to read.
They talk about wanting SCottie out over Swaggyz. Brett says he really tried but Kaitlyn has dug in her heels.
Winston complains about going up. They tell him he's the main target of the next side so she put him up to satisfy them.
Winston – why put me up.
Winston is aware there's a chance he could go home. Brett tells him he's 95% safe.
11:08am POV Ceremony may have begun
For all you folks that need a VPN I use this one
Rank the houseguests!
Easiest way to Rank the house guests use link below