| | | | |
| --- | --- | --- | --- |
| POV: | Tyler | Next POV: | July 7th |
| POV Used | ? | POV Ceremony | July 9th |
| HOH: | Kaitlyn | Next HOH: | July 12th |
| Noms: | Winston, Scottie | Have Nots | JC, Fessy, Haleigh, Rockstar |
Big Brother Spoilers – Looks like the plan remains to use the veto on SCottie and Nominated Swaggy in his place.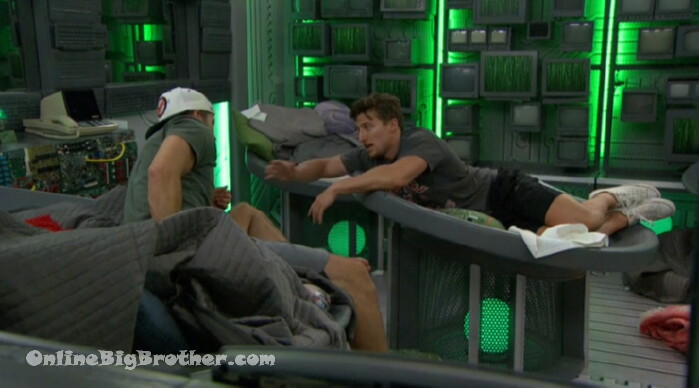 12:09am The Bros
Brett – we gotta take next HOH
Winston says Scottie drove him nuts today
Brett – he's a f***ing c*** sucker he pisses me off
Brett – you know what we need to do bro.. we need to do something big this week first off to make sure this happens second off it'll secure the trending next week
Brett – we need to make a BIG MOVE
Brett – we only have 3 more weeks of the apps
Winston suggests that maybe he'll get the app because he was nominated and did terrible at the veto
Brett – I can see that.. do you want to see the bro split up
Brett – Scottie has the app..
Winston – Tyler told me yesterday he was pretty sure Scottie didn't have it
Brett wonders where Tyler is getting this.
Winston wants them to leave Scottie/Swagz on the block to flush the power.
Brett says everyone knows Tyler and KAitlyn are working together but Tyler is going to use the veto on Scottie so he doesn't expose his game.
Brett – I'm telling yo now you're not going home.. I'm going to also say CALM down you are in a better spot than most people in your situation
12:12am Swagz and Fez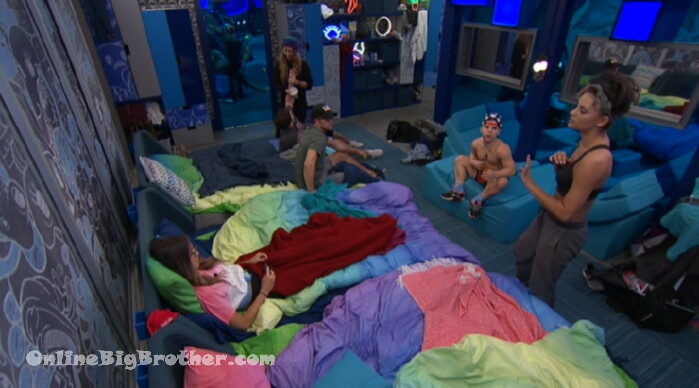 12:42am
Rachel tells about the rules of her punishment.
– They're not going to reveal anything about my game play, It's not personal
– The only thing I can't do is like Violence.. I can't hit the person
– I can yell back at him
– Random 24 hour period the clock starts once the first reveal happens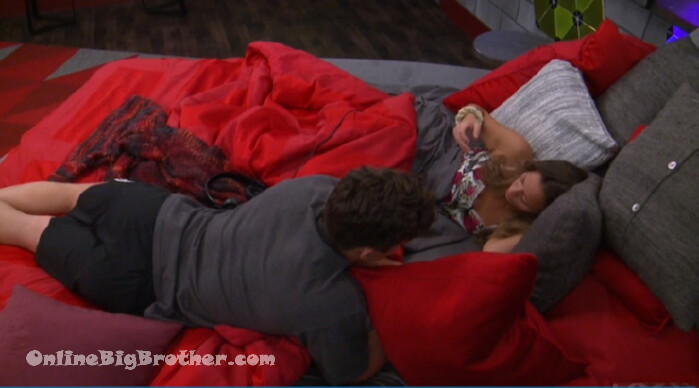 12:55am Brett and KAiltyn HOH
Brett – how do you feel
Kiatlyn – I feel bad about blindsiding my friend but it's something I have to do
Kaitlyh – it's not personal I just don't like the game play he's doing.
Kailtyn mentions that JC over heard him say something today, "he's playing too hard"
Kailtyn now saying that her close friend told her when she was leaving "don't make any big moves early on"
KAiltyn – But I might not win the next HOH.. the only thing that makes me nervous is if Swaggy has a power
Kailtyn – what are we going to do live in fear because he has a power
K – I feel like Scottie is so sketchy.. he's acting really weird.
They think it's between Scottie and Swagy
Brett is saying if they take Winston down and put Swaggy up you 100% find out who has the app.
Kaitlyn – tell Tyler that lets see what Tyler has to say .. I don't know how I feel about that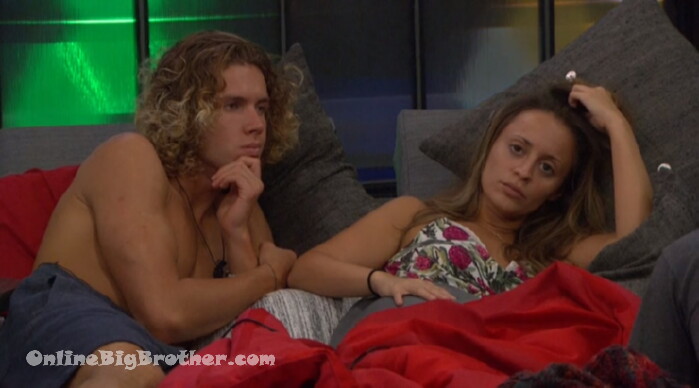 Tyler joins them .
Brett goes on about flushing the APP from play.
Brett – Scottie is with Swaggy.. they're with each other constantly
Tyler says if they use the veto on Scottie that's a way to pull him in.
Kaitlyn tells Brett that once Swaggy leaves they have Scottie on their side, "I hjave a really goo=d relationship with Sctottie"
BRett – Ohh I didn't realize that.. he;s a worm to read
Tyler – that;'s because of Swaggy
Kailtyn says she's not giving ROCKSTAR and Haleigh a second to think about it she's going to warn them right before the POV Ceremony.
Kailtyn – nobody has spoken more about me than the people I thought were my friends
Kailtyn – I'm going to play it up like I'm putting up Angela, at the very last minute I'll be like Ohh I'm so sorry Swaggy get up
Tyler – that's a savage move
Brett – It's great it's a savage mood its what you need to do 100% \
Tyler – that's what this game's about
Brett – we're working on Scottie and I want to bring Scottie in
Brett – we have Winston why not save the guarantee
Kailtyn – because of my game like because we told him that we would save him .. Like obviously I'm with you guys.. what you are saying is total sense..
Kailtyn – I'm already stepping away from all my values and what I believe as a person
Tyler – that's the game.. it's not like you back stabbed them they provoked it
Brett says Swags and them tried to make a deal with everyone in the house.
Kailtyn says Fessie is more of a valuable player than a threat, "He loves you boys"
Brett – me and Fessie hit it off
TYler and BRett blame the rift they had with Fessie is due to Swaggy being in his ear.
Brett adds that he's close to Winston and Winston/Swagz are always butting heads so it rubbed off on him a bit
Kailtyn is going to make her speech so that it sounds like ANgela goes up. Tyler suggest she looks at Angela while she gives the speech.
Kailtyn – I want to see Bayleigh next.. (evicted)
Brett – she's going to blow up she'll put a big ol target on her back
Kailtyn – I f***ing love her as a person but last week was traumatizing for me..
Brett brings up Victoria from Season 16 how they put the Crap App in the game to prevent a player like that from coming back.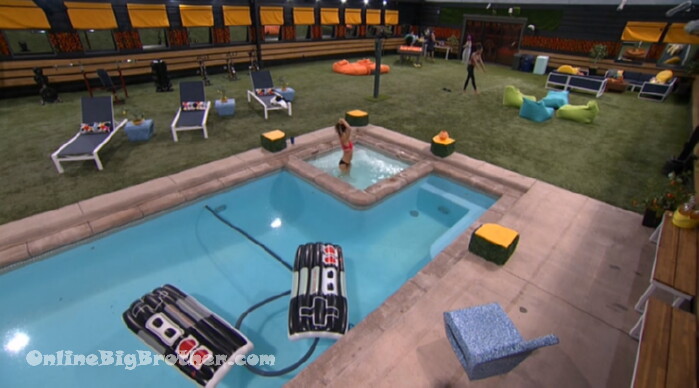 1:18am Backyard open
1:26am Rachel and Angela
talking about eventually it'll be boys vs girls. RAchel would rather some more boys leave first. Angela agress.
Rachle – I think Scottie threw that competition.. he's such a Big Brother fan
Angela – he needs to go out soon
Rachel wants Scottie out before Swaggy
1:26am Have nots the swagz and Bayleigh
They talk about putting Kailtyn and Tyler up on the block. .
Bayleigh says Kailtyn will be shook and she might come after him but she won't win anything else.
Bayleigh says they need to start knocking people out but getting other people to do it. She suggests Swagz get close to Brett.
Swagz – if we put up Kailtyn and Tyler our side is happy Tyler goes the other side is happy we don't put them up..
Bayleigh – I want to be the first African american to win this game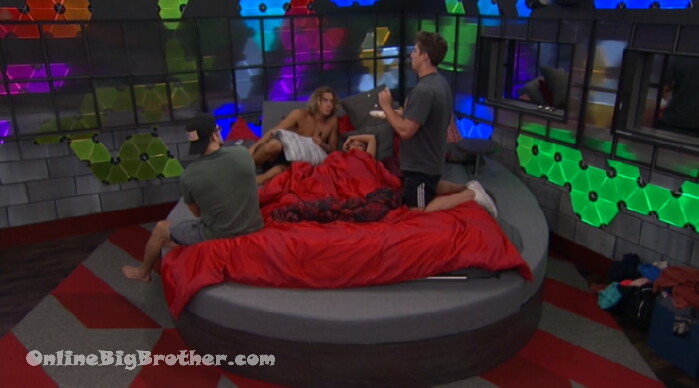 1:33am Winston, Kaitlyn, Brett and Tyler
Kailtyn – swaggy hasn't talked to me once this week.. he's so comfortable
They tell her it's because he gets his minions to do it.
They talk about how Kaitlyn was a minion of Swaggyz in the beginning "A cute minion"
Kailtyn – SToooooop nobody tells me what to do.. who the f* does he think he is.. a$$ hole
Kailtyn – nobody f*ing tells me what to do..
1:49am Tyler putting in the extra work
Tyler putting in some extra work in the HOH tonight. #BB20 @DawgsBigBrother pic.twitter.com/0ew02y3tXH

— OnlineBigBrother.com (@bigbspoilers) July 8, 2018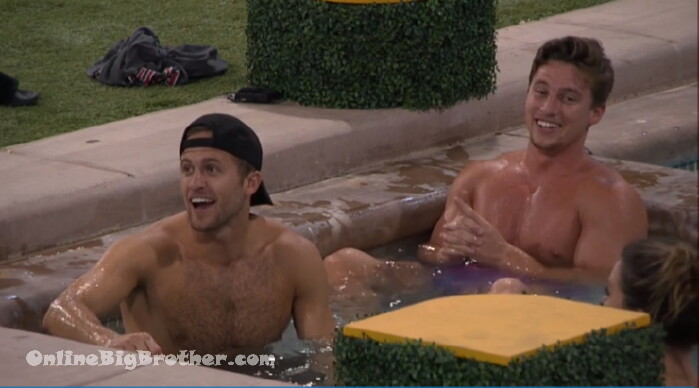 1:49am Hot Tub Party
Brett talking about the person that put Ham in his short pockets.
JC has a giant smile on his face "I am safe.. you scare me and throw away my food"
Brett – that was Rachel
JC – well Rachel participated too..
Brett gets up to go put his workout clothes on "Hopefully it's does't have Ham in it"
2:00am Brett gets revenge
puts hot dogs in JC's shoes . Brett laughs as he says "you f**ing c*** $ucker" This ham/bacon/hotdog JC has put in Brett shorts. So Brett is getting back at him.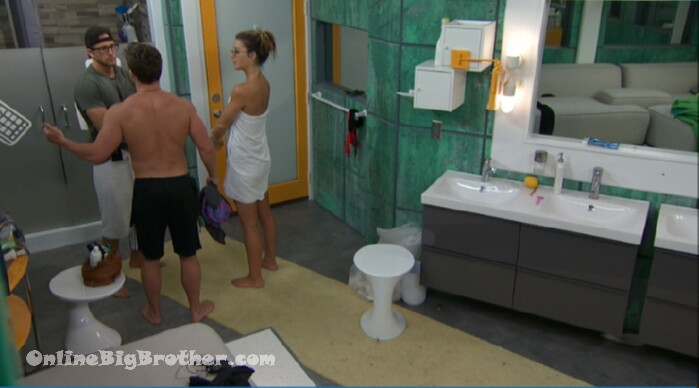 2:04am Bathroom Angela and the BROS
Brett tells them they were pushing hard to get teh veto used on Winston but if they push any harder she'll dig in her heels.
Brett – you're ion a really good spot Brotha
Bayleigh ends the game talk as she walks in.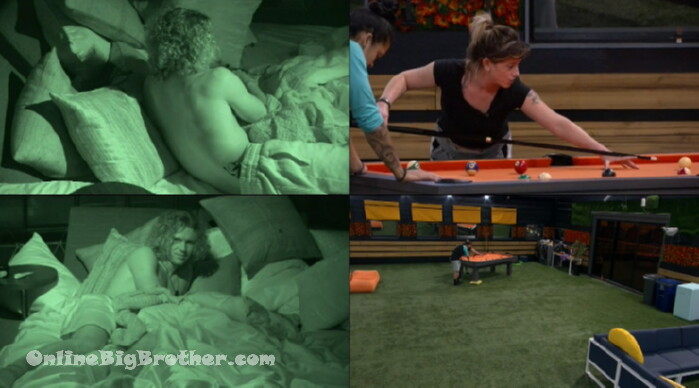 2:21am Tyler continues to rub Kailtyn. Brett is working out with Fez and Kaycee is chatting with Sam about Crossfit and Shitmas..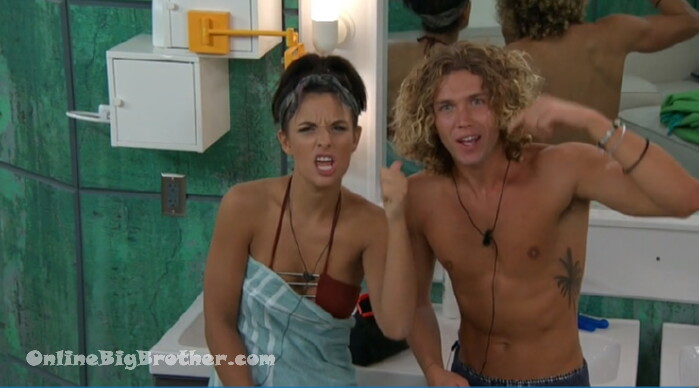 2:26am Rachel and Tyler  
Tyler says that once she puts Swagz up she doesn't want to be in a room alone with BAyleigh.
Rachel says she doesn't think they will get the power. Tyler agrees says Kaitlyn will probably get the next one. Rachel remind him they have only 3 weeks and all these powers are out. Tyler says if one of them do have the power along with Sams they can use those powers in the event someone on the other side wins the HOH.
Rachel – swaggy was like don't worry about anything you're not going up as a pawn and you're not going up in a backdoor situation.
They laugh "when the hair's down it's going down" I definitely wearing my hair down  tomorrow
Rachel – don't ever wear your hair up
"when the hair's down it's going down" #BB20 @DawgsBigBrother pic.twitter.com/saG8D6luCC

— OnlineBigBrother.com (@bigbspoilers) July 8, 2018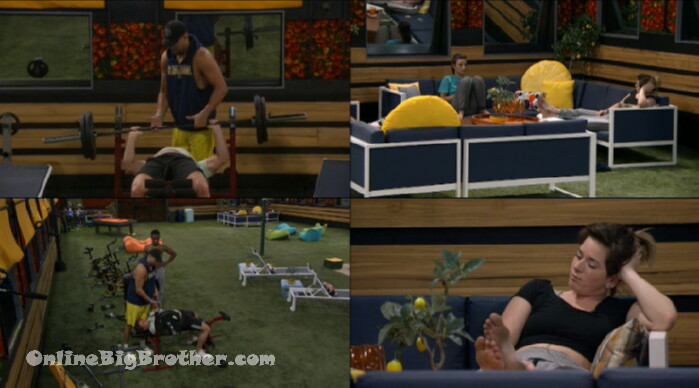 3:05am a big chunk of the house is still up…
Rachel points out that it's 3am, she's going to bed soon.
Sam – I was going to dry these towels and take a shower so everyone has a clean towel.. I'm doing my best … it comes from a genuine place. Any opportunity I have to make people more comfortable and bring positivity to this that's my purpose right now I'm taking that to heart..
Sam – Like I said in the bathroom this morning.. I look at each and every person in here like I look at everyone in my life. That's someones baby daughter sister mom.. I want to feel that with all of you I want everyone to have a fair chance be comfortable and healthy .. I'm just trying to ah…
Rachel points out that the house is feeling more and more normal by the day
Faysal and Brett taking Kaitlyns advice and getting to know each other better by lifting.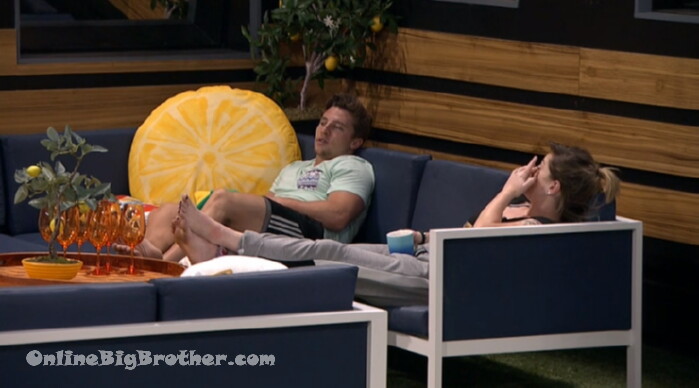 4:50am Brett and Sam have some chit chat time on the backyard couch. Sam thinks Winston and Rachel are the two best looking people in the house.
9:00am everyone sleeping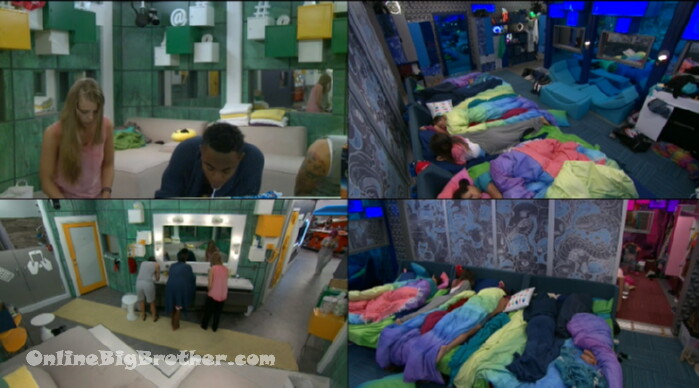 10:16am houseguests waking up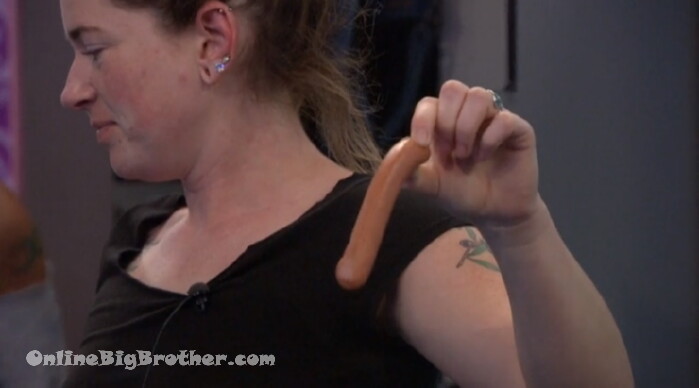 10:24am ROCKSTAR asking for smokes says she might need one if she gets super stressed out..
Sam – I have plenty of regular but I have these..
Rockstar – no no I don't want them..
Sam finds a wiener.. (from last night)
Sam – JC you should be ashamed of yourself.. come over here and let me slap you in the face with this
JC grabs it and puts it in Tyler's ear..
"JC you should be ashamed of yourself.. come over here and let me slap you in the face with this" #BB20 @DawgsBigBrother pic.twitter.com/Q9CDLX0U1t

— OnlineBigBrother.com (@bigbspoilers) July 8, 2018
10:42am Winston and Haleigh
JC is out side yelling how everyone is in a bad mood today he heads back inside.. Winston and Haleigh talk about the power and speculate what it could be.
Haleigh – I thought you were going to win the veto
Winston – to be honest I did too
They have a good laugh about why everyone thinks he's a Doctor. Winston goes on about how he's not smart enough to be a Doctor. (lol Winston is totally not a Doctor)
They laugh because he used medical terms twice.. Haleigh tells him everyone thought Winston was "so cute" and was single so he must be a Doctor He was in medical school and didn't have time to find a Girlfriend.
Haleigh says no one would ever think she is a Doctor
Winston says sure they would but not now she's too young, "unless you are Doogie Howser"
Haleigh doesn't know who that is.
11:12am looks like a bunch are planning on spending some time in the sun today.
11:21am Scottie and Haleigh
Talking about how shocked they are about Steve going home.
Haleigh tells him his best option is to just Chill.
Haleigh adds that if the power wasn't used it's even more scary because someone flipped (she knows BTW)
SCottie knows Tyler is using the Veto he had told him. Scottie asks Haleigh who they will vote out. Haleigh says the replacement nominee goes home.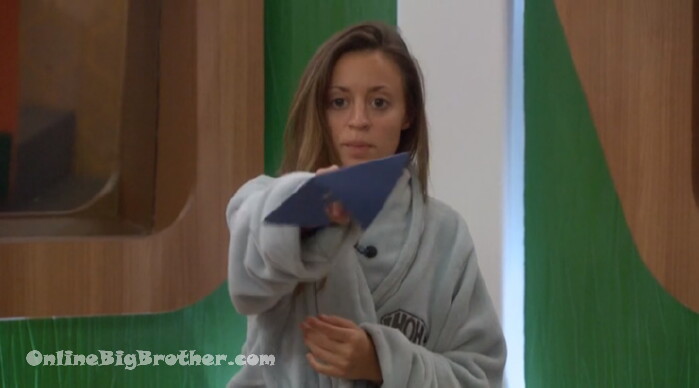 11:32am Kaitlyn gives out the Have nots this week.. Says that anyone who did it last week no.. menstrual cycles no, depression no, antibiotics no
Rachel volunteers
Kailtyn says Rachel is being yelled at this week she can't
Kaitlyn wants it to be 2 boys and 2 girls
Have nots are JC, Fessy, Haleigh, Rockstar
For all you folks that need a VPN I use this one
Rank the houseguests!
Easiest way to Rank the house guests use link below