| | | | |
| --- | --- | --- | --- |
| POV: | Tyler | Next POV: | July 14th |
| POV Used | yes | POV Ceremony | July 9th |
| HOH: | Kaitlyn | Next HOH: | July 12th |
| Noms: | Winston, Scottie Swagz | Have Nots | JC, Fessy, Haleigh, Rockstar |
Big Brother Spoilers – Tyler used the veto on Scottie. Kaitylyn nominated Swaggz
For all you folks that need a VPN I use this one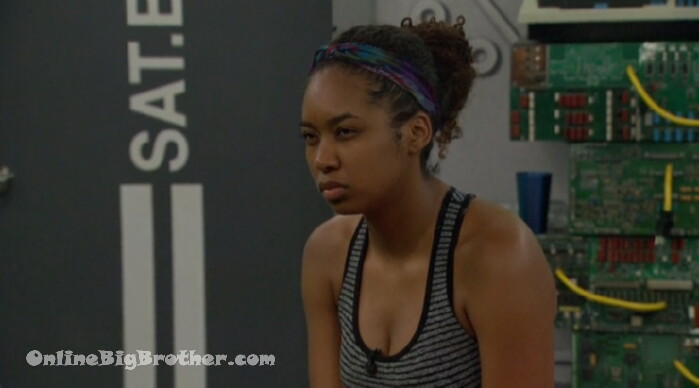 12:01pm Swagz, fez , Scottie and
Fez – I don't even want to talk to Kaitlyn right now
Bayleigh comes in, Scottie and Fez leave..
Bayleigh – I'm pissed
Bayleigh – she said what use is sending Winston home he hasn't hurt my game..
Swagz – I just need to figure out how to get 7 votes.. we have 5
Bayleigh – I think you can turn Rachel
Swagz – It's going to be hard.
Bayeligh – people will be sympathetic you were blindsided
Bayleigh – we gotta figure it out.. Me, Scottie, FEssie, Rockstar, Haleigh, JC..
Bayleigh – I'm pissed .. when I joined your side I was like I don't trust her..
Bayleigh – she was like is he ok.. i'm like no f*** he's not OK.
Bayleigh – are you going to talk to her
Swagz – not today..
Bayleigh leaves..
Post POV Ceremony #BB20 @DawgsBigBrother pic.twitter.com/99rYKjF0iA

— OnlineBigBrother.com (@bigbspoilers) July 9, 2018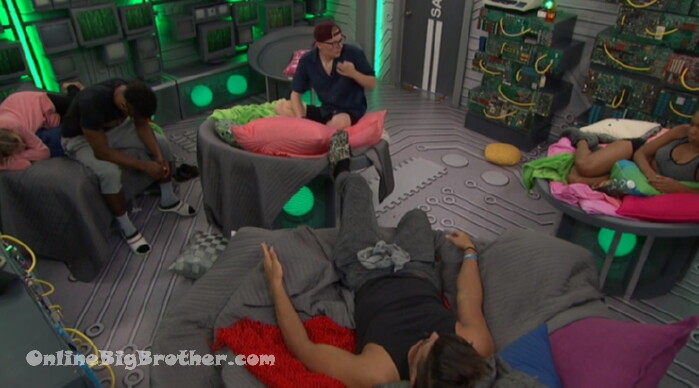 Scottie and Fez come in.. Fex says when she told him before the ceremony he thought the veto was going to be used on Winston.
FEz -we work on JC first?
Fez – how do you betray your alliance week 2
Bayleigh and Haleigh come in.
Scottie says Bayleigh and Swagz need to spend less time together.
Bayleigh won't have any of that.
Bayleigh – Winston is in a bromance.. he walks around s**king Brett's d1ck all day.. it's bullsh1t f** that
Bayleigh – when I sit on the bed Tyler's leg touches mine and he scoots away
Scottie – close to her (Kailtyn)
Fez – b1tch
Bayleigh says she saw Tyler rubbing Kailtyn's
Bayeligh – likes it's OK kaitlyn
Fez – he started rubbing her leg
Bayleigh – yeah
12:18:00pm July 9 Fez – (something something" little b1tch"
Fez – our best bet is JC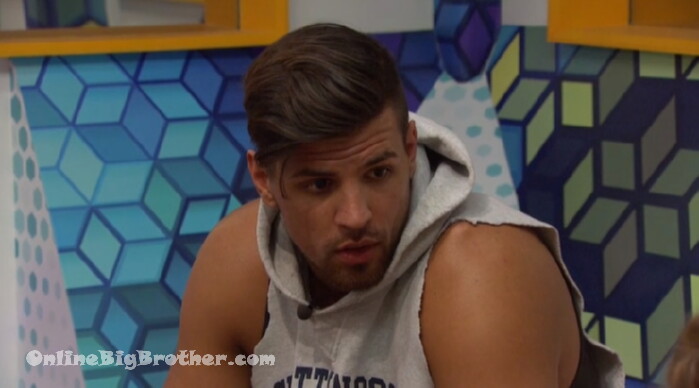 12:32pm Haleigh and Fes
Haleigh telling him he needs to stop spending so much time with Swagz.
Fez says there's no one he can trust anymore..
Haleigh – you can trust me
Fez – why didn't she tell me..
Fez – obviously she's rocking wityh Tyler
Haleigh – yes she is, She is still upset about what happened last week.. She doesn't trust me and she doesn't trust Swaggy
Fez – the two people I thought had my back the one might go home this week the other took a shot at them.
Fez – I look like a idiot.. I hung out with her all week
Haleigh – there's still a lot of time that can pass between her and Thursday.. just keep your cool and not pop off
Fez – obviously playing a cool game is not the way to go.. when I try to play it cool my two best friends turn on each other
Haleigh – we don't have the numbers right now.. if Swaggy goes home.. we're f***ed collectively as a unit.. we need to reevaluate and see where we stand with everyone else
Fez – I'm coming for everyone.. if it's endurance nobody is going to beat me..
Haleigh – you need to calm down we're fine
Haleigh tells him that KAiltyn is full with the other side.
Haleigh keeps telling him to not get wrapped up in the drama.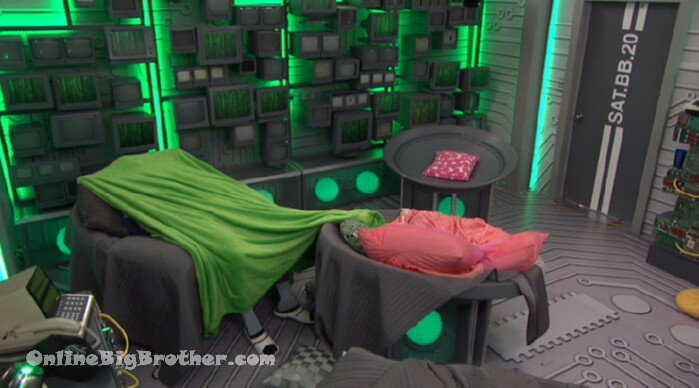 Swaggyz is in there
2:41pm Kailtyn and Bayleigh
Kaitlyn says that people have over heard Swaggz saying thing about her like she's a liability..
Kaitlyn- there would have been a point where he takes me out.. we never speak once.. he avoided me all week
Kaitlyn- he told Scottie and told Tyler he controls the group we do what he says.. I'm not going to to do that .
K – I would look so pathetic to America..
K – it's too early for that.. Winston has not said a f***ing word about me he's been respectful and kind.. I didn't o want to do this at all but when I sat down for meditation..
K – I am upset about it on a personal level..
K – Last week really hurt me
B – I can't believe it blew up to this Proportion
Bayeligh says the things said she didn't consider to be back
Bayleigh starts crying He's all I Have he's my best friend..
Bayleigh – I don't have anyone in this house.. you have so many people in this house.,.,
Bayleigh – I just don't know hat I am going to do with him out of this hose.. who am I going to talk to
K – us
K – I want to change the trajectory of the game nobody is on a single side.. now that I've done what I have done people can start over.
K – now that we know each other we can take a step back who do I want to work on.. that is partially why I'm doing this..
Kaitlyn says have swaggy saying he controlled them really triggered her from her past..
Kaitlynsays she was in an alliance with Swaggy and hearing him say those things also hurt her more.
Bayleigh asks if she thinks the other side will stay loyal to her
Kaitlyn isn't sure she had to go with her gut.
Bayleigh says that JC is going around saying she has the power.
KAiltyn says it's between Swaggy and Scottie
Bayeligh – I htink it's Sam
Kaitlyn doesn't think it's Sa,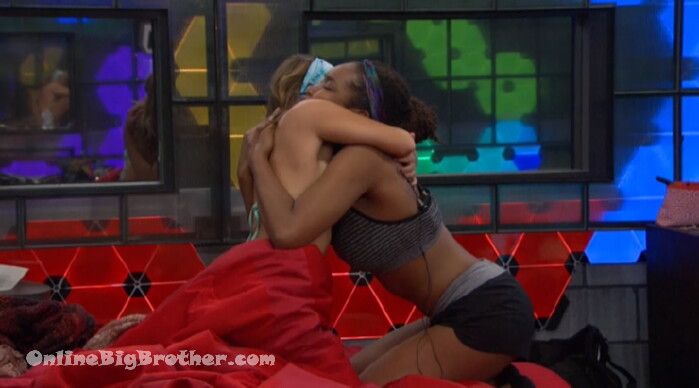 Kaitlyn – I'm really sorry..
Bayleigh – this has been the most emotional three weeks of my life
1:00pm HOH Tyler, Brett, Kailtyn, Haleigh
Katlyn brings up that Winston did talk sh1t about her 2 weeks ago soemthing about putting her up. "Thats what Scottie said t me"
Tyler and BRett both say they never heard that from Winston plus he never had HOH.
Tyler says Swagz will try and get JC because he's kinda playing the middle. Tyler adds that swagz is going to try and get Sam but it won't happened.
Brett warns Kaitlyn about letting Bayleigh get in her head because Bayleigh is going to say whatever she can to help Swagz.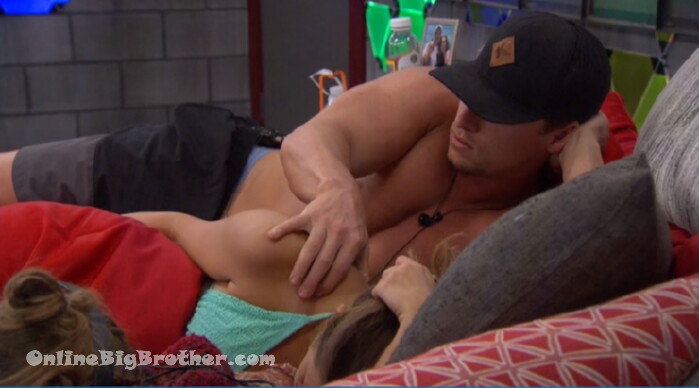 1:09pm Either out in the sun chit chat or in the HOH putting in work.

Rank the houseguests!
Easiest way to Rank the house guests use link below