| | | | |
| --- | --- | --- | --- |
| POV: | ? | Next POV: | July 14th |
| POV Used | ? | POV Ceremony | July 16th |
| HOH: | Scottie | Next HOH: | July 19th |
| Noms: | ? | Have Nots | ? |
Big Brother Spoilers –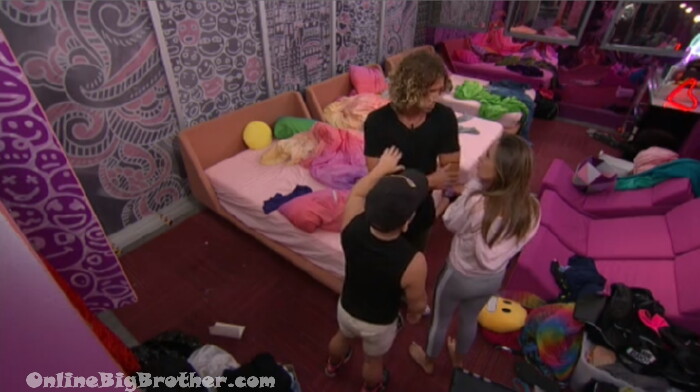 7:06pm Tyler, Kaitlyn and JC
KAitlyn wonders if it's Scottie that Flips. Tyler says SCottie was back and forth.
Kaitlyn – do you think I'm a target
Tyler – no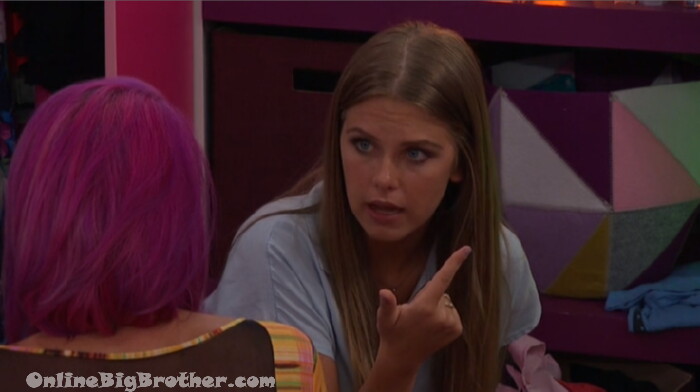 7:07pm haleigh and RoCKSTAR
Haleigh says Scottie is going to push this flip on her and try and get her out.
HAleigh says she swears she didn't flip
ROck – I believe you
They both go on a tangent thinking Scottie is an evil genius that was the architect of these last 2 weeks and is now trying to put Haleigh up.
Haleigh says they have to win the veto.
haleigh says Bayleigh won't believe her that she didn't flip.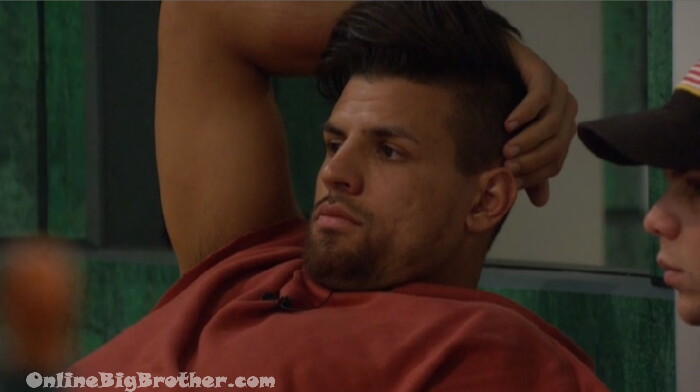 7:12pm Fes and JC
JC – who do you think he's putting up.. yo don't talk game to him..
Fes doesn't know
JC – 2 of the four (bros + Angela/Rachel)
Fes does't know
JC says he has no idea he's in the middle.. he didn't want one of the four to get into power.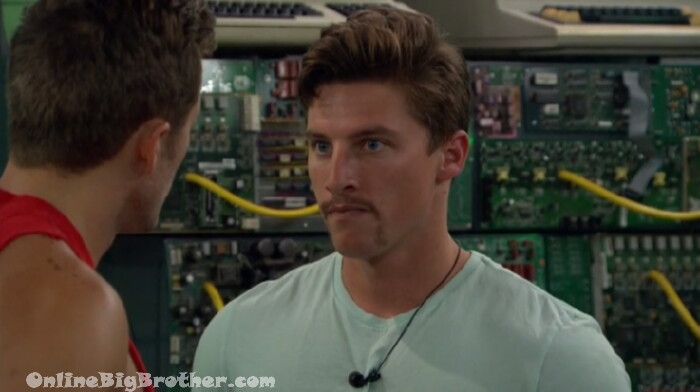 7:20pm BROS
Brett – we need to put in his brain that Bayleigh and Fes might be after him because of the swaggy vote
Brett – he voted Swaggy out
Winston – really I thought it was haleigh
Brett – and Haleigh.. that's two votes..
They count the votes…
Winston – Scottie voted for Swaggy don't get twisted.. Scottie did not vote for me he voted for Swaggy
Winston – he's full of crap .. You're probably fine unless he says I'm going to do something funny and throw the bros on the block.. I can see him saying it right now out of his cocky little mouth.. one of us has to win the veto..
Brett – we're fucked.
Winston – I don't think you will go up.. he will base this off personal relationships..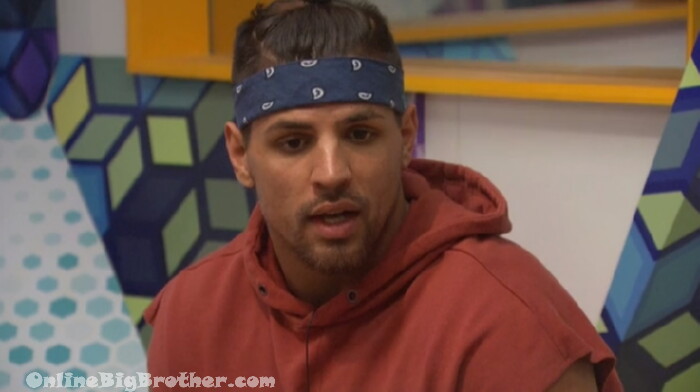 7:28pm Fes and Rockstar
Rock is trying to tell him that Scottie flipped last week and this week.
Fes tells her 100% Scottie didn't flip Week1. If he flipped week2 thta's f***ed up.
Rock – I was thinking he was kind of a diabolical super genius
Fes can't understand why Scottie would wear a Swaggy Tshirt and vote him out , how would that benefit his game?
Fes – you talk to Haleigh
RS – she swears she did not flip.. she voted Winston out..
RS – I Believe her
Fes – why doesn't she coem to to me than
RS says HAleigh thinks this is Scottie's plan.
Fes – who is he putting up
RS says if Scottie pins the flip on Haleigh she might be the target.
Fes thinks it was HAleigh, "I asked her are you voting for Swaggy to stay..unless he doesn't have the votes to stay then I will do what's best for my game"
Fes says he mentioned if being about loyalty and she walked away.
Fes – I know 100 that Scottie didn't flip on Steve
RS – so you know who flipped on Steve
Fes – no … There's no f**ing way he flipped
RS seems convinced that Scottie is the mastermind flipper and Fes doesn't think Scottie flipped on Swaggy.
Haleigh joins them.. Rockstar now asking if Rachel flipped..
Rockstar says Scottie probably isn't a virgin he went to "electric forest.. it's a giant Rave"
Fes leaves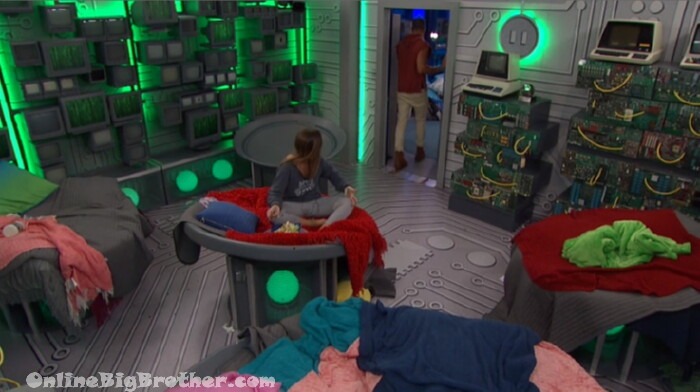 7:18pm Kaitlyn and Fes
Fes – you know what the votes are..
Kaitlyn – I assume it was you four.. Scottie, you, Bayeligh
Fes gets up and goes
Kaitlyn freaks out.. "what the F**"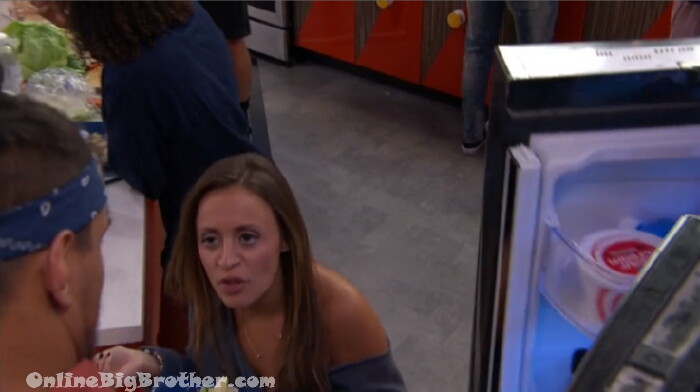 Kaitlyn chases him around the house asking him what's wrong. They end up back in the HAve nots..
Fes – you didn't know Scottie Flipped.. What did you and Haleigh talk about..
Kailtyn didn't think Scottie flipped. She never talked to haleigh.
Fes says haleigh told him that Kaitlyn told her to vote out Swaggy.
Kaitlyn thought she did, "I assumed she voted out Swaggy I told her to"
Fes – but you don't know for sure
K – who else who have voted… I don't understand where you are going with this none of what you are saying is makeing any sense.
K – you knew he didn't have the numbers
Fes brings up a rumour that she said something during the competition.
K – I never said anything during the competition.
K – what are you so worked up you knew he was going home no ones lying to you .
They think Haleigh flipped the vote.
For all you folks that need a VPN I use this one
Rank the houseguests!
Easiest way to Rank the house guests use link below