| | | | |
| --- | --- | --- | --- |
| POV: | Tyler | Next POV: | July 14th |
| POV Used | yes | POV Ceremony | July 16th |
| HOH: | Kaitlyn | Next HOH: | July 12th |
| Noms: | Winston, Scottie Swagz | Have Nots | JC, Fessy, Haleigh, Rockstar |
Big Brother Spoilers – Swagz is still going home..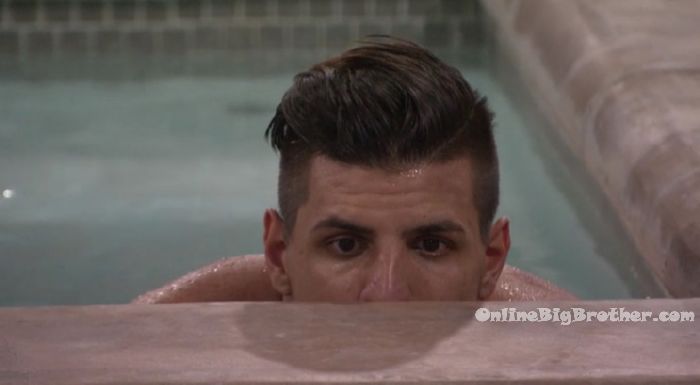 11:55pm – 12:30am Hot tub. Fez and Haleigh. Fez – I feel like you're scared to .. I don't know give in .. or commit to. Haleigh – I told you .. what are you talking about?! Because we had this exact conversation yesterday or the day before yesterday and I thought we were on the same page. Maybe we're not, maybe we're on different pages. Fez – I'm on your page .. I'm trying to be on your page.. I'm all over your page. Facebook page… Haleigh – I can't stand you. Fez – Normally I don't do a good job at explaining my feelings and I feel like in this house I feel like I've done a good job at it. I know this is a game but I want to know you besides the game. Rockstar joins them (and saves Haleigh). Rockstar – I had imagined that if one of the five of us had won HOH it was going to be the five of us chilling up there and like talking. Its just completely different. You two and Bayleigh are the only ones that I completely trust. I think Bayleigh is better at this than I am.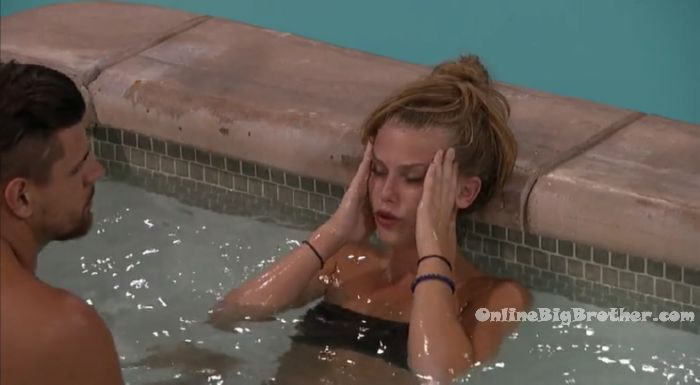 12:30am Backyard – Scottie and Swaggy. Swaggy tells Scottie that Kaitlyn said that she would break the tie for him to stay. They said go talk to some more people such as you and Haleigh and see how yo feel. I don't think JC and Sam would but it doesn't hurt to talk to them. Obviously it didn't hurt to try every angle as possible. I have 5 guaranteed votes. And Winston has four. He has Kaycee, Rachel, Brett, Angela. Sam and JC maybe guarantees for him. JC said three different times that I am going to be okay. Scottie – he's pulled everyone aside. He pulled me aside, you aside and Haleigh. Swaggy – what did he tell you? Scottie – he told me that I played a stupid game last week. Swaggy – what do you think my best pitch to JC is? Scottie – JC is just trying to not draw attention. So basically if you can pitch to him that if you're here you'll just let him be. Every talk I've heard him have with everyone is that he just doesn't want to do anything. That's literally his entire game plan .. to be untouched.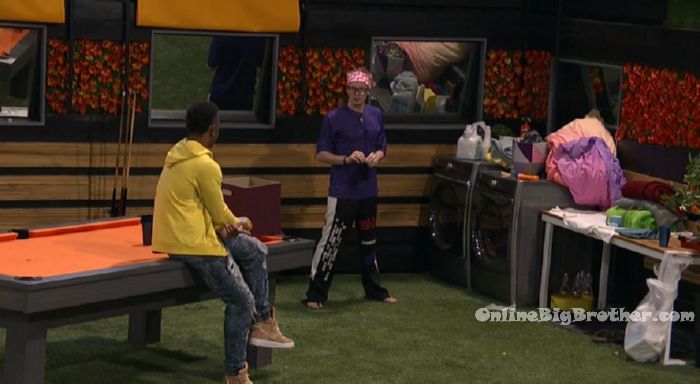 12:35pm HOH room. Tyler and Kaitlyn. Kaitlyn writes more love notes on Tylers arm. Big Brother – Kaitlyn STOP THAT! Tyler – its called a hand massage.
Kaitlyn writes more love notes on Tylers arm.
Big Brother – "Kaitlyn STOP THAT!"
Tyler – "Its called a hand massage!"#BB20 @bigbspoilers pic.twitter.com/98MI7j3SR5

— Dawg (@DawgsBigBrother) July 10, 2018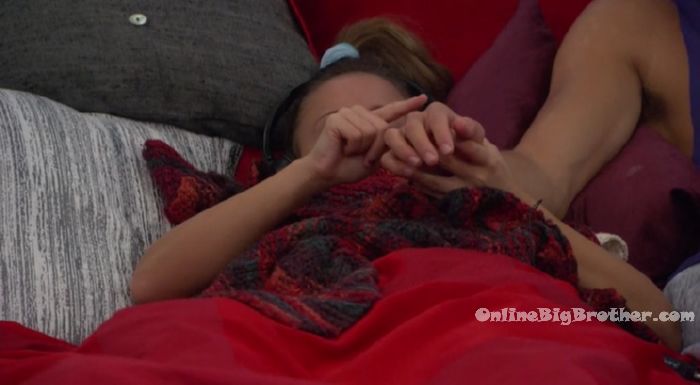 12:40am Backyard – Sam and Swaggy. Sam – so how are you feeling? Swaggy – hurt. You know I don't cry. I've got this big a$$ ego. Naa.. I'll probably shed some tears today honestly because one I didn't expect it, two I love this game damn near more than life itself. I honestly didn't expect it coming. But what can I do from here? Sam – what are you going to do? Swaggy – I don't know. Just be myself. I think the first week and a half I've just been so tight and close to myself and not opening up to people that like people never got to see Chris. It was Swaggy C 24/7. Only Winston and Bay got to see Chris. Chris is a real person. People were telling Kaitlyn stuff about me. It was a misunderstanding that I hope we can get past. People say that this is just a game. Probably 8 or 9 people weren't looking for this game, they just got hit up by a recruit and came here. I've literally been watched this sh*t for 13 years. I love Steve to death but he went home. At least he got to play in the veto. It not just what this game means to be its the opportunities that could come from it. You may not know but I come from a bad neighborhood. That's why I wear this flag and do all these gun signs. Its all I know. Swaggy – growing up I transferred to 17 different schools within 8 years.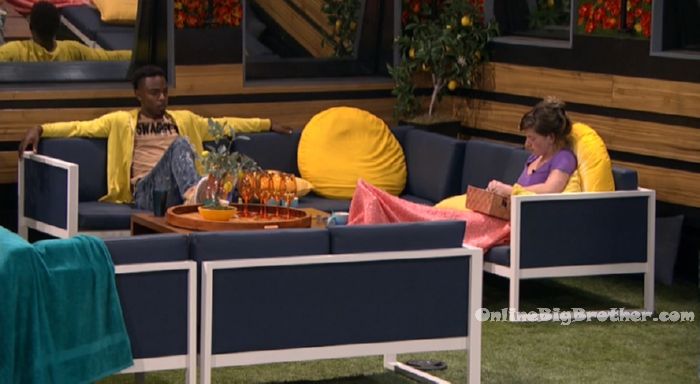 FLASHBACK and watch everything you missed: Live Feed 7 day FREE Trial!

1:15am – 1:55am Sam to Swaggy. You need to put the game aside and find a way to liken it to your life before this. Swaggy – I don't want to do that. Sam – okay something that made you comfortable like a group of people from school or your basketball team. Find away to look at all of us, the same way that you looked at the people who were going to be your teammates. How did you treat them the first time you met them? Swaggy – I went to war with them so I treated them like family. Sam – you bonded up, you were a team. Find away to look at us that way. Open the Swaggy gate. Straight up, unzip your chest and let your heart fall out. Just roll with it. Its not just for us its for everyone else. Swaggy – coming from where I come from you have to be ready to die any moment. When I got blindsided.. I wasn't about to freak out. At the end of the day I am going to open up and be personable with everyone.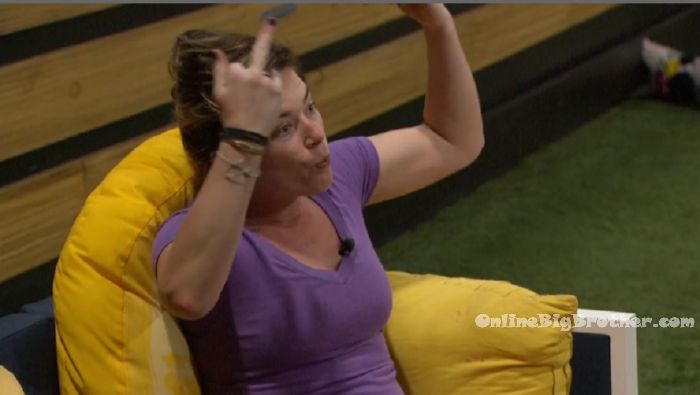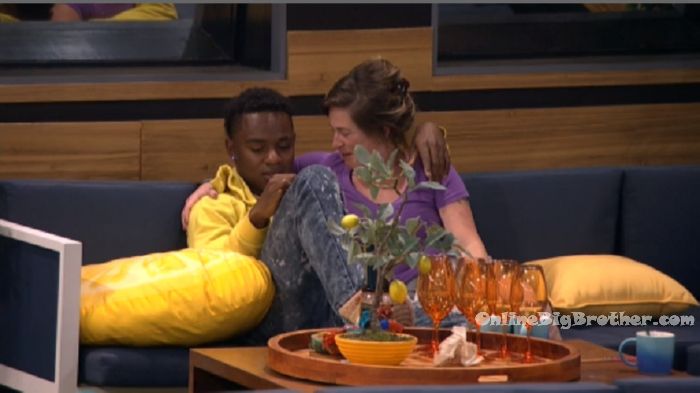 2am The house guests are playing the Marry, F**k, Kill game with celebrities. Fez – Jennifer Aniston, Jessica Biel and Eva Mendes. Winston – I am marrying Eva Mendes but as far as Jessica Biel and.. Haliegh – you have to kill one. Fez – can't we just change it to punch in the face? Winston – right, why do we have to kill one of them? That's a hard three. Fez – Eva Mendes's mole, I just want to suck it off her face! Kaitlyn – the boys weren't honest about us. Fez – we wouldn't kill or marry any of y'all.
2:20am Hammock. Fez and Swaggy. Swaggy – I thought Sam was a lost cause and I just sat there with her for 3 hours. I thought I couldn't swing her vote. Now she said over these next three days if I show her I am cool and can open up. She said she will voting on how many times she can have conversations like this and how many times she can have conversations like this with Winston over the next few days. All this my dad died, I live in the hood. That's real stories but my emotions aren't the same. I'm platonic, I'm good with that now. I don't care about that sh*t no more but to these people its like yeah sh*t happened and it sucks. No, I'm way over that. So its basically just empathizing with that and seeing how it works. That's basically all I'm doing with Sam. That won't work with JC. JC wants to play the middle. So what will work with JC is telling him I'm going after the other side and they'll go after me so he can sit in the middle. With Kaitlyn and Tyler I can empathize with Tyler on how close we are and with Kaitlyn, its just a misunderstanding. We can get over it. If I go 0 for 4 then I tried my best. I really believe I can swing 1 vote for sure, two if I'm lucky.
Swaggy – Kaitlyn is letting me and Bayleigh have sex in her room. She said you can lock the door, go in the shower, do whatever you want. She knows I'm stress out. She said she would give me both.. let me have sex with Bayleigh in her room and keep her safe. Fez laughs. Big Brother blocks the feeds.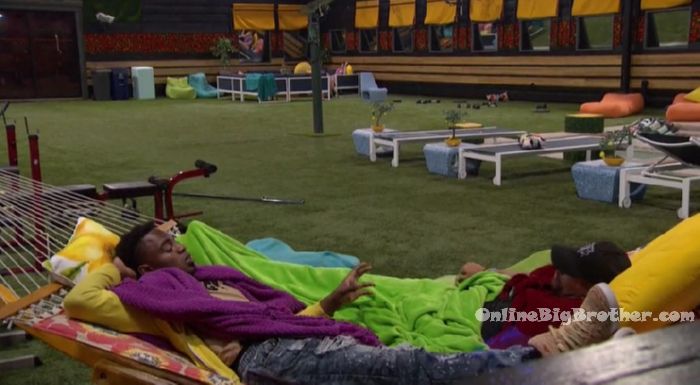 2:25am Big Brother switches the feeds to the BB re-runs..
2:43am The live feeds return. Swaggy is telling Bayleigh about his conversation with Sam.
3am – 3:20am Hammock. Sam and Kaitlyn. Sam – we don't know each other too well. I told you about my power app thing. I don't know a whole lot about the game. Kaitlyn – I know you say we don't know each other too well .. but I read you. We still have a lot more to learn but I still f**king love you. You're my friend. Sam – I love you too. You're amazing. I think you're playing the game. I'm not, I'm just here. I will offer you up some advice. The only way I will is if you promise not to tell anyone else. kaitlyn – just so you know. So right now you're at a crossroads with your opportunities and who you would be sharing the house with for the long run. Kaitlyn – yes. Sam – me I am looking at everyone in the house as people and individuals. Kaitlyn – me too. Sam – not as commodities. Kaitlyn – I agree. Sam – not as part of a strategy where this person is expendable. This person is athletic. This person is game orientated. Kaitlyn – totally I don't do that either. Sam – looking at it from that perspective the competition side of it is very small. Who you can live with is a much bigger part of this. You left my laundry out, who can you sit down and have a meal with. Sam – from that perspective, I think you are sending out the lesser threat. Kaitlyn – I agree.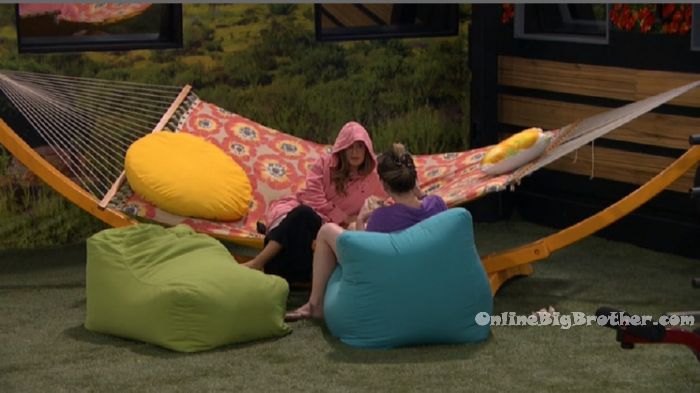 Sam – I think Winston should leave. Kaitlyn – would you vote against him? Sam – no I am not saying anything that has to do with game stuff. And I know who would vote to keep me. Kaitlyn – no but it is. Sam – listen, let me finish! I am talking strictly as an individual. Forget the grouping that's happened so far because it might not stay. Realistically there is some sway is Swaggy. He is emotional intelligent. Kaitlyn – he is an unbelievable person. Sam – being able to work with him or convince him is going to be much easier than Winston. Kaitlyn – I agree. Sam – and Winston is very solid with Rachel, Brett, Angela. Winston and Swaggy are both caught up in strategizing and they're sucking at it. Winston is looking at you as an expendable commodity. I've lived with people like him. He is very clean and he cooks but he is only fun when he is around Brett. You should keep Swaggy and vote out Winston. Kaitlyn – I can't do that, I don't have a vote. That would me you, JC and Tyler would have to vote for Swaggy to stay. They have 5 votes, they just need one more. Sam – Winston is the brick wall. He doesn't give a f**k about anyone. Kaitlyn – Swag swore on his dad's grave that he would forgive me. Whoever voted to keep him, he said he would keep safe. Kaitlyn – just know I am loyal to you. Sam – I will go along with whatever you decide. Kaitlyn – I will know by Wednesday morning what my decision will be.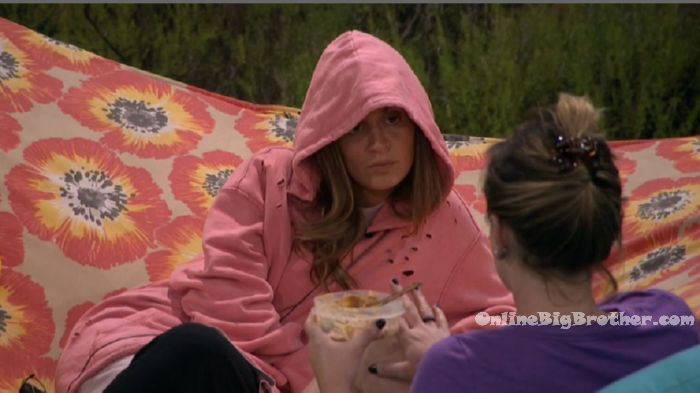 3:40am – Backyard – Fez obsessing about Haleigh to Swaggy and Bayleigh. Bayleigh – Haleigh and I were in the shower and she commented on how this was going to be a long summer and we would need someone to cuddle with. I asked her who? She said you know Fez would be down. Fez – wait what?! Swaggy – go for it!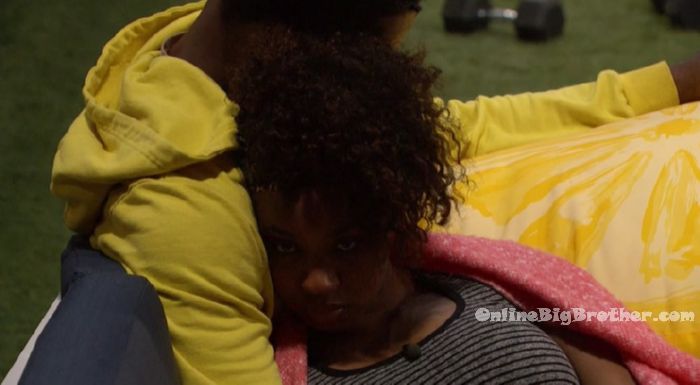 For all you folks that need a VPN I use this one
Rank the houseguests!
Easiest way to Rank the house guests use link below