| | | | |
| --- | --- | --- | --- |
| POV: | Tyler | Next POV: | July 7th |
| POV Used | ? | POV Ceremony | July 9th |
| HOH: | Kaitlyn | Next HOH: | July 12th |
| Noms: | Winston, Scottie | Have Nots | JC, Fessy, Haleigh, Rockstar |
APP Store Power: Tyler got the Cloud app & can keep himself off the block at one nomination or veto ceremony in the next 8 weeks.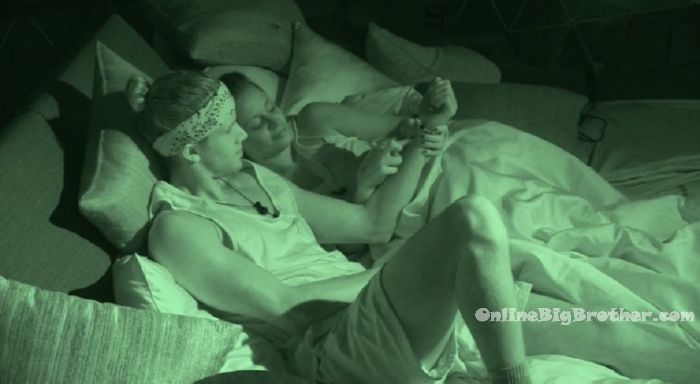 FLASHBACK and watch everything you missed: Live Feed 7 day FREE Trial!

12:15am – 12:45am HOH bed. Tyler and Kaitlyn. Tyler – you know what's going through my head. Kaitlyn – literally never. I don't read minds. Tyler – like you kind of do. Tyler – alright little sis. What's going through your head? Kaitlyn – you don't want to know. Tyler – yeah I do. Do you want to write it. Kaitlyn just wrote on Tyler's arm "I Want To Kiss You" She then turns over and he rubs her back. Tyler – you remember what I told you. I would never let anything bad happen to you and never lead you in a bad way? kaitlyn – MMMhhh. Tyler – I promised that and I would never put you in any situation that would screw you up in the game. Kaitlyn – thank you. Tyler – you know that. Kaitlyn yup. Tyler – and then we pinky swore. No matter how much the game sucks we have to stick together. Kaitlyn – you're stuck with me. Tyler – I have your back in any situation in the game and I look out for your best interest. Do you understand what I'm saying. Kaitlyn – MMMhhh. Tyler – are you sad, are you happy? Kaitlyn – I don't know what to feel. Tyler – me neither. That's the fun part right? 81 days left. Kaitlyn – 81 days till I win. Tyler – I'll take second to you. If it was us, it would be because of you. Tyler grabs her hand and tells her not to lose focus. Kaitlyn – I'm not. I'm not losing focus. You're my bud. You're my best f**king friend. Tyler – you're mine too. I don't even want to win competitions for a little bit. Kaitlyn – if you went home I don't think I would be okay. Tyler – yeah I would be lost.
Kaitlyn – can you write something on my arm. I need some validation. Never mind I don't want to force you to do anything. Tyler – I want to write the right thing. Some times it takes me a while to process things. You know that. Kaitlyn – I know. Tyler – I'm sorry. I don't want you to be left up in the air for my response but I want to write the most awesome response. Kaitlyn – when will you write it? Tyler – I don't know, when I feel it. Kaitlyn – do you want to go to bed? Tyler – do you? Kaitlyn – do you? Tyler – I'll go to bed. Kaitlyn – I'm so impatient. Tyler reaches under the covers and grabs her hand. They look into each other eyes. Tyler – can you read my mind? Kaitlyn – are you saying something to me? Tell me everything you want to say. I'm not going to read your mind, I just want to try and read your energy. Did you read my mind? Kaitlyn – No, kind of. I just feel validated by the way you looked at me. Tyler writes out sentences on her arm. He starts after we .. Big Brother switches the feeds.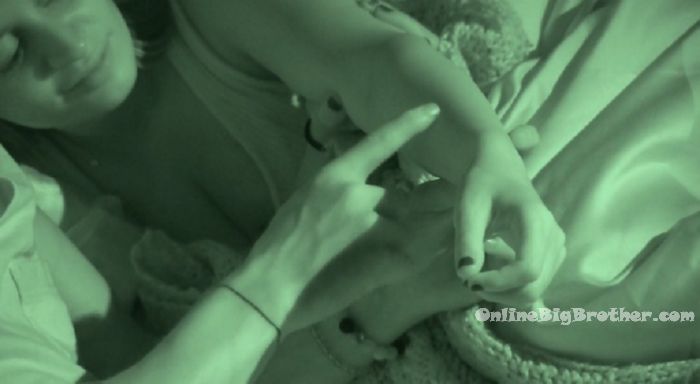 1:10pm Bayleigh – America, obviously I expect you to be biased and love us which would be the correct thing to do. I do understand that there are 13 other amazing people in this house and I give you permission to fall in love with them.. just not too much. At the end of the day we need you to be your top priority.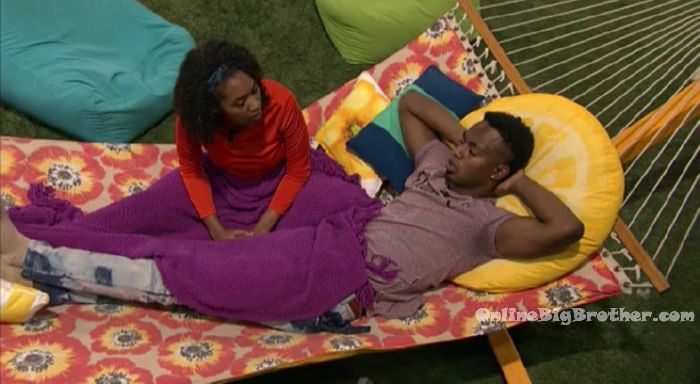 1:10am HOH room. Tyler says goodnight and leaves the HOH room.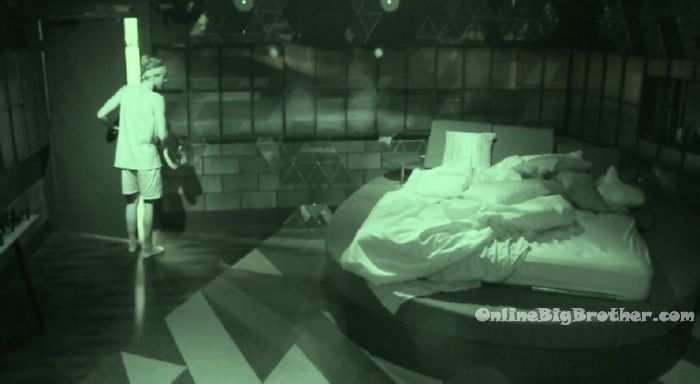 1:15am Fez and Scottie. Fez – Do you think Haleigh is playing Brett? Scottie – I think so. Fez – what makes you think that. Scottie – usually if they engage each other she goes out of her way to engage him. Or he does to her. It never seems natural to me. I just feel like she is. She also sees how he is with every girl here. As much as she doesn't play it off this way, I think she is the smartest girl here. Fez – she is. Scottie – the people I trust the most are you, those two (Bay and Swag), Haleigh and I am trusting Kaitlyn pulls through with her word and then she will be in that group too. Fez – I don't talk that much game with Kaitlyn. She just tells me what shes going to do. I hit it off with her in the beginning and she told me she had a boyfriend. I was like cool, I've never had a female best friend. It doesn't make sense for her to lie. I honestly didn't know if she was going to use it because those were her noms but then she said she was going to do it. It makes no sense for her to say it and then not do it.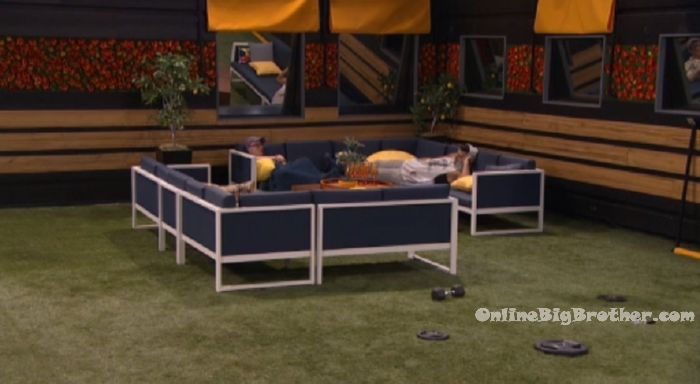 2am Bathroom. Swaggy and Fez. Swaggy – I feel close with Rachel but if she put me up, I would know what time it is. She's with the other side of the house with dollar signs. What the f**k bro. Lets get dub out this week and then it depends on the power next week. I need some Chris Brown before I go crazy in this house.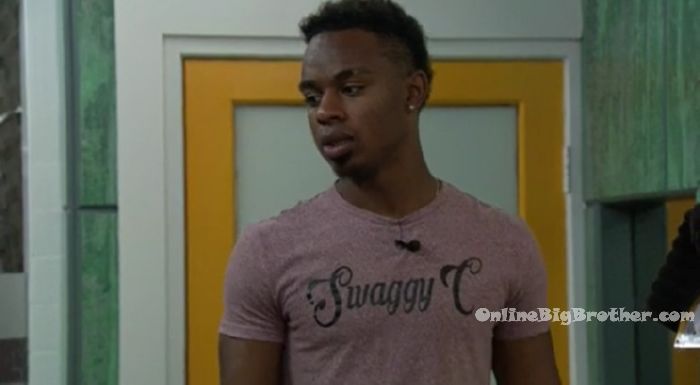 2:05am Backyard. Bay, Haleigh, Scottie and Swaggy. Scottie – should I play my speech like I know or don't know. Bay, Haleigh and Swaggy tell him to play it like he doesn't know. Bay – at this point we have no option than to trust people. And I think Tyler has your back. Swaggy – the question is do you think he has my back? Scottie – not as much as he did a week ago. I think once it gets down to the eight of us .. the risk will be with you and Kaitlyn. Bayleigh agrees. Swaggy – its not that much of a big deal. Bayleigh – to you …but its a big deal to her. Swaggy – what do you mean? Scottie – she is trying to sell that you have the power. She told me don't pick Swaggy .. pick Fez. Swaggy – it will either blow over or you get caught in the cross fire. Bayleigh – she's not going to take a shot at you but I do want for the healthiness of the group for it to be discussed and for it to be mulled over. Swaggy – she needs to come to me. Its not a pride thing.. its we already talked it over and I already apologized. What more is there to talk about. Its like court, you don't go to court for the same thing twice. Swaggy – on my dad's grave I will not apologize to Kaitlyn for snapping at her. She talked to me in a certain way. I said don't talk to me like that in a more louder tone. And then she played the victim of how she's a 12 year old girl and she's scared of me. She still talks about me. She needs to shut up. If I win HOH, don't pull me aside and try and talk to me. Scottie – if anyone tells you to go talk to her, they're not looking out for you. We are.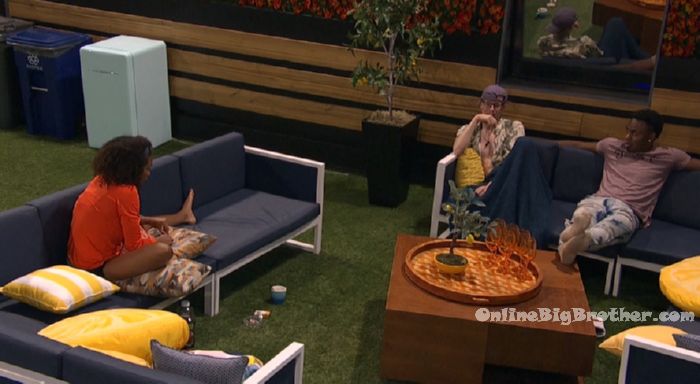 2:30am Bayleigh – do you think I'm cute? Yes or No? Swaggy – YES! You're f**king beautiful!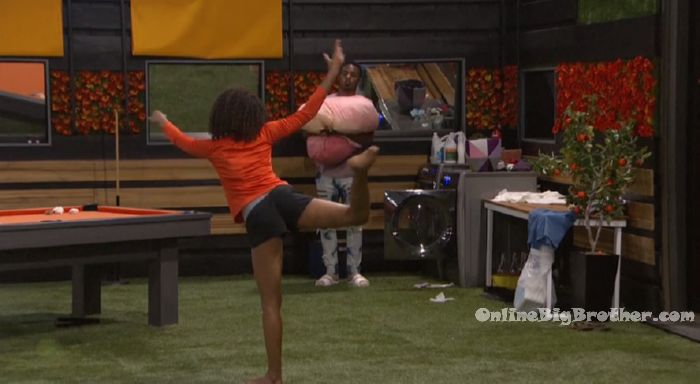 2:36am – 2:45am Bay and Swaggy. Swaggy – people are pissing me off today. People keep telling me what I should do with my game. Bay – don't even tell people what you are thinking so they don't tell you what you should do. Swag – if I win Thursday, she better not come talking to me. Bay – don't be mad at me when I am just trying to play devils advocate. They head to bed.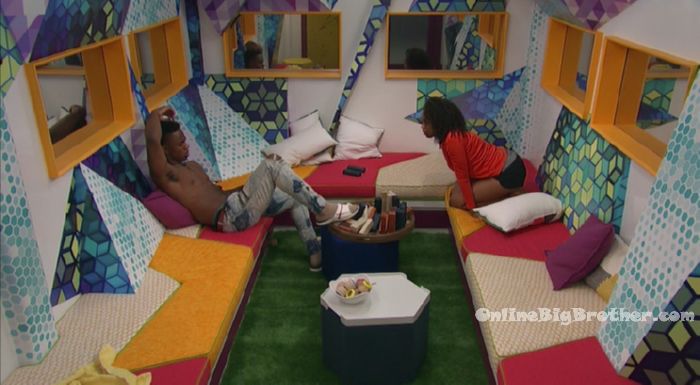 2:50am Fez and Kaitlyn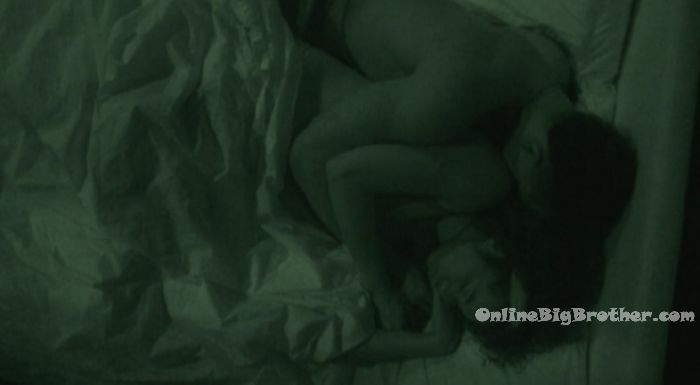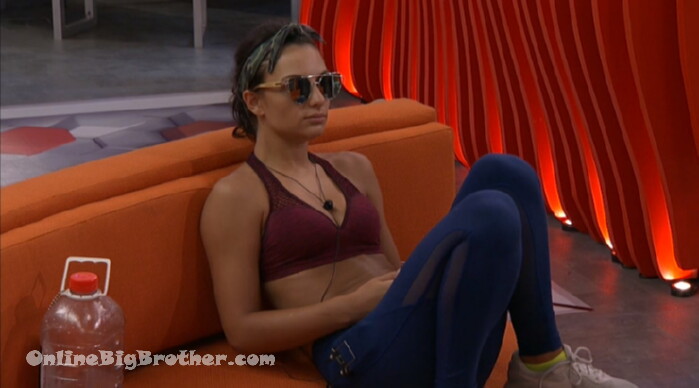 7:09am Rachel is up .

For all you folks that need a VPN I use this one
Rank the houseguests!
Easiest way to Rank the house guests use link below