| | | | |
| --- | --- | --- | --- |
| POV: | Tyler | Next POV: | July 7th |
| POV Used | ? | POV Ceremony | July 9th |
| HOH: | Kaitlyn | Next HOH: | July 12th |
| Noms: | Winston, Scottie | Have Nots | ? |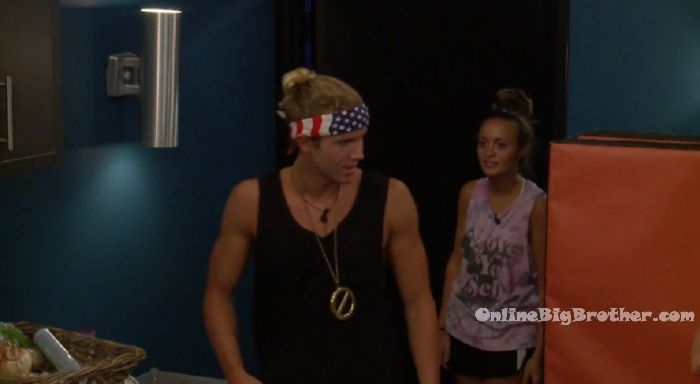 Power of Veto Players were: Scottie, Winston, Kaitlyn, Tyler, Fez, Rachel.
2:27pm Big Brother blocks the live feeds for the power of veto competition to take place.
POWER OF VETO WINNER: TYLER
7:39pm Storage room – Tyler and Kaitlyn. Kaitlyn – can we have a discussion? Tyler – of course. Kaitlyn – come to my room later. Kaitlyn leaves. JC enters the storage room. JC tells Tyler that when they were waiting for the results Swaggy was behind him and kept saying there is no way you (Tyler) won it. I kept going go Tyler! And he was like WHAT?! He was totally not rooting for you. We will talk more about it later.

Outside the storage room.
Winston and Tyler talk. Winston – Jody slipped me up. I had every other one right.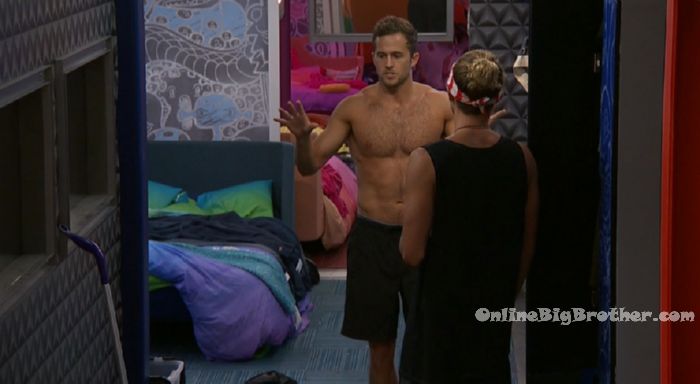 7:47pm Outside the HOH room. Rachel and Tyler. Rachel – Truthfully I didn't want to win it. Tyler – I didn't want to either. Tyler – I have an idea.. I need to secure the votes first but ..Don't tell anyone. If I use this on Scottie, then he is going to trust us. And Winston has the votes for sure. Rachel is worried about who has the power. Tyler – I don't think Scottie or Swaggy have it. Rachel – who do you think has it? Tyler – it must be something big and that's why they don't want to discuss it. I think JC might have it. I thought he would have gotten it last week. Rachel – the biggest reason I didn't want to win it is because Winston would expect me to use it on him. Tyler – everyone outside of the six would vote out Swaggy. Its a touchy subject to ask Scottie to vote with us. I just need to secure the votes and talk to Kaitlyn. Rachel – are you going to act like you don't know that a backdoor is happening? Tyler – yeah.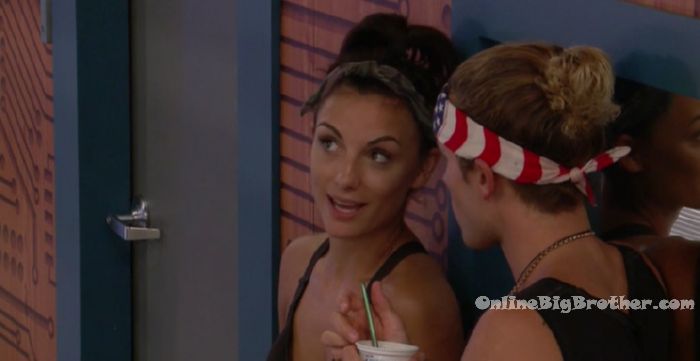 7:50pm HOH room – Tyler and Kaitlyn. Tyler – her and I are on the same page. Kaitlyn – what page would that be? Tyler – to use it on Scottie. Are you on that page? Kaitlyn – Yeah I'm on that page. Tyler – they really dug into your snacks. Kaitlyn – yeah I'm evicting all of them. Kaitlyn – I am getting nervous. Congratulations by the way. Did think you were going to win? Tyler – no. I guessed on a three of them. Kaitlyn – just because Swaggy is the ring leader and talking sh*t .. does it really make it okay for me to leave the other people that are my friends. It doesn't make it okay. Tyler – you don't have to do that. Kaitlyn – yes I do. They're all going to want me out. They're not going to trust me. They're going to be out for blood. How can I be convinced that the Winston's and Brett's are just going to keep me. Like I am at the bottom. I have an opportunity to be back in with people that are my friends or at the bottom of an alliance that was solidified. Tyler – it was not solidified. Kaitlyn – this will ruin my relationship with them even outside this out. Tyler – no it won't. Kaitlyn – no it will. How do I explain to them.. to Rockstar and all of them after. Tyler – no. Kaitlyn – do you think I should tell them before? Tyler – they sensed this happening .. me and you .. because Fezzie is threatened by it. Kaitlyn – what, why? Tyler – Fezzie won't look me in the eye. Kaitlyn – My family gave me two rules coming in here. One don't embarrass the family. Two don't make any big moves too early. This is week two! So I am going to have to tell Rockstar, Fez and Haleigh like 10 minutes before. Tyler – they're going to try and talk you out of it. Kaitlyn – I'm not going to listen. Given the fact that the stars have aligned. Tyler won the veto and now I have the opportunity to put someone up after everything I've heard you say about me these last two weeks. I'm not going to be walked all over. You're not my puppetmaster. After this we will chill .. Swaggy go up.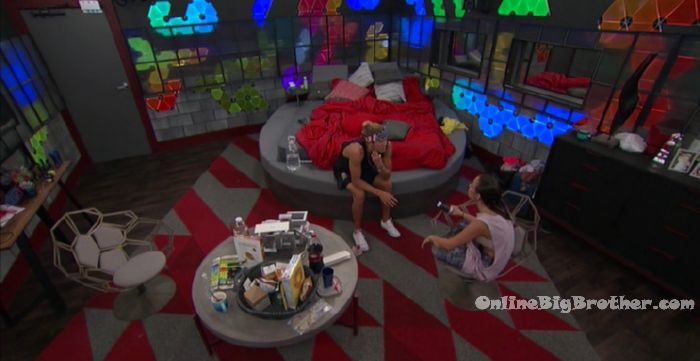 8pm HOH room. Scottie joins Kaitlyn and Tyler. Scottie congratulates Tyler. Scottie – when Winston came in he literally screamed. They talk about veto comp and all their times.
Bedroom – Bayleigh, Fez, Scottie, Rockstar & Haleigh. Fez – its literally win win. If he uses it on Scottie, Scottie comes off .. Great. If he doesn't use it Scottie is safe and Tyler shows his card. He told him he would use it and then doesn't… We tried to budge his a$$ on his HOH and he wasn't going.. so basically its Kaitlyn's HOH no matter what he is going to do what she says. JC joins them. JC – I think you guys should use this on Scottie. Maybe its your plan already. Kaitlyn – That's a great plan, I never thought of that. JC – they're not even trying to hide what conversations they're having. Kaitlyn – When we have the veto ceremony I am going to have a speech for the years. It's going to be shaddy, its going to be bad and I hope you're all tucked under.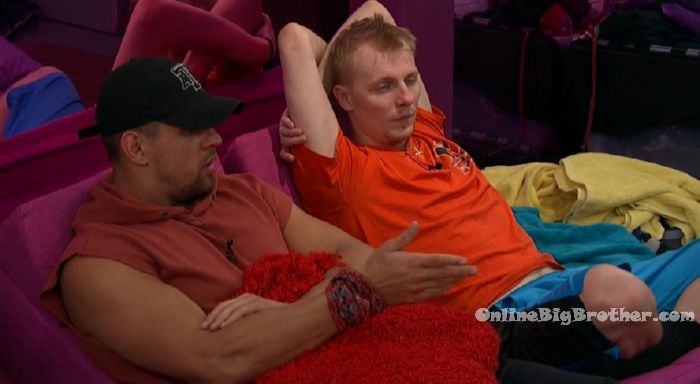 8:20pm OH room. Fez and Kaitlyn. Fez – what are you thinking? Kaitlyn – that he should use it. Fez – ohhh.. I didn't see that one coming. I thought you weren't going to use it. Fez – that's good. I respect that. I respect that you told him up front and now you're going to go through with it. Kaitlyn – that's the way I am. Fez – so who are you putting up? Kaitlyn – probably Angela. Fez – you feel comfortable with that move? Kaitlyn – yup. Fez – good, I'm with it. Kaitlyn – I only trust you and Tyler. Do you trust me? Fez – yes, I told you if anything happens in this game, I've got you. Kaitlyn – what if I did something that you weren't happy with? Fez – then we would have to move on. I know what you're talking about, we don't have to talk about it. We will cross that bridge when it comes. BUT just because you feel that way about them, it does't make me feel a different way about you. Does that make sense? Kaitlyn – it does and I appreciate you saying that. Fez – that my boy but when the time comes you have to do whatever. As long as you know I would never do anything against you in this game. Fez – if Brett won HOH do you think you could convince him not to put me up? Kaitlyn – I think I could.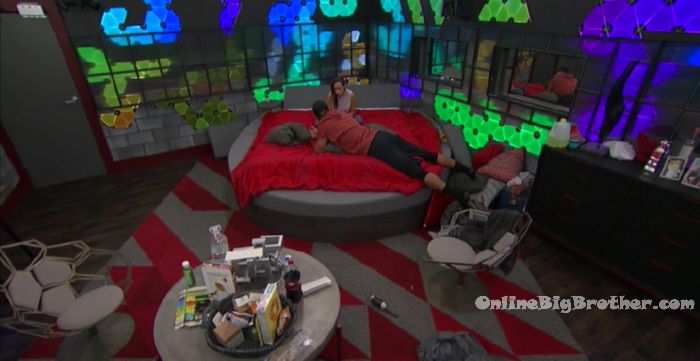 8:20pm Storage room. JC and Scottie. JC – you don't open your mouth for anything. Tyler has the power so you go to him immediately and say hey dude I trusted you from the beginning. I have trust in you. Use the veto on me and then I will owe you a favor. Just like that. I owe you a favor. Scottie – I had the conversation with him last night and he said he would use it on me. JC – I don't want you to go home.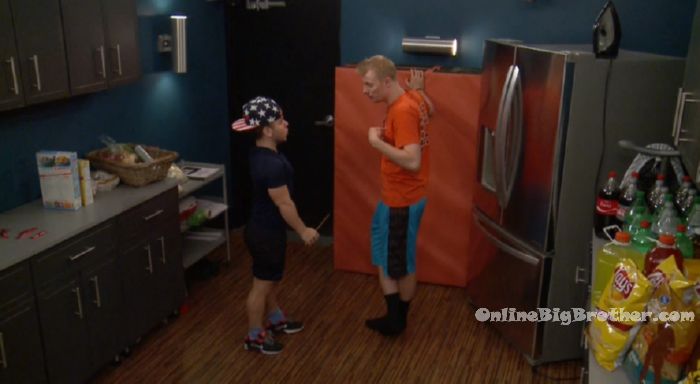 8:45pm Lounge room. Winston – Kaitlyn is going to do the backdoor. Swaggy is going to go up. Next week I am going to have a steady week. I am not going to piss anyone off. I am going to get back to bro'ing out. Had I won it, I might just go out next week. This way it looks kind of like Tyler pulled me off. A handful of people might push me to the back and now they're seeing Tyler and Kaitlyn. I am just going to lay low and bro it out. Brett – I'm just floating. Winston – I'm going to try and float next week.
For all you folks that need a VPN I use this one
Rank the houseguests!
Easiest way to Rank the house guests use link below