| | | | |
| --- | --- | --- | --- |
| POV: | ? | Next POV: | July 7th |
| POV Used | ? | POV Ceremony | July 2nd |
| HOH: | Kaitlyn | Next HOH: | July 12th |
| Noms: | ?, ? | Have Nots | ? |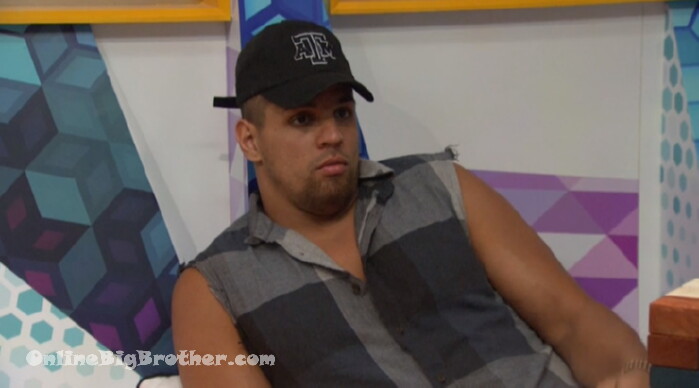 Midnight geometry ROOM Bayleigh, Swaggy and the Fez
Fez is saying he's taking a shot when he wins HOH and if he misses and they take a shot at him they have to A) put him up and B) beat him at veto
Bayeligh says she owes fez one for him not using the veto last week.
Swaggz says even with him up they need to still get the votes.
Bayleigh – it's not happening..
Swagz – so enjoy this week and just chill
Fez – as long as she (Kaitlyn) stays cool
Bayleigh – She will.. you gotta be a real good best friends this week
Bayleigh warns him to be careful what he says "you remember how she defended Tyler last night"
Fez – Right now KAitlyn feels closest to Tyler
Bayleigh – which is crazy.. when she was mad at us for excluding her she says he was there for her
Fez – if Tyler is playing on that side he's doing a really good job
Fez wants to put Tyler up as a pawn. Swags says Bayleigh should put him up as a pawn since they were going to put her up as the pawn.
Fez says he's worried about ROCKSTAR Flipping.
Swagz – if she flipped with good intentions to blame someone else we're good if she flipped to make good TV show we ahve a problem
Fez – she knew the numbers were close
Swagz – we have a problem
Fez warns them to be careful what they say around her.
12:07am Sam and JC
JC says it was Brett, Winston, Angela, Kaycee, and Rachel that were fighting to keep her
JC says the people that voted her out were Fezzie, Swaggy, Bayleigh and ROCKSTAR
JC – Rockstar was trying so HARD
Sam – to get rid of me
JC – YEAH
Sam smiles
JC – I dunno.. I dunno..
JC adds that Scottie and Haleigh were the 5th and 6th vote.
JC leaves..
Sam – listen guys..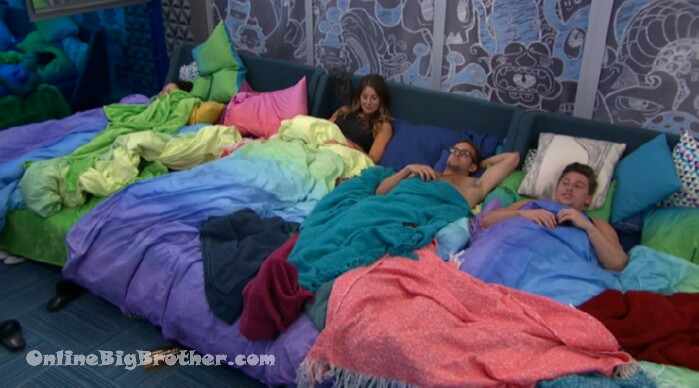 12:12am … Level 6
Brett – I really really want a grilled peanut butter sandwich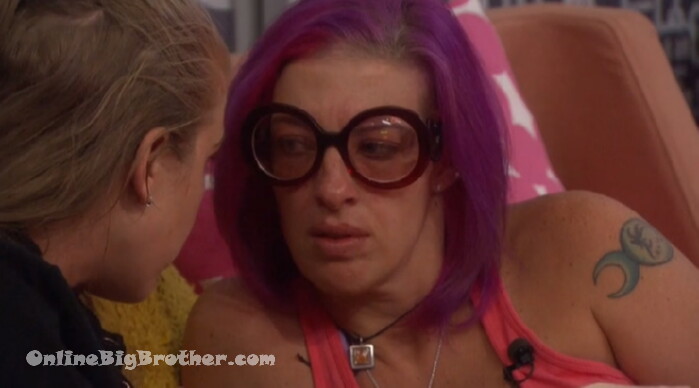 1:14am Haleigh and ROCKSTAR
(Hard to hear them over the noise from the other room)
Haleigh says not very many people in this house like Swaggy.
ROCKSTAR says she really doesn't like WINSTON and BRett.
They talk about Kaitlyn flipping. Haleigh says in 5 days whats going to be a totally different dynamic.
Haleigh – we're safe this week
Haleigh – they are just going to blow the 5 to smithereens
Rockstar about Kaitlyn – She lost trust in me because people were trying to tell her to chill out about not sitting in everybody's f*ing lap I mean.. ..
ROCKSTAR – for somebody that's supposed to be like our best friend she sure does spend a lot of time with like everybody but us
Haleigh – Tyler is scaring me .. I don't want Tyler in this game for longer than 2 weeks..
ROCKSTAR – Agreed
Haleigh – he's not with us
Haleigh says he's telling KAiltyn sh1t
Haleigh says Tyler is Kaitlyn's new guy.
Haleigh – I'm so serious…
Rockstar says she doesn't want to pass judgment on anybody but Kailtyn plays weird games
Rockstar – Kailtyn attached to me at first.. that was ok..
Rockstar – you and I we got this whole Ride or Die thing..
Haleigh – we have to be careful about our next move… we just have to be more cautious about what we share
Rockstar – I feel like the relationship with Kaitlyn is a little bit disappointing..
Rockstar mentions that Kaitlyn would be more comfortable with a guy, "Maybe she doesn't have a lot of girlfriends"
Haleigh says one of them needs to go up to the HOH.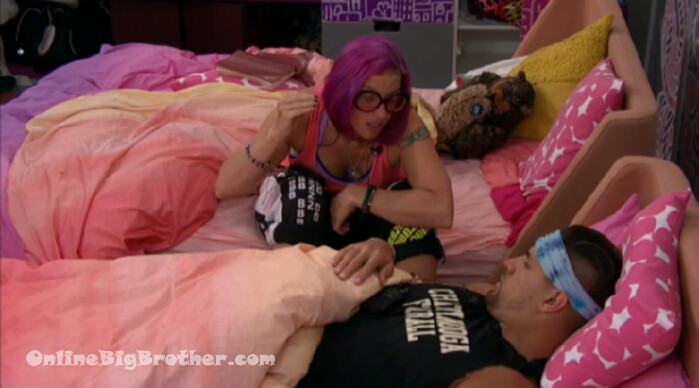 1:41am ROCKSTAR and Fez
Fez – hopefully Kaitlyn puts two of them on the block.. hopefully
ROCK – Tyler's in her ear. I've never met a girl that talks about being best friends with other girls but really forms the closet relationship with guys
Rock – she's interesting.. hopefully she has some sorta loyalty.. maybe it was too early..
Rock – the people that form something and stick to it they go far but I guess it gets tricky when.. personalities.. whatever.. I don't know guess we'll just have to see.. whoever she puts up OKAY..
Rock – Tyler, I think he's with the other side. He's in her ear a lot
Rock – she felt like there was tension between you, Haleigh, BAyeligh and Swaggy.. she didn't come to me to talk she went to Tyler.. I have a lot of female friends I have a lot of male friends.. we're WOMEN we .. if you call somebody your best friend that's who you go to right I mean..
Fez says in this house everyone is a best friend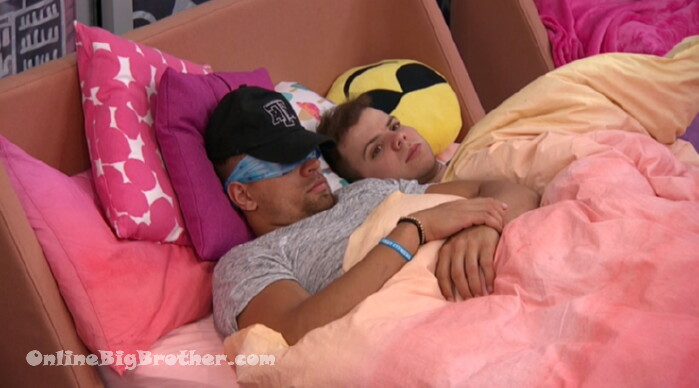 1:49am JC and Fez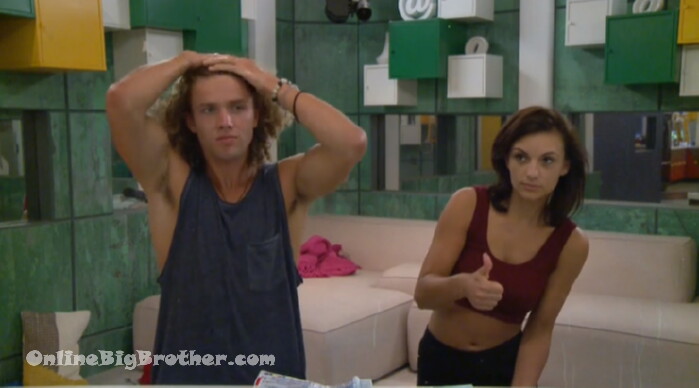 1:53am Tyler and Rachel
Rachel asks if Level 6 is Okay this week. Tyler nods and smiles.. he mouths SWAGGYC.
RAchel give him a thumbs up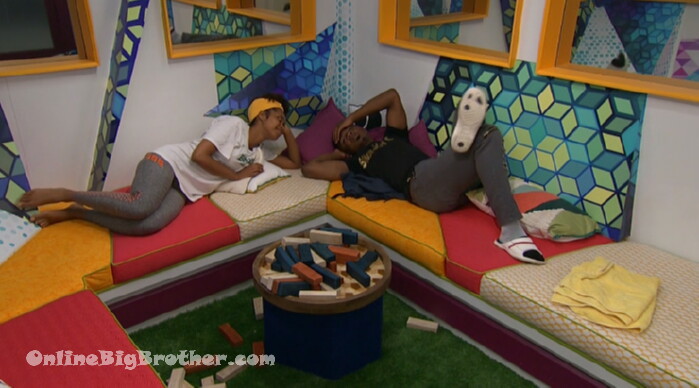 2:00am SwaggyC and Bayleigh
Chit chatting about relationships..
SwaggyC and Bayleigh Late night Kiss #BB20 @DawgsBigBrother pic.twitter.com/fhJ4TVHwfw

— OnlineBigBrother.com (@bigbspoilers) July 6, 2018
2:57am JC and Haleigh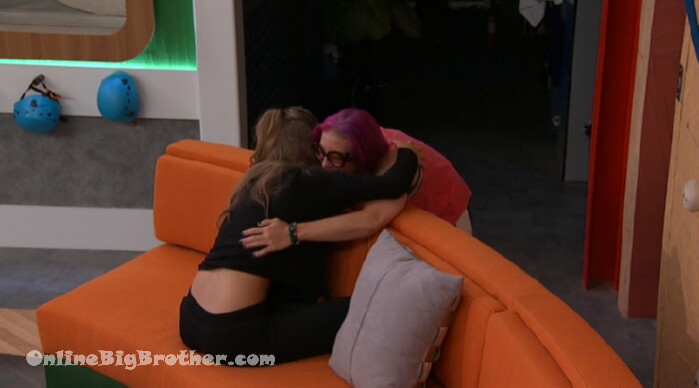 3:26am Haleigh and Rockstar
Rockstar – I was just crying on the Diary room.. this place is so f*ed up
They head into the Geometry room.. Rockstar says she wants to feel good for Haleigh but she's jealous, "I want to trust her I just.. there's something.. she's like always like.. all these guys,, I don't really understand. "
Rockstar – I haven't figured out my game and how to connect with these people.. the flirting.. The one person I connected with was Steve.. I never realized he was that important to me cause really sometimes he got on my nerves.. at the end of the day there was a dude that wasn't flirty with kids.
Rockstar says there's  an aspect of this game "Laying in each other's laps"
Rockstar – I don't want to
Rockstar says the entire flirting aspect of the game doesn't apply for her. adds that out of their 5 person thing the one person that isn't true to that is Kaitlyn. Rockstar thinks Swagz is loyal to them no matter what side deals they say he makes.
Rockstar – Real recognize real and I can tell where that kid is
Rockstar – a lot of these white kids are intimidated by swaggyz
Haleigh agrees
Rockstar says Kailtyn and her "Spirit shit" is wrong about Swaggy
Haleigh sys once people see the game kaitlyn is playing they are going to think she's a bigger threat than Swaggyz
Haleigh says Kaitlyn has flipped to the other side and she took Tyler with her
Rockstar says she still believes in their 5 people.
Haleigh says their best move is to focus oin their three (Kaitlyn, Haleigh and Rockstar) and start working on Scottie and Kaycee.
Haleigh – I can 100% guarantee you and I are safe this week
Rockstar starts talking about how bad it is if they put up the two gay people or the two black people ..
Haleigh – if she (Kaitlyn) brings up Kaycee/JC again I'll pull her aside (hayleigh doesn't know how close JC and Kaycee are to Tyler)
Haleigh – JC is 100% on board with me .. he tried to get me to flip today
They mention how they are sure KAitlyn flipped but they haven't had her say it to them yet.
Rockstar says she wishes Kaitlyn would shut up about the manifest destiny shit
Haleigh says a lot of what KAitlyn acts is "off putting"
Rockstar – she just in her 20's I wish all these cameras weren't on .. it's hard to imagine.. it's so over the top she seems like a single girl..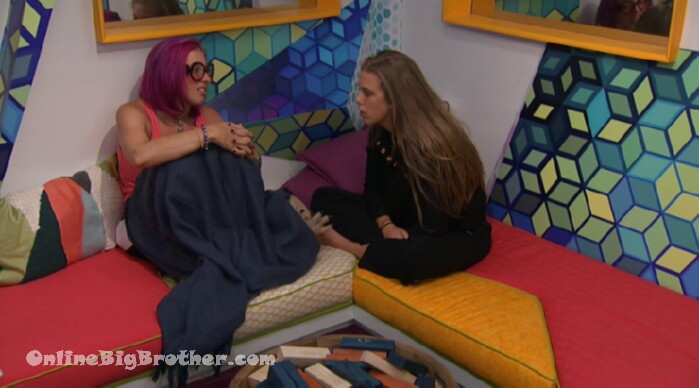 4:18am ROCKSTAR and Haleigh
Rockstar says she use to wake up early with Steve and Winston and they would chat..
Haleigh says JC talks a a lot of game with her
Rockstar – everybody is at my finger tips.. and I'm manifesting .. look at me I'm HOh sand see what I can do..
Rockstar says Haleigh is mad at Swaggy because he's going around saying he's the puppet master and that's the same game she's playing. (umm no)
Haleigh says the only people she can connect with on the other side is Brett, Kaycee and JC
Haleigh says she likes Kaitlyn but doesn't like her in this game.
Rockstar says if KAitlyn doesn't try to take out Winston… "I mean get that mother f*er outta here"
Haleigh – now she thinks he's on our side
haleigh – the best thing we coudl have done today was vote with the house.. then there's no lines drawn..
Rockstar – how did all of them become pals?
Haleigh – one weak link to flip that is all they needed.. her or me … that's what I thought JC was doing
They agree they don't trust Kaitlyn.
Rockstar – that baby voice gets on my f**ing nerves.. on my F**ing nerves (kaitlyn)
Haleigh – why does every guy she becomes best friends with has to be so feely touchy.. (That's not far for Haleigh to say she's been laying all over Tyler, Brett and Fez the same as KAitlyn)
Haleigh impersonates Kaitlyn (see image)
Haleigh – her and Fezzie are starting back up again.. i'm just going to let it
Haleigh – I told fessie I dont' want a showmance with him
Haleigh about Fessie- I don't think he wants a showmance I just think he wants to F**
Rockstar – I have someone I want to f* when I get out of here
They wonder if Kaitlyn is going to watch the hose with her boyfriend. Rockstar wonders if the Edit shows Kaitlyn as the victim.
Feeds cut..
Rockstar – I look at Swaggy like a boy.. that is who he is.. he's 23 .. he's a cocky 23 year old boy.. I thought I was the sh1t when I was 23.. he reminds me of myself being a 23 year old a$$hole he's not running sh1t..
Rockstar – some people think I'm swaggyz underling.. you're outta your f**ing mind and then.. it's just crazy..
Rock – I don't go to swaggy with anything he comes to me
Haleigh – I know that.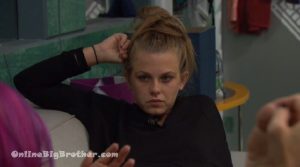 They head to the bathroom
Haleigh – Winston is a b1tch
They call Kaitlyn wacky, Halegih – f*ing weird
Haleigh – Every night before I go to bed I meditate.. But I don't need to broadcast to the house to try and get attention
They go on bashing Kaitlyns mediation etc.. Rockstar says there things she would say if she wasn't on the show about Kaitlyn.
Rockstar – I'm overtly sexual in all the ways.. everyone else is really wound up.. like extra wound up
Rockstar says that Kaitlyn has money.
Haleigh – I don't have any money..
Haleigh says the one thing she loves about Tyler is he cares about the world and the oceans.
JC getting close to Feysal #BB20 @DawgsBigBrother pic.twitter.com/zVKVicgYOl

— OnlineBigBrother.com (@bigbspoilers) July 6, 2018