This was the final regular week in the Big Brother Canada 3 house. Zach and his Goblins gave it a honest effort to stay in the house but ultimately it was too great an obstacle for them to overcome. After navigating some of the most treacherous eviction Nights Zach time in the house is coming an end.
Tonight is a double eviction this is how those usually go
Zach and Pili nominated
House votes
Zach goes home (probably 😉 )
HOH is played
Nominations
POV is played
POV Ceremony
House votes
Someone goes home
4 players remaining
*The finale is on Wednesday May 27th After Dark Ends on Friday so maybe feeds go down Saturday during the day. Last year they stayed on until the bitter end.
Spoilers from Twitter
(Thanks Hamsterwatch )
Zach evicted
Brittnee won HOH nominated Pili and Ashleigh.
Ashleigh won the veto
Pili evicted.
Final 4 is Sarah, Brittnee, Godfrey and Ashleigh
Spoilers from the Show
(Show starts at 4pm PST)
Zach and Pili nominated
Ashleigh votes to evict Zach
Godfrey Votes to evict Zach
Brittnee votes to evict Zach
Zach is evicted.
HOH Winner is Brittnee
Nominations are Pili and Ashleigh
POV Winner is Ashleigh
POV Ceremony Nomination are Pili and Godfrey
Ashleigh votes to evcit Godfrey
Sarah votes to evict Pilar
Brittnee breaks the tie and Pilar is sent to the Jury house
Feeds come back and we find out the new HOH is Sarah
Curious about how this last week will pan out
Last year this is how it went down

May 1st Thursday – Eviction / HOH – Adel was evicted / Sabrina won HOH
May 2nd Friday – Awards Show Dinner / Nominations – Sabrina nominated Jon & Heather
May 3rd Saturday – POV Competition – Jon won
May 4th Sunday – Feeds BLOCKED for the season at 1pm
Between May 4th May 7th – 4th House Guest evicted / Part 1 & 2 of the 3 Part HOH competition took place.
May 7th Wednesday – Final 4 eviction results – Jon evicted Heather (Final 3 were Neda, Jon, Sabrina)
May 8th Thursday – Finale – Part 3 of 3 HOH was played – Jon won it and evicted Neda / Jon won BBCAN2 6-1
Please consider making a donation. This site is ONLY possible because of your support.
3 Weeks after BBCAN3 is over BB17 starts! we'll be covering the feeds round the clock get your CBS All Access early and re-watch the past 16 seasons of the show.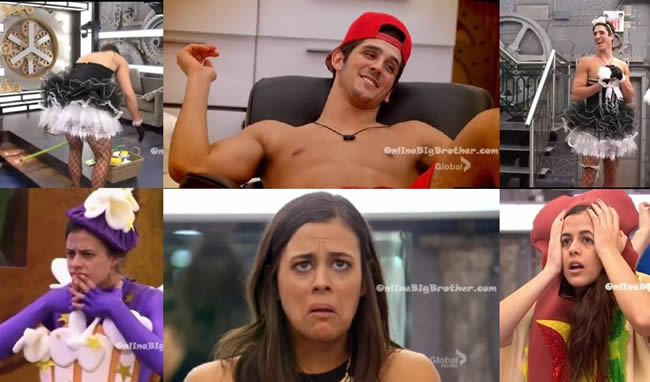 [polldaddy poll=8882685]