POV Holder:
Ashleigh
Next POV
May 20th
POV Used
?
POV Ceremony
May 17th
HOH Winner
Sarah
Next HOH
May 20th
Nominations:
Zach and Ashleigh
Have Nots
Brittnee and Zach
POV Players
Everyone participates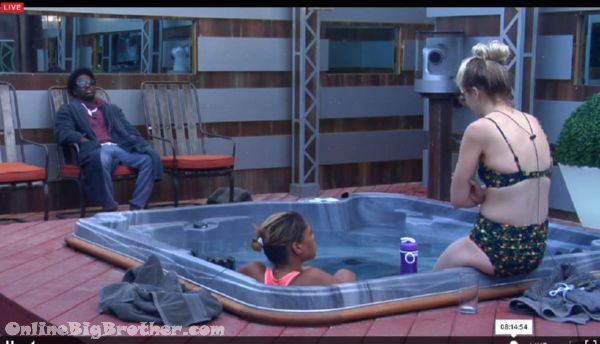 5:53pm Hot Tub Sarah, Brittnee and Godfrey
Talking about getting Zach out this week will make a big impact. Godfrey says it's like getting rid of Derrick, (BB16 winner)
Godfrey tells them about when moved to Canada, "I was nervous but kinda excited as well.. " Godfrey adds he was excited to see the snow and the beach. \
They talk about how the couples alliance had an easier road in the game. He doesn't think the couples didn't feel the same anxiety as them. Sarah says it will be horrible if one of them get taken out next week.
Sarah brings up once Kevin got in with the couples alliance he changed and was difficult to talk to. Sarah says Kevin at first was fun and social but once he got with the couples alliance you never saw him.
Godfrey wonders where Kevin was the season because he was always gone, "He just retracted.. I didn't even see him during the day"
Sarah thinks he spent the most time in the HOH, points out that Kevin was so out of the loop he spent all his time with pili, Zach, and Ash.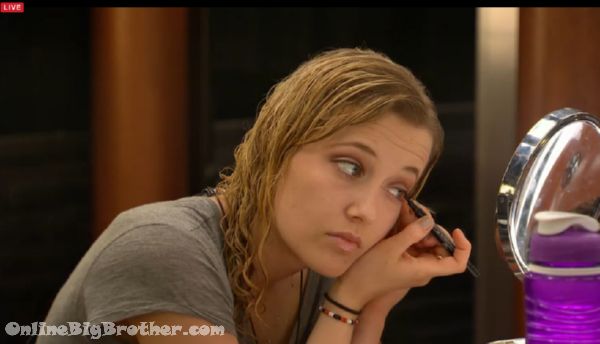 6:00pm Bathroom the Goblins
Ashleigh telling her Kevin will be so "Stoked" if he saw someone coming to Jury that wasn't in the Diaper alliance. (She's trying to make sure Pili goes ahead with Zach's plan to get Godfrey on the block)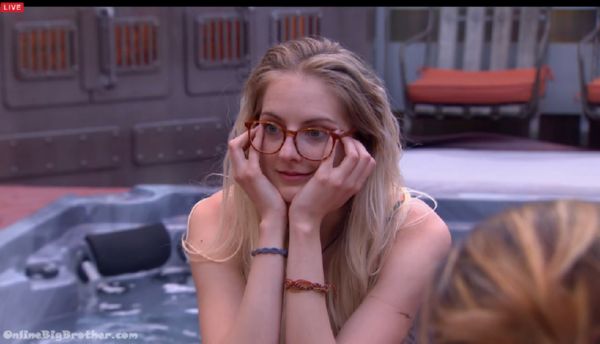 6:25pm Hot Tub Godfrey, Brittnee and Sarah
Talking about how lucky they are to be in the game still. They also thank Canada for giving them the power.
Sarah – we're still here three strong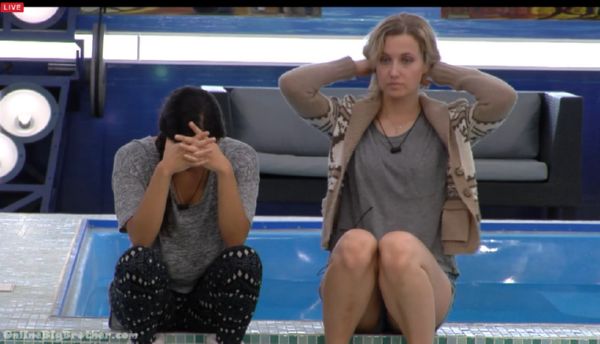 6:26pm pool Pili and Ashleigh
Going over what Pili is going to say to Sarah to they and get Godfrey on the block. Ashleigh adds some key points to cover, like Godfrey wants to keep Zach in the game because once Zach is gone Godfrey the last guy and will be the target of all the girls. Pili is also going to tell Sarah that she's a vote to split Zach and Ashleigh. Pili's bit starts with her hearing Godfrey and Zach talking last night and she think's Zach has Godfrey's vote. She is going to stress Zach/Ash are going final 2, Pili needs to split them up. The the only way to guarantee Zach goes is for them to put Godfrey up and she'll vote out Zach.
ASh – point out Asheligh's been really emotional this past week.. every time I talk to her she says she sees benefits in both of them staying.
Pili comments that the game is getting harder.
Pili – frickin I can't believe i'm lying like this wow
Pili – Ohh my gosh this is crazy what am I doing
Ash – playing Big Brother
They head inside and meet up with Zach. Says their plan is a long shot but they still have to hit it hard.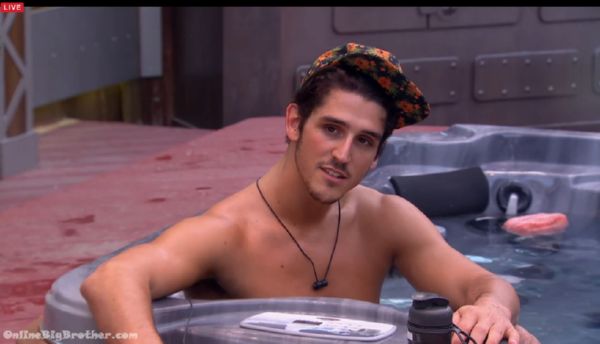 6:51pm Hot Tub Godfrey and Zach
Zach is trying to get Godfrey's vote. Tells him once he's gone Sarah and Britt will cut Godfrey quick. Godfrey agrees thinks he would go next week. Godfrey thinks him and Zach are in teh same situation.
Godfrey knows the house will not take out Pili next week over him. Everyone wants to keep Pili around.
Zach – If i stuck around you wouldn't go home next week
Godfrey – ya
Godfrey asks him if Ashleigh is willing to vote out Pili. Zach thinks she might. They agree to have Ashleigh come to Godfrey if the deal is real.
Zach points out him, Godfrey and Ashleigh going into the HOH it's them Vs Brittnee.
Zach wants to take Neaha out on a date, asks the feed watchers to tweet it right now to tell her.
Godfrey points out that Zach has had some of the best luck in the game.

(Video uploading)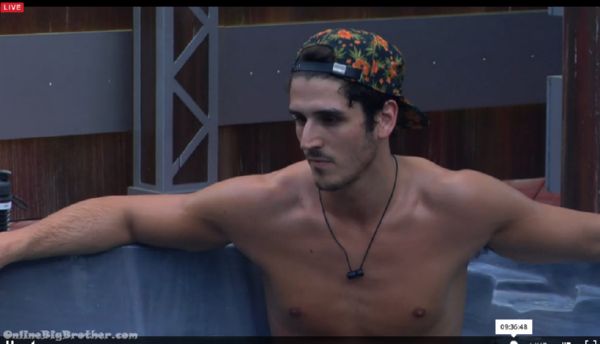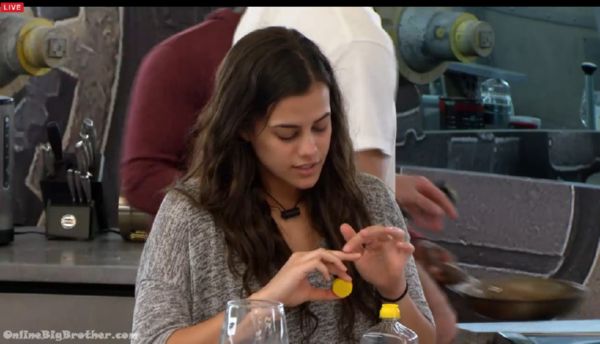 7:26pm Pili burns her finger. She runs it under cold water and then puts some oil on it.
Pili – What should I do what should I do
7:52pm Bedroom ASh and Zach
Ash – hopefully we can pull this off
Zach – Shot in the dark
Zach says Ashleigh has to throw some "indecisiveness at Sarah"
Zach says they have to get Sarah out first nobody will take Brittnee to the end so she'll be a natural target.
Zach – Get rid of Both girls before Godfrey
ASh – I know
Zach – he's so bad at competitions.. take him to final 3.
Please consider making a donation. This site is ONLY possible because of your support.
For other ways you can help – check out our How to support OnlineBigBrother.com page.
[polldaddy poll=8865390]