POV Holder:
?
Next POV
May ?
POV Used
?
POV Ceremony
?
HOH Winner
Sarah
Next HOH
3 part finale is next
Nominations:
?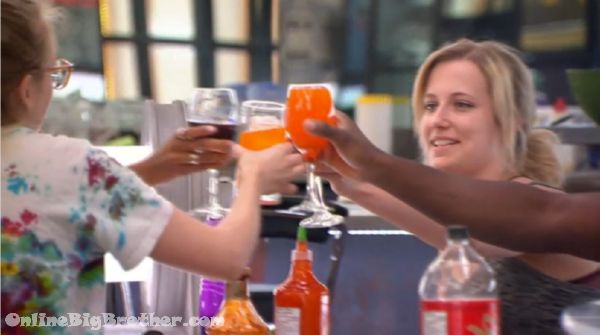 For the last hour they have been eating dinner and chit chatting..
9:28pm HOH Room Sarah got bubbles..
10:04pm HOH Brittnee, Ash and Godfrey
Talking about the season and the days competition. Ashleigh points out that she is the last member of the Diaper alliance and the Chop Shop.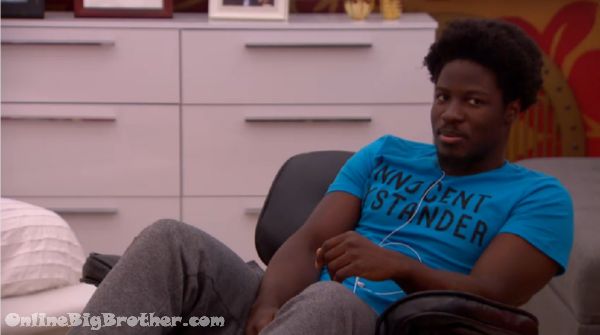 10:28pm Godfrey and Sarah
Godfrey tells her he's glad she is safe this week. It all comes down to who wins the POV.
Godfrey – If I win the Veto you can take another swing at her.. Just throw up me and ASh and whoever wins the veto..
Godfrey – In this Veto I'm super confident she's not going to win it.
Sarah – I can't even believe it man we're so close.. If Ashleigh had won it we would had no chance.
Sarah – veto she could win and guaranteed Final 3..
Godfrey – I still don't want her to win..
Godfrey tells her the person to beat right now is Brittnee. Adds they don't know how the Jury is going to vote.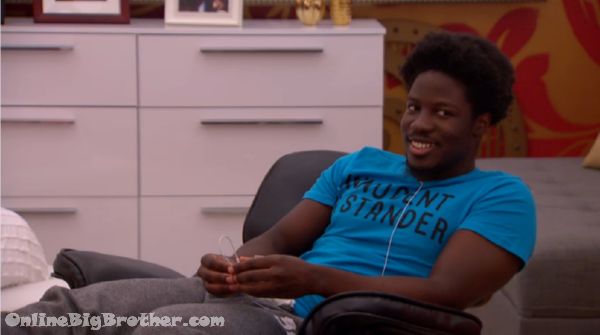 AShleigh joins them. They start speculating about the week. ashleigh thinks it will be sped up.
Sarah tells them she's putting Godfrey and Ashleigh up.
Ashleigh thinks Sarah has a shot at winning with either her or Godfrey. Sarah doesn't think she has a shot with anybody. She lists off all the Jury members that were in on of Ashleigh's alliances. They do agree Brittnee might have the most votes.
Godfrey says he's got no chance to win if people on the Jury vote for Game or social. He claims he has no friends on the jury, hasn't won many comps and hasn't made a single move in this game.
Godfrey – The only move I've made is Chill , and pretty much eat work out.. I've never won HOH."
Godfrey says the only people in the Jury he's counting on is Bobby and Bruno but those are also Ashleigh's friends.
Godfrey – "sitting with me in the final is a easy 100 grand yo.. I'm just being realistic man.. you just have to sit through tthe speech and they'll give you the cash yo"
Ashleigh says she's heard a lot of people that are in the jury say Sarah was the mastermind of many of Brittnee's moves.
They agree Ashleigh has Pili, Zach's and most likely Kevin's vote.
Godfrey points out that Ashleigh has Jordan's vote 100%. Him and Sarah seem to agree they can not win against Ashleigh.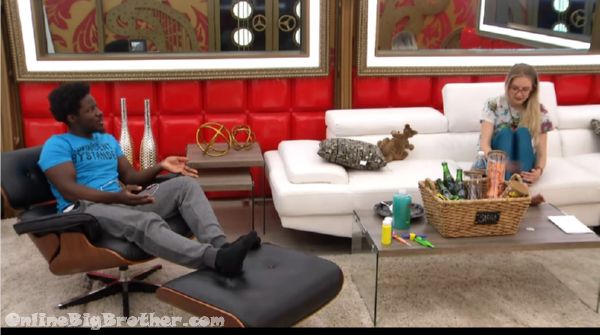 10:55pm Godfrey and Sarah talking about what Ashleigh was saying to them.
Sarah thinks she losses up against Ashleigh 100%
Godfrey doesn't think he has a chance against Ashleigh, "Bobby will vote for her 100% yo.. she has 5 easy votes man.. 5 easy votes"
Brittnee joins them. They agree it's 3 against 1.
midnight Storage room Brittnee and Sarah
HOH Godfrey and AShleigh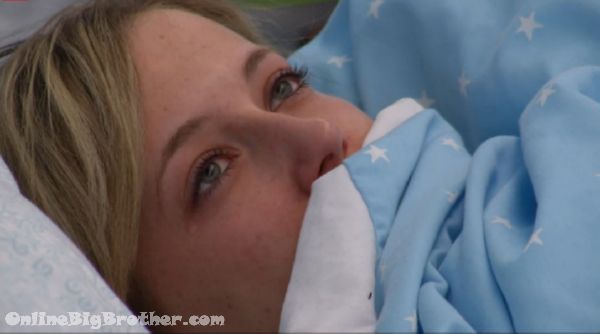 12:50am Ashleigh and God have gone to bed Britt and Sarah in the HOH
1:47am Everyone sleeping
Please consider making a donation. This site is ONLY possible because of your support.
3 Weeks after BBCAN3 is over BB17 starts! we'll be covering the feeds round the clock get your CBS All Access early and re-watch the past 16 seasons of the show.
[polldaddy poll=8882685]