POV Holder:
Ashleigh
Next POV
May 15th
POV Used
?
POV Ceremony
May 17th
HOH Winner
Sarah
Next HOH
May 20th
Nominations:
Zach and Ashleigh
Have Nots
Brittnee and Zach
POV Players
Everyone participates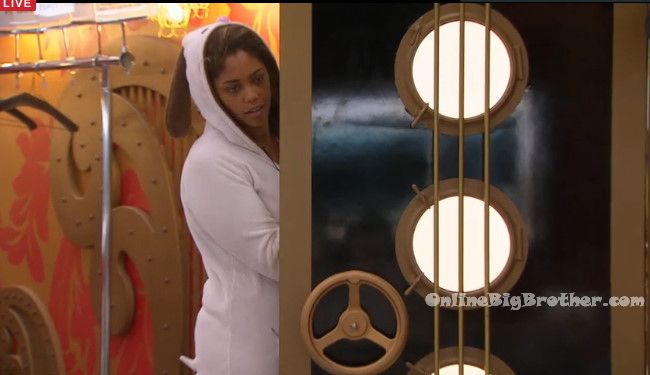 The live feeds were blocked from 5:25pm last night till 8:30am this morning for the power of veto competition to take place. It is likely that the veto competition was an all night battle as the feeds returned and big brother let them sleep in till 11:30am.
*** ASHLEIGH WON the veto, Sarah plans to put up Pili as the replacement and have Zach voted out.

11:40am HOH room. Brittnee talks to Sarah in the HOH while she brings her new batteries. Sarah tells Brittnee they will tell Pili it doesn't matter if she trusts Godfrey or not. Sarah says we don't have to trust God it doesn't matter. Sarah says they will say Brittnee is definitely going to vote Zach out. Do you trust Ashleigh? If I put you up on the block and you go home this week its not my fault its, Ashleighs fault. Brittnee says because I am voting to send Zach home. It breaks my heart.. Sarah says but thats how I am going to vote too. We've been saying its best for our game and its what we have to do. Brittnee says honestly it is what it is otherwise he is going to take it. It was easier when it was an instant thing when I knew it was going to happen quick. It's harder now because we're going to have to watch him like… but but who knows we can't get too confident in him going home. Its the right game more. Sarah says he would have done it to us. He just tried. Brittnee says yeah.
11:55am – 12:30pm
The feeds return again to Sarah, Brittnee and Godfrey talking in the HOH about Bruno. Sarah tells Godfrey I just hope you don't feel alone. Sarah tells Godfrey that Ash was planting the seed that if she won the veto this was the final 4 (Ash, Pili, Sarah, Britt) basically saying I should put you up. Godfrey says oh hell no. Brittnee says I can't believe how much I underestimated Ashleigh. Sarah says its not like I wouldn't vote for her .. like she didn't do as much as Zach but its the perception.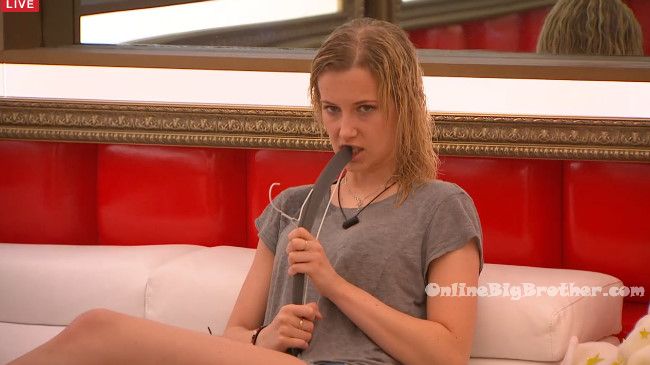 12:40pm Ash joins them. Sarah tells her congratulations. They talk about the competition being about the "Son's of Anarchy" TV show. Ash says she knew what the guys names were because she's seen the show before. Sarah tells Ash that the 28 minutes she (Ash) completed the competition in was insane. Godfrey says he wished he had seen the show before because all he knew it was faces. Godfrey says when you came back we knew you had won because Zach and I took 2 hours. He says when you came back so fast I thought you had been disqualified so I went to bed. Ash says thanks for the vote of confidence. Godfrey leaves.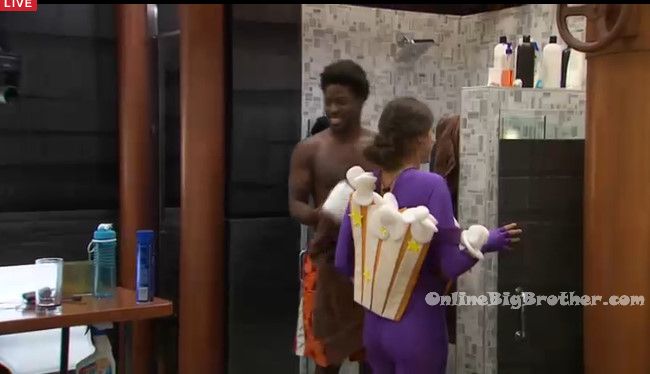 12:45pm In the bathroom –
Zach asks is the POV ceremony today? Zach says I am out the door. Do you know who she is putting up beside me? Godfrey says from what she has said I think Pil's. Zach says Pil's, that's a good move. She told you I'm putting up Pil's, vote out Zach. Godfrey says pretty much. Zach tells Godfrey it depends on who you want to role with Sarah and Brittnee or me and vote out Pili.
1:10pm Big Brother blocks the feeds.
1:45pm The live feeds are still blocked…
2:40pm Still blocked.
3:30pm Still no feeds..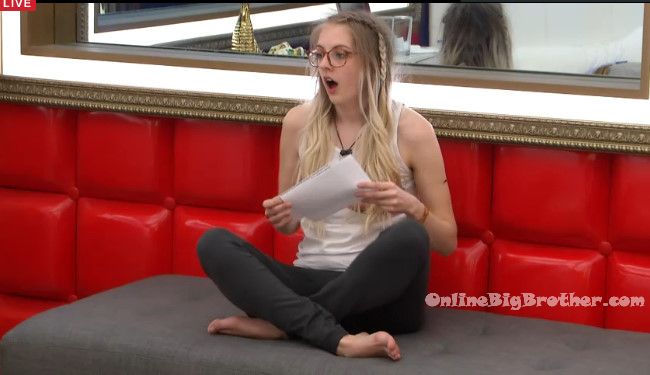 3:35pm – 3:45pm Big Brother blocks the live feeds. When the live feeds return – Brittnee and Pili are laying in the HOH bed. Zach is laying on the HOH couch and Sarah was reading her HOH letter. Ashleigh is laying in bed in the main bedroom crying. She gets up and starts pacing around in the room. She says stop crying .. holy sh*t!! Big brother then blocks the feeds again..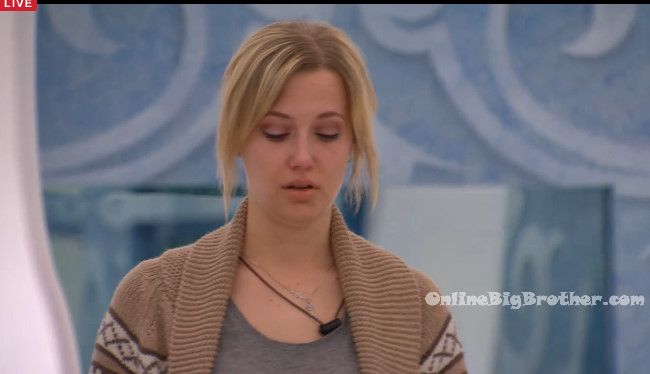 Please consider making a donation. This site is ONLY possible because of your support.
For other ways you can help – check out our How to support OnlineBigBrother.com page.
[polldaddy poll=8865390]