POV Holder:
Ashleigh
Next POV
May 20th
POV Used
Yes
POV Ceremony
May 17th
HOH Winner
Sarah
Next HOH
May 20th
Nominations:
Zach and Ashleigh Pili
Have Nots
Brittnee and Zach
POV Players
Everyone participates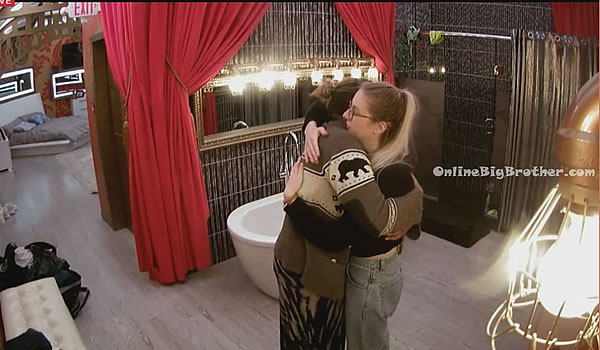 8:47pm HOH Sarah and Brittnee
Talking about the POV Ceremony.
Sarah – what happens happens.. if Godfrey wants to be a idiot.. Godfrey will be a f***G idiot
Sarah – If Ashleigh wants to be a f****g idiot
Brittnee brings up that Sarah making the point about the jury votes are in Ashleigh, Zach and pili's favorite will get Godfrey thinking, "You know like wake up and smell the java"
Sarah – I'm going to have a smoke have a bath then i'm going to ask for my Shomi tablet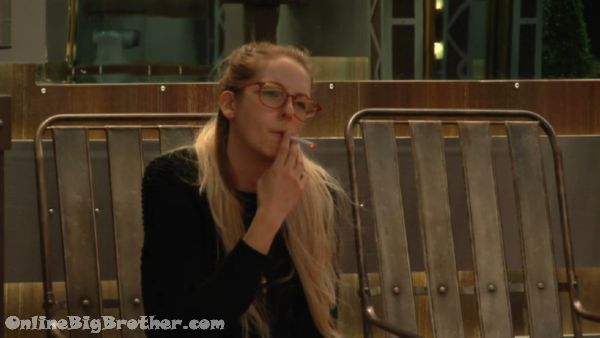 8:49pm Hot Tub Sarah and Britnee
They are both worried that Godfrey is going to flip.
Sarah – I'll talk to GOD, I'll be like are you concerned at all about this girls thing.. if you are I will tell them to their face i'm going after them because I don't trust them
Brittnee doesn't think they should yet they really need to keep their cool. "Don't put that in his mind unless he brings it up"
Sarah – "it's so hard"
Brittnee calls Zach Captain obvious for saying during the ceremony he's targeting Sarah and Brittnee.
Brittnee – does he really think he has a better chance with them
Sarah – That's the thing
Brittnee – Cause if he does i'll be like God you made a really bad decision
9:10pm Hot Tub
Movies, Tornados, Jay-z hitting Beyonce.. it's all in the video below.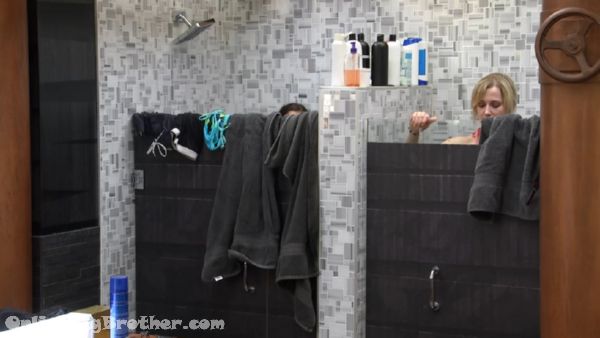 9:22pm bathroom Pili and Ashligh
Pili asks her if she will change her mind by Wednesday.
Ashleigh says no she won't
Pili – that's huge for you to do
Ash – I know I know I know
Pili – I'll owe you for life
Pili – Ash we have to win this HOH if i stay here.. IF I STAY HERE
Ash – I know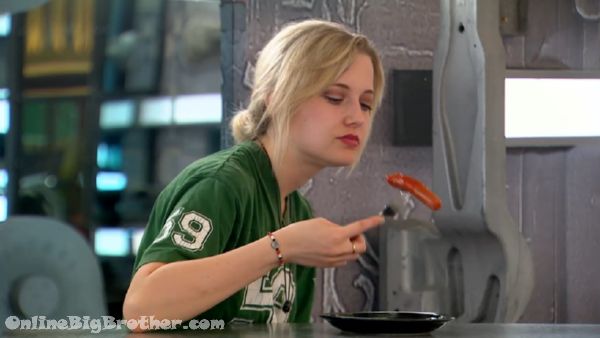 9:44pm Godfrey and Pili Kitchen (Sarah listens in)
Godfrey tell her he's voting out Zach. points out that Zach is WAY more of a threat to him than Pili. Pili points out if she goes home and and find out Godfrey voted her out she won't give him her vote. Godfrey reassures her he's voting out Zach this week.
Ashleigh joins them. Godfrey talk about how much AShleigh eats and yet she's so thin. Pili chimes in says she always thought she had a high metabolism until she met Ashleigh. (All this happens while Ashleigh finishes off her 3 sausage)
Both the girls tell him he's got great Thighs and Butt.
Godfrey – "I Should be a a$$ thigh model"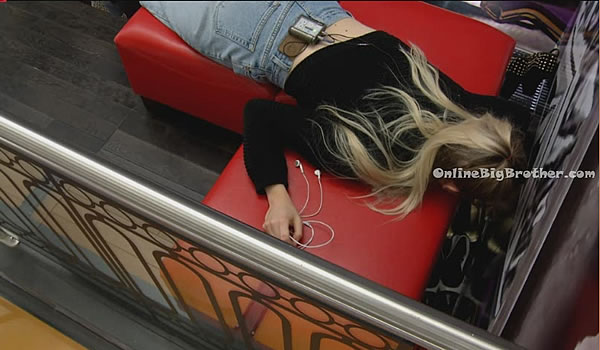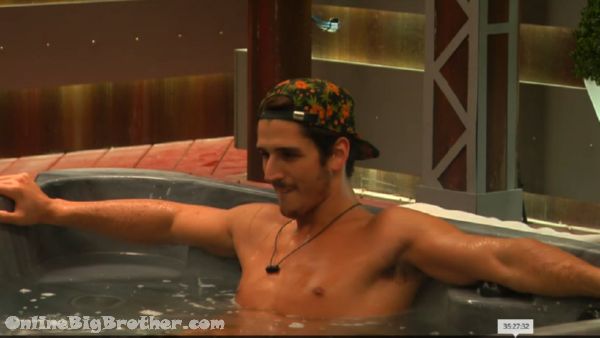 9:45pm Hot Tub Brittnee and Zach
Zach tells her "I'm not packing my bags yet"
Brittnee laughs says she wouldn't expect anything less
Zach – so what you are saying B I don't have your vote
Brittnee – Right now no.. whats your argument
Zach – I don't have a argument .. because . . well you know I got to ride one thing and one thing only.
Zach – what have I done in this game
Brittnee laughs
Zach – I haven't done anything in this game.. won HOH and sent home my closest ally
Brittnee laughs "I'm coming for you next week.. OK .. " (This is what Zach said to her during the POV ceremony)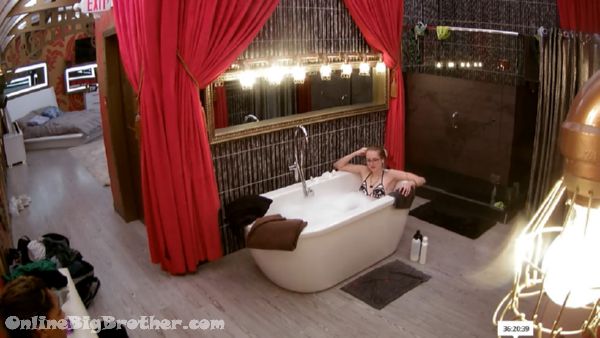 9:52pm Sarah and Brittnee HOH
Brittnee going over her conversation with Zach "he's like I think I should shave so I go out looking fresh"
Brittnee brings up Zach underplaying what he did this season. Brittnee points out to Zach that he did everything without getting blood on his hands.
Brittnee – "He was like B as far as I'm concerned Blood means money" "Blood on my hands mean money"..
Sarah – why is Godfrey thinking so much
Sarah – Do you think I should start a fight with the girls
Brittnee – No
Sarah points out that when other people didn't put Godfrey up he said thank you.
Ashleigh and Pili eventually join them.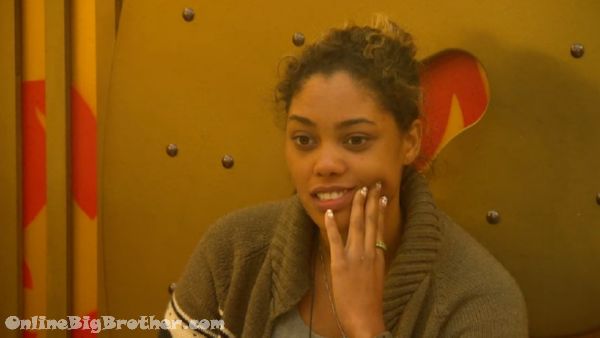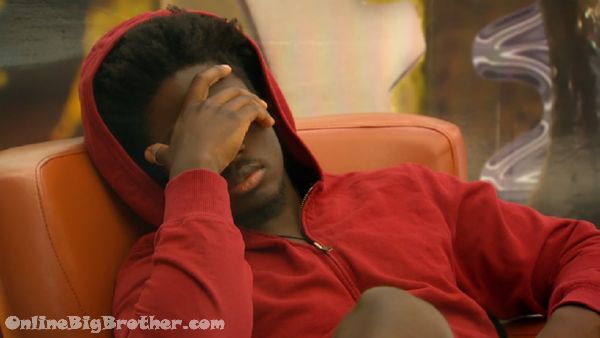 10:21pm Godfrey alone the girls all in the HOH talking about child birth, Pain, etc etc..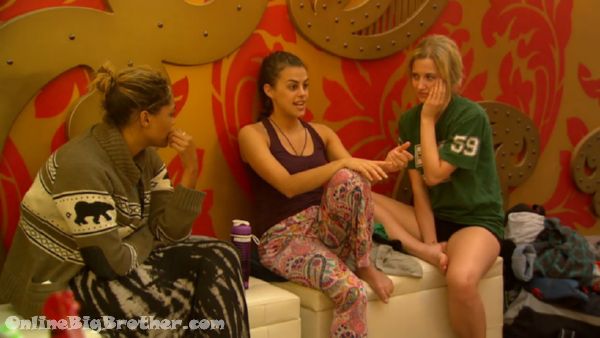 Please consider making a donation. This site is ONLY possible because of your support.
For other ways you can help – check out our How to support OnlineBigBrother.com page.
[polldaddy poll=8865390]