POV Holder:
?
Next POV
May 15th
POV Used
?
POV Ceremony
May 17th
HOH Winner
Sarah
Next HOH
May 20th
Nominations:
? and ?
Have Nots
Brittnee and Zach
POV Players
?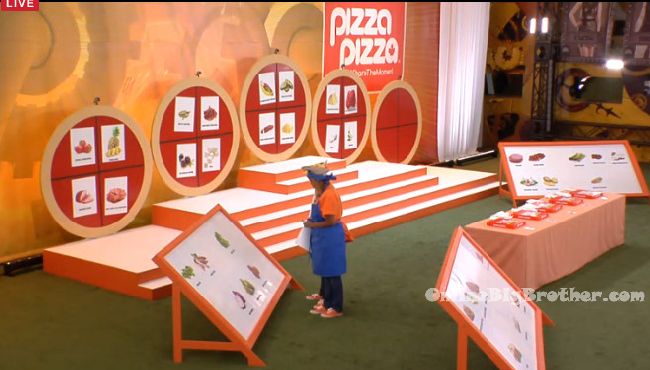 2:45pm – 6:25pm Big Brother blocks the feeds for the house guests to compete in a task. Shortly before the feeds were blocked there was a live feed leak of the "Pizza Pizza" task setup. Pre-season press releases stated "Pizza Pizza – Returns to sponsor a themed task where they will win a savoury reward if they successfully complete the task."
6:25pm The live feeds return only showing camera view 1 – with Sarah and Brittnee competing in the Pizza Pizza task!! Sarah and Brittnee are tied together with a large apron. The task is for them to try pizza's and then pick out the ingredients on those pizzas. Sarah and Britt make their choices and then tell Big Brother they're locking in their answers. Big Brother tells them to head up to the board and celebrate locking in their answers. Sarah tells Brittnee that she just "tooted" Brittnee says I know I can smell it! You can't toot in the same t-shirt!! Sarah says that's what happens when I get excited! Sarah and Britt go up to the front to be filmed locking in their answers. They high five. Big Brother then tells them to head inside and go to the main bedroom. They're instructed to not communicate any of their answers with the other house guests.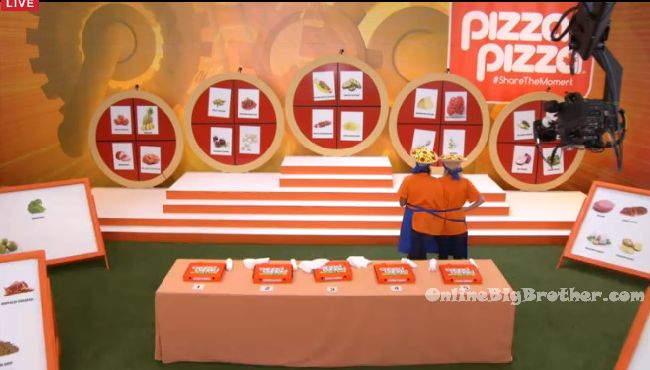 Task Teams:
Sarah & Brittnee
Asleigh & Godfrey
Pili & Zach
6:45pm The live feeds are still only shown on camera view 1. Which is now just of the main bedroom with the house guests (Sarah, Brittnee, Ashleigh and Godfrey) sleeping. Zach and Pili are now competing together in the challenge but it is not shown on the feeds.
6:50pm Big Brother blocks the feeds again ..
7:20pm Still blocked.
9:04pm Still blocked.
10:15pm Still blocked.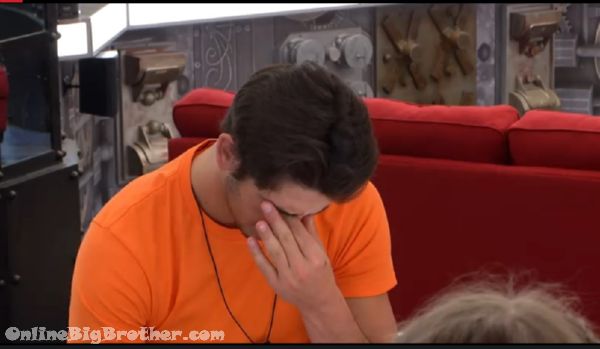 10:53pm looks like everyone got a letter from home they are all tearing up. Have nots get to eat pizza.
Zach is reading a letter from his sister.
Brittnee, Sarah, Pili and Zach talking about After dark. They have no idea what it shows they think it's edited live feeds. Zach mentions that Global is huge. They are thinking the season is a HUGE success this year.
Sarah says it's been such an amazing season so many twists.
Brittnee and Zach agree.
(No idea where Ash and God are)
They laugh about Ashleigh's letter where her dad said "I don't want to hurt Zach anymore"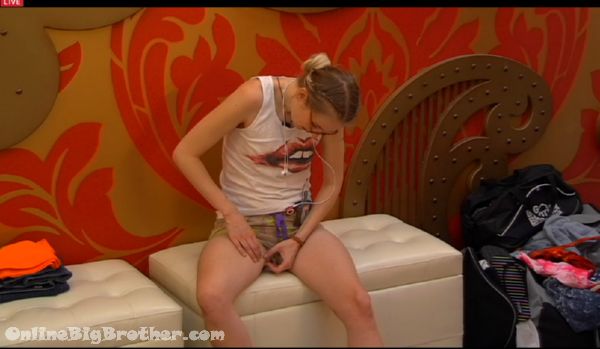 11:42pm HOH Sarah and Brittnee
Talking about Zach and his sister how close they are. Sarah says she has bug bites (See image) She commented on how Ill she's feeling from being on slop then eating the greasy pizza.
Brittnee – I wonder why none of Zach's family mentions Asheligh but her family mentions him.
Sarah says Ashleigh's letter had her rattled.
Brittnee – she's probably thinking of the game
Sarah says the biggest moment in the game was the house flip on Jordan.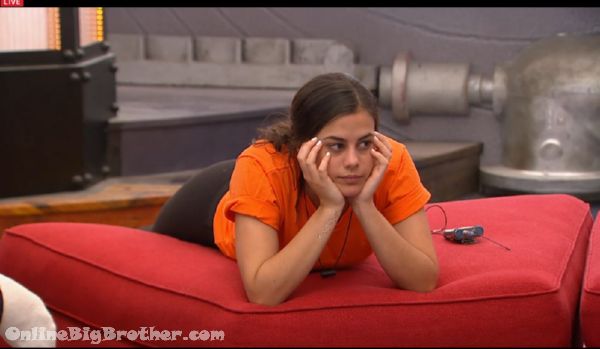 11:49pm PIli and Zach
Chatting about final 2 and Jury votes
midnight God and Ash out of the DR Pili scares them.. Sounds like some of the house guests received a special gift. Pili and Zach are the next ones called into the DR.
Please consider making a donation. This site is ONLY possible because of your support. (We received 1 cent in donations (Yes someone donated $0.01 cent) since April 27th.)
For other ways you can help – check out our How to support OnlineBigBrother.com page.
[polldaddy poll=8865390]