POV Holder:
?
Next POV
May 15th
POV Used
?
POV Ceremony
May 17th
HOH Winner
Sarah
Next HOH
May 20th
Nominations:
? and ?
Have Nots
Brittnee and Zach
POV Players
?
11:29pm Britnee explains the twist reveal and chit chat.

11:50pm Living room Sarah, Brittnee and Zach
Talking about the competition
Sarah is going to have one beer to celebrate.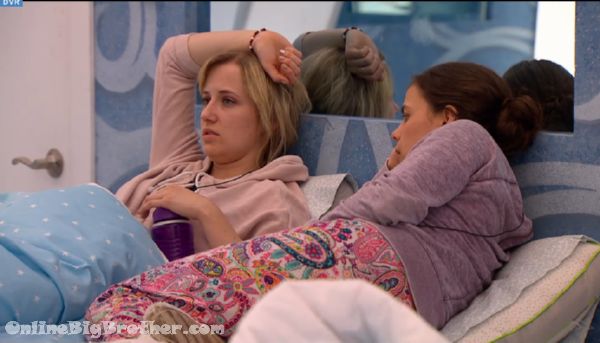 11:58pm Pili and Ash
Pili really wanted Bruno out but not this week. Ash say she's going up on the block tomorrow next to Zach. She knows they want Zach out first then one of them the following week. Ash mentions that the two of them get to play in the next HOH.
Ash thinks Zach is getting evicted this week.
Sarah comes in to say goodnight. After She leaves Zach comes in.
Pili asks them how do they know Sarah isn't going to back door him. Zach says there's no point to backdoor, "Too small numbers"
Zach – uphill battle this week.. but that's Big Brother for ya.. take it all in stride and enjoy the ride
Pili – I gotta win the veto
Zach – would be a great time for us to pull it out
Zach – everything this week was useless.. the veto.. the noms..
PIli called into the DR
Zach sits beside her, says it's just a game there will be ups and downs.. He adds that they'll all look back at this and laugh.
Zach gets called to the Diary room Pili joins them.
Ashleigh says she's starting to question if she said something or did something that pissed Canada off..
Godfrey is also there gives Ashleigh an analogy saying if you chose Raspberry over Blueberry it might not be that you hate blueberry you just like raspberry, "You might like both of them, both one of them more"
Ashleigh understands mentions that Sarah and Brittnee have kinda been on the bottom a lot.
Godfrey points out that Brittnee going to the end will be now be risky "Every time she's won HOH she hasn't messed around"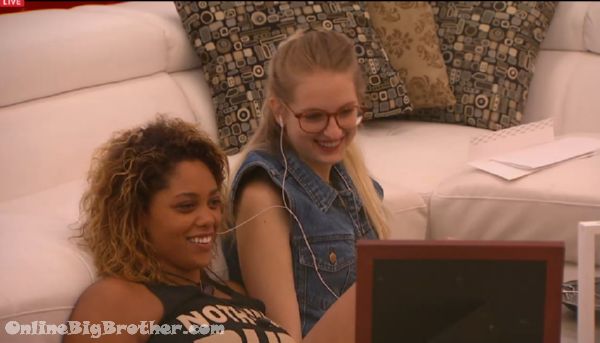 12:00am HOH Sarah and Brittnee
Sarah is wondering why nobody wants to hang out in her HOH.
Sarah is going to site the three diapers down and tell them she's putting Ashleigh and Zach up because there is no wiggle room. Sarah adds that Ashleigh put her up with the intention of her going home. Sarah is not going to say that she's putting Pili up as the replacement.
Brittnee wants them to think Godfrey is the replacement.
Sarah is going to tell Zach he's the target this week.
Sarah will try to convince the girls to vote out Zach if Pili uses the veto and saves Ashleigh.
Sarah brings out her family photos.
Sarah – I feel so good about the Jury.. they're going to be like those girls mean business..
Sarah says Bruno was scared of the wrong people he was scared of Zach not them.
Sarah – I can't f***g believe this man
Sarah – The model and the stoner.. underestimate me I don't give a damn.. walk all over me
Sarah – F*** ashleigh could win it I wouldn't give a f***
Brittnee – or God.. god knows what's up.. he knows this is legit and more legit than what they have to offer.. and he wants Zach out.
Sarah is positive the house doesn't like them Brittnee doesn't care because Canada loves them.
Sarah talking to the "Live Feeders" about the HOH competition..
Sarah says she got out of the coffin at 98 minutes
Brittnee – I'm so freakin proud of us we did so great.
Sarah – it's a miracle
Brittnee – I think we're strong, people thought we're weak but we're strong
Sarah – that's the thing you got to vote thank you Canada
Brittnee – that was the best super power thank you Canada
Sarah – This late too.. they gotta be pissed.. Zach and Bruno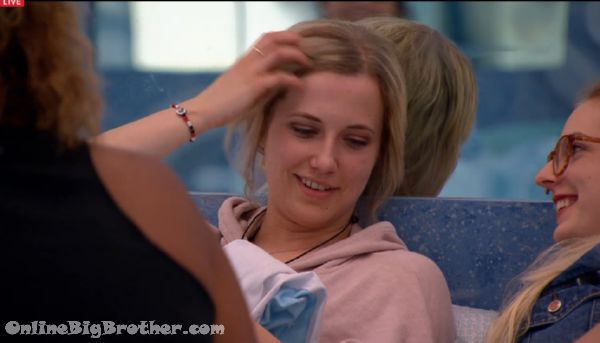 1:04am Sarah/Brittnee trying to make Ashleigh feel better about getting screwed over about the twist.
Godfrey – just don't pull a Chima yo.. somebody watch her when she tries to take a swim tomorrow.
Sarah – just shows Canada didn't have much faith in us to do it on our own.
1:45am Godfrey and the goblins
AShleigh is 99% sure her and Zach are going up.
Godfrey doesn't know what is going to happen, 'Maybe she wants all girls at the end"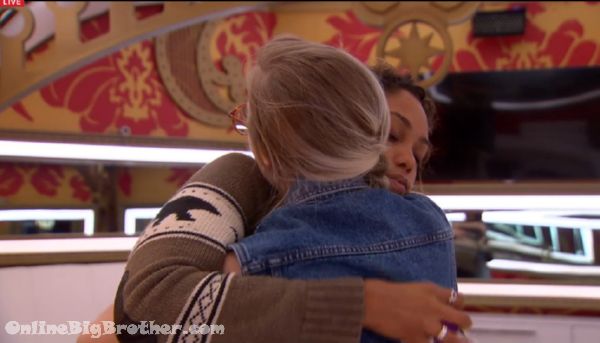 1:48am Sarah and Brittnee Nominations speech
1:58am Zach and Birttnee have nots
Zach explains how the Big Brother game is like a tub ride. (Pretty good analogy)
Brittnee also reminds Zach that Godfrey was trying to keep Bruno during the eviction.
They agree Bruno got very frantic.
Brittnee asks him if he's planning on goign to the end with Zach.
Zach – nope.. cause one of us is going home this week
brittnee – You think
Zach – yup.. Peels and Ash will save each other anyways..
Brittnee – Ride or die
Zach – everyone in the house knows that
2:27am Pili and Ashleigh
Pili is talking about what they should do next week if Zach goes home.
Pili wants to put up Sarah and Brittnee
Please consider making a donation. Any amount is greatly appreciated! For other ways you can help – check out our How to support OnlineBigBrother.com page. This site is only possible because of your support.
[polldaddy poll=8865390]