POV Holder:
Ashleigh
Next POV
May 20th
POV Used
?
POV Ceremony
May 17th
HOH Winner
Sarah
Next HOH
May 20th
Nominations:
Zach and Ashleigh
Have Nots
Brittnee and Zach
POV Players
Everyone participates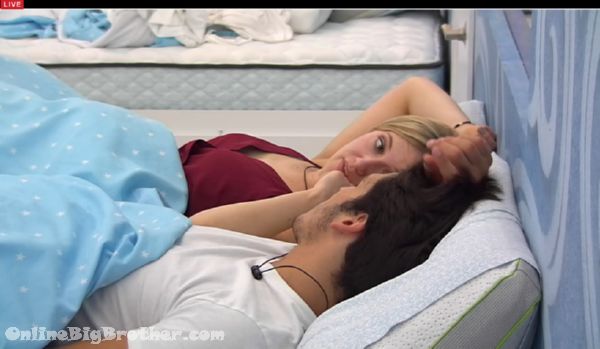 5:55pm Ash and Zach
Talking about getting wasted.. Zach's 3rd time was on tequila. AShleigh usually forgets the next night. Zach never forgets. Zach drank 25 tequila shots in 12 hours in Mexico.
Zach – I've seen some sloppy nights from people
Ash – me two
Ashleigh brings up a party at "Melissa's" house where one of the managers they would party with puked all over in the bathroom. She says it was up and down the walls.
Ash – I'm usually OK with puke puke doesn't bug me
Ash brings up a time when this guy puked at a bush party and there was a full hot dog.
Ash went to a "Prep School" she said all the dudes in there thought they were thugs.
Zach – was there drugs
Ash – Ya.. just like weed
Ash – my school was all primarily east indian .. my graduating class 42 were white kids
Zach – why was that
Ash – my theory people think uniform school and they think it's a good school
She explains further that people in the culture what their children to be Lawyers and Doctors so they want to send the kids to the best school.
Zach – was the school academically focused
Ash – ya it was really academically focused
She adds that they "Operated" at 1 grade higher when she was in grade 10 she learnt grade 11 material.
The dress code at her prep school
Grade 1-5 tunics
Grade 1-8 burgundy sweaters , Boys grey pants
Grade 9-12 forest green sweater, Boys Black pants
Every Monday you had to wear a tie and if you're in grade 12 you got to wear your blazer
No Nose rings, No colour in your hair, girls only allowed 1 earing zero for boys.
All the girls had nose rings and had to hide them.
Zach asks if they had a football team
Ash – no
Zach – all your guys were pussies
Ash – We had rudby
Zach laughs says he's just kidding.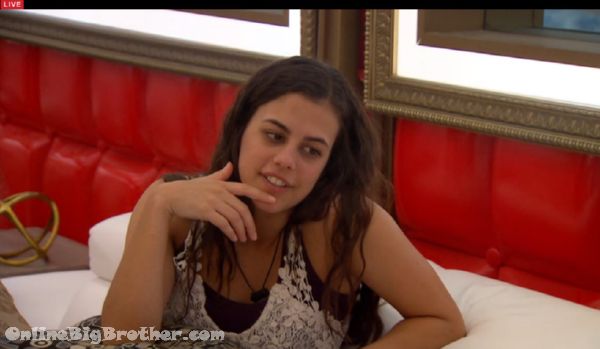 6:13pm HOH Pili, Brittnee
Pili share a story about going to a lake with a bunch of friends. They went skinny dipping.
Pili loves crazy things "Lets go on an adventure"
Pili says she's drifted apart from her friends in Mexico and a lot of them have moved away. She mostly goes now for her Grandmother and other family.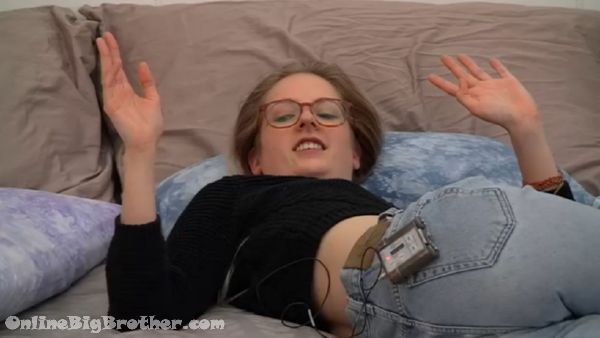 6:32pm HOH Sarah, Pili, Godfrey and Brittnee
Wondering about the Jury vote. Sarah thinks Canada will get a vote.
Godfrey says they've had a Canada vote every season. Brings up season 1 Vote was screwed.
Sarah Who did canada vote for
Godfrey – Gary
Sarah – Love it
Pili thinks there might be a double this week. Godfrey thinks it will be a instant.
Pili called into the Diary room
Sarah – She drives me f***g nuts she's just so annoying .. if her an Ashleigh make it to the end
Godfrey – I'll eat my shorts
Sarah – I just cannot..
Sarah is pissed that AShleigh and Pili could get Jury votes.
Sarah – they're all just backwards they are backwards thinkers
Godfrey – Zach is working overtime with Ashleigh yo.. Isolating her
Sarah – they are so bad at it (Lying)
Sarah mentions when Pili was saying "We're going to vote out Godfrey.. I mean I mean Zach"
They all laugh
Sarah says Pili told her she was upset because she thought Ashleigh would never vote out Zach. Earlier in the day Pili told her Ashleigh would vote out Zach if Godfrey was up.
Sarah – I can't wait till they go up together I can't wait until one of you two win and put them both the f*** up
Sarah – Honestly I can't take it anymore I want to say to her Yes Ashleigh you are the f**king threat it sickens me
They agree it's obvious Ashleigh and Pili have not been tested in the game yet because they are stumbling around making mistakes.
They all have noticed Zach has been working ashleigh hard trying to make her think a relationship can develop out of this outside the house. Sarah says that wouldn't work on her she would see right through it. Brittnee claims she would also and 'Run away'
Brittnee and Godfrey both hope Ashleigh doesn't get heartbroken after this. Brittnee thinks Zach is playing Ashleigh, "None of Zach's letters from home mentioned Ashleigh"
Godfrey says Ashleigh is probably thinking that she won't win beside Zach but it will go down in history if her and her showmance make it.
Sarah – even if I don't win I stayed loyal to my showmance
Godfrey – Never have I seen him dedicate this much time to her..
Sarah – I would be so pissed off if I was her.. that means right now it's not real
Godfrey – Who knows maybe he's working her to use that Veto on him
Sarah – she should and we would send her a$$ packing.
Godfrey brings up Zach telling him that Sarah is a mastermind of the season also said Brittnee and Ashleigh were doing double DR's. Making Godfrey think Sarah and Brittnee are a final 2.
Godfrey goes to the storage room to get batteries.
Sarah – These girls are so bad at lying it's pissing me off.. it's insulting
Sarah hopes Godfrey convinces Ashleigh that he's voting for Zach to stay then when he leaves they sit back and soak up the tears.
They agree Pili isn't very strong in the game. They bring up during the POV she didn't listen to the rules. "Her entire alliance was on the line"
Sarah – I wish we were here with 15 Pilis
Sarah goes on about how insulting it is that Ashleigh and Sarah are lying to her and think she will believe it.
Brittnee – it's beast we don't do double
Sarah – what the f*** I don't give a f***
Pili walks in "My feet are stinky.. what's up girls"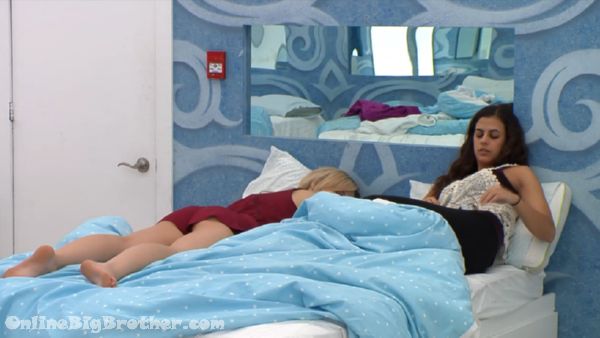 7:05pm The Goblins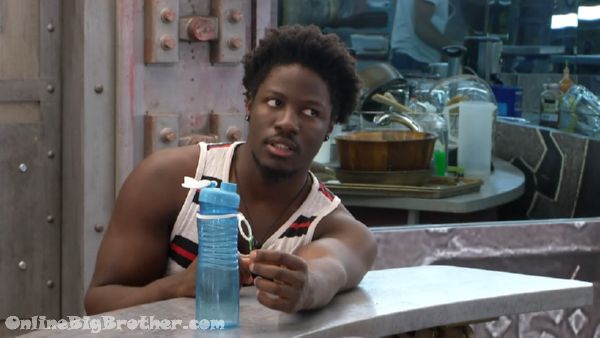 7:06pm Godfrey and Zach
Godfrey tells him if Zach if voting to keep Zach he wants to talk to her tonight. Zach – "Sure no rush"
God – Bro Peels is panicking man.. she heard me in the bath room.. I don't know how much she heard..
Zach – she heard that.. weird.
7:12pm Veto Ceremony underway (Pili is going up)
8:24pm No Feeds POV Ceremony
Feeds back Pili and Zach are on the block.
Please consider making a donation. This site is ONLY possible because of your support.
For other ways you can help – check out our How to support OnlineBigBrother.com page.
[polldaddy poll=8865390]