POV Holder:
Ashleigh
Next POV
May 20th
POV Used
Yes
POV Ceremony
May 17th
HOH Winner
Sarah
Next HOH
May 20th
Nominations:
Zach and Ashleigh Pili
Have Nots
Brittnee and Zach
POV Players
Everyone participates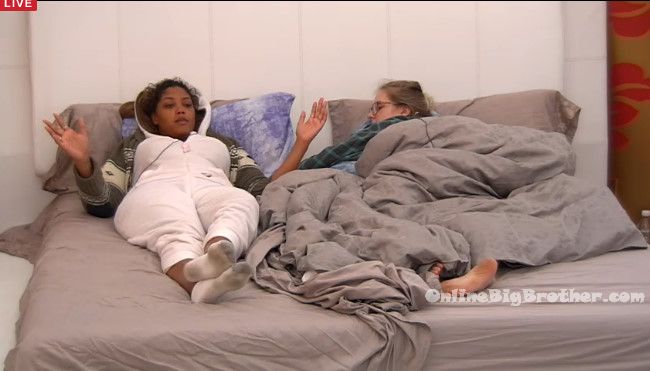 10:25am Brittnee says that Zach told her the two people that vote to keep me I would be loyal to and no one else. He said he didn't think I would go against you (Sarah) but what do I want to be known for a good game player or a good friend. That's probably the same line he said to Ashleigh too. Britt says its very apparent that you want to take Ash to the final 2. He says that they never made a deal and that Ash would take you over me. Sarah says Ash made fake a final 2 deal with Bobby but not with you? (Zach) Sarah says that if you and Ashleigh keep him safe and Godfrey then he is going to keep all of you safe? Sarah says its a good thing he pitched to you .. that means he doesn't have Godfrey's vote. Brittnee says it was nice that he campaigned to me and it showed that he wasn't just going to roll over. A lot of his arguments are contradictory. He said that next week he either has to win HOH, POV or he is done. Sarah says you can't protect people any more. Britt says I would rather chance not winning HOH or POV instead of making the mistake of taking a bigger target in the final week. He is good. Sarah says he might be right but if you compare the two ..I am going to take my chances with Godfrey. He said that Godfrey is playing for second. Sarah says there are some pretty good arguments for Godfrey. Brittnee agrees. Britt says he said this week isn't the week to get rid of me, next week is. He said something about I won't beat him. Sarah says that's kind of the point!! Sarah says his whole campaign was very contradictory. Brittnee says in a accordance with his campaign I am just going to risk it. Brittnee says she thinks Ash would take Godfrey over Pili. Sarah says no her thing is I've got to play the loyal thing so I can say to them (jury) I've been loyal.
11:15am – 11:25am Out in the hot tub room – Zach and Godfrey are suntanning..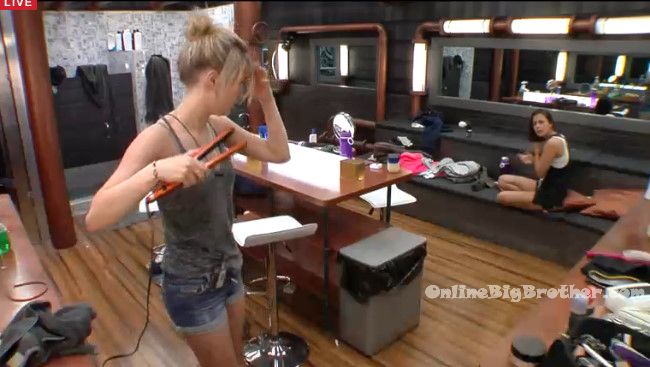 11:35am – 11:45am Bathroom – Brittnee and Sarah think he (Godfrey) is with them. He thinks he is safe with us so he isn't going to try to win HOH. Ash says we want Sarah to go before B. Godfrey will not want to take B. He is more scared of B. That's the order it has to be. There's no other way. Ash says that week the HOH doesn't mean anything. Its the POV. If you win it you say B – bye! I win it I say B – bye! Godfrey wins it he says B – bye! Pili and Ash head out to sun tan.
12pm Hot tub – Brittnee and Godfrey are talking about Zach campaigning to her last night. Godfrey says its super hard to believe the he (Zach) wouldn't give Ash his vote in the end. Britt says we just have to get Zach out ..then Ash … then Pili. It sucks that she (Pili) gets carried all this way. Britt says I've given Pili my word that I'm voting him out. Britt says I am really grateful for that power. Godfrey says yeah it saved you. Brittnee says and I was able to show you I wanted you off the block.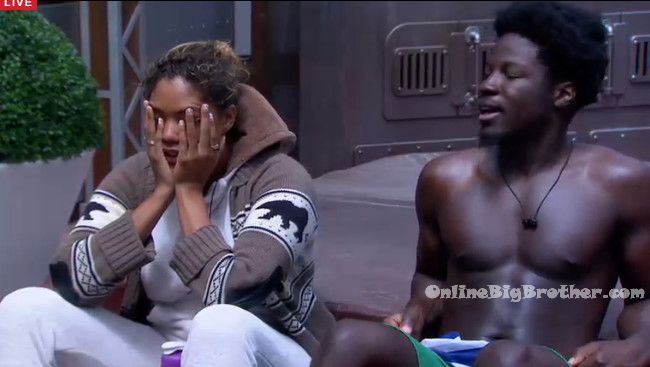 12:10pm – 1:20pm Sarah comes out of the diary room and says she got the camera. We're going to recreate the best moments of the season. Sarah leaves to go get ready. Pili starts looking through the past photos on the camera. Godfrey says I forgot what these people looked like. They start recreating moments from the season. Ash tells Godfrey lets just get a photo of you laying down some where. That's a great moment from the season. They continue going around the house re-enacting moments from the season. Sarah tells Ash she and Zach need to take the jam out to the hot tub room. (Re-enact the scene when Ash licked jam off Zach's stomach) Godfrey says if Zach isn't available I'll stand in.
1:20pm Big Brother puts the house guests on a HOH lock down.
Hot tub room –
Brittnee says that she is piss about the weight she has lost. Sarah says I am sorry.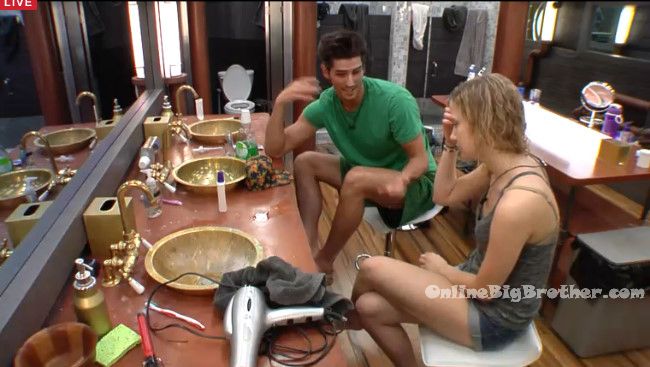 1:45pm – 2:15pm In the bathroom – Zach is talking to Ashleigh about his conversation with Brittnee last night. Zach says your risk factor is so high next week without me. You are literally going to have to put Pili on your back. Its not realistic to think you can haul Pili to the end. You guys would have to power trip it out to get to the end. Pili isn't going to be able to win that final one. Its a mental one all about the days. If I stayed I would still be the target. If I am gone you will be the first person they kick out. Your chances are substantially higher with me in the game. Zach says I am going to throw you on my back and take you as far as I can. If I don't win the next HOH I am out. If I don't win that final POV I am out. I assume all the risk. Zach says if I stay you could literally walk to the final 3.
2:20pm Main bedroom – Godfrey and Pili are talking about tomorrows eviction. Godfrey tells her to to get too comfortable there could be a twist or something. Focus on winning the HOH. Some people could switch their vote last minute to you know man. I don't think it will happen but its always a possibility.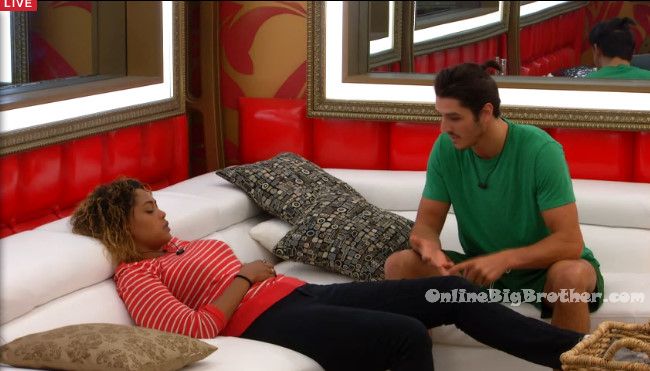 2:30pm – 2:55pm Brittnee tells Zach she is stressing. Sarah is sitting in a great position. Zach starts campaigning to her again. If I move on in this game I would have to win to stay. I expect if you win HOH for you to put me up. Zach says either you vote with your heart or your head. Britt says I am still voting with my head if I vote you out. Zach says I expect to get voted out next week. Ash even told me she would vote me out. Britt says she won't. She said she wouldn't this week and she won't next week either. She's playing the loyal game. Britt says I just feel screwed either way. Zach says if I win next week I will keep you safe. If Ash wins I will make sure you're safe. This move right now puts Sarah in the best position. Sarah joins them. She tells them she could put on the headphones if they wanted to talk. Britt says no its okay. Zach says no we're good.

3:25pm Zach and Brittnee are listening to Sarah's music. Zach tells Britt to relax. She says she's trying to..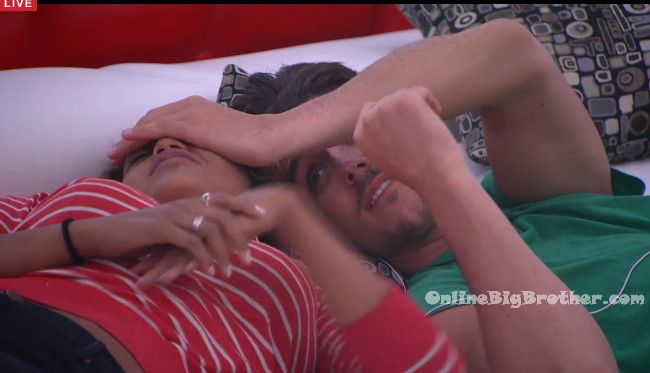 3:30pm – 4:10pm Big Brother tells the house guests to report to the HOH room for a lock down. They hang out talking about their friends back home. Big Brother ends the lock down. Everyone but Britt and Pili leave the HOH. As Sarah leaves Britt says that he (Zach) is stressing me out.
Please consider making a donation. This site is ONLY possible because of your support.
For other ways you can help – check out our How to support OnlineBigBrother.com page.
[polldaddy poll=8865390]