POV Holder:
Ashleigh
Next POV
May 15th
POV Used
?
POV Ceremony
May 17th
HOH Winner
Sarah
Next HOH
May 20th
Nominations:
Zach and Ashleigh
Have Nots
Brittnee and Zach
POV Players
Everyone participates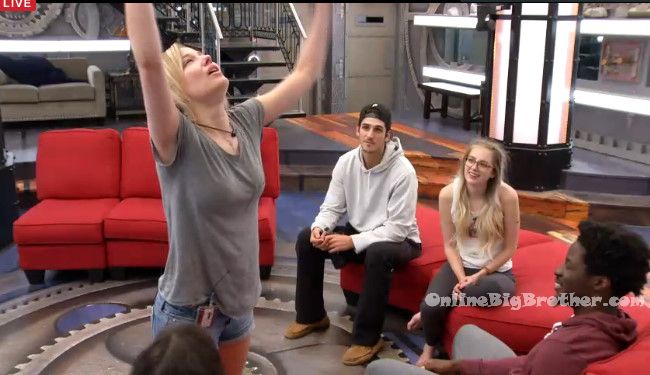 *** Ashleigh got to see her mom & Godfrey got to see his sister in the backyard.

3:45pm The feeds return to Ashleigh explaining to all the other house guests that she opened the door and it was pitch black. All of a sudden a spot light was on their loved ones. Ash says that her mother was there. She got to talk to her. Godfrey says he got to see his and she is pregnant. Ash says she just stood there and hugged her forever. Godfrey says that he thought he was going to get a movie or some cash. He tells Ash good thing you were good at tasting all that food yo! Sarah says wow that is so cool guy! Pili says that is amazing. Pili asks what about your sister god?! He says that he didn't know what to expect when he saw her sister in the backyard. Ash says that she can't stop crying. Sarah asks was your sister freaking out. Ash says yeah when I gave her a shoutout in the HOH. Sarah says two minutes? Ash says It felt like 30 seconds! I can still smell her on me! Godfrey says that was so unexpected I thought we were going to watch a movie. Pili says I am so happy for you two! Godfrey says thanks Pils! Big Brother blocks the feeds again.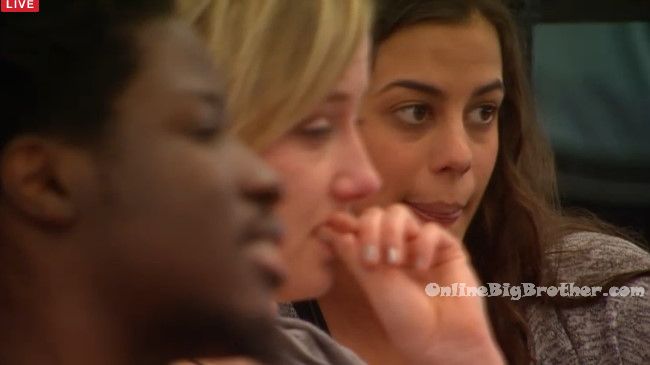 4:05pm – 4:15pm The feeds return again – The backyard is open. Zach and Brittnee are sitting out in the hot tub room in silence. Ash is talking to Pili and Sarah in the backyard. Pili asks were they standing here? Ash says we did it separate. I did it first and then Godfrey came out after to see his sister. They head to the hot tub room. Brittnee says I am happy but you can't help but think about that feeling. Ash says its good she doesn't know if she can stop being emotional. Brittnee says it will be hard but use it as that extra push. Ash says I've never seen Godfrey so emotional. His lip as quivering.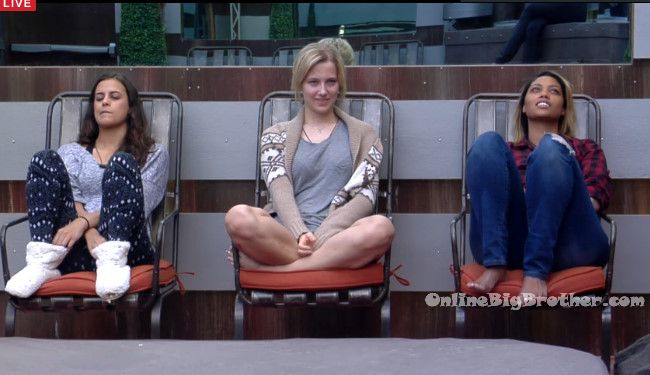 4:20pm – 4:30pm Godfrey tells Zach to talk to Ashleigh to see what she's leaning towards. Zach says I feel like I could convince her. I just don't know where your head is at. Godfrey says like bro if you could and it's legit. I would do it. Zach asks you would? Godfrey says yeah if its legit. Zach says I feel like she might and then it would be us 3 (Ash, Zach, Godfrey) against those two (Sarah & Brittnee). Zach says I feel like she might but then you would have to be ready to push on course. Godfrey says I feel like she might but she would have to be ready to vote out Pili because she would be the replacement. Figure it out with Ash tomorrow like who do you feel you have a better shot with. Zach says he will.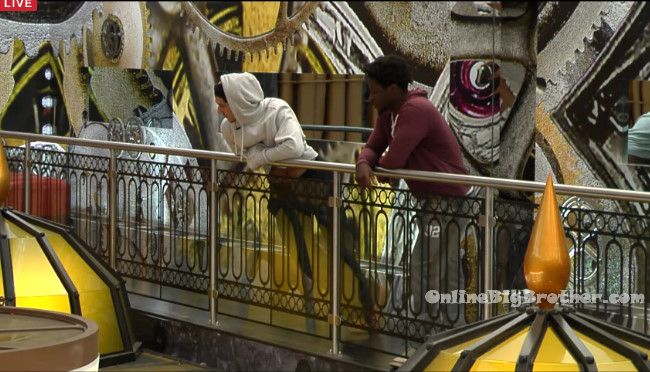 4:30pm – 4:40pm Up in the HOH room – Sarah asks Pili would you be mad if I put you up. Pili says I wouldn't be happy about it because nothing is for sure like twists and stuff. Pili then says Its okay, I am fine going on the block. Sarah says Its Ashleigh really because God doesn't matter. Here are the votes I know B will vote out Zach. So you trust Ash right? Pili says it will be hard for her to vote out Zach but I know she wouldn't vote me out. I am sure about B's vote but I am not sure about your votes. If you're not up you have the option to keep Zach. It would be very tempting for you guys. When Zach starts talking to you guys I feel like it would be very tempting. Brittnee joins them. Pili says I am not happy about it but I am fine with it. If I end up leaving I just don't want you to be unhappy. Sarah says the only twist I see happening would be if Zach had a secret veto from before. It would be awkward because we all love Zach so much. If he was sitting up next to God it would be so hard. Brittnee tells Pili I am not voting to keep Zach I am voting to keep you. Pili says she (Ash) wanted to be on the block next to him so she didn't have to vote him out.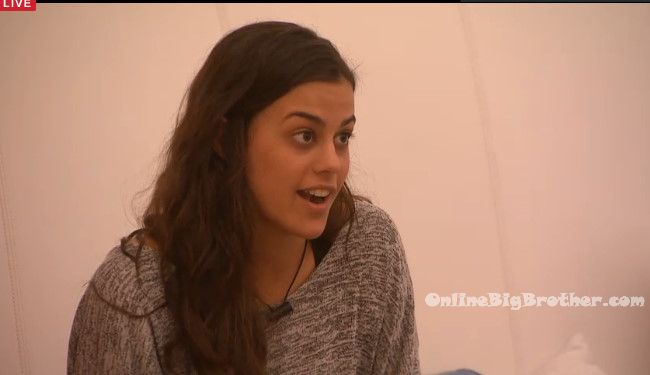 4:45pm Zach tells Pili that he is going to tell Brittnee tonight that he thinks he is safe because I think I have Godfrey and Ash. Then Brittnee will run and tell Sarah. Zach tells Pili that tomorrow before the veto ceremony she will go and tell Sarah that she's seen Godfrey talking to Zach and its sketching me out. You tell her that you are a vote to vote out Zach. Tell her that Ash is my best friend but I am not sure who she would vote for. I know that I have to split up Zach and Ash. Zach tells Ash that she needs to start acting sketchy around Sarah. Ash says that's okay because I am already emotional. Zach says I will plant the seed late tonight with Brittnee. So that hopefully in the morning it shoot paranoia into Sarah head. Ash says brilliant. Ash tells Pili we'll go practice… I'm Sarah. Zach tells Ash and Pili we can make this work. I am going to hang around Godfrey all day to make sure she sees me with him.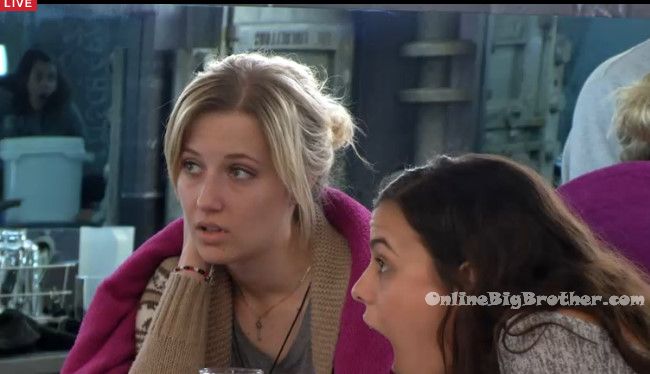 HOH room – Sarah, Britt and Garb talk game.

4:45pm – 5:10pm In the bedroom – Ash gets Pili to practice what she will say to Sarah tomorrow morning before the veto ceremony to scare Sarah into putting up Godfrey instead of her. Zach joins them and tells Pili to go to Sarah in a frantic state. Pili says I will say that I am pretty sure Godfrey is going to vote for Zach to stay and Ashleigh won't tell me who she is going to vote for. I think she's going to vote for Zach to stay. Ash says a key thing to tell Sarah is that if you stay off the block you can break them (Ash & Zach) up. Zach tells Pili to tells Sarah that Ash was giving me the weirdest read last night. Zach leaves. Pili asks Ash he (Zach) genuinely means that right .. like he isn't just using me to keep him here so he can eventually get me out right?! Ash says he wants us to go to the final 3. I think he know I would take you over him. He never tells me what he would do. Pili says I don't really trust him. We are doing this for his game not ours. I know he would take you over me. If that happens I am not going to forgive myself because it would be because of this move. Pili says you've been killing comps and I've been a sh*t show! Pili says if we want to make a big move we have to play smart, we're playing with our hearts right now. Big Brother blocks the feeds.

5:23pm – 5:45pm The feeds return – with Zach and Godfrey hanging out in the hot tub room. Brittnee and Sarah join them. They chat about being able to enjoy the weather in Toronto when they get out and other random things like dinosaurs and the power of the human brain. Ash heads inside to shower. Pili join Ash in the bathroom.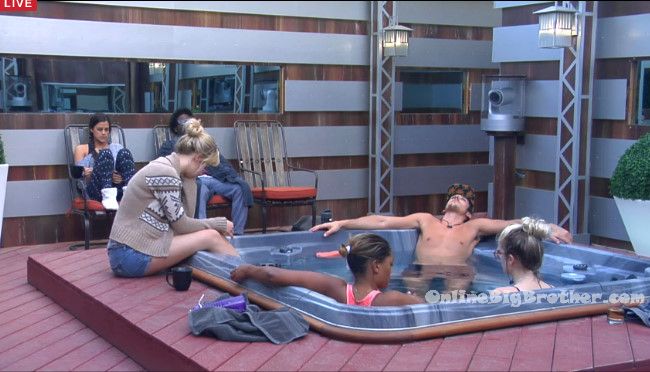 Please consider making a donation. This site is ONLY possible because of your support.
For other ways you can help – check out our How to support OnlineBigBrother.com page.
[polldaddy poll=8865390]