POV Holder:
Ashleigh
Next POV
May 20th
POV Used
?
POV Ceremony
May 17th
HOH Winner
Sarah
Next HOH
May 20th
Nominations:
Zach and Ashleigh
Have Nots
Brittnee and Zach
POV Players
Everyone participates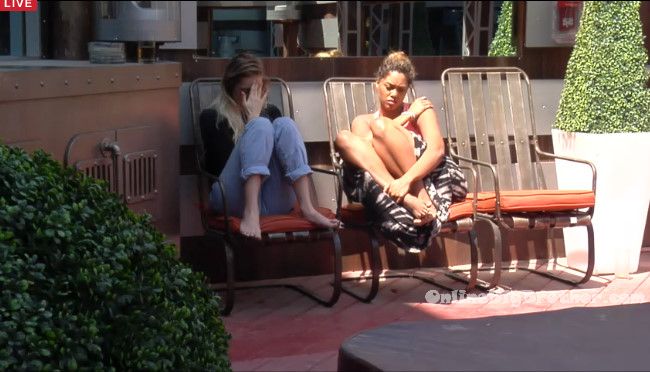 1:35pm Living room – Pili, Zach, Ashleigh and Sarah are laying around talking about random things. It a really lazy, quiet day in the Big Brother Canada 3 house as most of the house guests are hung over. Sarah heads out to the hot tub room to smoke. Sarah says Brittnee please win on Wednesday. Na, Godfrey should win it. No, I don't trust Godfrey. If Brittnee wins another one I don't know who I would have a chance against. Brittnee comes out to the hot tub room. Sarah says it was the best that we got out Bruno because it freed up Godfrey. If Zach went it would have just been Bruno replacing him. Hopefully Zach goes this week. Sarah says I didn't want that move to pay off .. using the veto on Zach. Every part of my being wanted that move to be a bad move. Ash should have gone. Brittnee says I was offened by his demeanor towards you. He was just getting too stressed out and flying off the handle. You can't work with someone like that and we tried. We needed to figure out where their loyalties lie and now we know theres no way we would work with them (Ash & Pili). Sarah says I would almost think its better for Godfrey to win HOH as long as he put up Ash and Pili. Brittnee says I hope God sees that its more beneficial to keep us for his game. Sarah says I really hope that if you vote someone out .. like you can't not vote for someone because of that. Brittnee says we should be so proud of how far we've come. I am not going to be bitter. If I go, not that I want to but I would be proud of you and want you to hold the torch for us. Sarah says we need Zach to go. We need Godfrey to tell him and stop playing this game. Sarah veto ceremony speech "I'm sticking with the target I had night 1! You're just that good!"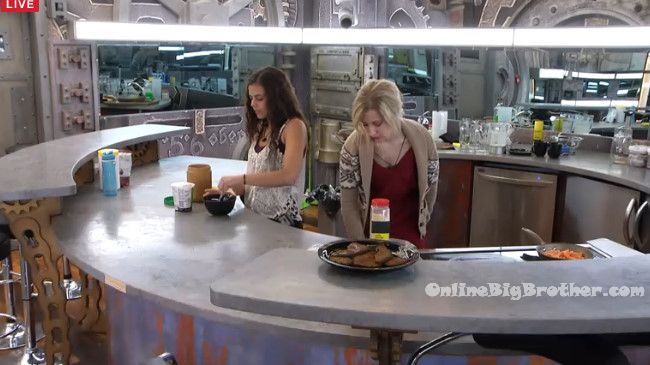 1:50pm In the kitchen – Pili comments on how comfortable Zach is and says I could very well be going home. Ash says it shows that she (Sarah) doesn't trust us and that scares me. Pili says she said its because we could change our minds last minute. I trust you and I know you wouldn't vote me out but .. I don't know. I know you've said you wanted to keep me over him but actions speak louder than words. Ash says I know .. the only thing is Sarah, B and God wouldn't take me to the final 2. Pili says whoever (Pili or Zach) stays it will be the same deal .. we will both take you. Ash says I know. Pili says if I go up will you tell me if you're going to vote me out. Ash says I will but I'm not going to (vote you out). Pili heads outside. Ash talks to Zach about Pili not wanting to go up. Zach says she better not. I'm going to have a damn good case against her. She is hyping my game up. Those two are running this game. Ash says with the help of some powers. Zach after I go Pili will sit back and never be a target. If I don't go you won't be a target. Ash says the girls tell me they're going after Godfrey and Godfrey says he's going after B and Sarah. Zach says they're putting Pili up to force the vote because its better for their game. If I stay I am going to win comps for you guys and not target you. Pili is not going to win competitions for you. Ash says she would hate me… I would look like such a chump. (voting out Pili) Zach says its final 6 in the game you have to make moves. The value she adds to your game is zippo! She will go farther than you if she stays. Zach says you and Godfrey's probability of sitting in the final 3 is better with me in the game. The girls are very afraid of me because I am coming after them. Bottom line!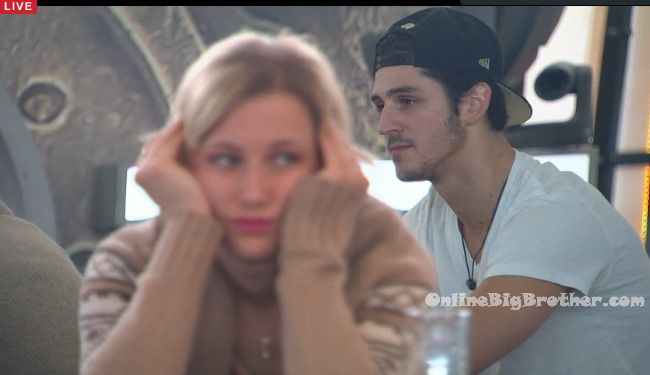 2pm Hot tub – Pili joins Sarah and Brittnee out in the hot tub room. Sarah asks Pili if she's worried. Pili says yeah. Sarah says but you said you wouldn't be worried even if God was up there. Pili says yeah but lately she's been worrying me. She is telling me she obviously she won't vote me out but some times emotions get in the way. Sarah says she has an emotional connection with you too. Pili says I overheard a conversation that Godfrey is going to vote me out. Sarah asks why? Pili says because he wants to work with Zach ..I don't know. Brittnee says my vote is going towards Zach just so you know. Pili says Zach and Godfrey are really tight right now. Sarah says I don't know he's been gunning after Zach since week 4. If he votes out Zach he is sitting pretty in the middle at least thats what he thinks. Sarah tells Pili sorry but I've already told Godfrey he's not going up and it would be a big game move for you if you flipped and kept Zach. Sarah says God will say whatever he has to to Zach but at the end of the day he will vote him out. Sarah says if he manages to pull this and stays there is no way I wouldn't vote for him.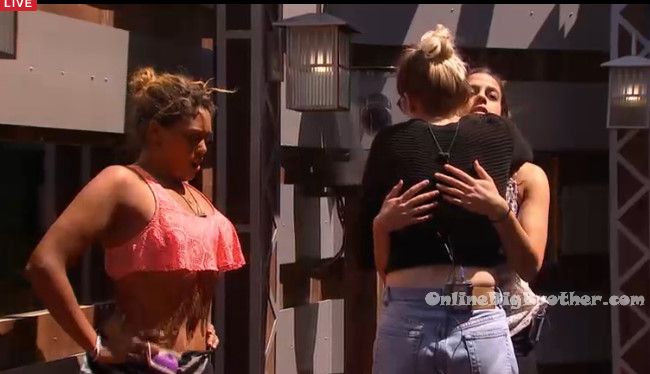 2:25pm – 2:40pm Kitchen – Zach makes his plea to Godfrey and Ashleigh. He tells Godfrey that they (Sarah & Britt) are telling you that Ash is the target next week and they are telling Ash you're the target. Next week there are 5 of us and there will be 3 of us fighting to take them out and we can split them up. Canada voted them a secret power … the other night I saw Brittnee come out of the diary room and 15 minutes later I saw Sarah come out. They're doing double DR's together. Zach says what have I done in this game.. I've won 1 HOH and sent home my biggest ally in the game. Kick it around and think about it. Pili isn't going to be a big target over you two and she won't win comps for you. They're going to take her over you two. Godfrey says I will definitely think about it. Zach says your games are more protected with me in this game. Next week you can sit back and laugh. Godfrey says everything you've said is a really rational argument. Zach says Sarah is the mastermind and Brittnee has gotten 4 huge players out of the game.
Living room – Britt tells Pili I am thinking Ash should not use that veto. That way she doesn't have to make a decision. Well either way she is making a decision. Pili says what if people vote the other way. Britt says I would rather get rid of him than her. Pili heads upstairs with Ash and tells her the conversation she had with Sarah about going up as the replacement. Ash tells Pili I feel at this point everyone would take you. Pili asks why what has Godfrey done. Ash I feel people would pick you over me. Ash says she is so stupid… I take that back she is actually freakishly smart. Pili says Zach is very smart I am probably going home. Ash says no at the end of the day I will vote to keep you.

2:50pm By the pool – Godfrey tells Sarah I am obviously voting out Zach. He would still get respect for not doing anything and still being able to stay. Sarah says I can't believe its even a question … Pili vs Zach!? Actually its good she's sweating. Brittnee says if he survives this week he is actually the best big brother player ..to me. Godfrey says I am way more scared of people like Pili and Ash than Zach because they are the people that ride it out to the end.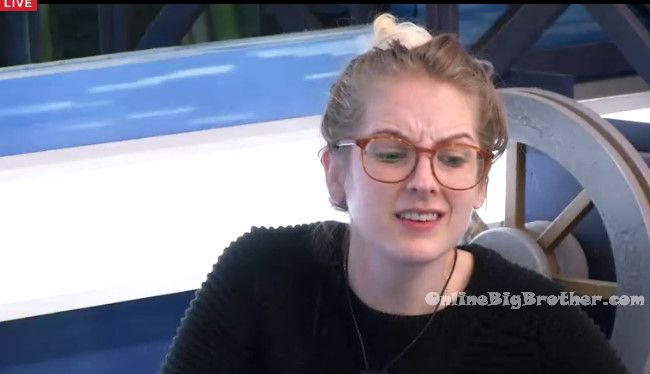 3:15pm – 3:50pm Kitchen –
Ash tells Sarah that Godfrey was telling me that if Zach goes he and I would be the next big target. Sarah says well, I don't think Pili would do that to you. He would be the next target but then it comes down to who wins the veto. Sarah says you know I can't talk about it but its going to come to the point where I will need to make a decision too. (Getting Brittnee out) Ash and Pili head up to the main bedroom. Ash lays with Zach. Zach gets called to the diary room. Ash asks Pili who would you want to go first Sarah or Brittnee. Pili says Brittnee. Ash tells Pili "I won't send you out." Pili says I know it sucks to be in this position. Ash says "I know it sucks but I won't do it. Just win the HOH missy" Ash asks what her goodbye message was to Kevin. Pili asks are you thinking of yours (to Zach). Ash nods and laughs.
4pm By the pool. Sarah tells Godfrey to tell her whatever you want to tell her. Godfrey tells Sarah and Brittnee he is going to tell Ashleigh that he is going to vote Pili out (Even though he will really vote out Zach) just so hopefully Ash votes out Pili and she (Pili) will see that and they'll lose trust in each other.