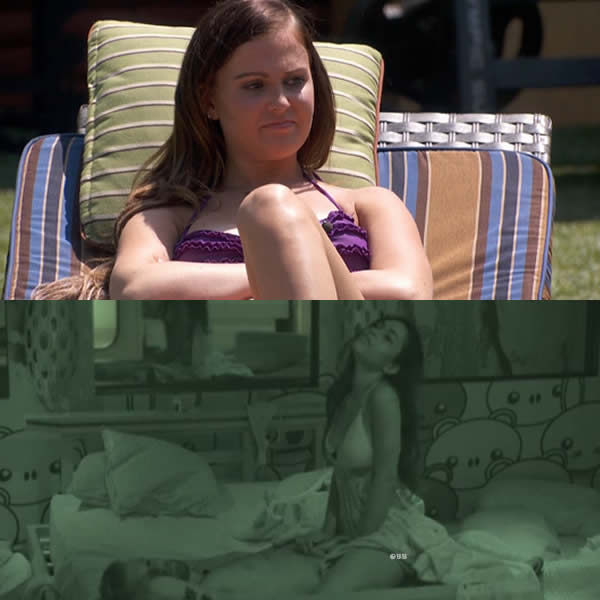 WOW what can I say.. This has been a the most exciting 48 hours on the feeds all season thus far. Is it the high water mark? I doubt it with with the calibre of hate going around house is going on fire tonight. We've documented the entire 72 hours in full enjoy :)
How it all started..
Da'Vonne is evicted with only two votes to stay from Michelle and Zakiyah. Victor goes beast mode and wins the HOH. Paulie has a heavy say in the nominations and they eventually they settle on putting Zakiyah and Michelle up. Initially at this point Nicole, Corey, Paulie, Victor and Paul are all on board to get Zakiyah out. Some showmance drama between Paulie and her coupled with her relatively poor social game plus being close to Paulie makes her the target.
Slowly Paulie started shifting the target onto Michelle (which may have been his plan all along as there is a pattern to this. Every time there's a chance of Paulie and Zakiyah being seen as too close and going up he starts throwing her under the bus then once they are safe they are back to humping in the middle of the night) The fans vote James to have the Care package. This gives James the ability to null two people's votes. Essentially giving him the sole power to flip the house. Early on the week James still very much on board with Paulie says he's using the power to Null Paul and Natalie's vote. James is on board with getting Michelle out.
Paulie wins the Power of Veto. He makes it clear he's not using it. Telling Zakiyah he wouldn't do it unless he was 100% sure she was safe. During the POV ceremony speech Michelle attacks PAulie pointing out to everyone how he's won 3/6 of POV's and 2/4 HOH's she shines a light on him running the game. Paul and Victor find out that Paulie has changed to wanting to get Michelle out. This pisses them off because it's bad for their game. Paul mentions how Paulie is being selfish when they weren't selfish last week. Paulie's douchebaggery continues and Zakiyah eats it all up..
At Tuesday 10am Big Meech starts to campaign hits up James first followed by Bridgette and Natalie. It's Clear that Natalie and Bridgette have had enough of Paulie. At 2pm that same day Bridgette asks Natalie if James would be down with flipping the house. Natalie says he better be. Bridgette and Michelle finally bury the hatchet and they start to come up with a plan.
Tuesday night Natalie starts working on James telling him every bit of dirt about Paulie that Natalie, Bridgette, Michelle, Paul and Victor could muster. James seems unconvinced.. Natalie makes it clear that the entire house sans the two "Showmances" are onboard with getting Zakiyah out remanding him only 3 people will be pissed at him if he flips.
Early Wednesday morning Natalie continues to hammer James to flip telling him Paulie is running the house etc etc. Paul, Bridgette, Natalie and Michelle all work on James in the have nots room until 9am finally James gets their play and agrees to flip the house. The majority of fans lose their shit as something has finally happened against Paulie. Natalie tells her side she will pull Zakiyah to the side and tell her all the nasty things Paulie says about her and the other girls, the flirting etc..
Wednesday at around 8pm Natalie drops the bomb on Zakiyah, Zakiyah cries says she hates Paulie. After the conversation with Natalie, Zakiyah runs back to Paulie, Nicole and Corey mocking Natalie telling them everything she said Paulie losses his shit and goes on a 8 hours rampage of talking
Slinging mud about Natalie, Bridgette. Making it obvious to everyone he's panicking. The showmances as a whole are panicking and lashing out in defense.
James doing what what we all expected him do to he "kinda" rats the entire house flip out to Paulie and Corey. Throws Natalie and Paulie under the bus hard. Allows Paulie to ridicule Natalie saying she a idiot, Stupid, dumb Jersey girl trash, etc.. Fans are outraged. Maybe James is just trying to keep himself safe for the next week.
At around midnight on Wednesday Natalie, Bridgete and Michelle finally get into the have nots to talk to James. James tells them he's 50/50. Natalie gives it to him straight tells him she blew her game up because last night everyone was on board with getting Zakiyah out and part of the plan was for her to go to Zakiyah and expose Paulie. James agrees again to the flip says he's committed.
Paulie starts attacking Natalie calling her fake like the things on her chest.. Insulting her because she's' from Jersey etc etc.. A house meeting at 1:40am on Thursday blows more of Paulie's game up. He goes on a rampage in the HOH room.
Early in the morning Michelle and PAulie have a yelling match.. Read this..
So in summary read the posts I linked to above and you'll have the entire house flip documented. Michelle got the ball rolling, Bridgette kept it going gave it hope and Natalie took the ball and tossed it and Paulie's face.. Blood all over.. if you have the feeds use flashback and catch that HOH meeting from 1:40am it was eye opening. This was a real treat for Big Brother fan. I've just wanted to see something happen finally. The last few weeks have been slow. Smashing the side that has held like 80% of the influence was the best way to do it.
Tonight's Double eviction will be glorious a perfect time for the knock out challenge. I cannot wait for this weekend feeds..
Watch the next week of the feeds for FREE – 1 week Trial!
Predictions for tonight
Zakiyah goes home
Results from the show
James uses his America Care package to null Paul and Corey votes
Natalie votes to evict: Zakiyah
James votes to evict: Zakiyah
Bridgette votes to evict: Zakiyah
Paulie votes to evict: Michelle
Corey votes to evict: nul
Nicole votes to evict: Meech
Paul votes to evict: Nul
Zakiyah is evicted from the Big Brother
Julie opens Zakiyah's ticket and it is a one-way ticket. Z says she hopes Paulie wants to talk to her outside the game because she would want to.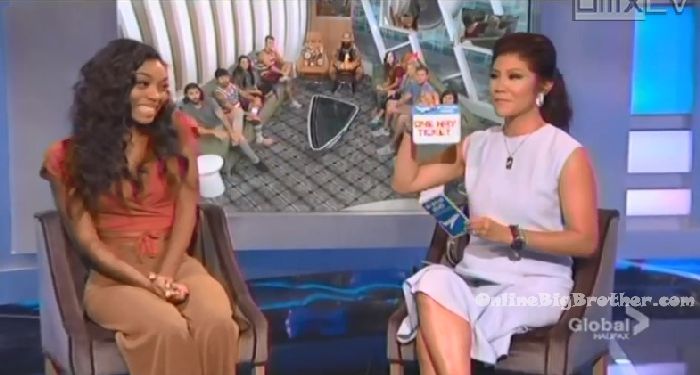 1st HOH competition "Statcathalon" winner is Corey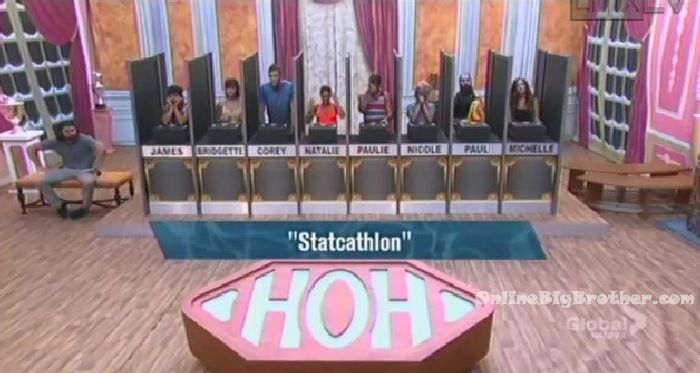 Nominations are Bridgette and Michelle
POV players are Corey, Bridgette, Michelle, Paul, Nicole, James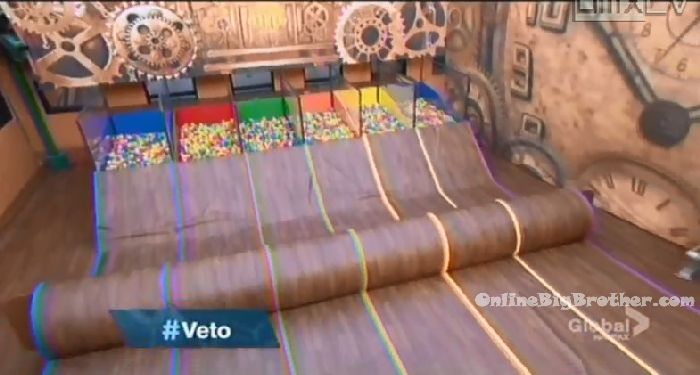 Nominations after POV are Bridgette and Michelle
Michelle calls Nicole out for being a snake.
Natalie votes to evict: Michelle
Paulie votes to evict: Bridgette
Nicole votes to evict: Bridgette
Victor votes to evict: Bridgette
James votes to evict: Bridgette
Paul votes to evict: Bridgette
Evicted house guest is Bridgette
Bridgette has a one-way ticket and will not re-enter the house.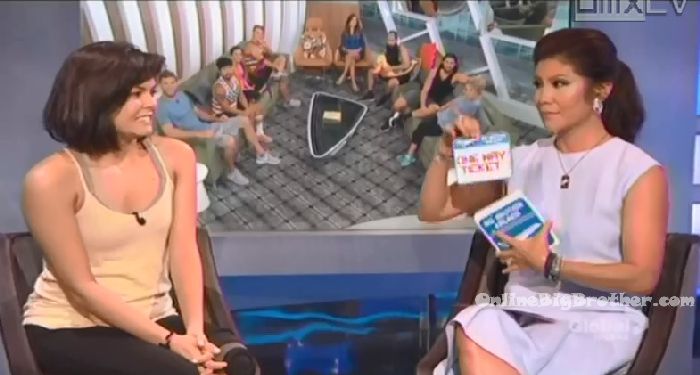 Second HOH is played tonight..
NEXT FRIDAY there is another special episode!

HELP keep the spoilers coming. Show your support by making a donation.