POV Holder:
Paulie
POV Competition
Aug 6th
POV Used
NO!
POV Ceremony
Aug 8th
HOH
Victor
Next HOH
Aug 11th
Original Nomi1nations:
Michelle AND Zakiyah
After POV Nominations:
Michelle AND Zakiyah
Have Nots
Bridgette, James, Corey
Watch the next week of the feeds for FREE – 1 week Trial!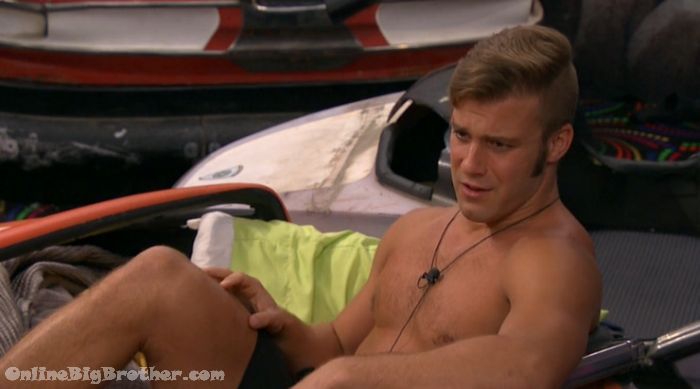 9:52pm Have nots Paulie, James, Corey
Paulie – Bridgette is leaking information.. Shit Natalie said to Zakiyah literally verbatim is what I said.. Girls being disposable.. Girls being disposable.. I was trying to get her hit list..
Paulie lists off a bunch of stuff Bridgette is leaking, "She's playing all sides of the fence"
Paulie says James' girl is falling for this.
James says PAul and Bridgette have been saying things.
Corey – Does Paul want Bridgette out next week
Paulie – PAul wants Nicole out
Corey – that's f***g news to me
Paulie says Bridgette got into Paul's head.
Paulie – Bridgette needs to go..
James – there's a lot of people he said she said.. I feel like Frank's back in the house
James – i'm trying to be a straight shooter..
James wants to call a straight shooter.
Paulie – I know who my f***g targets are so I give zero f***s
Paulie says he wasn't planning on getting Natalie out but after what she did to him, Z and James after James has been protecting her all along.
James spills what Bridgette told him about what they were saying. Paulie says he's 100% loyal to them 3 says Paul and Bridgette are playing both sides.
Paulie says all the information he gets from the other side he give to James and Corey.
Paulie – I'm find with Bridgette and paul and i'll talk to Vic.. I ain't going to lie bro I don't like what Natalie did 1 bit I don't play that shit.. Not just you but what she did to Z
Paulie says they are the calm cool collected part of the house
Corey – we have to make sure Michelle goes out tomorrow James.. That would be bad.. Bridgette, Paul and Vic they are going to come back and screw our couples up..
Paulie – Vic will do anything to make the 5 guys make it he's like Caleb..
Paulie – BRidgette is lying and she's taking a shot against a f**g guy.. I wouldn't be surprised I won't be sitting next to James.
Corey – PAul is on a power trip right now.. He won a HOH and thinks he won a house
Paulie says paul is going overboard with "Strategy"
Paulie wants them to go final 5 guys "I trust you and I trust you and I trust Vic.. everytime he wins a girls going up until they are all gone.. Paul I don't know.. He'll put 2 girls up and backdoor a guy."
Paulie says Paul is behind a lot of this..
Corey – I'm starting to want Paul out before Vic now
Paulie – I'm fine with that.. He's the only one that can put thoughts in vic's mind
Corey heads to the washroom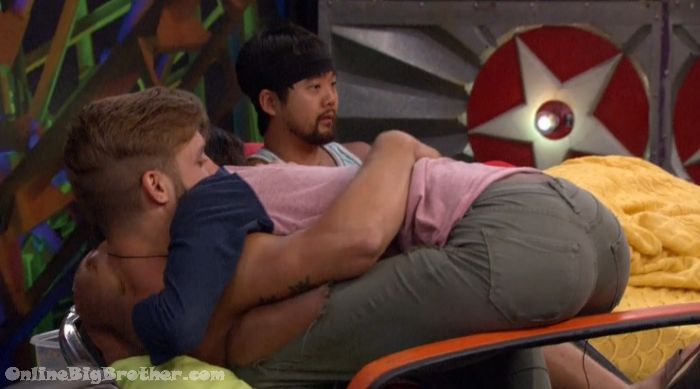 Zakiyah comes in give out some hugs..
(James spilled a lot just like we expected)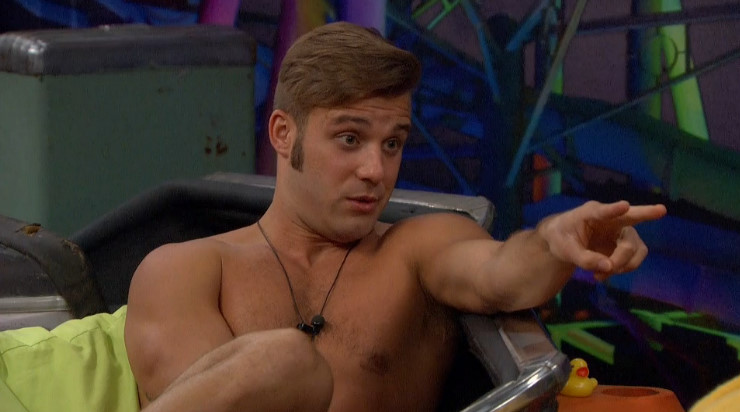 10:18pm Have nots James, Zakiyah and Paulie
Paulie – I'm about to go off.. Y'all better plan on winning or you two are going up and if Veto is used you are going up
(Paulie points and imaginary people.. He's meaning Bridgette, Paul, Natalie)
Paulie – Paul threw me under the bus to him (James)
Zakiyah – this game is going crazy
Corey comes back..
Zakiyah says Bridgette is saying Paulie is getting the single vs the couples and the couple vs the scingles.
Zakiyah impersonates Bridgette mocking her
Paulie back to blaming it all on Bridgette and Paul, "I have no problem putting the fear into people before a competition.. If you don't win you are going home and if you don't win again you are going home"
Corey – they are throwing a hail mary because they don't know what to do
Zakiyah says the girls are telling her she's was the initial target
Corey calls that bullsh1t
Zakiyah Leaves
Paulie saying he's like his brother he blends in to get information he teamed up with 1 guy Derrick and they picked people off, "They think they are pulling moves right now.. Who does she (Z) keep coming back to giving information to.. Me.. who keeps opening their mouths in front of me.. Everybody.. Who's opening their mouths in front of him (Corey ) everybody "
Corey – theres 6 of us in a group now..
Paulie says they need to win both HOH's during the double
Corey wonders what Natalie would do if she won HOH.
James tells them Natalie will do whatever Bridgette does
Corey – worst case it's 5 on 3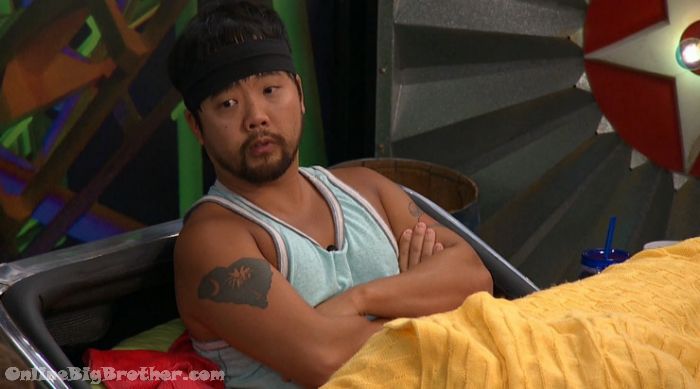 Paulie – what she did to Z today proves she's a f****G idiot (James doesn't say anything like a champ)
James – I don't think she'll win anything.. At least not mental
James says Paul is telling him that Corey and Paulie are a lot closer than everyone thinks.
Paulie – before coming in here Derrick, Cody and my dad said link up with people you can trust.
Paulie – that's what I did
They start to scheme how they will get everyone to target Bridgette. (James is quiet)
Corey says they need to get Paul and Vic back on track.
Paulie says the other night Bridgette and Paul were bouncing James name around.
PAulie says Victor and Paul have a final 2.
Paulie says Paul grabs natalie's thighs and she's pissed at Paulie
James – i never heard about that
Paulie says people are getting played.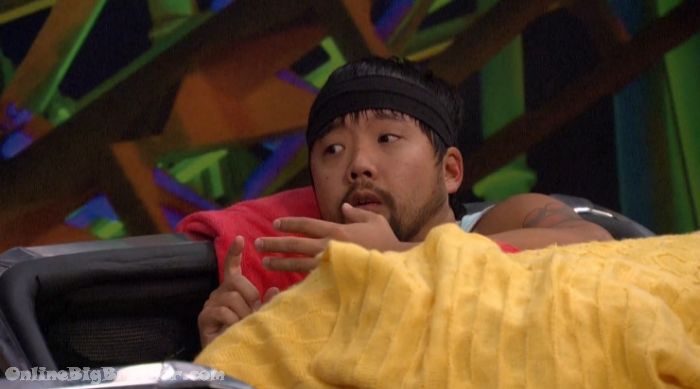 James – A lot of them trying to use me to get shit started cause I have the two votes..
James- they are trying to come at me so i'll get pissed and to crazy shit with them.. Everybody was coming to me dude.. They were telling them all sorta sh1t.. Natalie came to me ..
James lists off all the people last night. (LOL great)
James – I feel like they were trying to f** with me
Paul comes in chit chat goes back to bed..
11:00pm Paulie going on and on that Paul is worse to Natalie than he is and James sits there's and eats it up
James – i didn't want to be in any f***g showmance coming in here..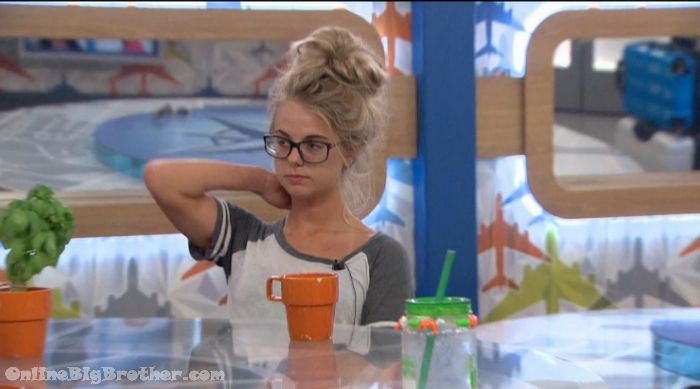 10:25pm Nicole worried
Don't forget page 2 link here