POV Holder:
Paulie
POV Competition
Aug 6th
POV Used
NO!
POV Ceremony
Aug 8th
HOH
Victor
Next HOH
Aug 11th
Original Nomi1nations:
Michelle AND Zakiyah
After POV Nominations:
Michelle AND Zakiyah
Have Nots
Bridgette, James, Corey
Watch the next week of the feeds for FREE – 1 week Trial!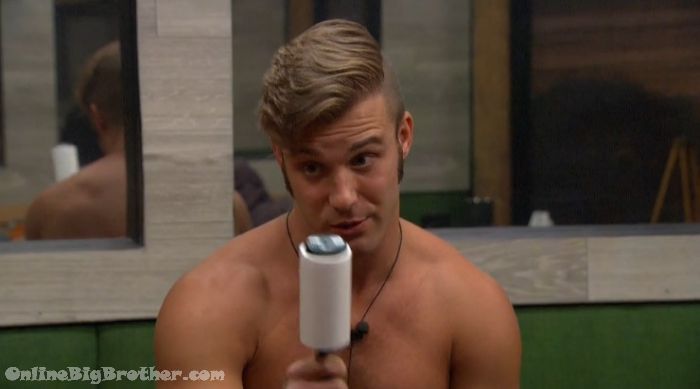 7:57pm Safari Room Paulie and Zakiyah
Zakiyah going over what natalie said..
Zak says Natalie is telling people to put Zakiyah up with Natalie.
Zak mentions the Venezuelan booty.. "She was just talking about sh1t"
Paulie – Literally everything that she is guilty of she's putting on me
Paulie – she' clearly got to you..
Zak – what are you doing
Paulie – I'm going to go say something to her
Zak – don't
Zak says she got sad she wants to talk to her mom she still trusts Paulie. Zakiyah says she doesn't believe everything natalie said.
Paulie – I don't like Jersey girls that is a classic move..
Paulie – I'll bury her
Corey comes in says he'll bury Natalie
Paulie – what is she doing with James.. Should I go say something right now
Corey – I have your back.. Everyone will have my back over hers anyways.. (LOL can't wait)
Zakiyah brings up some information natalie had about how Paulie is running the house. Says Zakiyah is not part of the Nicole, PAulie, Corey alliance.
Paulie – Nobody talks with her
Corey – I never talk to her
Paulie – She's got balls bro
Paulie says his booty comment was made because she was running and her booty was hanging out..
Paule goes on listing all the things Natalie does.. "She compliments my looks all the time.. Whatever she's typical Jersey girl"
Paulie says Natalie is going home next week.
Corey agrees.
Paulie says he's seen thousands of girls like Natalie in his life. Paulie is now pissed that Natalie made Zakiyah cried says Natalie has no emotions.
Zakiyah says Natalie said the word disposable a lot of times.
Paulie – definition of disposable is you you (Natalie) you offer nothing you are disposable
Corey – We've been nice to her for so long and now she's acting like this towards us
Paulie – Schemer now she's going home
Zakiyah – I'm the bottom of the totem pole
Corey – what a big mouth
Paulie – Jersey girl
Nicole comes in
Paulie – do I just keep my mouth shut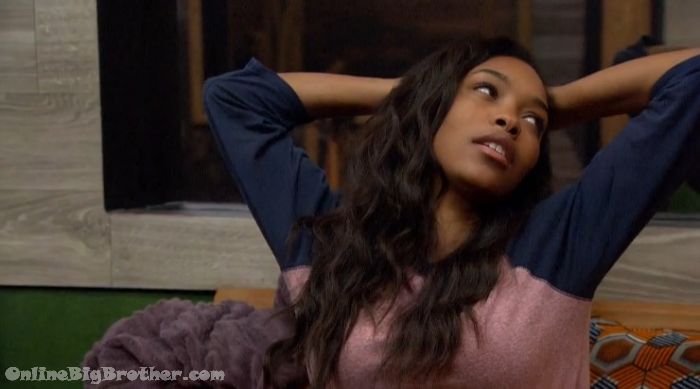 Zakiyah continues to mock Natalie
Paulie says Natalie begged and cried to him and Paul so she wouldn't be nominated.
Paulie – I will now put you on the block every single time I can put you the block
They now start wondering where Natalie got some of the information.
Nicole – what did she come here to do
Paulie – float to the end until the end like Victoria but Victoria never opened her mouth
Nicole – Victoria was good
They are salty because Michelle is now "BFF's" with Bridgette and Natalie
Nicole – I'll never flip like that . (OMFG this is too good)
Paulie about Natalie "You're a F***ing liar you're a F***ing schemer"
Claims that he only flirted with Natalie wht wams as he flirts with everyone in the house
Paulie – "i'll be like everything about you is fake. The words outta your mouth Your f***ing eyeliners and you're f***G fake t1ts get the f**k outta here..
They start talking about how horrible natalie is, Paulie keeps calling her schemer.
Nicole says Natalie isn't as sweet as she plays says she's dances on tables and makes out with people at bars.
Paulie says he knows Natalie's crew from High School
Nicole – I'm confused why she did this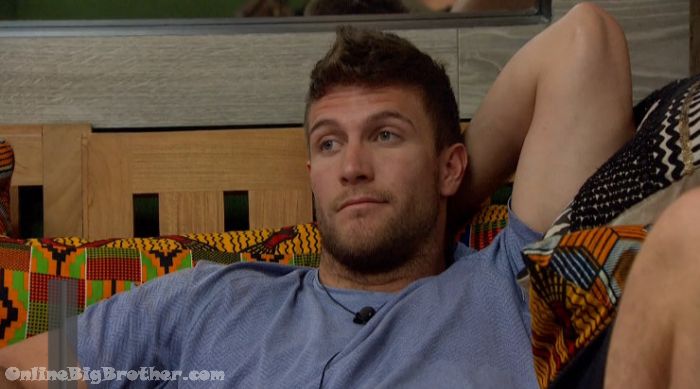 Corey – she's a idiot
Zakiyah says Natalie was really close to her
Paulie says that's a nonverbal technique to draw you in
Corey says natalie won't win anything there's no point to get emotional.
Zakiyah says Natalie is trying to bring her down before tomorrow.
Nicole leaves..
Paulie – I don't understand why James is still up her f**ing a$$, she's got him good
Paulie says natalie is a liar she was lying about her fake Breasts.. Adds that nobody will vote for Natalie maybe just Bridgette. Paulie wants them to take Natalie out first then Bridgette, "Peace"
Paulie – "Cody and our group of friends any girl tries to do that .. bye.. You're outta here .. we're not even f***G nice to her"
Paulie moves in for a Hug #BB18 @DawgsBigBrother pic.twitter.com/v0CrefEWyg

— OnlineBigBrother.com (@bigbspoilers) August 11, 2016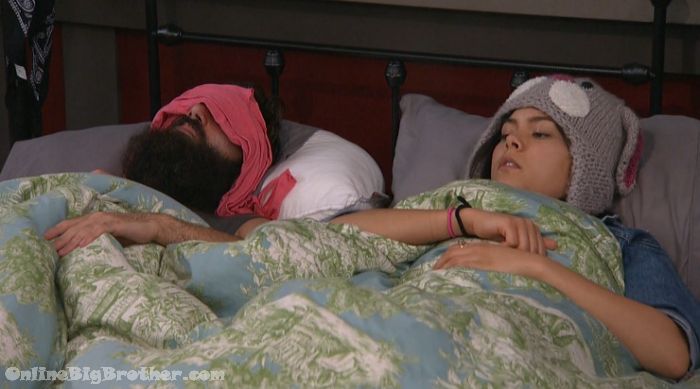 8:26pm Bridgette and Paul
Bridgette says Zakiyah, Paulie, Corey and Nicole were having a meeting in the safari room, "Sketch"
Bridgette – Natalie was telling me that Z really believed her
Paul doesn't believe it
Paul says word had already gotten to Paulie yesterday so he talked to Zakiyah about it.
James comes in.
James says Zakiyah was crying to him in the bathroom, "She's blinded by love he'll say I'm sorry it was strategy I won't do it again.. She might forgive him"
Paul – "Eyebrows are going to be on Meech and your girl we're going to have to pull a W"
They agree Paulie goes first after that they decide over Corey/Nicole
James says after this week that whole side is coming after them.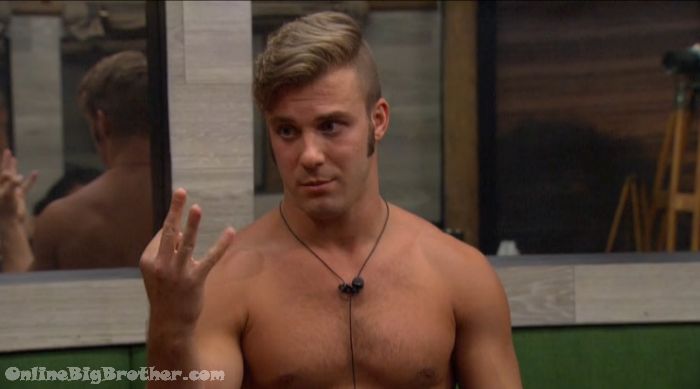 8:44pm Paulie, Corey and Zakiyah Safari room
Paulie now wanting to get Bridgette out first.
Zakiyah about Natalie – she's something else..
Paulie – I know f***g Nicole can't stand Natalie.. I can't stand the girl
Paulie – I'm going to talk to Bridgette be like hey Natalie is saying all this stuff where is she gettign it from.. only 3 people Michelle, Bridgette or James
They don't think it's James.
Paulie is going to tell Natalie she's going home next because she's turning on the people trying to protect her, "that means you are a f****g idiot.."
Corey – it does.. (you go Corey)
Paulie – what do you know about a serious relationships and no the guy you lost your virginity to is not a serious relationship
(Natalie said Paulie doesn't want a serious relationship with Zakiyah)
Paulie starts bringing up a guy that dated Natalie in high school
Cut to feeds…
When we're back Paulie is saying we're just going to remember Natalie for a dumb move calls her a "fake a$$"
Paulie – I've darted a Latin women that did this.. when I dated 1 Brazilian girl all the other ones were extra affectionate .. I was like f**ing not interested..
Paulie – they want to be something to say they can
Corey – they find power in it..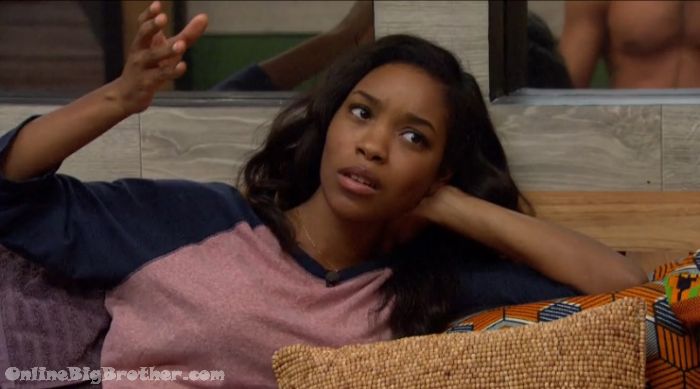 Zakiyah – I'm not saying anymore I don't want you to get AMPED up
Paulie says people underestimate how "F****g" sharp his tongue is "Theres so much I know, observe. I can cut people at their f*****g core with my words.."
Paulie – I will f***g unleash I'll state facts about you you never knew existed but you did know existed .. and it'll make you f***g cry .. like male or female doesn't f***g matter.. shit that will stick with you for f***g years after I say it.. sorry it's a Scorpio thing ..
Corey – I'm the same thing.. i'll bury you alive..
Paulie says he listens to every single person every word so that he can tell the type of person people are "Zing zing zing"
Paulie – not a trait I'm proud of I only use it when I'm really pushed..
Paulie says Natalie has no idea how to play the game she should keep her "f**ing mouth shut". Corey calls her the new Jozea.
Zakiyah says Natalie thinks she was risking her game telling her this
Paulie – what are you risking you can go home whenever someone wants you home
Paulie saying he's got Arrows lined up for Natalie Verbal arrows..
Paulie – I'll make sure America see the real you [Natalie] outside this house"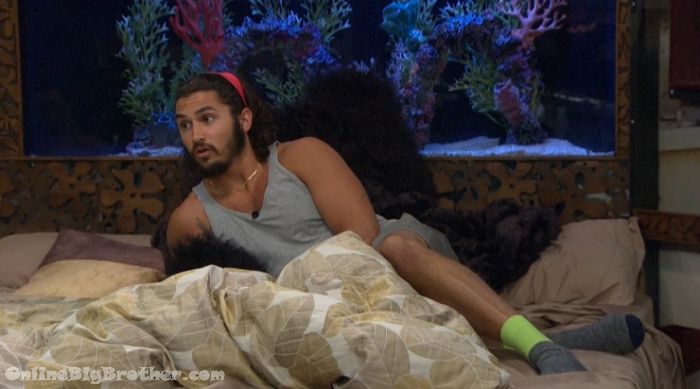 9:00pm HOH Victor and Paulie
Paulie says James and PAul are sleeping. Victor plays dumb says it's been a quiet day. (LOL love it)
POaulie – the girls are starting to play emotionally
Paulie starts to retell what Natalie did to him every second word is "F****G" Victor does a great job of playing dumb
Victor – all this happened before a double eviction
Paulie is putting a lot of Blame on Bridgette scheming and telling Natalie. Paulie thinks Natalie is dumb.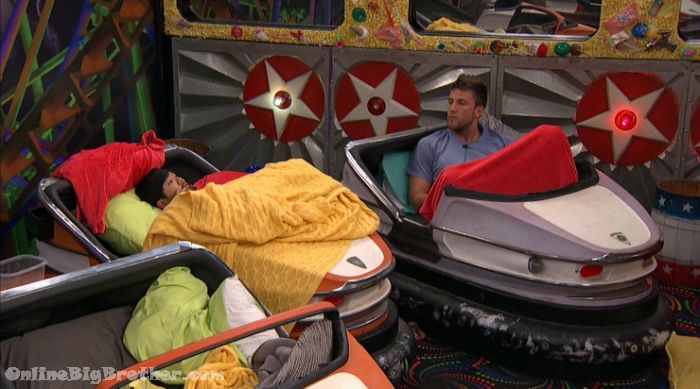 9:05pm Have nots James and Corey
Silence.. awkward…
Corey – Have you deiced what to do with your votes.
James – you volunteered right
Corey – ya
James- and Paul
Corey – me and Paul.. fine with me dude..
Silence……
Corey – what yo thinking .. what you thinking over there
James – how many days we've been in here day dreaming about the outside..
Corey – cool
James says him personally wouldn't say anything about someone else girl
Corey – I don't know what he said.. But I've said something to make the girls feel better about themselves.. or jokingly.. I tell Zakiyah she looks good all the time..
James- the girls are coming together they sympathize emotional with each other they're not dumb they piece thing together .. they look out for each other like the guys look out for each other..
Corey – I don't think he's the kidna guy to flirt with Natalie.. to be honest with you.. he said her booty was hanging out.. he's saying it in a way that is like .. almost like a sister..
James- the girls are saying he shouldn't say that because of Zakiyah and how jealous she is
Corey – Hmmm mhhh yes and no..
Corey wonders why Natalie is looking after Z now they never liked each other.
Corey – Natalie going to Z and saying stuff is stupid
Jame s- Z likes Paulie a lot
Corey – this is not a dating show.. that's ridiculous.. Nicole likes me a lot are you going to run off and tell Nicole that I told Z I was pretty.. what's the point of that..
James says Paulie was making her feel uncomfortable
Corey – bull crap.. Natalie had been doing this stuff since day f***g one.. remember when it was me..
James – theres a lot of inconsistencies with things Paulie is telling people
James- I thought it was me you and Paulie.. but other people are saying it's Paulie Victor and Bridgette..
James says PAulie is trying to get the other side Victor, Paul, Bridgette to take out the couples.
Corey – not even close that's bull crap
James says theres so much sh1t about Paulie there's now way they are making it all up.
James- i'm tired of getting lied to I'm tired of getting played.. f*** it
James says what is happening with Paulie is the same thing that happened with Frank, 'People are coming together'
Feeds flip to the bathroom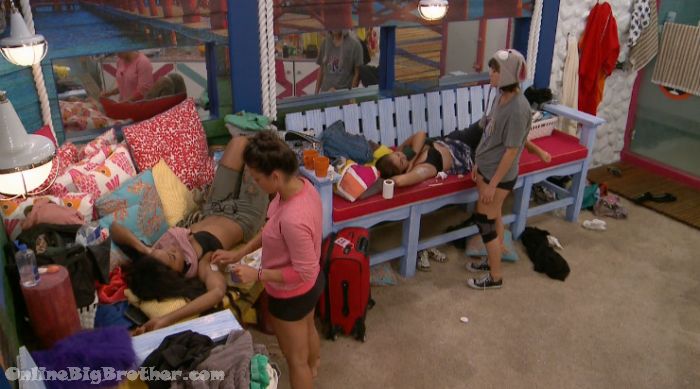 9:25pm Bathroom Natalie Meech, Zakiyah and Bridgette
Zakiyah saying she believes what Natalie said to her.. Adds that Paulie is calling Natalie a Jerseu Girl..
Natalie – how does a state say who I am..
Natalie about what Paulie said – "she's such a Blowj that's how Jersey girl are they are liars.. cause I'm a Jersey girl i'm a liar.. f*** you"
Natalie – he was actually born and raised in Jersey.. I am from another country..
Zakiyah says she has a headache had to take 2 Advils.
Natalie apologizes to Zakiyah
Zakiyah thanks her.
Natalie – he called me a blowj
Zakiyah – my mom is from Jersey
Natalie – I live in Jersey.. he's from Jersey.. that doesn't look good
Natalie says Paulie was the one that got Zakiyah on the block.
Zakiyah – wow
Bridgette – he was playing us the whole time
They tell her Paulie is trying to get the single to go after thee couples and the couples going after the singles.
Bridgette says that Paulie wanted Zakiyah nominated saying if she goes he'll be more free up his time. Bridgette adds Paulie was telling them he wantted to join up with teh single.
Zakiyah – WOW
Bridgette – Paulie told James that I told Paul I was going to put James on the block if I won"
(I don't know what BlewJ or blowj are)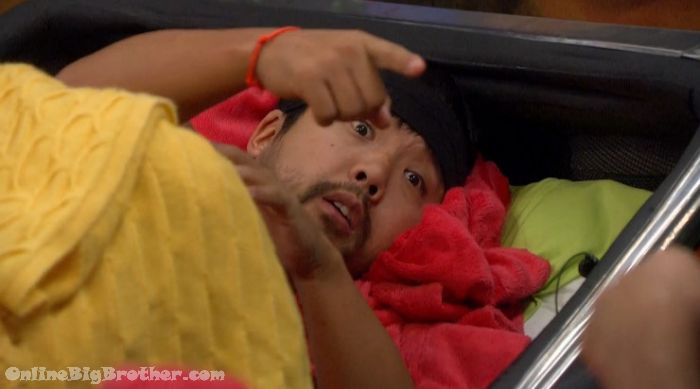 9:41pm HAve nots Corey and James
James – Natalie wants to f** some sh1t up..
Corey – are they flipping on Paulie
James – I'll still veto yours and PAuls vote..
Corey – I'm going to be pissed
James says he doesn't want to be on the side where one person is doing dirt..
James mentions that Victor and Bridgette can win competitions.
Corey – Paulie's not like that.. he loves you he does.. he's not on Paul's or Vics side at all
James- he covered his basses?
Corey – why wouldn't he
Corey says Paulie wants it to be their group of 3 guys.
Corey – I guarantee Paul went and told Bridgette
James – you think he just made everything up.. the group Victor, Paul, Paulie
Corey – yes, Paul wants to call the shots.
[polldaddy poll=9491180]
[polldaddy poll=9491957]