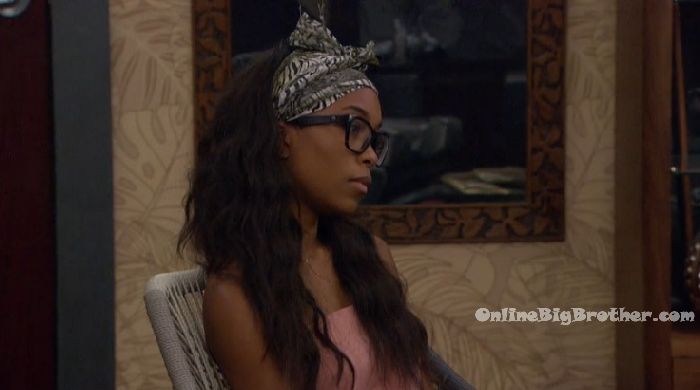 2:35am – 3:45am HOH room – Natalie asks what the freak is going on?! They reiterate what's been happening. Corey asks James if he is okay. James says yeah, I'm just wedged in the middle. Its like with America too… if I drop her because I used her for strategy then they would be mad at me too. Paulie says if you have something to say to me you can. James says no, I don't have anything to say. I'm wedged in the middle because I'm with you and her. Paulie says you guys are a$$holes for holding back laughter. Paul says I was trying to not get involved. Never cared! Z joins them. Paulie says Michelle is going home.. its going to be an unanimous vote. Paul joins them again. They continue to talk about it. Paul says I was just trying to stay out of it. Paulie says I was glad Nat did this because Bridgette was going to be safe again. Paul asks so what's the plan? Paulie says the plan is to get f**King Bridgette out. Paul asks put her up with who? Paulie says Nat after what she just did. Z is cool she is a ride or die chick.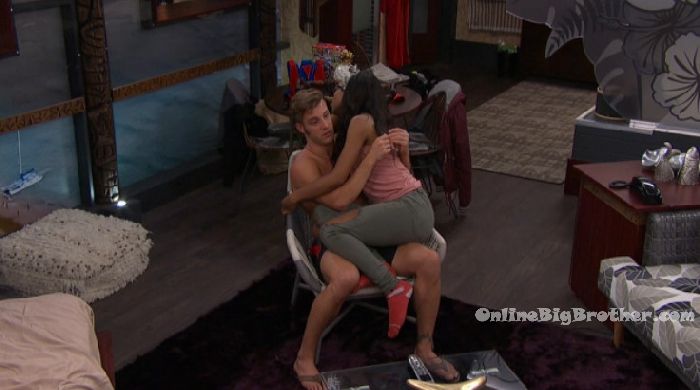 FLASHBACK and watch everything you missed: Live Feed 7 day FREE Trial!
(Prior to Michelle coming in paulie, and paul were chatting
Paul tells James its best for his game to not react and stay clam. Paul says Paulie is on a power trip. It hurts for me to see him turn into a d!ck head. He has Corey that's it. I think Nicole is about to abandon ship. Paul laughs about how Michelle walked by Paulie in the kitchen and said I was going to blow up your game tomorrow but it looks like you blew up your own game.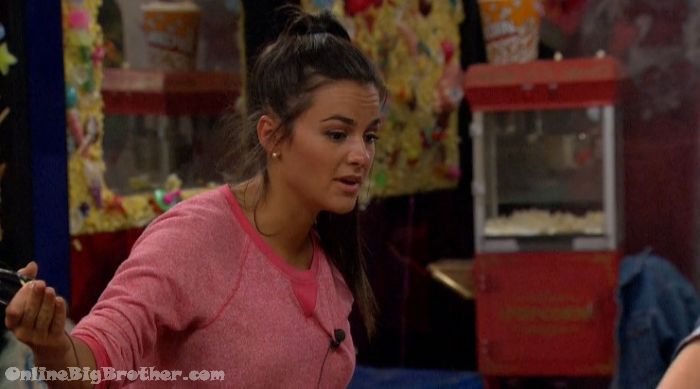 4am Havenot room – Natalie, Michelle and Bridgette. Nat talks about how Paulie said Z is a ride or die chick when literally last week we was talking about putting her up with me. Nat asks why would she do that when I was looking out for her. Bridgette says she's warped. Michelle talks about having a good speech tomorrow.
Natalie is saying that Paulie is telling the guys that Zakiyah is a ride or die girl and just 2 days ago he was wanting her out.
Natalie – we gotta win.. Paulie controls everything Bridgette – if that side of the house gets the next care package i'll freak out.
Michelle – Cody has 200K followers..
BRidgette – i'm sorry does Cody want to defend his brother right now
Michelle – yo don't know how we're being portrayed.
Michelle says she's been talking about how Natalie didn't deserve it last night so they will show her side of the story
Natalie – It's going to be a mental comp
Michelle says they're going to win it ..
Bridgette says Zakiyah thinks Michelle is going to Jury
Natalie – Paulie has a big mouth.. She threw my name again.. I told her what she was doing..
Bridgette – i'm done.. I'm not talking to her anymore
Natalie doesn't plan on helping Zakiyah anymore she's obviously siding with Paulie
Natalie – lets hope she doesn't have the round trip
Michelle – she won't go after us , she won't go after Paulie.. She will go after whoever paulie tells her to..
Natalie – Victor or Paul..
Natalie – this is fun
Natalie says she cares for Paulie as a person but in this game……
Bridgette goes on about Paulie going into a rant of his from earlier today "She's a fake a$$ person.. I'm not talking to her "
Michelle says Paulie is the one being Fake all the time he's showing his true colours
Michelle – he was bragging about taking a 21 year old girl to the bar in vega
Bridgette- they were talking about it to corey today
Michelle l- you spent 800 for a easy bone and found out she is crazy on the plane and dumped her..
Feeds flip to the london room
Natalie – if he blindsides me tomorrow.. I'm not going to be a Zakiyah sorry.. Just between me you and ..
Bridgette – we'll beast it out..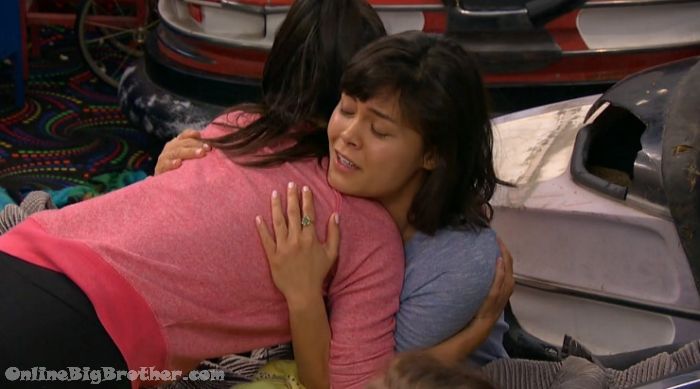 They hug..
Natalie – who would have thought we would work together..
Natalie says the other girls don't like her for their own personal reasons, "I'm flirty and bubbly"
Natalie – there's a double standard.. Cody can flirt with a married women.. "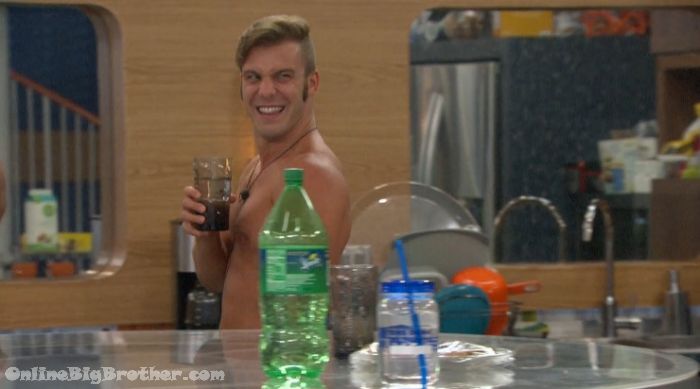 4:14am Kitchen
Michelle – I was going to blow your game in my speech but you did it tonight
Paulie – You think my game it blown up you are out of your mind
Michelle laughs "No it's toast"
Paulie laughs "WOW"
Victor – these cookies are too enticing Bridge
Bridgette – I'm glad you like them I bake with love
Paulie says Frank was literally slapping Da'Vonnes and Zakiyah's a$$ and calling them wores
Bridgette – I don't want to talk about Frank anymore
Paulie – the words uncomfortable mean something
Bridgette – Paulie i'm upset comments were made i'm a feminist at heart and i'll defend women to no end .. that's not game that's me
Paulie – I get it .. the word disrespectful and uncomfortable get spread really loosely in this house..
Bridgette – when I see a women getting shit on i'm going to come to her defense
Bridgette says she feels that Natalie needed an extra voice because natalie couldn't get a word in
Paulie respects that but if there's an argument and her points are lined up he'll call them out
Paulie accepts that natalie is her friends and Bridgette is helping her friend he would have done the same even if his friend is wrong.
Paulie says Natalie is wrong
Bridgette – I don't think she's wrong
Michelle – I'm glad America doesn't get to see someone get 500 000 thousand dollar that picks up random girls at a bar and spend 800 dollars on them to leave them in Vegas.
Paulie – you're right they just saw a super fan that sucks at playing the game
Michelle – i don't care I blew up your game
Paulie – you blew nothing up
Michelle – you're not winning so that's all that matter in my heart..
Paulie – you can think that Michelle
Michelle – you're not going to I'll bet money on it
Paulie – ok how much 500 thousand
Michelle – sure
Paulie – you won't have it to know
Michelle – you won't either
Paulie – someone is upset Ian will never like her
Paulie laughing.. Walks into the tokyo room and tells Corey about his tiff with Michelle..
Corey – what a mess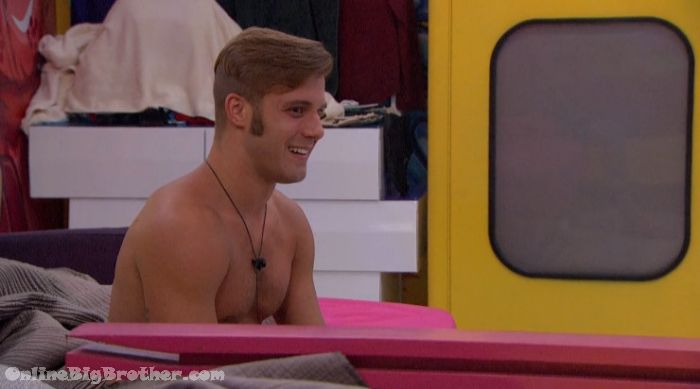 4:18am Tokyo room / London room (From the Tokyo room)
Paulie – she is trash.. Unbelievable that is unreal to me
Corey – jolly dude
Nicole -that's personal and she just goy mad at you for getting personal I don't get it
Corey – there's no reason to get personal
Paulie – now she crying
Paulie screams from the Tokyo room to the London room "I'm sorry are you crying Michelle"
Michelle – yells back 'No i'm literally laughing"
Paulie – you'll be laughing straight to the jury house meet your homegirl Da'Vonne
Michelle – you've manipulated everyone
Paulie yells over her "it's OK Michelle you're still going home at the end of the day
Paulie yells "You are nothing if you come back with the round trip I'm sending you out the door"
Corey laughs in the background
Michelle – I can't hear you you have a girl's voice
Paulie – make up another fake boyfriend and go TP your house.. You jealous child
Michelle laughing "He's so stupid he fights like a girl.. "
Paulie – since you're leaving you should make good TV and do something crazy
Michelle – you blowing up your own game Hilarious
Paulie – wait who did I blow up my game to? .. oh still waiting.. I got you out if thats blowing my game up than OH MY GOD..
Corey – too funny
Michelle – hopefully I have the ticket back BABY, he doesn't scare me he's 5 foot 7
Paulie says everyone was cool in Nicole's season everyone hung out and when it was time to leave they left and counting out votes wasn't blowing up your game.
Nicole says she's laughing so hard "I'm going to pee my pants"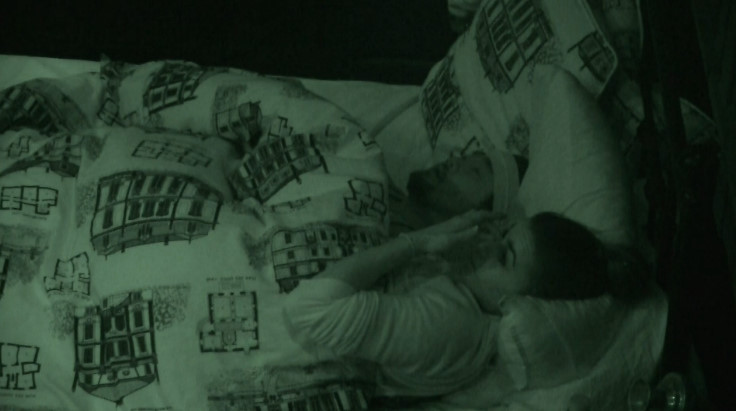 4:18am From the London room Paul, James and Natalie
Paul jokes – Nat you don't like James.. your a liar typical Jersey girl cause they are all the same..
Jame s- dude that's teh funniest thing ever I was going to blow your game up tomorrow but looks like you already did
James laughs "what the f** who says sh1t like that.. Paulie is probably over it"
Michelle comes in .. they are all giggling
Michelle give them a run down of the encounter with Paulie in the kitchen lots of giggling
(The argument above happens i'll just include the parts that were missed above)
Michelle – you made me the target Victor didn't you did this is your HOH the whole time..
MEECH – I CAN't Hear you .. you have a girls voice..
Lots of giggling..
Jame s- you're bad a$$
Meech – he's so stupid.. he fights like a girl.. what are yo crying in there.. YA you blowing up your own game Hilarious.. I peed my pants it was so funny
Paul comments that paulie is goign to sh1t his pants
James- oh my god he's going to freaking die ..
Meech says if the other side wins double they can all "Sh1t" on her hard she'll go. they gave her a second chance
natalie – I don't play that way
Meech – i want you guys to go far..
Natalie – James I don't like you I thought this was a prostitution show
Meech – you guys think he's sacred
Paul – YES otherwise he wouldn't be feeding into it
James – don't talk about his (paulies) hair cut he gets really mad at that
Michele – he's a Paul wannabe .. I know Paul is awesome but the fact you have to steal all his f***g words and cut your hair like him and try and grow a beard like him .. you're not going to be Paul man you'll never be as funny as Paul
James and Paul laughing
Michelle – you want to take his words.. fine.. you want to have his hair cut fine.. but you can't grow a f***g beard.
Paul – if you saw that tomorrow i'll literally suck my own D*** tomorrow
Michelle says she's trying to fuel the fire so if Paulie wins HOH he'll target her
Michelle – I'm not afraid of him he doesn't scare me.
Jame s- tomorrow is going to be a shit show..
4:26am
Paul warns Michelle to ZIP it around Zakiyah because sh'es relaying everything to Paulie.
Michelle – IO heard.. frickin throwing Natalie under the bus
James- that's why I can't wait to send her a$$ home
Paul – apparently me and Vic are going on the block because of her
James says Zakiyah is "FAKE"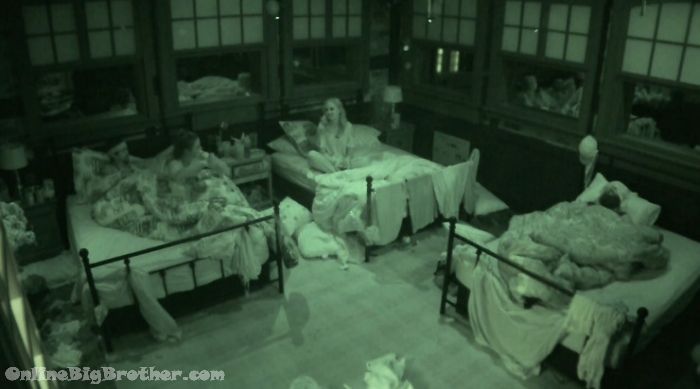 4:40am They start talkign about having to study hard tomorrow.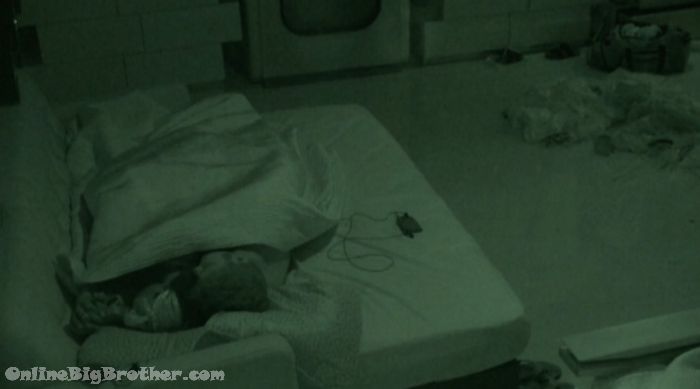 5:30am Zakyah and Paulie grinding away under the covers..
5:45am More London room Natalie PAul/Michelle
Paul is saying that Zakiyah tells Paulie everything
Michelle – Pillow talk
Natalie says Zakiyah and Paulie might be playing all of them hardcore they secretly are in love and are just playing up being mad at each other so Zakiyah can get information.
Paul – he's getting super defensive
Michelle – he's a different person .. in the beginning he always said i'm going to be calm cool and collected that's my personalty
Paul – bullshit
Michelle calls Paulie a baby.
Michelle goes on about all the shit she's goign to pull tomorrow on Paulie to piss him off.
They agree Paulie is too cocky
Natalie – he (Paulie) played himself into a knot
Paul – now he's scurrying .. dude he told James how high up I got on your thighs..
Natalie says she made the right decision starting all this, "He's been throwing my name out and laughing at me.. He's been fake to my face.. "
Michelle – dude you know what if I win HOH before nomination that whole 24 hours i'm goign to be like hey Paulie wouldn't it be fun to put you on the block.. wouldn't it be hilarious that I get to put you on the block.. you know what is even more hilarious is you don't get a chance to play POV.. Hilarious..
They agree it'll be really hard to get Paulie out he'll win the POV.
Natalie – does James respect me behind my back
Paulie – 100%
5:56am same group in the London room
Michelle – Nicole is hilarious.. she comes in here saying don't say anything bad in your speech because I care about you as a person
Paul e – you should say something about her
Natalie – that so funny I've heard 5 people in this game call her s snake .. 5
Michelle – yup Jozeas was right… Hilarious.. now we sound like him
Paul says she started all the lingo in the house (he's almost right most the lingo being adopted by the hive mind is Paul's but surprisingly some of it is Corey's and some is Paulies)
Natalie – he literally adapted his social game and tried to be you (Paul)
Michele – he never swore in the beginning now he's F** F** F** like you
Paul – what can I saw I'm a trend setter .. fool tries to me doesn't succeed.. blows his game up
Michelle about Paulie – his true loyalties are Nicole and Paulie
Natalie about Zakiyah – I have zero respect for that girl
Paul – she's a idiot.. stubborn, hard headed, manipulative, sociopaths, narcissistic . .. I called it from day one
Michelle says paulie is always looking at him self in the mirror
Paul – I was talking about Zakiyah.. but Paulie to
Natalie – they deserve each other
They agree Nicole is not nice to girls.
Michelle – me, her and Zakiyah were close and she screwed us all over..
Michelle about Nicole – she can't play this game without a showmance
Paul says it's tacky that Nicole keeps coming into the game looking for showmances.
Paul says Corey is just using Nicole
Nicole and Michelle agree
Natalie – I'm not talking to Corey and Nicole anymore
Michelle – not after they laughed at you
6:20am sleeping.. finally..
7:42am Still sleeping.. (Maybe I will to)
This flip is going down as of 7:50am Zakiyah is going home. I don't see James flipping back to Paulie so much damage has been done to Paulies, Corey, Nciole's game they are lucky Paulie can win all the comps.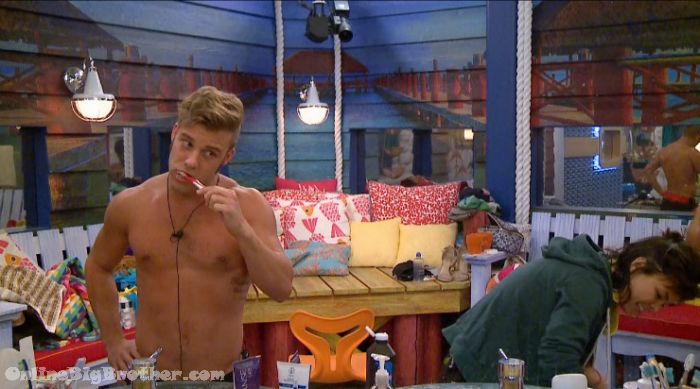 10:35am Feeds are back on.. hosueguests called into the HOH for Lockdown.

[polldaddy poll=9491180]
[polldaddy poll=9491957]