POV Holder:
?
POV Competition
Aug 6th
POV Used
?
POV Ceremony
Aug 8th
HOH
Victor
Next HOH
Aug 11th
Original Nominations:
? AND ?
After POV Nominations:
? AND ?
Have Nots
Bridgette, James, Corey
CBS All Access: Live feeds are only $5.99 per month – Try it FREE for 1 WEEK!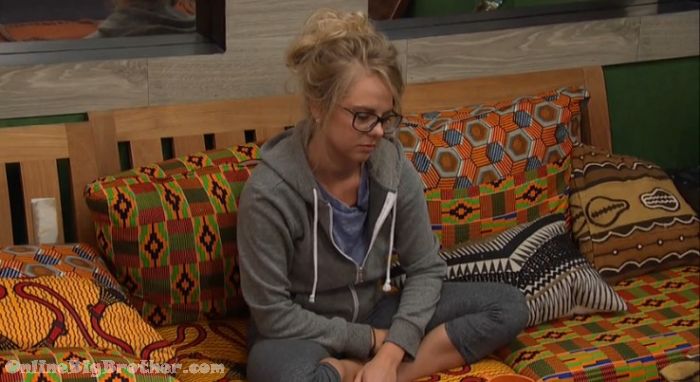 11:41am Nicole alone in the Safari room
Nicole – just so you know out there" Corey… I have never met anyone out there like that before.. So so so nice, so genuine so caring so selfless… his Morals are so great.. he's the most mature 25 year old I've ever met my entire life.. it's a little distracting.. and he's super cute… I think I would be crazy not t have a crush on him..
Nicole – he's athletic, smart.. Totally out of my league.. but we won't say anything about that.
Nicole – I freakin love Paulie.. i'm not going to lie freaking love him..
Nicole – I love how determined… I love how he's on my side if he wasn't on my side I would be scared to death.. I trust him 100% with my Big Brother life. It's very bizarre..
Nicole – I did not think I would make jury again to be honest.
Nicole – it's fun.. I'm literally playing Big Brother this time.. I can't say enough good things about this game.. it's the best thing experience..
Nicole really wants to make it to Zingbot but she doesn't want to hear what Zingbot has to say.
Nicole goes on about she loves Big BRother and loves playing the game this time around.
Nicole goes on an inspirational speech to us down an out live feeders..
12:40pm
Nicole – theres pairs, Paulie, Z, Z and Michelle.. Z has got to go..
She goes on to list, Natalie/Bridgette and Natalie/James. Explaining if you are linked to more than 1 person you got to go.
Nicole says she honestly thought she would have to play with Hayden this season.
Nicole – he would have screwed me over already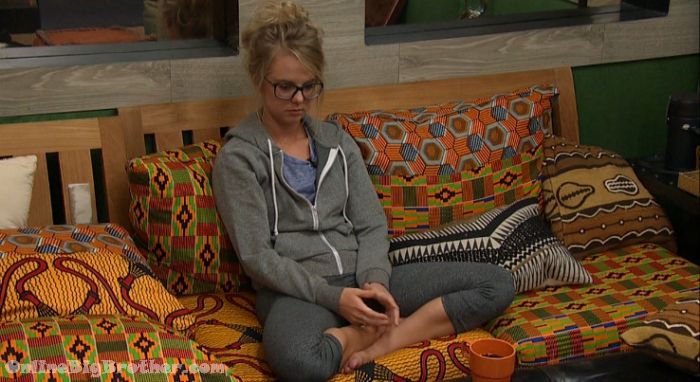 12:56pm Nicole and Corey
Nicole telling him that they have to get the people that have more than 1 connection.
They speculate who Natalie would put up. Nicole thinks it would be two boys.
Nicel – Natalie promised me she would never put me up.. She said she would never go after girls in this game.. She said she's a girl girl.. She only wants a girl to win.
Nicole says if Natalie put her up it would be for personal reasons.
Nicole says if Victor takes her out in this game she's cool with that but if it's Natalie she's not cool about that.
Nicole – I don't want James to know what.. If I ever get her out it'll be as a pawn.
Nicole says she'll tell Everyone Natalie is the pawn then get her out, 'Victoria situation for sure"
Nicole – I don't think Z and Meech will put us up..
Nicole wants Natalie gone this week but knows she's not going to be nominated at least in the beginning.
Corey isn't as convinced Natalie should go so soon.
Nicole lists off the parallels of this season with BB16
James is Derrick (WTF NO)
Cody is Paulie..
Victor is Caleb "100%"
Paul is Franky
COrey is his own person
Nicole – I'm watching season 16 happen all over again… Michelle is Christine
Corey – I don't think James is Derrick
Nicole – he's the best social gamer in here.. He hasn't been on the block nobody want to put him on the block.. He's a secret Derrick
Nicole – what do I do to stop the same dang thing from happening again.. They're more girls in here at this point.. They used Caleb just like Victor he'll; do the dirty work.. It's exactly what happened
Corey how ironic
Nicole – Caleb put up me and Christine
Nicole – i'm trying to think in 16 what I could have done to make things different.. .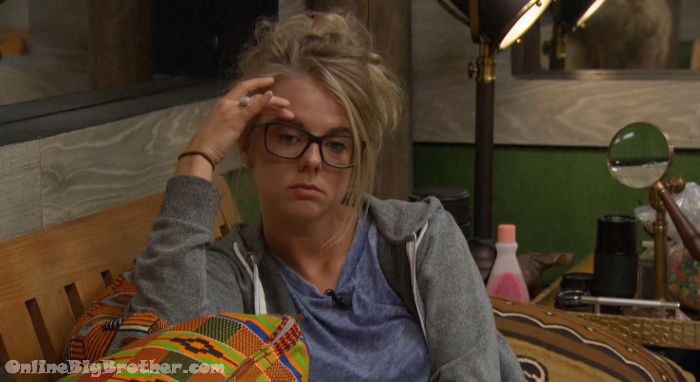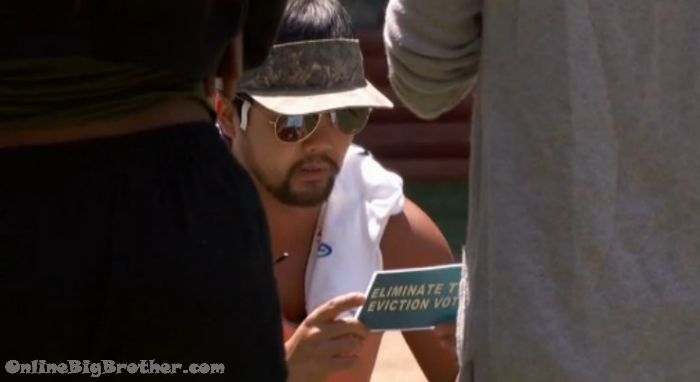 2:22pm James gets the care package.
James – eliminate two eviction votes at the next live eviction
Natalie – America James is wearing my pants right now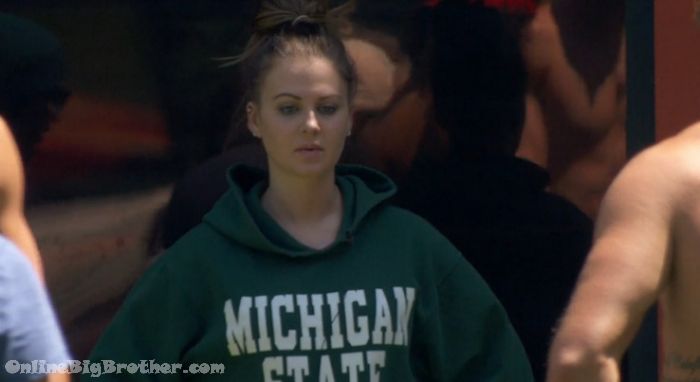 Michelle isn't happy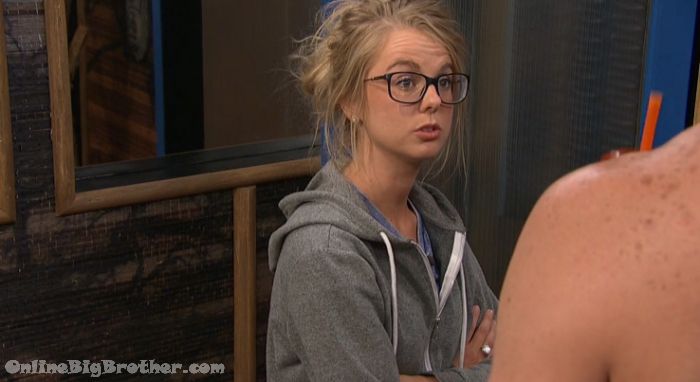 2:32pm Corey and Nicole are having trouble dealing with the fact Natalie and James may be popular to watch for the fans.
Nicole says it's bizarre to her that Natalie would be the favorite.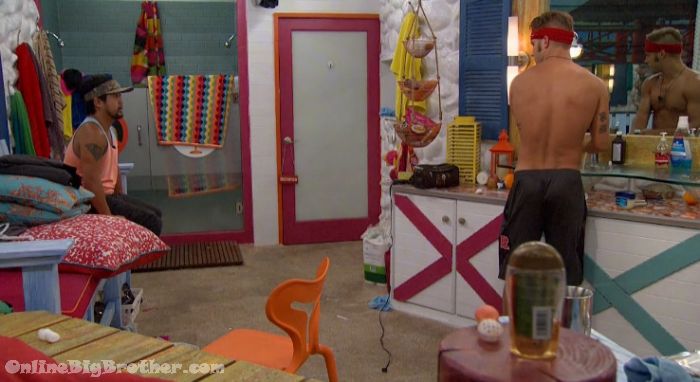 2:34pm James is telling Paulie he really doesn't see the point in using it this week.
Paulie – it's not bad
Jame s- this is one of those you put someone up that you don't have the votes to take out..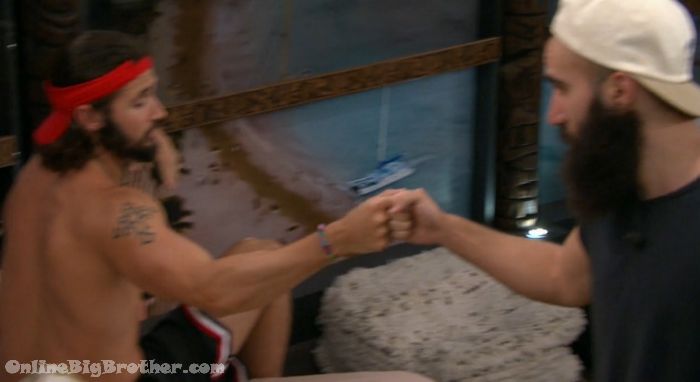 2:29am Victor and Paul HOH
Paul says the better ones are saved for the end they are eligible to win those.
Victor – I'm surprised James got it..
Victor – if I do some f***d up sh1t america you better save me.
Paul asks him how the Nomination speech is coming..
Paul – please do the beads.. do the beads..
2:41am Have nots Zakiyah and Michelle
Zakiyah – why the hell did I drop
Michelle – do you thin If Paulie played Veto and he won would he save me..
Zakiyah – I would ask him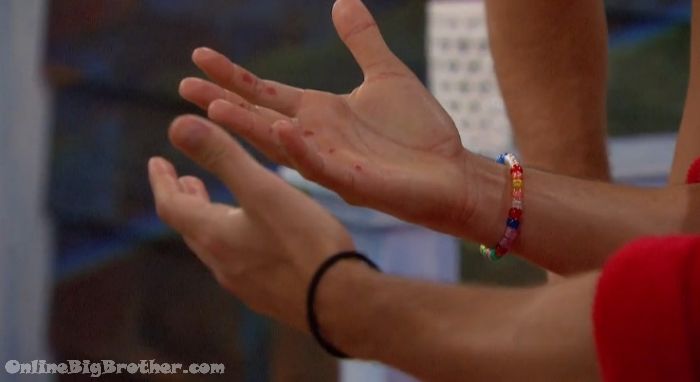 2:43pm Vics hands are still f****d from the HOH competition.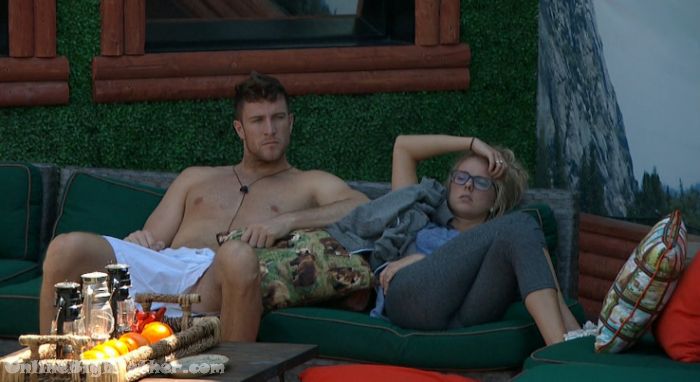 2:44pm backyard is open.. WTF
Nicole going on about not getting the care package, 'I'm over thinking it.. they want me out so they gave it to James"
Corey – james is the mocentral player…
Nicole now thinking that James would use the care package to protect them. James walks by .
Nicole – congratz.. you are loved..
James – i'm going to X all your votes.. just kidding..
They asks him to not X both of them
Nicole – I wouldn't do that to you and Nat
James – i'm not going to X you C'mon..