POV Holder:
Paulie
POV Competition
Aug 6th
POV Used
NO!
POV Ceremony
Aug 8th
HOH
Victor
Next HOH
Aug 11th
Original Nominations:
Michelle AND Zakiyah
After POV Nominations:
Michelle AND Zakiyah
Have Nots
Bridgette, James, Corey
POV was not used nominations stay the same
Watch the next week of the feeds for FREE – 1 week Trial!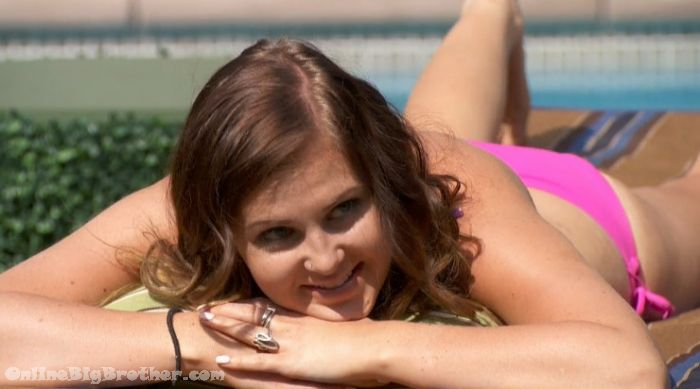 10:18am backyard James and Michelle
James – what's up MEE-chelle..
Michelle – soaking up the rays
Michelle says she's going to campaign today and tomorrow, "I dunno"
Jam es- well no matter what happens you'll be in jury it's a good experience to go to Jury.. I did it..
Michelle – I'm counting on you to win.. Get to final 2. I would love to see you win.. I would love to see natale win.. I never thought I would say that
James – she never knew about this game.. I tried to keep her under the radar.. I could leave her and she would do her own thing..
James – Took her under my wing.. Taught her the ways and released her into the BB word.
James wants someone to win that will be smart with the money.
Michelle says Paul is loaded.. "He owns a company he has no credit card bills not college bills he lives in a big house.. At home no expenses.. "
James says COrey is well off
They agree Natalie needs the money, "she knows what it's like to be friggin hungry"
Michelle – Paulie doesn't need the money
James- Paulie's family is taken care of..
James- it's who played the game the best.. We almost voted for Vanessa last season and she had millions of dollars..
Michelle says the comment she made about Nicole, Paulie and Corey always whispering is where she went wrong.
James agrees lists off a couple more things that Victor included in his speech.
James – you played a good game you made it past Frank and Da… a lot of people.. You made it to Jury
Michelle – you think they want me home
James- no telling.. I'm not going to say no because there's always a chance..
Michelle – I want to warn people before I go.. A couple people I can see going far and people not knowing what they've done or said..
Meech – I could see them winning this game.
James – I could possibly go far in this game now..
James – whatever happens don't be hard on yourself..
Meech – you hinting at something
James – no, I'm a realist I'm always expecting the worst
Michelle – I don't think this HOH was strategic..
Michelle – Do you think anyone see Paulie as a threat.. It feels like no one does
James – everyone likes him
Michelle – doesn't make him a bigger threat than
James – ya
Michelle – people are dumb
Michelle adds that Paulie has manipulated people to put up his HOH's 3 weeks in a row.. He's never been on the block as a target.
Michelle – Nicole lied to me and said he wasn't a pawn but he was a pawn that first week
Sometimes I feel like this whole house is oblivious
James – everyone has their time in the game some people sooner than others..
Michelle says Tiffany, Frank and Da told them not to trust Nicole and now Michelle is believing them.
Michelle – none of them would have put either of us up
James – ya you're right
Meech – should have kept them
Meech wants to start letting the house knows she's targeting Paulie and Nicole
James says that will just sharpen their efforts to get her out.
Meech – I only need three votes.. Nicole, Paulie and Corey won't matter
Me Zakiyah, Paulie and Nicole we were working together
Michele says PAulie called it an alliance last week, "Both of use on the block and he wouldn't save us shows the crappy person you are.. And he knows I'm onto him"
Michelle – in my opinion Paulie and Nicole are running this house..
Michelle – I just hope this season isn't filled with dumb people that are oblivious..
James says they can't look back at what happened they have to look at the future adds that people's game change week by week.
James – I'm at the mercy of the house hopefully I don't get targeted for something small.
Michelle – be on your watch cause they can target you for something small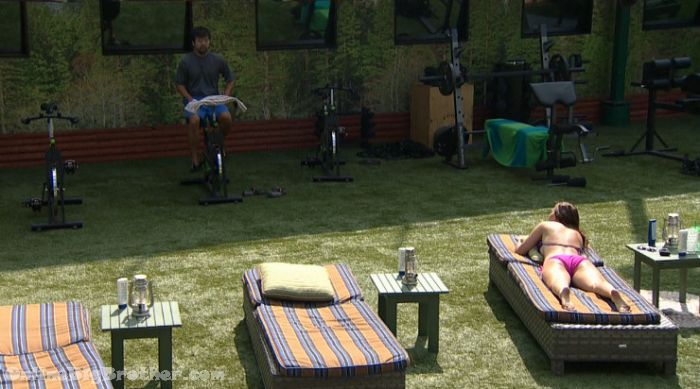 11:51am Nicole falls off the couch..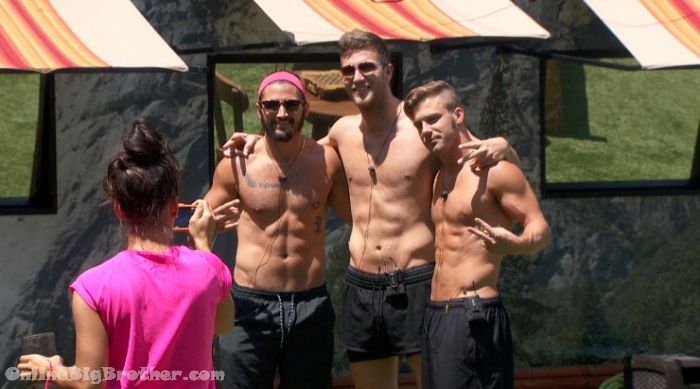 HOH Pictures..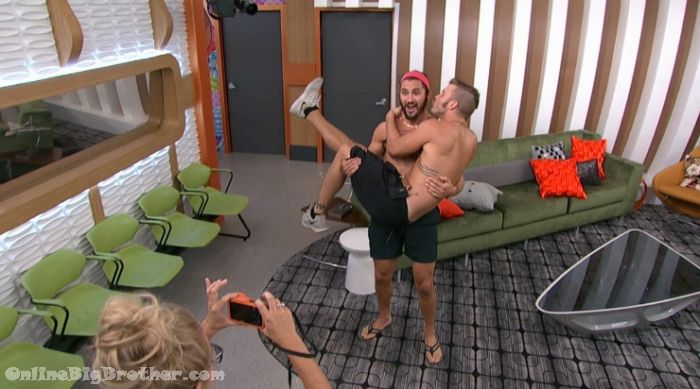 12:27pm Nicole asks Victor what he wrote in the HOH blog
Victor – I said F*** paul..
Nicole – what did you say about me.. tell me the truth .. whats your relationship with me
Victor – I love her to death.. and I said.. she crushes on Corey all day Dot dot dot
Nicole – you don't say he' crushes on me.. I'm pissed..
Nicole going on and on about this saying the fans are going think he doesn't crush on her.
Victor says he meant is as a cute thing. Paul agree says it's cute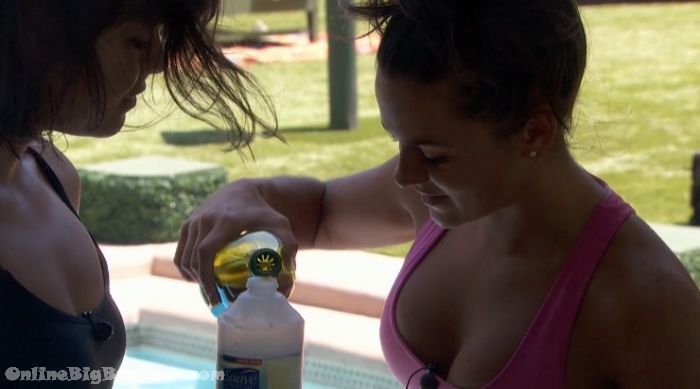 1:38pm
Natalie and Bridgette prank James putting olive oil and some other misc stuff in his shampoo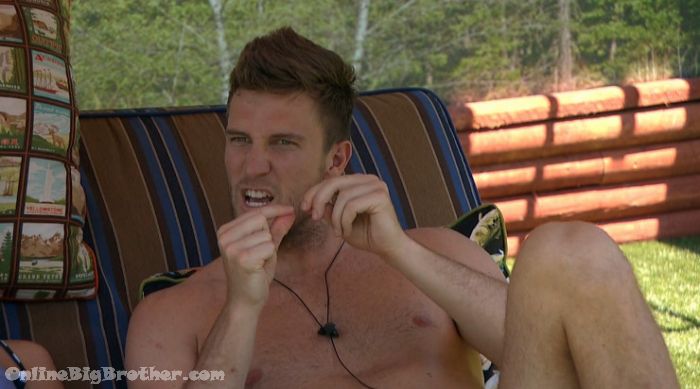 1:38pm Backyard Corey, Nicole and Paulie
Corey telling him about a bartender at his work that rolls his $100 bill sup so tight he has 20 grand in a little roll. (See image above)
Paulie saying that Bridgette is responding to Michelle's campaigning. Saying that some of the points Michelle made are good points.
Paulie is going to call out MIchelle for making a 8 person alliance.
Corey says James wants to tell Bridgette that Paul is targeting her next week.
Corey – if both y'all tell her she's believe you and keep her mouth shut
Corey adds they have to reinforce that the backdoor plan was Paul's second option he wanted Bridgette out
Paulie – she's going to blow me up to Vic.. This f***g chick was the main one that wanted you out with Da'vonne.. I'm going to turn it back on her saying she made a 8 person alliance.. That's all she can blow up ..
Paulie – she can blow up the 4 of us but that's already.covered.. If Michelle never opened her f***g dumb mouth I would have been fine..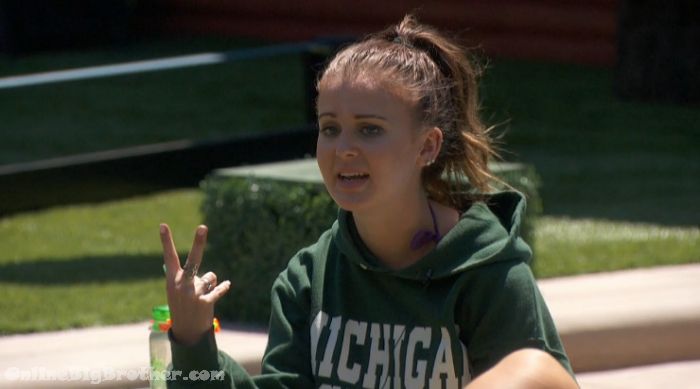 2:13pm Backyard MEECH, Natalie and Bridgette
Bridgette – what's your game plan meech
Meech knows she's going home, "Technically I need 3 votes"
Bridgette – I don't want you to go we've had beef before I don't want you to go
Meech says she's been screwed over from the people she was working with. She's looking for more people to work with. She trust them and James she's not coming after any of them.
Meech – I wouldn't put you and Victor up
Bridgette – if we can keep you this week it'll be pivotal .. I've been brainstorming for you .. Real talk right now
Meech – I'm starting to believe everything Frank says.. Tiffany, Frank, Da'Vonne said not to trust Nicole.. I see it now I see clearly.. If I go this week I'll be the fourth person
Meech – I see Paulie winning this thing.. He's won 50% the HOH's he's played..
Meech – no offense everyone in this house is obvious he has an impeccable social game he's been manipulated people secretly
Meech says every other season he would be the main target because of all these comps wins
Bridgette – this is what he's pitching about me
Meech – he knows I'm onto them
Bridgette explains that he pitches that her Victor and Paulie are the powerhouses winning all the comps.. Bridgette's added it up he's winning too many comps.
Bridgette mentions how pissed Paulie is at Michelle calling his comp wins out.
Bridgette – Paulie is running the house
Meech brings up Nicole lying to her week 1 about Paulie going up as the pawn.
Meech – do you think they suggested to Victor for putting me up.. Do you know where Victor's heads at
Bridgette – people are using him I wish he would think for himself..
Bridgette says Victor is one of 3 people that wants to keep Michelle
Bridgette – where do you and James stand
Natalie me and James don't vote together.. I do my own thing..
Bridgette says the way James is playing he won't use those votes (Vote votes) strategically unless a group of people want him to.
Meech was hoping Victor would put Paulie on the block, "He's (Paulies) the one that backdoored him and he (Victor) went home"
Bridgette – I know..
Bridgette – If I win during Double I'm putting him up against Nicole I don't care.. I want Paulie gone.. I think they have a final 2 deal their families are close.
Bridgette says Frank and Da'Vonne had final 2's with Nicole, 'Look how that turned out"
Michelle says she's not mad at Victor she knows Paulie got in his head.
Bridgette – how do we convince the house
Michelle – If I have you you and James I'm staying
Bridgette – james will have to use his power strategically .. James doesn't have the balls to do it that's not his game right now
Michelle – I don't know how to go about it
Michelle – If I do leave I plan on blowing up their games as I walk out the door..
Bridgette is all for it.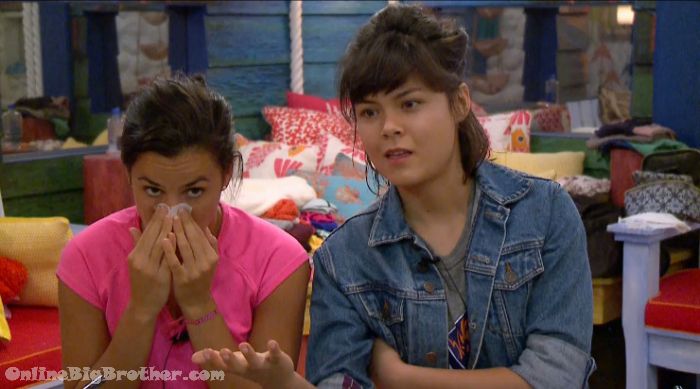 2:50pm – 3:12pm Natalie and Bridgette
Bridgette – do you think James will be down to flip the house
Natalie – I'm hoping
Bridgette says she I talked to James before and he didn't want to make any surprises with his Veto vote.. I don't think he's down to flip the house.
Bridgette – Corey volunteered to have his vote cancelled he thinks it's doesn't matter.
Bridgette – my brain is working..
Bridgette – You, me, James, vic and Paul all on the same page and MEECH that's 6 people, 6 against 3 for next week.. But Vic can't play HOH so it's 5 people against 3
Bridgette – Paul won't turn again Paulie..
Natalie agrees
Bridgette – how do we get Paul over here..
Natalie – I'm thinking the same as you
3:35pm Backyard.. Pooltable .

Nicole – I feel like Corey you are Taylor swift's type
Corey – oh ya
Nicole – I feel that she would totally date youuuuuuuuuuuuuuuuuuuuuuuuuuuuu
Corey – I plan on hitting her up after this
Nicole – I honestly think she would 100% date you .. like you're 100% her type (Totally her type but not his type)
Paulie – she had all kinda types
Michelle sneaks up to Natalie #BB18 @DawgsBigBrother pic.twitter.com/jDgVszA92e

— OnlineBigBrother.com (@bigbspoilers) August 9, 2016
Michelle turning up the social game.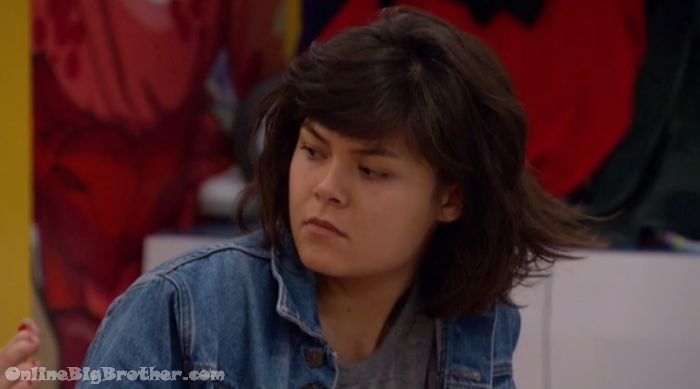 4:00pm RBidgette and Michelle
Michelle saying that when the house calls Victor exec it's a insult
Bridgette says Vic thinks it's a compliment.
Michelle adds that Paul knew about the plan this week she doesn't think they can pull Paul away from paulie.
Michelle saying maybe they should tell Paul they have 5 votes they
Bridgette says it has to be solid before they try to flip the house because if it's not it'll blow up her and James' game.
Michelle – they are afraid of Paulie.. You Think
Bridgette – maybe.. He makes everyone think he'll take them along with him
Michelle – that's how I felt
Michelle says Corey told her Zakiyah was the target..
Bridgette – you close to Nicole
Michelle – not anymore
Explains she drifted apart 2 weeks ago
Bridgette – that's when Frank left.
Bridgette wants to shake it up say the worst thing that can happen to them is they end up in Jury.
Michelle – he knows I don't want him in the house
Bridgette says the only girls that are close to Paulie are the showmance girls because he controls them.
Bridgette – we're independent thinking women and he's intimidated by independent powerful woman.. He's afraid of us
Bridgette lists off all the strong girls that have been eliminated.
Michelle says Paulie is lying to Victor about the comps wins.
Bridgette – be careful what you say it'll go Vic to paul then Paulie
Michelle mention how funny it is that all these people think he'll take them far, "he's not"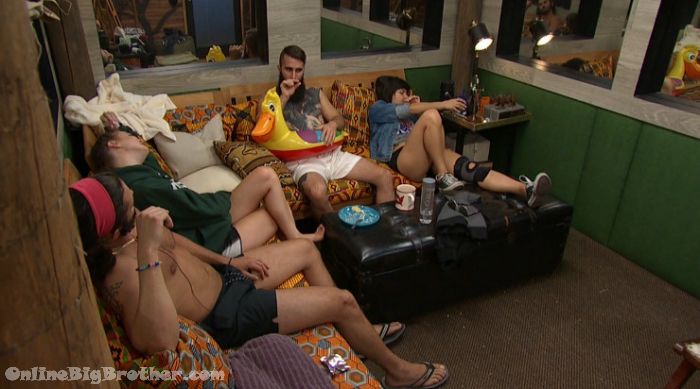 4:40pm Chit chat all around the house
Paul mentions how he had s$x the day before going to the show because he knew he would be "Dry" for awhile.
Paul – I had to say my goodbyes
Bridgette finds red heads a turn off because her dad is a red head and she always thinks of him
Paul thinks bad teeth is a turn off and smelling bad
Michelle says smelling bad under "There" is a turn off.
Bridgette – to be honest I made out with a guy with a beard and it was too soft for me.. (AHHAHAHAH)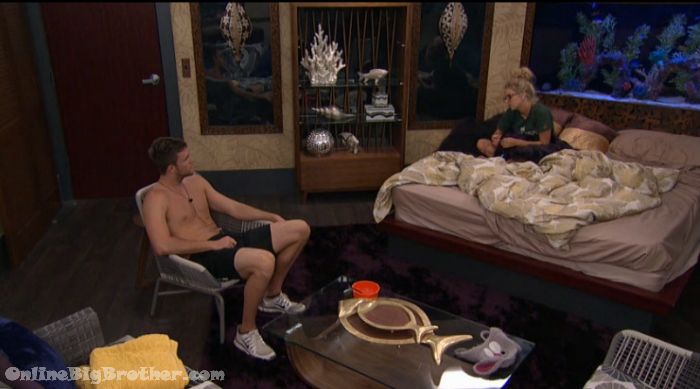 4:46pm -4:55pm HOH Nicole and Corey
Nicole – right now it a good time to make a final 4
Nicole wants a final 4 with Paulie, Corey and James. (So you can get evicted at final 4 and cry)
Nicole – if we make a final 4 we control the votes from here on out
Corey – unless two of us go up
Nicole – Paulie will have z, James will have Natalie's vote.. we gotta get Bridgette or Paul out..
Corey – ya
Nicole – Michele hasn't asked me for her vote
Nicoel wants to cut Natalie at final 5
Corey claiming that Michelle has been sleeping all day and hasn't been talking much, "there's not much she can campaign with"
Nicole – I'm shocked she's not fighting harder.. this is a dream for her she needs to fight harder..
Nicole says she'll respect Michelle more if she fights hard to stay.
Nicole – I don't thin kit's cool that James is going to use it on Natalie.. that's really lame..
Nicole says Michelle thinks she has James and Natalie's vote.. that's really bad for me he should veto mine and not Natalie what does he think she'll make final 2 that's bull crap..
Nicole wants both Zakiyah and Michelle's vote in the final 2.
Nicole is having trouble voting Michelle out
Corey won't have trouble says Michelle has a big mouth
Corey asks why she said that about Taylor swift..
Nicole – I honestly think you are 100% her type I feel like I know her.. she wants a good guy that's humble and good looking and not too famous.. she wants a family.. i dunno you're her type..
[polldaddy poll=9491180]
[polldaddy poll=9491957]