POV Holder:
Paulie
POV Competition
Aug 6th
POV Used
NO!
POV Ceremony
Aug 8th
HOH
Victor
Next HOH
Aug 11th
Original Nominations:
Michelle AND Zakiyah
After POV Nominations:
Michelle AND Zakiyah
Have Nots
Bridgette, James, Corey
POV was not used nominations stay the same
Watch the next week of the feeds for FREE – 1 week Trial!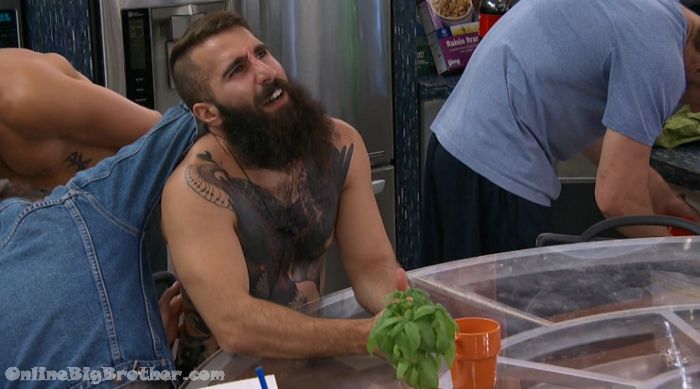 8:22pm Kitchen Michelle, Bridgette and Paul
Paul has been talking about his business since 8pm.
8:38pm Bridgette popping zits while Paul continues to talk about his business. Victor and James are now in the kitchen with everybody else. Everyone keeps asking Paul questions about his business "How rich are you" "Do you make 100K a year" "how many sales a day" "How did you start" "How much money to start" etc etc…
8:44pm Victor and Paul alone in the kitchen talking about how dirty and gross the Big Brother house is. They both shower 2-3 times a day.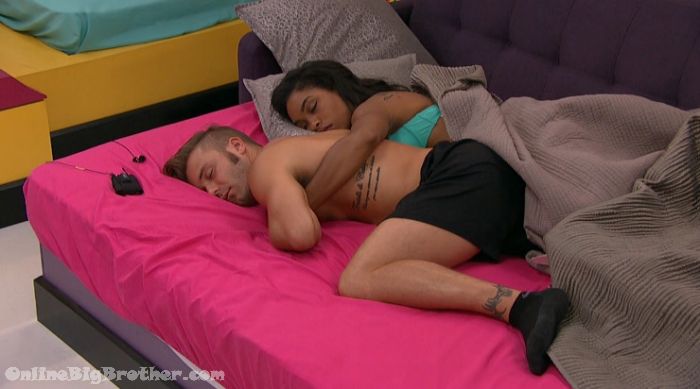 8:59pm Paulie and Zakiyah
(Paulie fights with Zakiyah and tells everyone he wants her up "next week" when there's a risk he might go up with her.)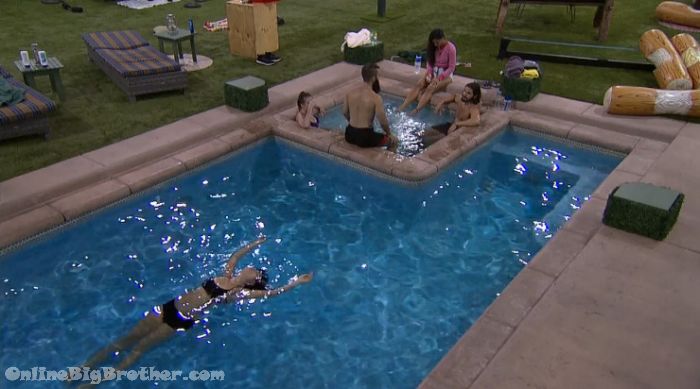 9:15pm Bridgette, Victor, Michelle, Paul and Natalie hanging out in the pee hot tub while Corey and James play pool. Nicole is watching Corey wondering who Taylor Swift will invite to her wedding with Corey. Nicole hopes she's invited she would just melt seeing Corey in a tuxedo..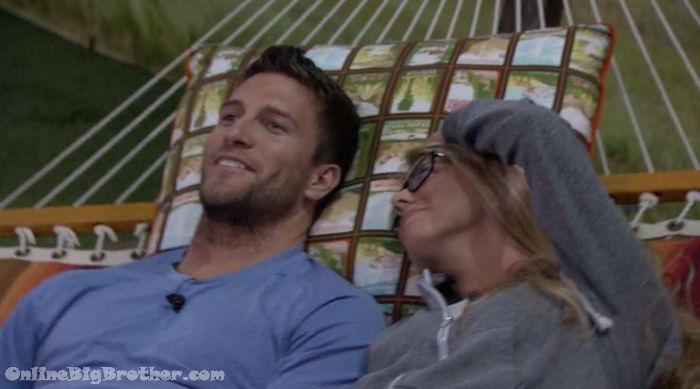 9:29pm the 1 hour pool game is over. Nicole whimpers to Corey that she doesn't want to hang out in the hot tub with the other people. They go to the hammock instead.
Nicole – I tried talking to Michelle she doesn't say anything… she's completely flipped sides, was with Bridgette all day. Isn't that weird
Corey – well she's going home doesn't matter
Nicole – you're abs are more defined.. I noticed them today
Corey – what jis wrong with Natalie and James
Nicole – she's completely ignoring him .. maybe she's getting her bode back
Corey – no she's not.. She does not look good
Nicole – I can tell her feelings were hurt.. I noticed all day
Corey – I hung out with him all day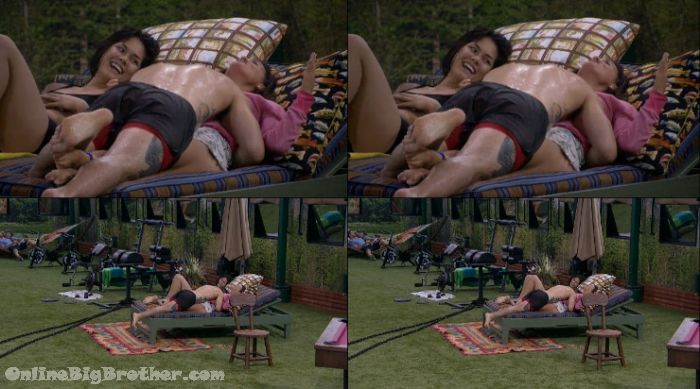 9:41pm feeds are weird tonight…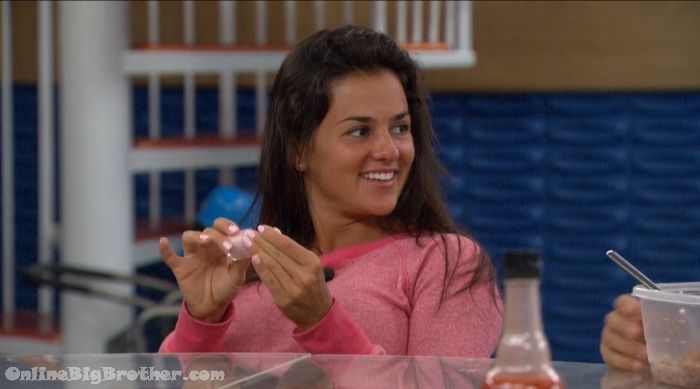 9:42pm Natalie and James
James says he's been looking at the memory wall.. They start giggling away..
Natalie – hows your day
James- been alright
Natalie – that's good
James- spent time at the pool and staring at the memory wall
James- who is going home this week
Natalie – I already know Zakiyah is staying..
Natalie – why do you ask me if you already know the answer
James- If I wanted to save her I could but I would piss the whole house off
Natalie – you would just piss 3 people off..
James – that's a lot of people
Natalie – just the 3 people running the house
James – girl you're making a lot of assumptions.. You got hard evidence.. I don't think you do
Natalie – I do but these lips are sealed..
Jame s- why do you think there some mass alliance in this house
Nat – they're is i'm not a idiot.. There's alliances and alliances within alliances.. And i'm here floating by myself waiting to get plucked off.
Nat – why weren't you talking to me the whole day… I tried
James – I did I told you good morning..
Nat – ohh.. Ok , I tried to hang out with you today
James- it was 150 degrees outside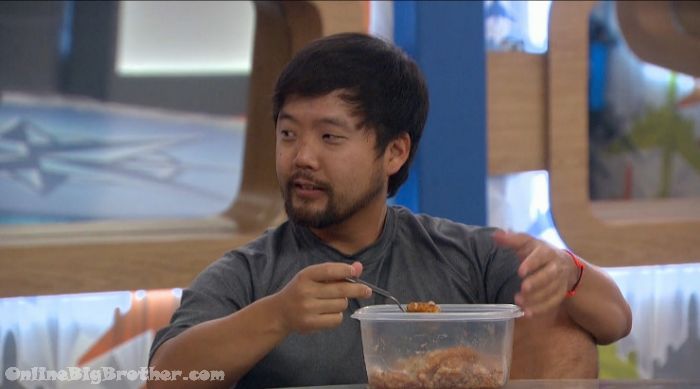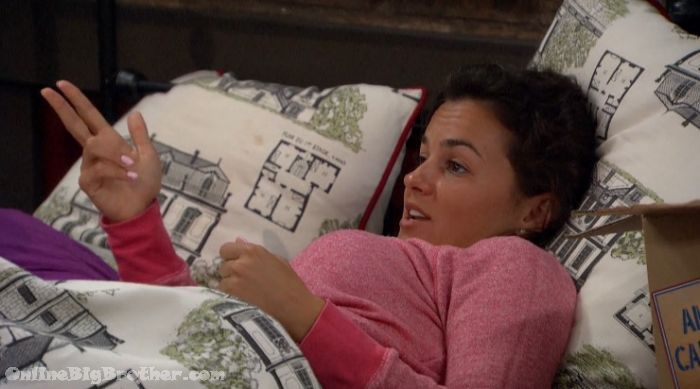 10:01pm Natalie and James London room
Natalie is pissed at James.. he says she never talked to him she says he never talked to her.
James – did you want me to chase you
Natalie doesn't want to be chased if James doesn't want to hang out with her than don't..
They go back and forth on this. Natalie at one point tells him he doesn't make her feel like a human.
James is saying he thought they were friends and now she's telling him he doesn't treat her like a human.
Natalie – Thought we were cool.. I tried.. I felt like you were avoiding me so I was like OK..
James- why do we have to do this dance.. this has happened before three times already..
Natalie says yesterday when it was the 5 of them in the Jacuzzi and she came out and people started to trickle out. she felt weird from it.
Natalie tells him she has so much love and respect for him.
James – I know what it is.. we're good friends..
Natalie – really.. that's cool..
Natalie giggles..
James – what do you feel about the situation .. if you tell me to my face it's all my fault I'll take it
Natalie says she wouldn't do that because to every argument there are two sides of the story.
Natalie – I did try today.. that is all I can say
Paul joins them..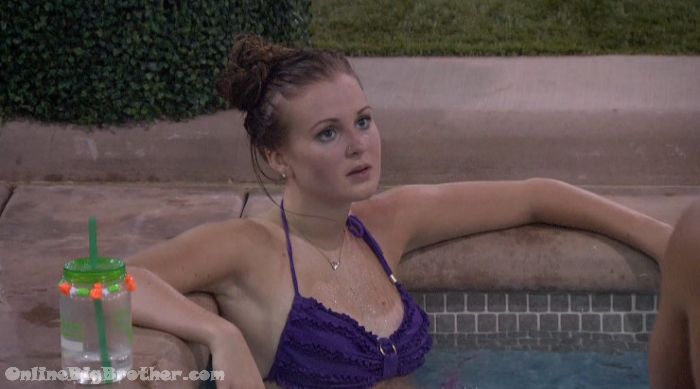 10:20pm Bridgette and Michelle
Bridgette says Corey, Nicole, Paul and Zakiyah all think Paulie is their number 1 it's f***G insane.
Bridgette agree except for Zakiyah says that Zakiyah doesn't think Paulie will take her.
Michelle says Bridgette was the plan last week until Da'Vonne started threatening PAulie game. Bridgette says they need to figure out something so that Paulie thinks Zakiyah is a threat to his game.
Michelle says Zakiyah has told her before she's would put Paulie up, "But maybe she's just telling me that.
Michelle – I wish I could pull something outta my butt crack
Bridgette – Let see what your butt cracks' got
Bridgette says there's no way they can flip Paul he's happy with getting evicted final 5.
Michelle says Paulie told her that Paul was a threat to him because of his social game.
Bridgette – how are you getting away with this Paulie .. HOW
Bridgette goes on about Frank telling her to take out Paulie because he's running the house with Nicole.
Michelle – I wish you guys would have talked to me more about Paulie running the house
Bridgette – you hated me so much I couldn't talk to you..
Michelle – I didn't hate you it was my childish ways..
Bridgette – we f***d up
They talk about getting together Natalie, Victor, Paul together to go to James and flip the house.
Michelle says in the Diary room she was so close to using eh veto on Frank .. Feeds cut..
When we're back
Bridgette – James is avoiding us 100%
Michelle – two night ago he said he would use it
Bridgette – in you favor
Michelle – yes..
Michelle says they would have to get James to use the vote veto on Corey a vote from each side.
Bridgette agrees saying she'll volunteered and so has Corey. If they can get that to happen they would need to get Paul's vote to save Michelle.
Michele – was da that big of a liar
Bridgette – yes 100% .. if we can convince Paul we have it..
Michelle – we need James
Bridgette – aye f** .. why don't we blindside James that would force James to be on our side.
Michelle says it won't work they need his vote
Bridgette – yo have a 1 in 10 chance coming back
Michelle – i'll f*** sh1t up .. you'll go far
Bridgette – i'm the target next week
Michelle – i'm not going to lie those couples are going to pick off you, Paul and Victor.
The share dirt they can use to help flip Paul and victor.
Bridgette – people don't see that Paulie is keeping votes around him.
Bridgette – I think you were his target all the time but he said Zakiyah until he was ready..
Michelle – people are sucking his butt seriously
Bridgette says she thought they were in here to win 500K
Michele say they are all in here to kiss Paulie's butt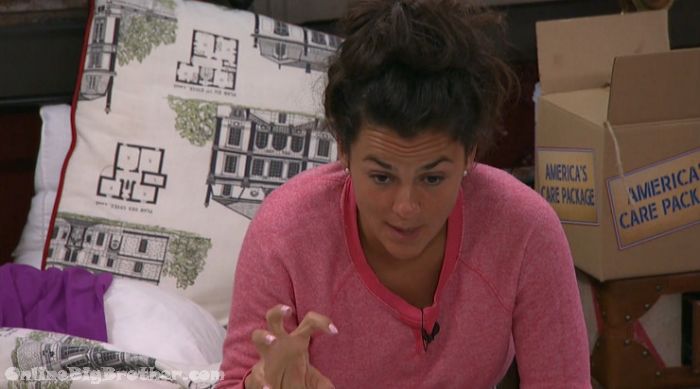 10:51pm Natalie and James
Natalie tells him that Corey, Nicole, Zakiyah and JAmes will not target Paulie.
Natalie is bringing up game conversations from the day says Michelle is feeling betrayed by Paulie, Nicole and Corey.
Natalie – Zakiyah staying in the house means Paulie is stronger
Natalie I know I am right..
James – I can tell you right now Zakiyah is in love .. she will walk out that front door for him if she asks.. and I know why.. James lets out a big sigh..
Feeds cut..
When we're back
James- Zakiyah comes from a single family home..
Feeds cut..
Natalie – they cuddle every night and he doesn't use the veto on her..
Natalie says if the rolls were reversed Zakiyah would have used the veto on Paulie.
Natalie – Paulie has 1 million percent control of Zakiyah ..
Natalie – he (PAulie) talks badly about her (Zak)
Natalie says everyone is trusting PAulie and he's running the house nobody in this house wants Paulie out.
James- you think I'm sacred to go against Paulie
Natalie – right now is not the time because you don't have the numbers.. the only people that would be pissed off is Zakiyah went home would be Nicole , Corey and Paulie … I know that
Natalie adds that Paul and Victor wanted Zakiyah gone from the beginning of his HOH.
James asks her is she tells the DR this
Natalie – no.. they think i know nothing..
Paul joins them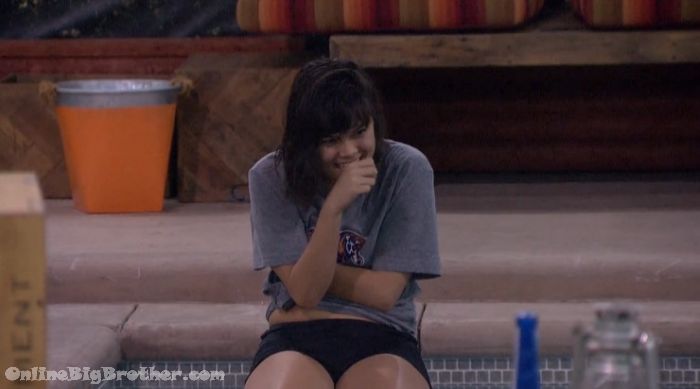 10:56pm Bridgette wants them to flirt with Paulie to pisses Zakiyah off..
11:05pm James to Natalie "You got some good theories there.. you could be wrong you could be right.. "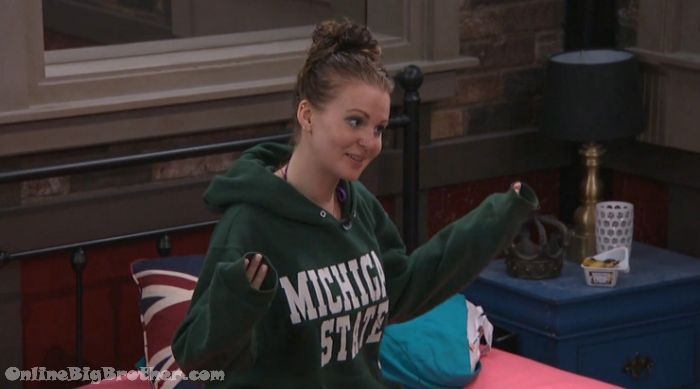 11:11pm James, Michelle and Natalie
Michelle tells him she is not targeting him.
Michelle – Paulie is running this house
James- are you crazy.. I'll tell you whose running his house and it's not Paulie
jokes that it's Natalie
Michelle – apparently the target's changed and i'm the target..
James- damn..
Michelle is trying to sell it to James they should get Zakiyah out they have 6 people..
James – I gotta find out where everybody is at.. you're being vague with votes..
Michelle – Victor wants me to stay
James- he needs to comes talk to me
Michelle – everyone is afraid of Paulie
Michele ls suggesting he evenly distributes the vote vetos.
James says if Paulie really is running the house and he wins HOH they will both be nominated.
Meech – I will be the target.. either way I'm the bigger targets..
James says all these people taht want to team up need to come talk to him because nobody has come to him.
James Natalie what do yo think
Natalie tells Michelle to get everyone to talk to James.
Meech says she doesn't want to do this unless they have the numbers.
James- if I mess up bad Natalie.. they'll take a stab at her. .But i'll be happy in secrecy
Michelle tells them that Zakiyah and Nicole are very jealous of the other girls. Says Nicole was pissed at the 1/2 way party saying that Natalie was flirting with Corey.
Michelle says Nicole was twirling her hair mocking Natalie.
Natalie is sick of these catty girls and being treated this way.
Michelle says Paulie told her he has stories about Natalie, "i bet you have stories about him"
Natalie – I know the girl he dated
James – sweet girl
Feeds cut..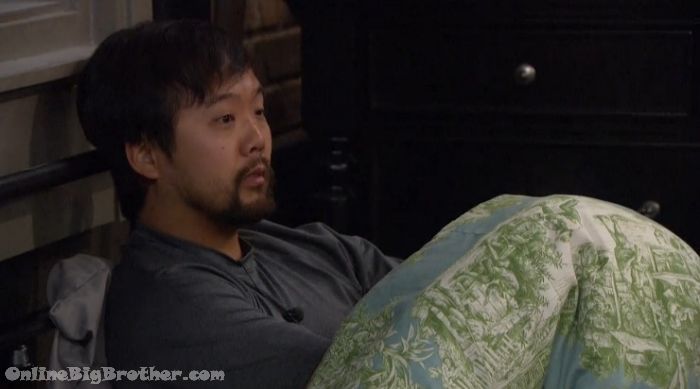 11:34pm – 12:00 Natalie is pissed that Paulie is telling people he's got stories about her..
James – I 'll find out.. he'll tell me
Natalie – I'm a good person.. what did he say they're too bad for television..
Feeds cut
Natalie – you're friends party?
Natalie – I am not a partier ..
Natalie is pissed "You're attacking my personal life.."
James bring sup the "you know how Jersey girls" comment that Paulie had made.
Natalie – You know how Jersey girls are.. I'm not from New Jersey I'm from Venezuela.. I was raised by a Venezuelan women..
James starts talking about the type of girls Paulie probably dated and he's just comparing her to one of those
Feeds cut..
Natalie says Paulie has flirted with her a lot. Brings up Paulie saying they should make out but Zakiyah and James would be pissed
Natalie – he called me wifey materiel he was going to wife me up.. that's your friend..
James- why didn't you tell me
Natalie – he was your friends I didn't want to upset you..
Natalie he said he wanted to bite my butt..
adds that Paulie told her she's got the nicest butt in the house..
James- he wanted to bite your butt
Natalie – something along those lines.
James- he'll just say he was playing with you..
Natalie – he told me he was going to take me out on a date..
Natalie says he was talking about her butt today
James is disappointed that she never told him . Natalie says she tried and did tell him the guys were flirting with her.
Natalie – I shouldn't have told you it's not a big deal
James- It is a big deal.. I never said any of that to Nicole or Zakiyah cause it's outta line..
Natalie mentions this is the main reason she doesn't trust Paulie and she hasn't trusted him in a long time.
Natalie – how do you think I feel Nicole making fun of me because I was having a regular conversation with him.. I don't look at him he doesn't look at me..
James is going to talk to Paulie about this.
Natalie says Paulie will target her.
James doesn't think so. Natalie says if James talks to Pualie she'll be upset with him.
[polldaddy poll=9491180]
[polldaddy poll=9491957]