POV Holder:
?
POV Competition
Aug 6th
POV Used
?
POV Ceremony
Aug 8th
HOH
Victor
Next HOH
Aug 11th
Original Nominations:
? AND ?
After POV Nominations:
? AND ?
Have Nots
Bridgette, James, Corey
CBS All Access: Live feeds are only $5.99 per month – Try it FREE for 1 WEEK!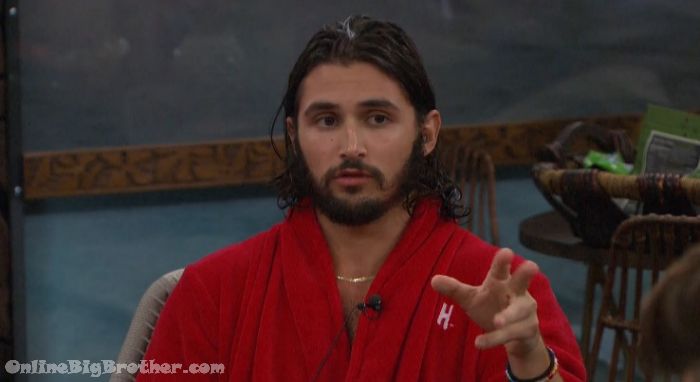 1:15am HOH PAulie, Paul and Victor
Paulie saying during the HOH it came down to Vic, Natalie, Zakiyah and himself in the HOH competitions. Victor wanted to win something for the "Executives" to show his worth.
Victor – man I was pissed trying to give me the sympathy card.. (Natalie wanting to win for a family letter)
Victor – everyone was cheering nor natalie.. f** that I don't need the cheers..
Victor – I told Z you're good if you drop
Paulie – She stayed up
Victor – If I tell you drop and you're good with me and you don't drop for another 10 or 15 minutes offer is Null and voice..
Paul – oh 100%
Victor – I'm kinda salty James opened the gummy bears.,..
Paul – I opened them.. I asked you
Victor – ohh never cared..
Victor – we got to start cutting these ties.. Like Natalie and Nicole..
Paul – we have to move strategically
Victor wants them to be final 3
Paulie – we have to mask that how do we CLip people
Paulie – outta Corey and NIcole .. Nicole is stronger.. I want to keep Corey.. Are you worried about that
They agree Nicole is the stronger player Corey is pathetic at competitions.
Paulie says out of James and Natalie, James is the strong player.
Victory – get the executives to final 5..
Paul says they might want to keep Natalie instead of James in final 5. Paulie agrees says James is the only "Wrench in the tire" to their final 5 dominance.
Paulie – me personally I don't think James can beat all of us.. Maybe physical..
Paul says Natalie can't beat them in anything
Paulie – she went beastly
Paul – his (James) intentions are shady.. He doesn't think for the grander scheme he thinks for himself..
Paulie – this week Z goes next week bridgette or Michelle
Paulie – if it's a double…
Paul – maybe James..
Paulie – we can take a shot at James
Victor – we could
Victor – we are the strongest players in the house
Paul – you can't have people know that.
Paulie saying they have 9 out of 12 wins this season.
Victor wants them to win out this season. .
Victor – Seashell where are you at..
Victor – I'm HOH can we finally give us a f***g name.. Like the three bro-meegos..
Paulie Smash brothers .. banger bros..
Victor – you have the executives but you also have the board.. The board appoints the executive..
Paulie – we're the chairmans..
Paul – I want to be CFO, Chief Friendship officer..
Victor – I can be CEO
Paulie – COO .. or COOO or CUO
They fist pound their alliance call it "The Board"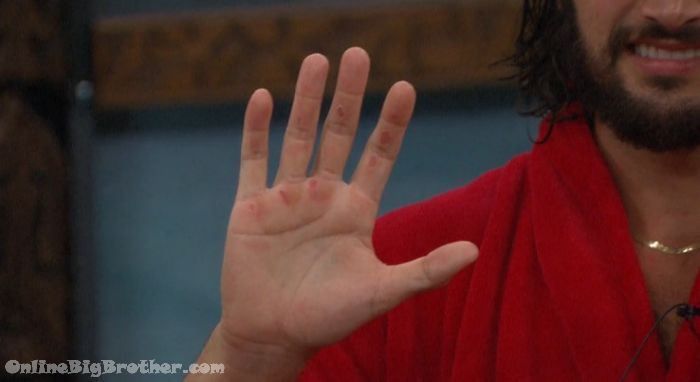 Victor shows them his f***ed up hand
Paul – dude you can never be@t off again..
They plan to put up Zakiyah and Michelle with Bridgette being the replacement nomination. The target is Zakiyah then Michelle.
Victor asks Paul to sleep up in the HOH tonight.
Victor – I got the HOH now I want the Veto..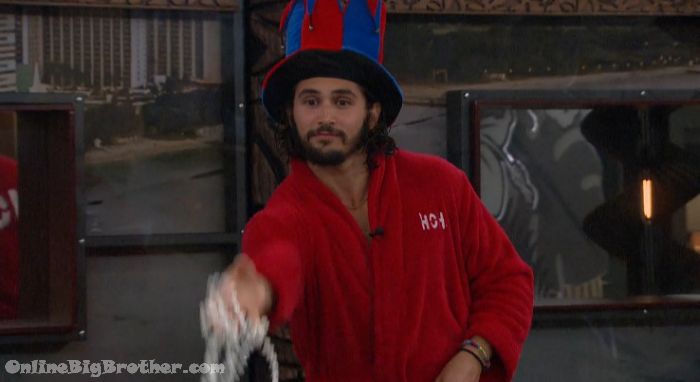 Paul says if Victor wants to be a big brother legend after he nominates Michelle and Zakiyah throws some beads at them..
They freak out about the greatness of the idea
Victor says Zakiyah hates him that's what Meech said Zakiyah hates Victor/..
Victor – they both talked sh1t about me right
Paulie – 100%
Victor – I told America when I came back I was going to be mean and pissed..
Victor – i Had to win 3 competitions back to back to back to get back into this house.. Your cries will fall on deaf ears.. This nomination ceremony is adjourned.
Paul saying if Zakiyah wins the Veto they can put up Bridgette. Paulie agrees says they can send MEECH home.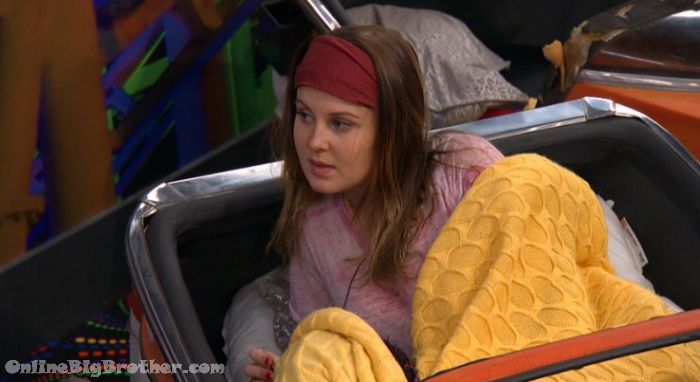 1:15am Have Nots Michelle and Zakiyah
Zakiyah I still feel betrayed.. My head hurts.. It's pounding..
Meech – the one thing they didn't tell me is why James, Natalie and Victor flipped.
Meech – Natalie turned to me right before the HOH comp said Sorry..
Zakiyah – I was like I don't want to hear that sh1t..
Meech – does Paulie know who Victor will put yup
Zakiyah – no neither does Paul..
Meech – I'm for sure going up
Zakiyah – Victor doesn't think I like him ..
Michelle – Apparently Nicole said Da threw us under the bus to Nicole
Zakiyah – I'm not buying that.. She's trying to get to your guilt strings..
Meech – Nicole said that Victor might put up Bridgette and send her home..
Meech and Zakiyah believe that Paul was blindsided with the Da'Vonne eviction
Zakiyah – he's got a good heart.. He genuinely does
Meech – I want to cuddle him
Meech – I don't trust James at all I cannot stand him.. He's getting on my last nerve.. He plays dumb he sits and listens..
Meech – do you and Paulie have a final 2
Zakiyah – hell no
Meech says Paulie probably has a lot of final 2 deals.
Zakiyah says PAulie couldn't look her in the face..
Meech – there was a late night meeting last night.. James pisses me off the most.
Zakiyah says James doesn't like the fact she's close to Paulie and Paul
Meech – he's gone before Natalie
Zakiyah says if Victor is smart they would convince Victor to take James out. She hopes the boys are trying to convince him.
Meech the pranks and now he stole his girls
Zakiyah – he has options.. I see three clear ones.. (Options to her are James, Natalie and Bridgette)
Michelle – are you going to kiss butt?
Meech – are you going to go up they're an talk to him
Zakiyah – no
Michelle – i'm not either.. Corey and Nicole seem to think I'm good I have nothing to worry about.. What do they know they lied to my face before..
They don't believe Nicole
Michelle asks her if she will continue to cuddle PAulie. Zakiyah says she will
Michelle – we should get really close to Paul
Zakiyah – he's got really good intentions
Michelle – weird how this game changes.. I should have known with the votes.. The voting order..
Meech i'm at my wits end.. He's (James) is just annoying and super cocky
Zakiyah – I hope to god both of us don't go up….
Michelle – worst case we both go up on the block.. Worst case.. But I'll never throw your name under the bus.. He'll never do that
Zakiyah isn't sure anymore
Zakiyah – I think he told Paulie that Da whispered in his ear that he needs to win because they are going to try and get him out on double eviction..
Zakiyah – I hope one of us gets a package tomorrow..
Michelle – Oh my gosh.. I hope you do..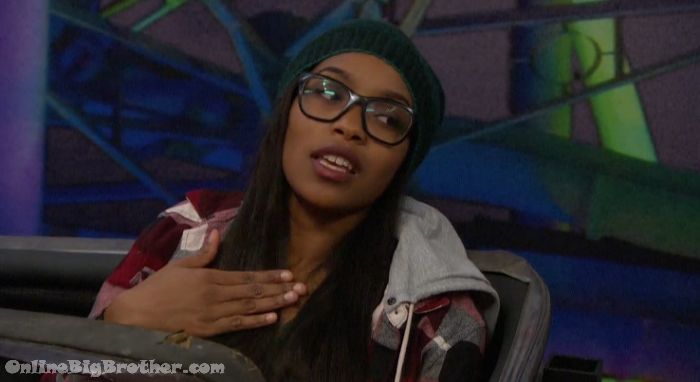 Zakiyah calls Victor a idiot, "He a damn fool"
Michelle – He's Paulie's b1tch right now.. Him and James.. I saw James massage his head yesterday
Zakiyah – I have my back against the wall
Michelle – we're f***G smart we see past it..
They both agree Paulie is going to win.
Michelle – I just don't like his attitude.. He was so cocky..
Michelle – we would have done better (in the HOH) if we weren't so shocked..
Michelle – are you still going to cuddle with him
Zakiyah – oh girls I'm going to use him for all he's f****g worth
Zakiyah says last night her and Paulie were acting like 'Old times"
Meech – do you think Nicole told Corey about the fatal 5
Zakiyah – if she did i'll punch her in the face.. I'll get evicted..
Zakiyah – she wouldn't shoot herself in the a$$ this early… what benefit do you get for telling that..
Michelle says if she gets nominated she's blowing sh1t up everywhere..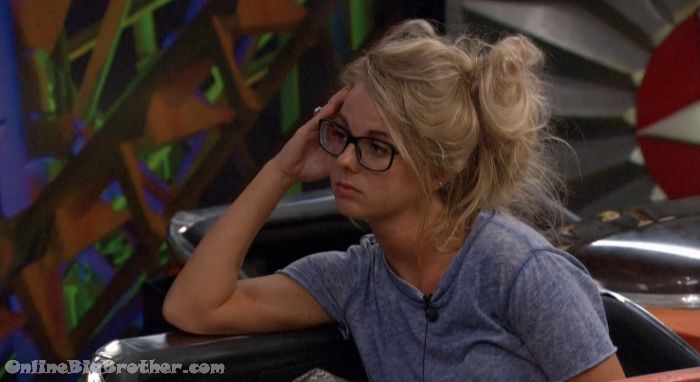 1:36am Nicole and Zakiyah Have nots
Nicole – I want to tell you why I did what I did
Nicole – you know the night where I asked you giys if she would put me up, that morning she pulled me to the side safari room.
Nicole – she admitted saying my name.. Basically she's been talking bad about me
Nicole ads that Da'Vonne told her she knows Nicole talk shit about her and she' being told this by someone very close to Nicole And it will be hurtful if she told Nicole the person name.
Nicole says it must of been Michelle or Zakiyah that Da'Vonne was saying was suggesting Nicole putting her on the block
Nicole – once she told me that I knew she had to go for putting a wedge
Nicole says she's closest to Corey, Meech and Zakiyah.
Nicole – She's trying to drill a wedge between me and them for a vote.. I realized she's got to go.. .I'm not going to let her put a wedge into everyone.
Zakiyah says she knew Da'Vonne was shady with a bunch of things.
Nicole – da was constantly in people's ears.. She was continuously trying to stir sh1t
Zakiyah – I'm not going to betray you
Nicole – i don't want you to think i betrayed you it was a strategic game move.. She could have had the round trip ticket I could have been in trouble.
Paulie comes in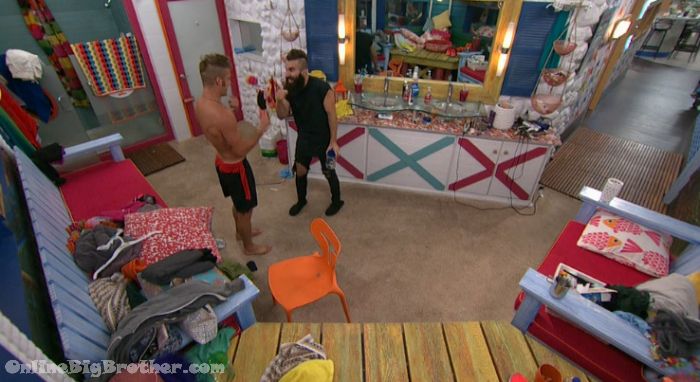 1:41am Bathroom Paul and Paulie (Bevis and buthead are back)
Paule – We just convinced him to throw beads at the nominees..
Paulie – he lost it
PAul – he's crazy
Paulie – dick jokes in the corner.
Paul – oh my god .. dude..
Paulie – ayay aya ya ya man throw beads.. .
Paulie – pulling pranks all f**** day..
Ehhehah aah aha ah
Ahaheeheh ahhah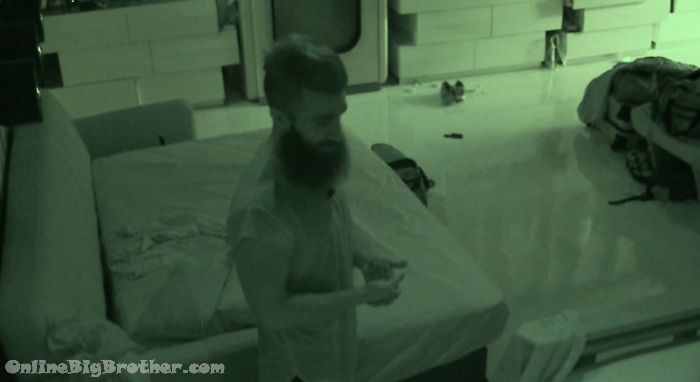 1:45am Paul, Bridgette and Michelle
Paul – I was invited by exec for a slumber party… I tried to ask him about tomorrow he told me not to worry.. He's literally drinking all his beers right now I'm going to let him finish and see if he will tell me anything.. He's literally just wearing his had.. I'm positive he's lost his mind.. If I go up tomorrow i won't be surprised
Paul – all I know is we're up for some sort of surprise
Michelle – No hint a ll all
Paul – Literally shut down.. He told me BRO don't even worry about it I know what I'm doing.. We literally have no idea..
Paul – I thought I would be able to crack him ..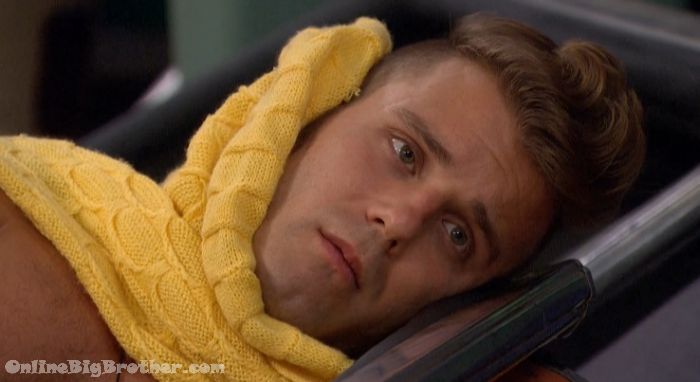 1:50am Paulie and Zakiyah have nots
Paulie bringing up parts of his conversation with Victor – "I know what I'm going to to do.. don't badger me.. I told America I was going to be mean and I gave them they wanted"
Zakiyah – it's scary..
Paulie – scary reign of HOH
Zakiyah – my a$$ should have stayed up there..
Paulie – Imagine Devin but the first week into Jury
Zakiyah – ohh man … sh1t
…
Zakiyah – I'm not going to panic… I shouldn't panic.
Paulie – no panicking.. the only time panicking should set in is sitting on the block Thursday night..
They talk about getting James put up,
Paul comes in "Exec wants me to spend the night with him.. He told me don't worry bro I know what I'm doing.."
Paul – he told Corey in the Storage room laughing.. nobody knows then walked out..
Zakiyah asks him if he has any idea.
Paul again saying he has no idea would think Natalie and James
Paul – I've been stressing that this man has lost his mind
Zakiyah says they are very influential they can change Victor's minds
Paul doesn't know. brigns up sleeping with Vicotr and Vicotr is getting drunk maybe he can get in Victor's head. "Maybe he'll try and F*** me"
Zakiyha tells him to take it for the team.
they laugh..
Paulie – He was on a mission to win the HOH
Paul – I'll try my best tonight..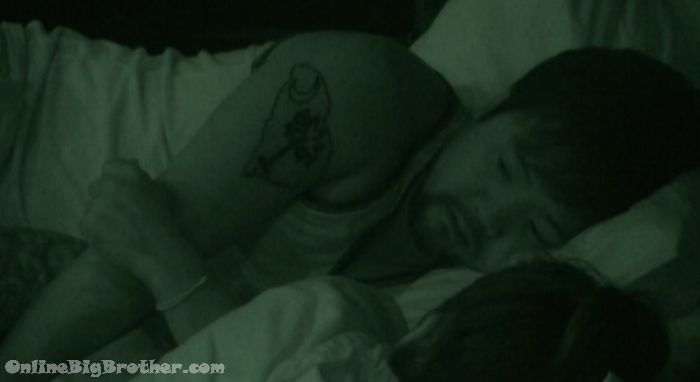 2:30am Natalie and James

Natalie saying she's not afraid to make a move against Corey and Nicole.
James telling her that the house will target Nicole and Corey over them so they can use them as a shield for awhile.
Natalie says she almost threw up after seeing Michelle throw up during the HOH
James – she would have put Bridgette and Paul or Paulie 100%
James says Michelle is on his shit list, "She can dish it out but she can't take it.. "
They talk about Michelle talking a lot of sh1t about other people.
James – I told Victor you put her up she's going to cry..
James says some people just cry all the time and hope people feel sorry for them. Points out that Vanessa and Michelle do this.
They agree Michelle needs to be put in her place.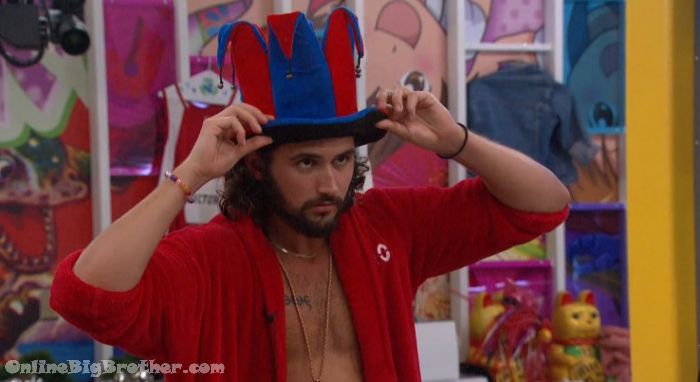 2:38am Victor roaming around having drunken 5 out of 6 of his HOH beers.
2:42am Tipsy victor and Corey
Corey and Victor #BB18 @DawgsBigBrother pic.twitter.com/QzDVfnhqzf

— OnlineBigBrother.com (@bigbspoilers) August 5, 2016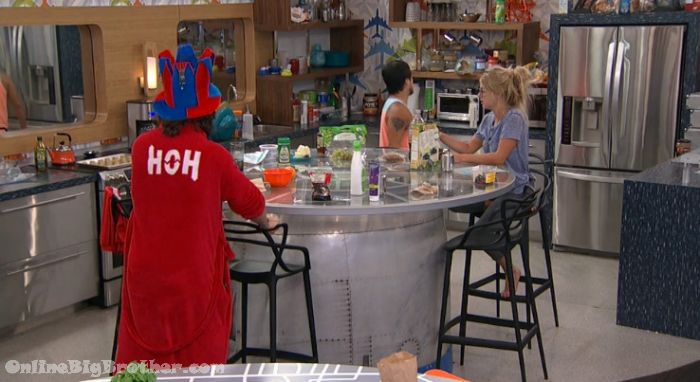 3:28am Victor telling them that tomorrows nomination's are going down in Big Brother history.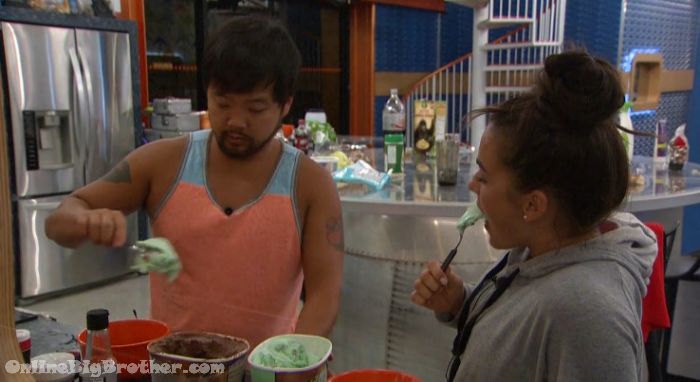 3:32am James and Natalie kitchen
Natalie – whatever you tell me I will do .. I'm just saying I listent to your advice all the time becuase you are always right
jame s- so far I've been 100% with you..
James – I haven't led you astray babe
Natalie – and then I go on the block tomorrow..
James – maybe.. he told me I was part of the ceremony tomorrow..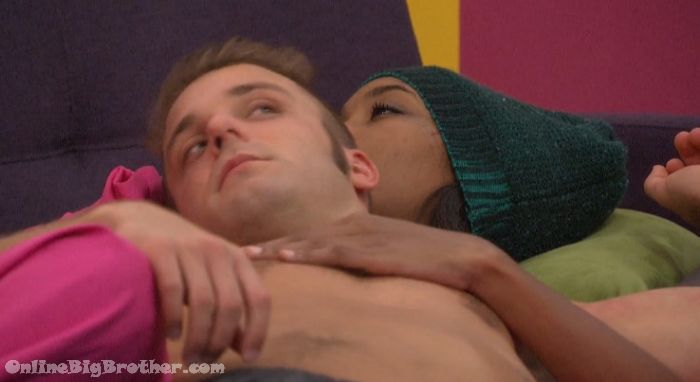 3:40am this might stop this week..
3:46am Paulie and Victor
Giggling away at the nominations plan to throw beads at Zakiyah and Michelle.
Victor says he really likes Bridgette thinks she's a great girl and can see why Frank attached himself to her. Paulie agrees but adds that she's dangerous.
Victor really doesn't want to keep Natalie around but will if it's good for their group
Paulie says Nicole isn't bad to keep around.
Victor agrees adds if leaving Corey and Nicole in the game is dangerous because if Corey has a person that's 3.
Paulie thinks Natalie and Nicole will both be 'Chill" and not win anything, "I don't see either of them doing damage to us.. MEECH, Z and Bridgette… "
Victor – to be honest.. I wouldn't even mind.. If we can get Bridgette on our side wholeheartedly and bring her down to 6 we can use her to take a shot at corey and James
Paulie – if she wins..
Paul joins them… "The DR loves the board"
Feeds cut..
When they return.. Paul is saying they should not keep Nicole and Bridgette deep in the game. He wants natalie.
They are agreeing to break up the Corey/Nicole, James/natalie showmances.
Paul says putting Michelle on the block she's going to sh1t her pants..
Paul says he's not sleeping up in the HOH tonight he doesn't want Paulie, Victor and Paul to be seen as too close right now.
Paulie – we need to keep ourselves fanned out