POV Holder:
Paulie
POV Competition
Aug 6th
POV Used
NO!
POV Ceremony
Aug 8th
HOH
Victor
Next HOH
Aug 11th
Original Nominations:
Michelle AND Zakiyah
After POV Nominations:
Michelle AND Zakiyah
Have Nots
Bridgette, James, Corey
Watch the next week of the feeds for FREE – 1 week Trial!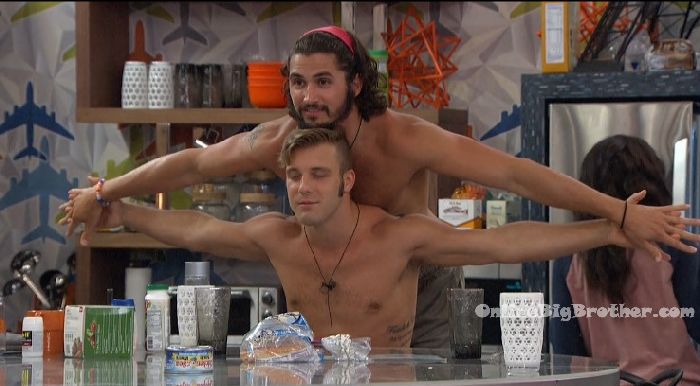 5pm – 5:45pm In the London bedroom – Michelle is packing her things in preparation for the eviction tomorrow. In the kitchen the rest of the house guests are chatting, making food and eating. Paulie and Vic reenact the Titanic scene.
In the bathroom – Natalie says I tried to get her to come talk to me but she's not coming. You already told Paulie so he already did damage control with her. Pualie's not going to let her talk to me. James says I'm sorry man, its rough out on the streets. Nat says he told Paul that Nat is coming after him. I'm not coming after him. James says its good that you nipped that in the bud because now he's not coming after you. The only person that is coming after us is Paulie. And we can control that because if he doesn't win .. he is going home. And he's actually going to be a target. Nat says she is avoiding talking to me. What do I do? James tells Nat that he booty is hanging out. Nat says I'll let me a$$ and my t!ts hang out if I want! It's my body! I don't like it when people tell me what to wear. Ex-boyfriends used to be controlling and I hated it.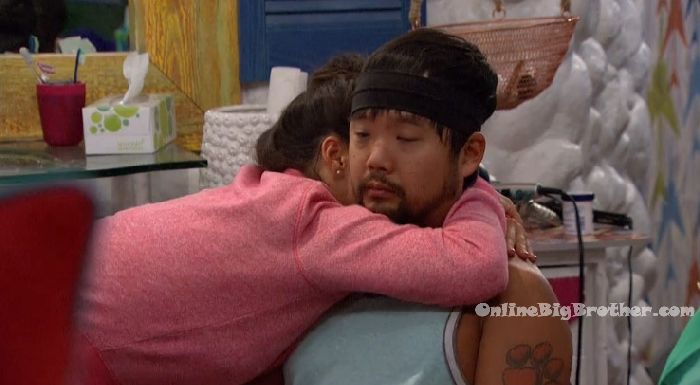 5:55pm Storage room – Meech and Vic. Vic tells Meech I told you I didn't want you to go. I'm so happy! Meech asks did Paulie have anything to do with Noms. I knew it!
6:15pm In the bedroom – Natalie talks to James about how she's tried to talk to Z but she's avoiding me. She asked to wear my skirt. Paul says you can get it in jury. Natalie says I don't even care. Paul tells Nat to go out there and ask Z to help you with your dress. Nat heads though the kitchen and then comes back and tells James that she's (Z) not budging. James tells Nat to just ask her to talk. Nat says I'm not scared. I'm more scared of hurting someone's feelings. Like how you were hurt yesterday. But she is in love! James looks at Nat as if to say and were not!? Nat says she's brain washed by him (Paulie). Like how Bridgette was brainwashed by Frank. James tells Nat to just too Z the facts. Paul joins them. Paul says they're all sh*tting their pants. James and I just need to play it cool until she drops that bomb. James says she is going to come back and tell him. I think he knows he has this coming. Nat says Nicole, Corey and Paulie are working her (Z) today. I know Paulie's already talked to her.
6:25pm Nat goes and get Z and they go back to the London bedroom. They kick James and Paul out. Z says I really want to stay. Nat says I want to be honest with you. I told James this yesterday. Paulie told me a few things that made me uncomfortable. …it was kind of crossing the line. I heard him say things about you that aren't nice. I don't want to hurt your feelings. Z says its okay. Natalie says I should have told you and James this awhile ago. Yesterday he was talking about how you get too jealous and possessive. And he said a lot of things to me. He (Paulie) said to me if we made out James and Z would kill us. I was like AHHhh.. yeah they would. And he's been making comments recently… I was laying down by the pool on my stomach and he said put that away! You know I'm very flirty but I respect your situation. He told me to put my booty away. Then he said you have the kind of butt that make a boyfriend want to bite it. Z says oohhh…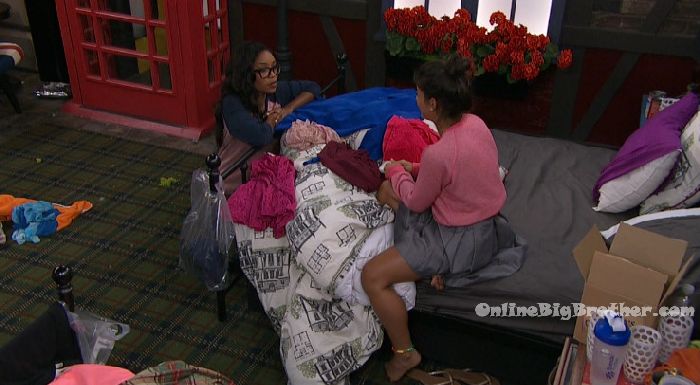 Nat says I've told him after like are you going to invite me to family dinners. I've told that to everyone and I joke around a lot. The first two weeks I was very flirty but after relationships were established I stopped. One time up in the HOH he told me that you and Da better pray you win HOH. Z says WOW. Nat says he is part of the reason you're on the block. If he's not the main reason, he's part of the reason. Z says I know. This next week I'm going to be put up as a pawn with you and I'm going to be the one sent home. Z asks how do you know that? Nat says I'm not an idiot, I hear a lot of things. Yesterday they asked him if he was going to marry you and he said no. He makes it sound like you're the one that want him. Nat says ALSO found out .. PISSED AS F**K that I asked him to come sleep with me in my bumper car. I swear on the my life I never said that! I found a lot of this sh*t out recently and I'm like f**k you. When I found out that he said I asked him to sleep with me in the bumper car I was like F**K YOU! Z says I really really appreciate you telling me this. I want to know .. because I don't want to be sitting here like in love on the damn camera. Nat says if me and you were on the block do think James would take me off? Z says yeah he would. Nat says You're on the block. You're disposable income. Paulie should have taken you off the block. He makes you seem like you're nothing. Z says I don't want to look stupid. Nat says in the last HOH he waited until just after you dropped. If he trusted you… He is playing the whole house dude. Z says I feel so stupid. I really needed to hear this. Z starts crying. Nat says he keeps saying that you aren't anything to him and that he's just holding on to you because its good for his game. Z says that hurts. Nat says as of yesterday Paulie was fine with you going up on the block with me. Z says if he wants to play with me ..I'LL PLAY! Nat says you're too good for him! You're perfect inside and out. Any guy would be lucky to have you. Nat says I asked him when you guys where going to get married and he gave a look. You can tell him whatever you want .. You can blow up my game. Z says no I won't. Z asks why wasn't he keeping it real with me? Nat says because people are fake in this house. Z says I hope you win. In my mind I've checked out. Nat says I'm really sorry. Z says its okay. I knew he told Vic to put me up. He winked at me after he won the veto like he was going to take me off and then he didn't. Nat says if he was really protecting you he would have taken you off. Who has he used the veto on? Paul.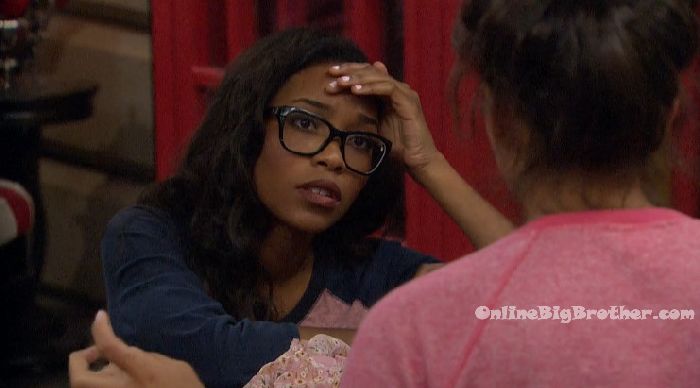 FLASHBACK and watch everything you missed: CBS All Access FREE Trial!

6:45pm – 7:05pm Z says I'm keeping my distance. I don't even want to wear his shirt any more. I hate him! I hate him! Nat says don't hate him. He's just playing strong. Derrick told him no showmances. He throws your name out all the time that he doesn't care if you go home. Nat says he lied about giving Vic a nasty message. He didn't he give the nicest message to him. I was the only one that had the balls to say what I wanted to him. Nat says in your mind you might be thinking its my fault but its not this motherf**ker has been like this since day one! Z says I believe everything you've said. I just want to call him out. Nat says you can call him out if you want. People will have your back. Z says If I don't call him out he will continue to think he is playing a good game. This makes me angry! Nat says it should ignite the fire inside. Z says it make so much sense now. oh my god! Nat says make sh*t up with my name in it .. you're done! Dead to me! Nat says every guy in this house wants you. You're perfect inside and out. I know Paulie thinks you're wifey material.. but he also thinks all the girls in here are wifey material. Z says don't tell me you're going to take me out on date and sh*t. Nat says he said he wants to take me out on dates. Z says I feel like I can't even say anything because as soon as I do .. uhh ohh… red flag on her. Nat says no. this is the info I wanted to give you. Z says everybody in America knows and I feel like I didn't. Nat says he garbage talks about you a lot! Nat says you do what you want with this info. I love you very much and care about you a lot a lot a lot. They hug. Z says I was being too gullible and stupid. I know my mom appreciates you. Nat says now you can play a better smarter game.It will take forever to get over. It took me forever to get over Vic and I knew him for 2 weeks. Z says So I shouldn't trust Nicole and Corey? Nat says thats up to you. If you do decide to go off on him.. I would love to too!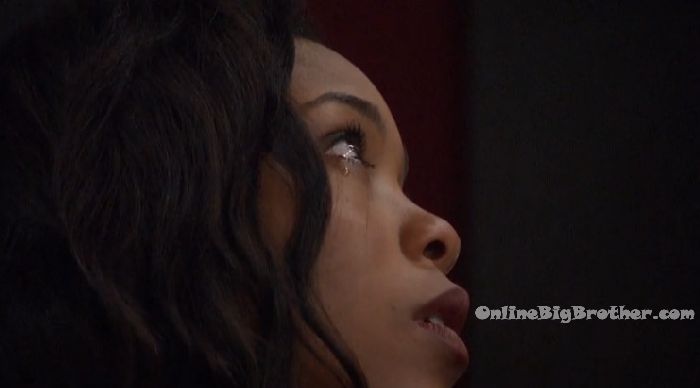 7:15pm – 7:25pm Paul asks whats the plan this week? Paulie says one of us has to win it. After what I told you about Natalie. She is scum. Paul says I don't know why she would do that? Paulie says because she's a Jersey Princess D-HAY (D!ck head). Paul laughs. Paulie says I'm sorry but if you don't win sh*t .. you should pretty much just keep your mouth shut! Don't f**king scheme! Paul says she tries to blow you up. Paulie says I already talked to Z and said this is what she is probably going to talk to you about. Paul says little schemer. Paulie says I say we steam roll the rest of this.
Z and Nat come out of the London room. Z heads straight to the bathroom. Nicole says Z didn't look too happy. Paulie says NEVER CARED! I'm just going to call Natalie Schemer from now on. She's literally a rag. She said she is going to make sure everyone hates me. Paul says I'll win and do sh*t. Paulie says I think every time I have a drink I will just sit and stare at Natalie. And when we're alone I'll whisper ..James won't save you now!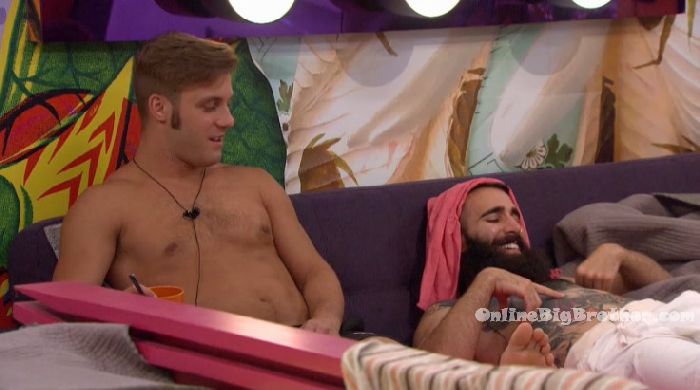 7:30pm James comforts Z in the bathroom. Z says I trust ya'll a 100%! Z leaves. James and Nicole talk. James plays dumb about not knowing what's going on with Z and why she's upset. Maybe its something to do with Paulie.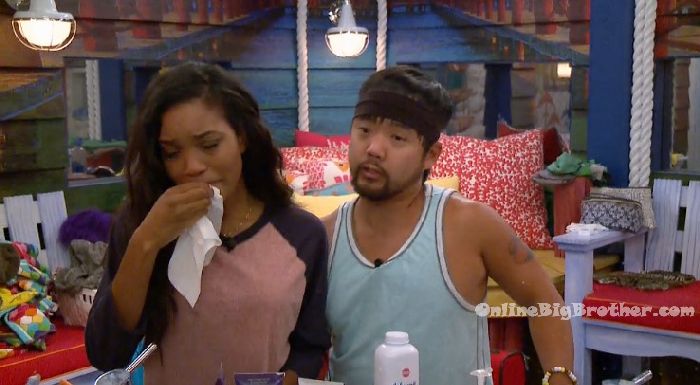 7:35pm – 7:55pm Bathroom – Z tells Nicole about the conversation she just had with Natalie. Nicole asks how would Natalie know he was going to put you and her up? Z says I don't know. Nicole asks was it about Paulie. Z says it was all about Paulie. Z says that Nat said he (Paulie) offered to take her out on dates and stuff. Nicole asks is she a secret schemer or something?! They want you to blow up so Michelle stays? Z says I don't know. She says he said he dropped after I did because he was afraid I would put him up. I would never do that! Z says outside of the game I have have feelings .. I'm a woman .. and just feel so stupid. Nicole asks are you going to talk to him? Z says no because I don't want him to think that I'm feeding into it. Z says I just feel alone. Nicole says I have your back. Z says I have your back. Nicole says I would never put you on the block. Nicole says I also think she (Nat) flirts with Paulie. Paulie come though and asks what are you crying about. Z says lots of stuff. Paulie says even after I warned you about it. I about to call her a schemer and say you're next! Paulie says she must have sunk that in deep!! Z says not it was just too much for one day. It wasn't even all about you. Paulie says I know how to handle Jersey girls.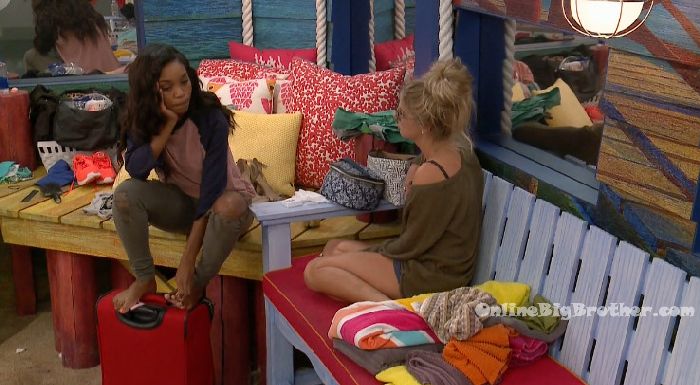 7:40pm – 7:55pm Outside the HOH room – Natalie relays the conversation she had with Z to him. James says if Paulie wins he might put us up together just to drive a wedge in between us. Damn! Natalie says if we win we have the numbers. Nat says I want to control my own destiny in this game. I want there to be a reason why I am taken out. James says I think I should try and win this one. Nat asks James are you f**King kidding me?! James says yeah of course I will try an win. Nat says I'm over here trying to f**k sh*t up! Nat sasy I'm going out with a vengeance. James says I'm going out with a girlfriend.
[polldaddy poll=9491180]
[polldaddy poll=9491957]