POV Holder:
Paulie
POV Competition
Aug 6th
POV Used
NO!
POV Ceremony
Aug 8th
HOH
Victor
Next HOH
Aug 11th
Original Nomi1nations:
Michelle AND Zakiyah
After POV Nominations:
Michelle AND Zakiyah
Have Nots
Bridgette, James, Corey
Watch the next week of the feeds for FREE – 1 week Trial!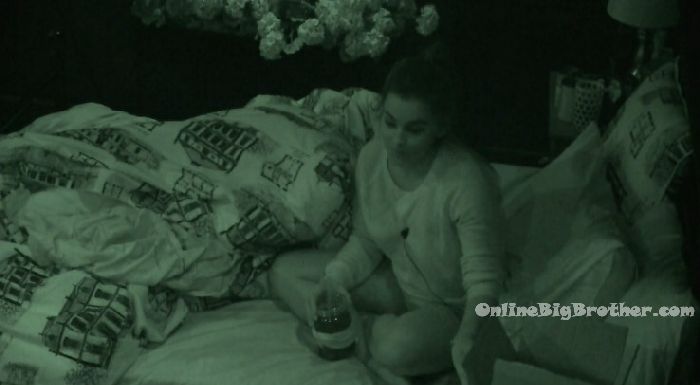 1am London Bedroom – Natalie heads in to the london bedroom tells Paulie I just said the honest truth about you. Paulie says you and Michelle have fun in there. Natalie talks to Michelle. Natalie says he said have fun in here with you. What does that mean? He said Michelle is going home and you are right after. That's when it all started, I said I was an honest girl and he said no you're not you're fake. You're as fake as the things on your chest. Michelle says ohHHH.. why can't I say anything? Natalie says don't, don't. Michelle says no I don't want him to talk to my friends like that. Natalie says dude I got a package from America, why do I care what anyone thinks of me? Michelle says good for you. What was Nicole doing? Natalie says hiding under their blankets probably laughing .. because she makes fun of me so it doesn't really matter. She makes fun of me all the time. Michelle says damn dude. James needs to hear what just happened. Natalie says and he said you're going home right after. I was like I'm not threatening you, why are you threatening me? He said you've done enough damage and its a promise you're going home! I'm not scared though. In week 1 and 2 I flirted hard because that was my game. I'm going to show America that I'm a strong f**king girl and I can make it far. I surpassed all my goals in this house. My only goal left is to win an HOH. (What about the goal to win the 500K?) Michelle says to the camera if you don't vote this girl as Amercia's Favorite.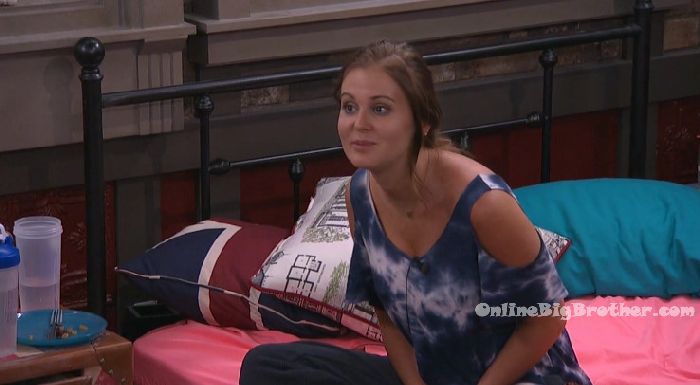 Paul joins them. Nat fills him in on the last blow up with Paulie. Paul says Exec (Vic) thinks this is hilarious. We just have to make it happen (sending Z home). Nat says it is going to happen. Paul says he (Paulie) is pissed at Bridgette too. Paul says he's red, he's pissed. Michelle tells Paul that Natalie is a bada$$ b***H! Z joins them. Natalie says I hope he doesn't slander my name because I told him I think he's a great guy. He told me I'm as fake as the things on my chest. Michelle says that is not a man. Fricken Calafiore's I hope you're proud of your son! I want to go piss him off. I want to make him snap! Nat says don't do it. I've been through worse.
Nat says and my fake t!ts, I bought'em on my own because I didn't have any. I worked f**king hard for these motherf**kers. I worked so hard for these. And I got them for 2K because the doctor gave me a discount. And he was one of the best doctors in America! So he can blow me. Z and Nat high five! Paul says Nat I love you. Paul leaves. Michelle says he's (Paulie) been saying the one thing that gets him is guys that emotionally and physically attack women. Nat says I just hope he doesn't physically hurt me. Like the way we joke around and throw things at each other. Michelle says he talks about how he's a good guy and empowers women. Nat says I'm going to talk to the DR and not say that he's threatening me but just make sure I'm safe. Z says as long as America knows what I'm doing. After I win HOH …done!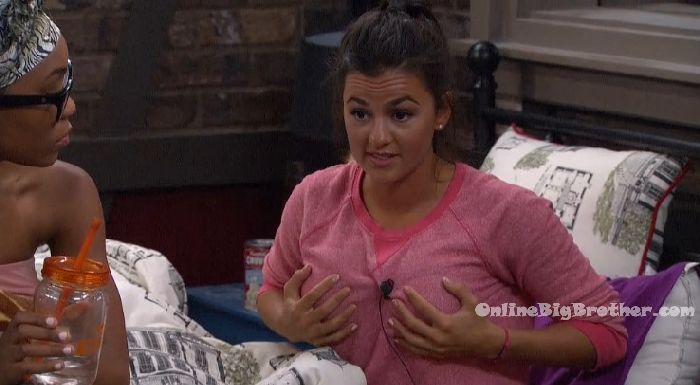 1am Paulie and Nicole are talking. Paul joins them. Paulie tells him how he just told Natalie she is as fake as those things on your chest. Paul says no you did not!? Why did I miss that?! They fist bump. Paulie says she said I think you're a great person, a great guy and I was like I wish I could say the same about you. Paulie says the sh*t that's been going on with Bridgette and Natalie is unf**king believable. Paul tells Paulie to cool his jets. Z joins Paulie. Paulie tells her about what just happened. Z asks should I be nosy? Nicole says yeah. Z says I give zero f**Ks. Z heads into the london room to listen in on the conversation. Paulie asks Nicole why would Nat try and throw my name under the bus. I'm the same way with you and other girls in the house. I didn't want Z to go in there because she is barely hanging on. I've been holding her together. She is scared of letting down her family. Nicole says we're going to win, it will be fine. Paulie says if she tries to say something during the speech I will stop her.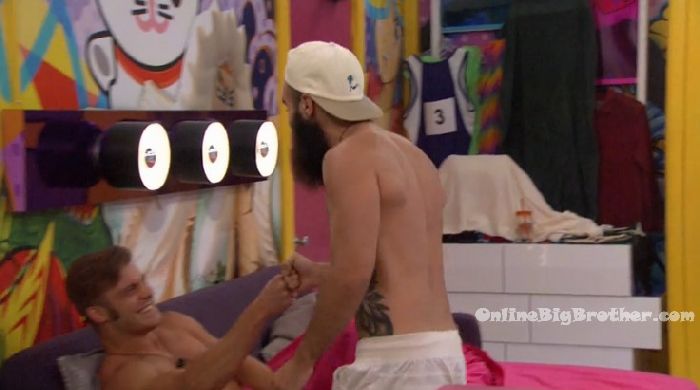 James comes out of the DR. Nicole fills him in on what just happened with Paulie and Nat. James says I am from Texas and I do not support anyone bashing on a woman about fake t!ts. I'll say it ..this is a game. We shouldn't be doing anything like that. I'll talk to Paulie. Even if I go up on the block next week. Nicole says personal attacks suck. James says I would be a complete d-hay if I just said Natalie I'm done. I don't think Paulie would let anyone say anything like that to Z. I'm from Texas, momma didn't raise no b***h. James says I'm probably going to go…. you should never talk to a woman that way. James asks did Nat say anything to make it justifiable? Nat comes out and asks her if she is okay. Nat says I'm okay. James says I just head some stuff. Nat says I'm fine. James, Paul and Nat head to the bathroom. Nat reiterates what happened with Paulie. Natalie says he hurt my feelings. I told them (DR) that I've never been talk to like that before so I just wanted to make sure I'm safe. James talks about how they were all laughing about it and I told them its not funny. Bridgette says thank you for sticking up for her. Nat says he hurt my heart but I'm okay. Nicole hid under the blankets and then was chuckling about it. You're (Nicole) not a nice person. They talk about going up to the HOH room to have a house meeting. Bridgette says I don't want him to say sh*t about my t!ts! Nat says I'm prepared to be the bigger person and not let it hurt my game.
1:20am HOH room – Paul tells Vic they might as well write that cheque to us right now. Vic asks what's going on? Paul says apparently James has been thrown my name under the bus. If anything Nat should be mad at Paul. Always touching her thighs and sh*t. Throwing my name under the bus like that. Natalie told me this. She said James isn't buying it. Paul tells Vic about what happened with Paulie and Nat. The girls are in the room sh*tting on him! Sh*tting on him! He is just going ham on those three. YOu and I aren't in the picture. Vic says we don't even have to win. Paul says Paulie is sh*tting himself. Paulie comes up to talk to Vic. They all laugh. Vic says fool shouted out the FT's! Paulie says I know what she's been doing this whole time. Paul leaves. Paulie tells Vic about what happened with Nat. Sliced and diced! Its so f**king funny. Lets just f**king steam roll and get all the chicks out of here. Corey goes up to the HOH room and laughs. James is pissed by the way. Paulie tells Corey about what happened. Corey says if James takes her side I am going to be pissed. Bridgette is gone in my books.
See what they can't show you on TV – CBS All Access: 1 WEEK FREE Trial!
1:45am HOH room – James and Bridgette head up to the HOH room. James asks what is going on? Paulie says he told Natalie she is about as fake as the things on her chest .. which she has lied about for 50 something days. Bridgette says it seems like it was a personal attack to me. Paulie says she made a personal attack on me. Bridgette says she was doing James a favour. Paulie says well I think we all are doing James a favour for letting him know how fake she is and every game she's been playing since day 1. Bridgette says she's not playing any games. Paulie says well if you're a floater you should keep your mouth shut. James says all stuff aside I think we should realize that this is a game. That's my thing. We got caught up with our emotions and I think we should keep it on a game level. Paulie says that's fine but she shouldn't be hitting on every single guy in the house and then trying to flip it the other way around. Bridgette says she has flirty personality. Paulie says so when its the other way she takes that information .. what is it a one way .. two way street?! Bridgette says I can't speech for Natalie. I'm offended ..why would you talk about her fake boobs. Like what the f**k is that?! Paulie says it was a metaphor for her fake personality. Bridgette says nice one Paulie! Nice one! I'm hurt by that comment. Paulie says I'm sorry you're hurt by that comment. Bridgette says are you staring me down for some reason?! James asks what does Nat have to do to keep the peace? Paulie says she could apologize for starters. I you can't take it, don't dish it out. It has nothing to do with male/female so if anyone wants to make it about that.. that's the wrong way to go about it. Michelle can get it too if she wants to confront me. James says this is a game! A game!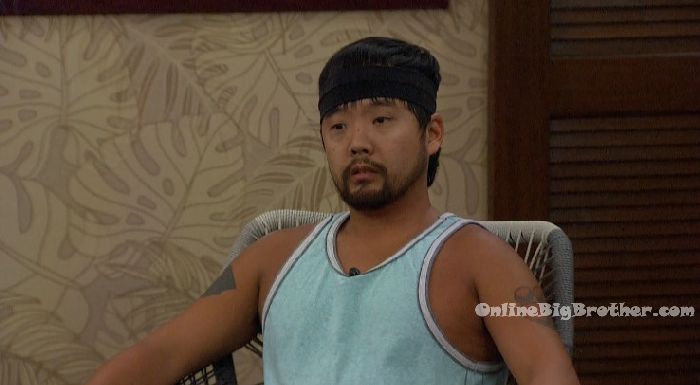 Natalie joins them and asks what's going on? Why did you speak to me like that? Paulie asks why did you go around saying all the sh*t about me? Nat says because its the truth. Paulie says you've been flirting with every single guy in here and you decide to single me out like I'm making a pass at you. Nat says you're the only guy that's done those things to me. Paulie asks did you not go to this guy (Corey) I really wish I was in a showmance with you. Nat says ummm joking around. Nat asks Corey did I say those things to you? Core says a couple times. Nat says I told you in the Tokyo room that I liked you first but then I ended up liking Victor right after.. so I chose Victor. Paulie says so its a double standard. Its not a big deal if you do it but its a big deal if I do it. You said you were uncomfortable regarding this young man over here. (Vic). Nat says he did, you did upset me with certain things. Paulie asks how did he make you feel uncomfortable? Nat says With the comments he would make to me. Why are you attacking me?! Relax! Why are you attacking me?

Paulie brings up how she told Vic that he was disrespectful to women. Nat says we hashed that out a long time ago. Why are you bring that up? Paulie says lets go back to the word uncomfortable. Natalie says you do make me feel uncomfortable. I don't feel like you respect Z. The way you've been treating Z and talking behind her back that is disrespectful. Paul, Victor, Corey, they don't make me feel uncomfortable. Paulie asks really!? SO who grabs the inside of your thighs?! On a regular basis?! Me?! Nat says no one grabs the inside of my thighs. Paulie asks REALLY!?!?! SO NOW YOU'RE f**kING LYING IN FRONT OF EVERYBODY!! James says dude, calm. Nat says you're very angry. Paulie asks so you're saying me saying comments about your butt makes you uncomfortable?! You make Corey uncomfortable. Natalie says stop attacking me. Bridgette says let her speak. Paulie starts mocking Natalie when about crying to him when Tiffany went up. Paulie brings James into it and says that you run around saying you two are just friends. Nat says I am being realistic. He lives in Texas. I love him and care about him so much. At 26 years old he made me be able to trust a man. Nat tells Paulie I don't think your intentions with Z are not good. Paulie says if you're trying to play both sides of the fence don't be fake. Paulie says what is being disrespectful about me saying I don't want a hickey on my neck. Paulie starts yelling. DON'T F**KING LIE AND BE FAKE! Natalie says that she doesn't want to be a part of this any more and leaves.
FLASHBACK and watch everything you missed: CBS All Access FREE Trial!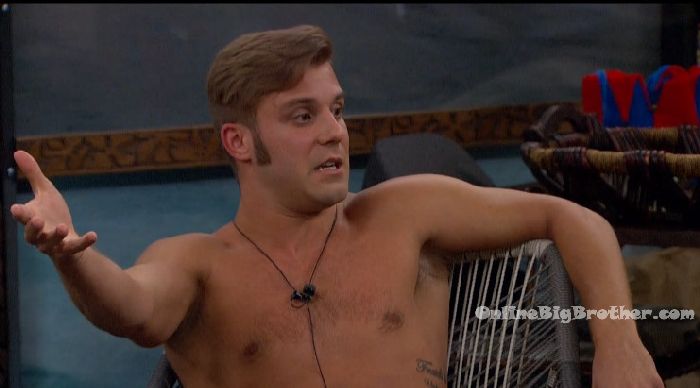 2:10am – 2:45am London Bedroom – Nicole and Nat talk. Nat tells Nicole that she is sorry she made comments about her and Corey being cute. Nicole says that didn't make me uncomfortable, the fact that you say it to get a reaction out of him .. that hurt my feelings. Nat says I genuinely think you two are cute together. I think Paulie is leading Z on. Nicole leaves. Nat tells Michelle that he is literally slandering my name. Natalie says I can't defend myself because I get scared and can't think. He's a douche bag. Bridgette joins them and says I tried to stand up for Natalie and no one is backing me up. Michelle says I will. I'll go sh*t on him! bridgette says no because they're not respecting women. Bridgette says you don't talk about someone's boobs. Michelle says I want to call him out and be like your game is blown up. I need to make a new speech saying he's game has been blown up and is no longer in the running for the 500K. Bridgette says if I get HOH, these boys better sh*t their pants. Michelle says I will too, if I'm still here. Bridgette sasy My balls dropped way before these boys.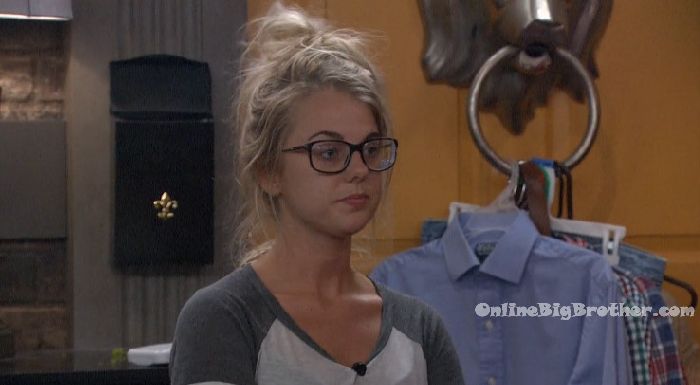 2am – 2:35am HOH room Paulie says Michelle's been throwing my name under the bus for weeks… now you (Bridgette) and Natalie decide to chime in. Vic says I was disrespected on national television and I didn't make a big deal about it. Paulie says if she is going to sit and do nothing she shouldn't try and blow sh*t up. I don't need to make amends. Everyone in the house knows what she is. If she wants to try and blow up people's games. You don't say disrespectful and uncomfortable …the way I was raised you don't say those words unless you have something to back it up with. She is a fake individual. As fake as the tear on her face when she knows she is going to go on the block or when she loses a competition. James says this really puts me in a tough spot. Paulie says well she shouldn't have opened her mouth. To be honest I don't think that came from her I think someone else enticed her to do it. She can say things in jest but I can't. James says me and Natalie are what we are .. but even I don't talk about her butt or n!pples. Corey says I wanted to keep emotion out of it and just keep it strategy. I don't like the way they she is using sh*t, we could have done that a long time ago. Paulie says we give girls compliments to make them feel good about themselves. Paulie says she is a f**king MORON! Vic says I don't even want to be apart of this. Paulie says she is going to treat you like sh*t if you side with your boys. Corey says its very hypocritical.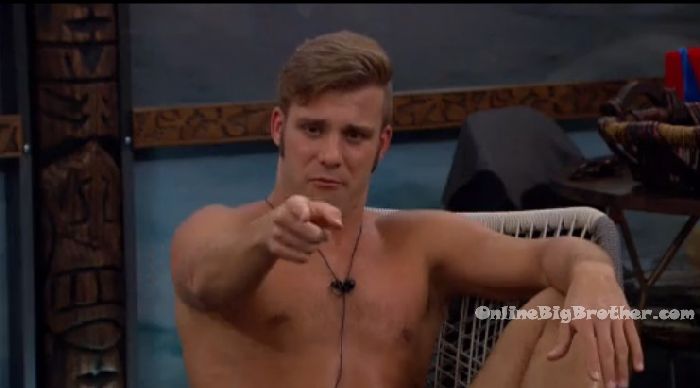 3am Vic and Natalie talk about her saying he was disrespectful to women in her goodbye speech. Vic says its not okay to say that in front of national tv. Natalie says I don't feel that way. I did before.