POV Holder:
?
POV Competition
Aug 13th
POV Used
?
POV Ceremony
Aug 15th
HOH
?
Next HOH
Aug 11th
Original Nomi1nations:
? AND ?
After POV Nominations:
? AND ?
Have Nots
?
Watch the next week of the feeds for FREE – 1 week Trial!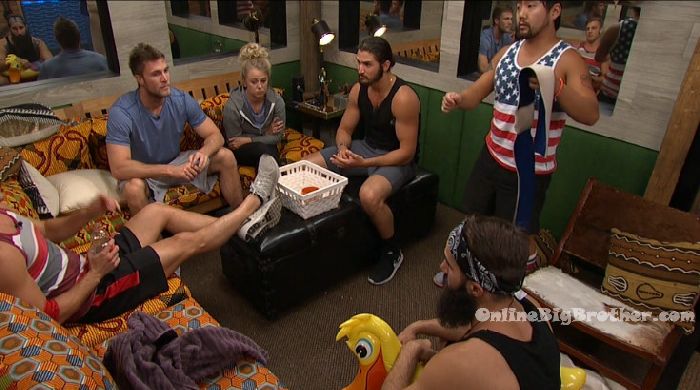 7:10pm – 7:25pm When the feeds return – In the kitchen – Natalie tells Corey thank you for not putting me up. Corey tells her she's welcome. Nicole says there is something I would like to talk to you about that Z told me. I promised Z I wouldn't bring it up prior to.. Its been bugging me all day. Meech tells Nicole that I shouldn't have said it. Nicole says its okay you wanted to out with a bang. Nicole says I didn't make a deal with you. Meech says I consider you saying you won't put me up and I won't put you up a deal. Nicole says I said I wouldn't put you up. Corey says that's a dumb question.. please don't put me up. Meech says you're not a snake Nicole. Meech says you didn't talk to me all week. Nicole says you're on the block and you didn't even ask me for my vote. Meech says because you were close to Z. Nicole says so why even bother talking to me!? They head into the havenot room to talk. Nicole says you threw away Bridgette's cookies a month and now you're friends with her. Nicole says I have nothing personally against you. Meech says I just felt so screwed over by you guys.

In the Safari room – Paul tells Paulie is going to try and win the HOH. Paulie says thank you. I will too. Paul says we had your back. I just wanted to stay out of the cross hairs. Paulie says I would put up James and Natalie up together and I'm sending James home for what he did. He left me up there to be blasted. In the kitchen – Corey says I disagree with everything they did. I want America to know that they're in the wrong, not Paulie. Paulie says I have a personal vendetta against him. (James)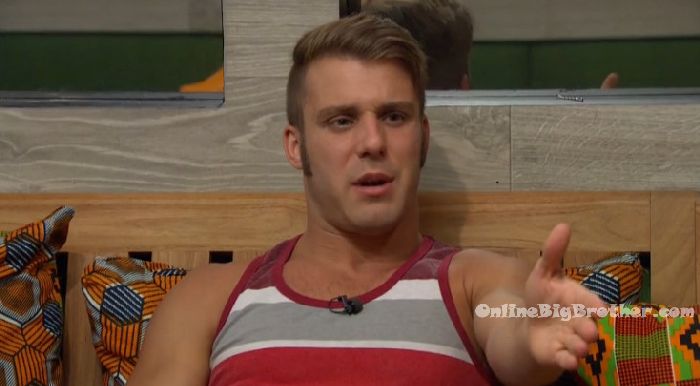 7:25pm – 7:45pm Corey talks to Natalie about last night. He says that everyone is confused about why it happened and how it was done. I just don't understand why Paulie was singled out? And why wasn't it said weeks ago? Natalie says I should have. Corey says I am just worried that you might do the same to me. Nat says we don't converse. Corey says I've told you're wifey material. Nat says but he's said other things that have made me uncomfortable. Corey says Paulie is a good guy. The reason he is so worked up is because he is so passionate. Corey says a lot of things Paulie has said to Z are for game reasons. Its not right for you to go and break Z heart. I don't think it was fair that he had to go through that. Moving forward I would like for us to be cordial and hang out. Nat says maybe I should have done it in a different manner. I just would want someone to do it for me. Corey says I just want us to play a clean game. Natalie says I do feel bad about it. Paulie joins them. Corey says we're just talking about life. Paulie says one person that was starting sh*t is still in the house. What you did isn't cool!! Nat says I'm not trying to fight with you. Paulie says everything that you said to Z … me and her talked about it one on one. Paulie says I told James I gave him my word I will not do anything .. and I will stick to that. Nat says I apologize for what I said and for hurting your feelings. I was just doing that because I care about her. Paulie says adults talk one on one when they have problems. I don't appreciate what you and your friends did to slander my name.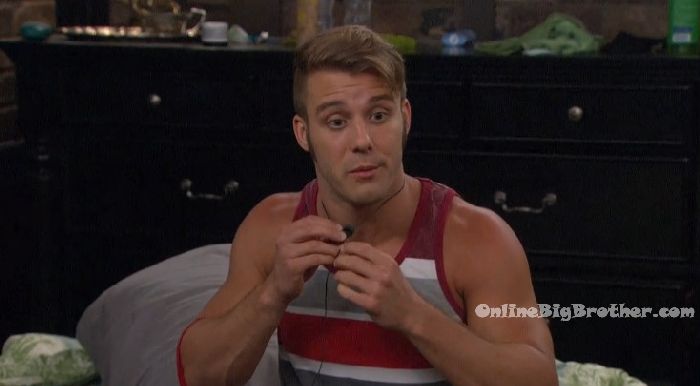 7:45pm Corey and James continue to talk about Paulie. James says Paulie is still heated. Corey says yeah. He's more concerned about how he's being portrayed. James says that's how I was feeling like I was coming from two sides. I was trying to protect her (Nat) and trying to say out of the drama. Corey says Paulie just needs to pump the breaks. James says I was worried he was going to come in here an mow down Michelle. Corey asks do you think I made a good move by putting up Bridgette and Michelle. James says yeah it was good. Corey says I was thinking these are the two problems and one of them has to go. Corey says I hope you don't think I have anything against you because I'm with Paulie. James says I would never try and put Paulie on the block or back door him.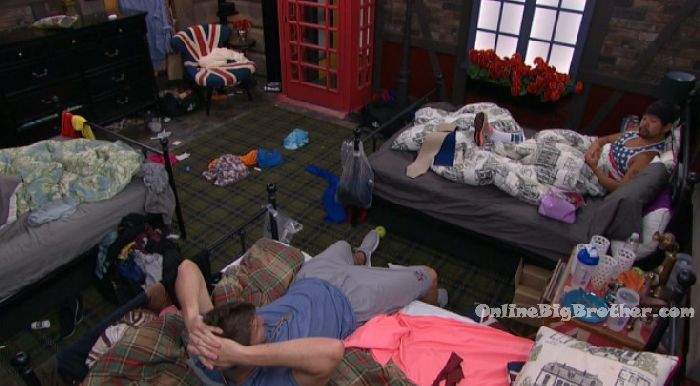 8pm Havenot room – Vic, Paulie, Michelle, Paul. Michelle and Paulie are talking about DaVonne and past events of the house. Michelle says I wasn't working with Da. Why would I want to work with someone that was lying to everyone and hated by the house. Michelle says that Z made it seem like you didn't care. Z was playing both sides. Paulie says she played the hell out of me. Michelle says she was saying that cuddling you last night was strategy. She said I have to force myself and have a fake smile. I had to fake it. Paulie asks really?! Because we BONED last night! Michelle asks really?! Vic asks ya'll boned? Paulie says lets drop it in case the live feeds are on. My feelings for that girl are 100% .. the things I wouldn't deal with in the real world was the jealousy and her being territorial. Meech says she said he only trusted me. Paulie says that's what she told me. Michelle says she (Z) said basically said it was painful to cuddle with you last night. Natalie says Z said you cursed at her saying you better not play a f**king pitty party. Paulie says I never said that. She tried to paint me in a bad light. Natalie says I do think you're a great guy. Paulie says I'm sorry for saying all that bullsh*t. Nat says I should have come to you first. Paulie says she (Z) inhibited my social game. James joins them. Paulie says apparently I was getting played the whole time. I can't believe all that sh*t happened and she was sitting there playing me.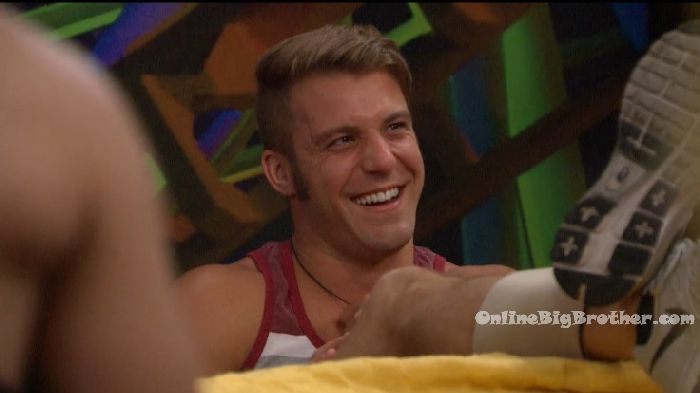 8:15pm London Bedroom – Nicole and Corey are talking alone. Nicole says I like to make people sweat a little bit. Nicole says literally everyone was gunning for me, you and Paulie. Corey says I'm not worried about them. Nicole says I'm not either. Nicole says that Michelle told me that Tiffany, Frank, Jozea all said that I'm a snake and not to work with me. Corey says I hope we should have gotten Bridgette out first. Nicole says no I can deal with Michelle. Corey says Michelle or Paul because Paul is playing everyone. Or Maybe we should get Natalie out. Nicole says I know, I can't believe you didn't make her sweat on the block. Nicole says James is protecting Natalie to death.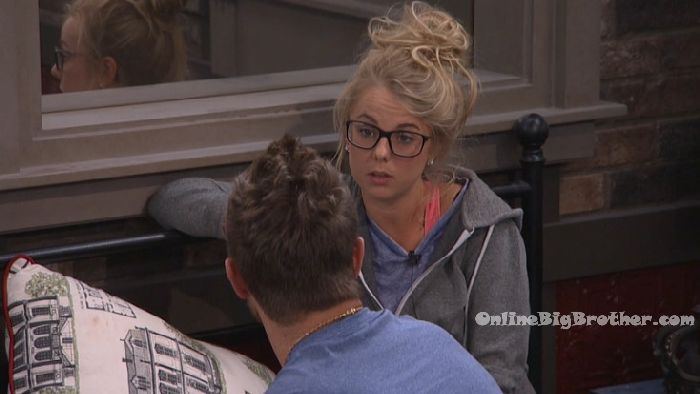 8:25pm Kitchen – Paul, Vic and James. Pauli says Corey's never won anything in his life. James says oh yeah he beasted it! Paul says we nominate Corey and Paulie. They're both playing. If we put both those boys up they have to try to win. Vic says I would much rather the backdoor. Paul says then you run the risk of one of them winning. This way one of them is going. James says I was thinking put Michelle up as a pawn. Paul says its the same as Frank and Bridgette. Paul says if we put up two strong players they don't have a choice but to win it.
8:35pm Safari room – James and Paulie hug. James says no hard feelings. Paulie says I literally just learned that she (Z) was going to put me up on the block. James says she was hyping up both sides of the house. Paulie says I know I get heated. I'm sorry. James says I know, you're a competitor. (LOL everyone is making nice before the HOH comp)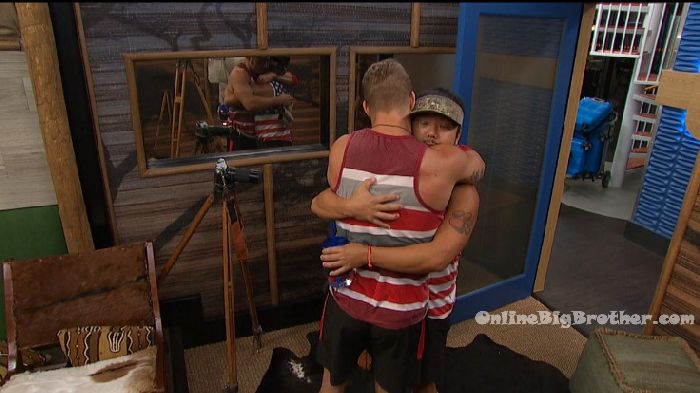 In the kitchen – Paul says I want Zingbot to come in here and sh*t on me! Michelle says if you put me up I'll sh*t on you!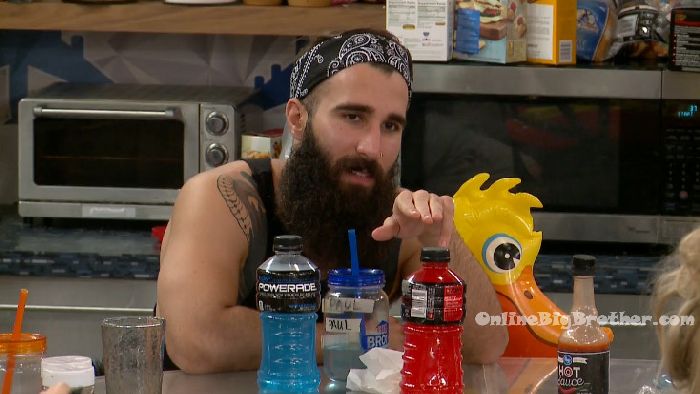 London Bedroom – James says I literally threw everyone under the bus. Natalie says I liked the last 48 hours of drama. James says no more drama. Nat says we needed to spice things up. James says you did your sh*t for the week. My little pitbul. You destroyed an alliance. A relationship. James says I never threw your name under the bus. Nat says I'll never throw your name under the bus either. Nat says I'm done for a bit. James says as long as I don't get voted out next week, I made it past my goal. I got voted out 7th place.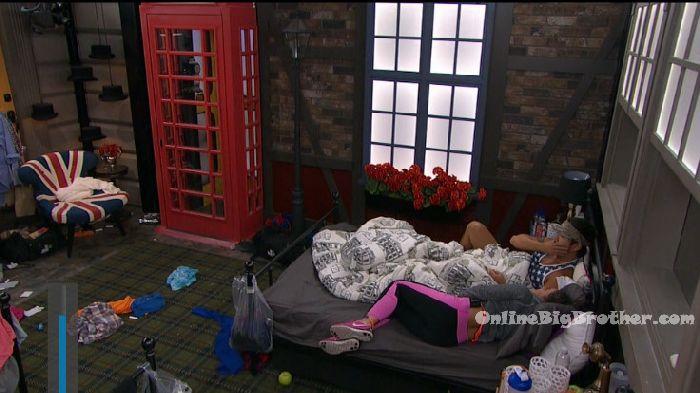 8:55pm – 9pm Nicole and Paulie. Paulie says fucking Christ! What is happening the last 48 hours. After watching your season, I did not expect sh*t like this would happen. Nicole says me neither and I've played before. Paul says I though people were done blowing up my game and then Paul walks in and James is like by the way Paul I heard you were coming after me. I was like alright cool! Nicole says apparently Z was going to put us up but I don't believe it. Paulie says after this last week, I'm not saying a damn word. I'm not saying anything but to you and Corey. Nicole says Corey can't play. You or I need to win HOH. Its going to be a mental comp. We need to win and then mend relationships. Paulie agrees. Nicole says she wasn't playing you. Paulie says I know but right now I actually have to make them believe I think that. When in reality James f**ked us. Nicole says I didn't make a deal with her (Meech) that really pissed me off. Paulie says I don't believe it. I don't know what to think about James. He literally left me, you and Corey out to dry. He literally teamed up with Michelle, Bridgette. If he (James) wins this comp we might be in trouble.. Nicole says I know.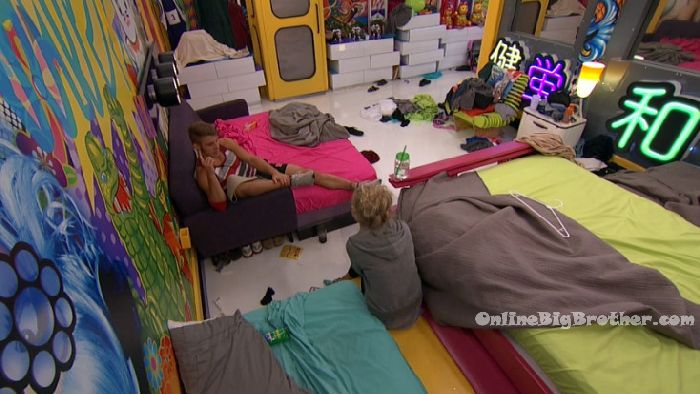 9:03pm Big Brother blocks the feeds for the HOH competition..
HELP keep the spoilers coming. Show your support by making a donation.
[polldaddy poll=9491180]
[polldaddy poll=9491957]