POV Holder:
Paulie
POV Competition
Aug 6th
POV Used
NO!
POV Ceremony
Aug 8th
HOH
Victor
Next HOH
Aug 11th
Original Nominations:
Michelle AND Zakiyah
After POV Nominations:
Michelle AND Zakiyah
Have Nots
Bridgette, James, Corey
POV was not used nominations stay the same
Watch the next week of the feeds for FREE – 1 week Trial!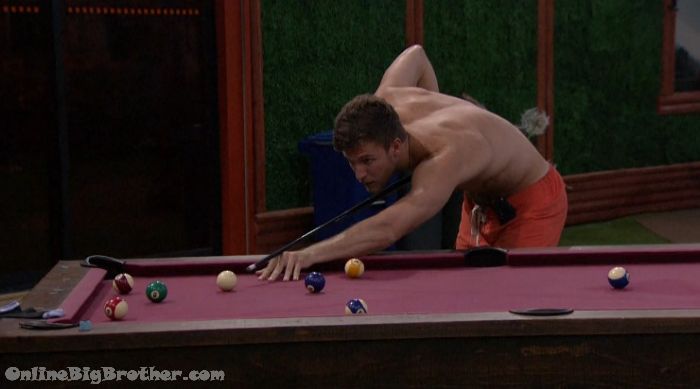 7:55pm Pool Paulie, James and Corey
Paulie says Paul told him Victor is super worried about the couples.
James – I told ya
Corey – I'm putting Paul and Vic up if I win HOH.. never cared..
Paulie – OK … At least Paul is telling us about information
Corey – no he's not he's throwing names out there left or right..
James – he threw Corey and Nicole's names out
Paulie – Paul without Vic loyal dog Paul with Vic..
James – questionable
Paulie – You remember the way Paul was after Vic left
James says Paul and Victor were super loyal in the beginning..
James – Paul wants to keep Vic as long as possible .. helps him
Corey – ya
Paulie – he wants to get the girls out her doesn't want to get us up
They agree when Victor says he's after the couples he means the girls.
Paulie says they want all guys in the end
James- that will be pretty sweet.. Victor's not going to want to get Bridgette out
Paulie wants them to take out Bridgette.
Corey now changing his targets to Bridgette and Paul if he wins the HOH.
Paul joins them.. They start to work out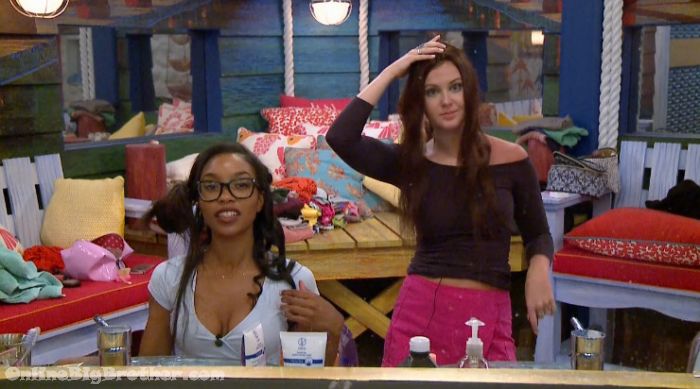 8:09pm Bathroom Michelle and Zakiyah
Michelle says she's happy to have at least made it to jury. Asks Zakiyah if Paulie ever told her why he never used the veto.
Zakiyah says she didn't want to pry.
Michelle – how do I look as a brunette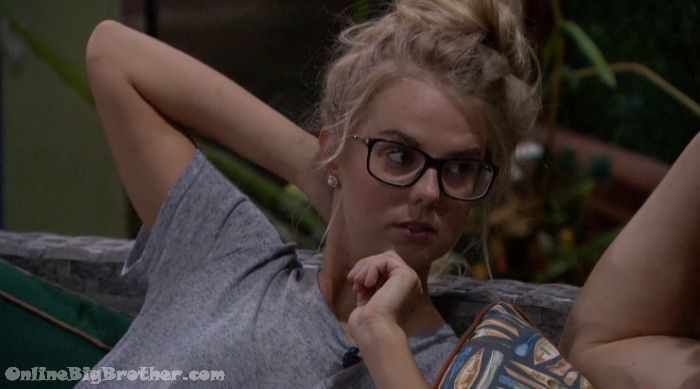 8:12pm Nicole and Corey
Nicole – Paul and Zakiyah were talking all night and I heard everything..
Nicole – she told Paul everything about Michelle's speech
Nicole says Zakiyah was bawling and he said really mean this is why I don't tell you things because you can't handle it.. I want to or Paulie to tell her Paul wanted her out.
Nicole wants to make sure Zakiyah knows they had to convince Paul and Victor to keep her this week because Zakiyah and Paul have gotten closer as of late, "what if she comes after us"
Corey – Z? After us
Nicole – who is she going after
Corey – Vic and Bridgette or whoever Paulie tells her to
Nicole – ok
Corey – ya tell her that's fine..
Nicole – I want to gain trust with her
James joins them "Let's get Paul outta here"
Nicole – my plan is to put up Bridgette and Paul
James – and if one comes down.. Put Victor back up and vote his a$$ out
Nicole – why do you want him gone?
James- because y'all want him gone… he threw your names under the bus.. I voted Da out because she's KINDA targeting you guys now he's throwing your name under the bus he's gotta go..
Corey wants to call Paul out
James – he's a smooth talker
Nicole doesn't want him to incase Paul wins the HOH, "You might have to kiss his butt"
Corey – why is he doing this
Nicole – he's planting seed
James – I might Veto Paul's vote and Natalie
Nicole – oh really
Corey – that's fine
James – I'm trying to make it look like nobody is working together
Nicole – that's fine.. Whatever.. I'm going to have trouble voting either of those girls out..
Nicole want them to get rid of Paul during the double so he's not banging pots and pans all week.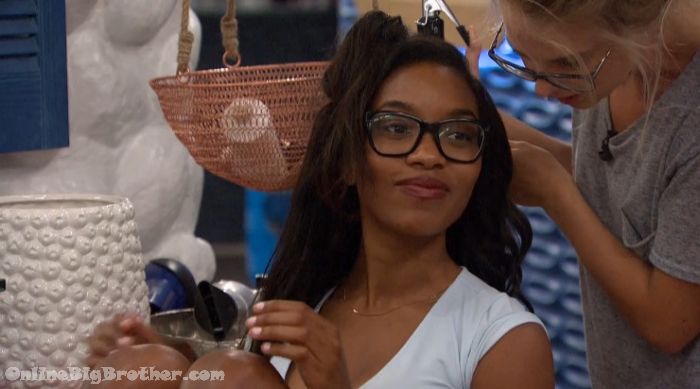 8:41pm Nicole and Zakiyah Bathroom
Nicole says Paul and Victor were the ones that wanted to keep Michelle. Victor originally wanted Michelle to leave but Paul changed his mind.
Nicole – I had to give 10 points why you should stay
Zakiyah – If I get it should I put them up with each other
Nicole – that's what I'm doing during the double
Nicole – Me, Paulie, James and Corey will all vote to keep you
Zakiyah – what's his reasoning
Nicole – you're a beast.. something about comps.. he's scared of you for some reason
Zakiyah laughs..
Nicole – the deep down reason is he wants to get closer to Paulie
Nicole says they've told Victor they are keeping you, "Please don't say anything"
Zakiyah says she's sad now from hearing that about Paul.
Nicole says PAul probably won't target her after this week but for this week he really wanted her to go and was upset with Nicole when she said she wanted Zakiyah to stay.
Nicole starts throwing mud about Paul bringing up stories he's shared in the past and using these to highlight Paul as a bad person.
Nicole – he will kill me if he found out I told you that… I trust you way more
Zakiyah – what did I do to the kids
Nicole – he's already coming after me after the couples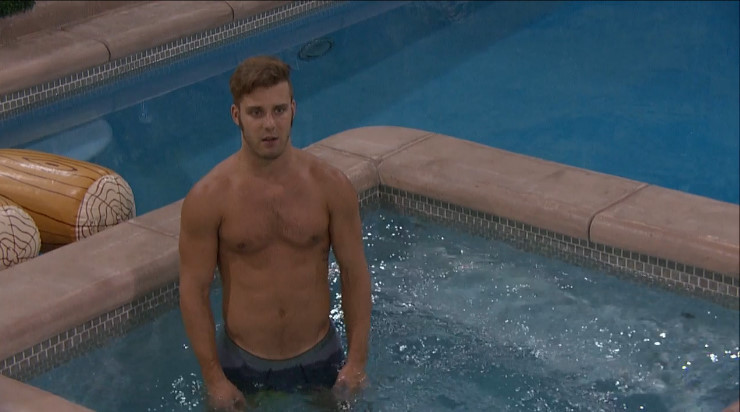 PAulie pees in the hot tub 8:56 cam 3-4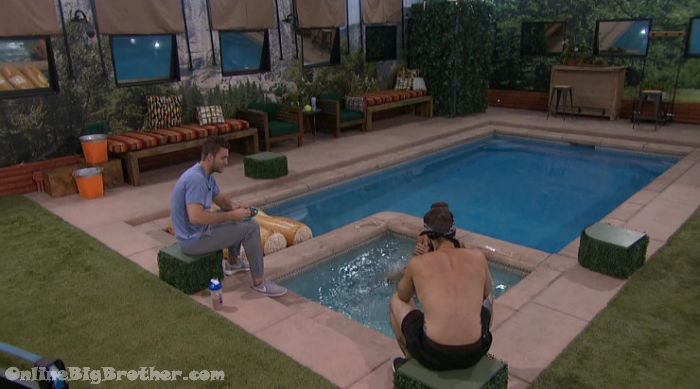 9:00pm Corey, Paul and Paulie
They can't understand why Michelle is not hanging out with them.
Paulie feels bad, "I don't under stand why"
Corey – might as well enjoy it
Paulie – at this point we're all frigging really close.. you know what I mean
Corey – ya right.. it's nothing personal .. does she know
Paulie – I don't think so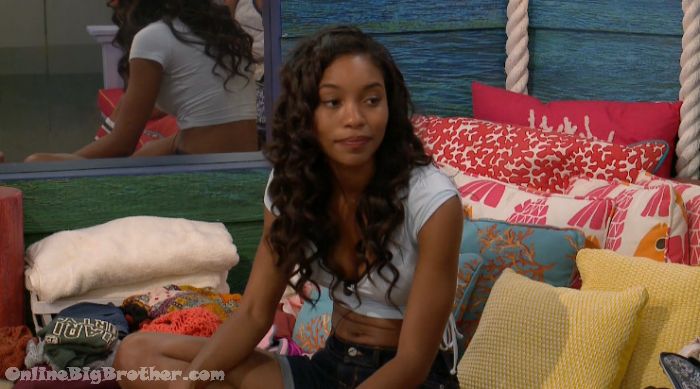 9:23pm JAmes and Zakiyah
James tells her anyone that is going to vote her out he'll 'X' out their vote.
Zakiyah says if they keep her here she's not afraid to take people out, "I got you guys.. and I really appreciate it"
James goes into his family and co parenting..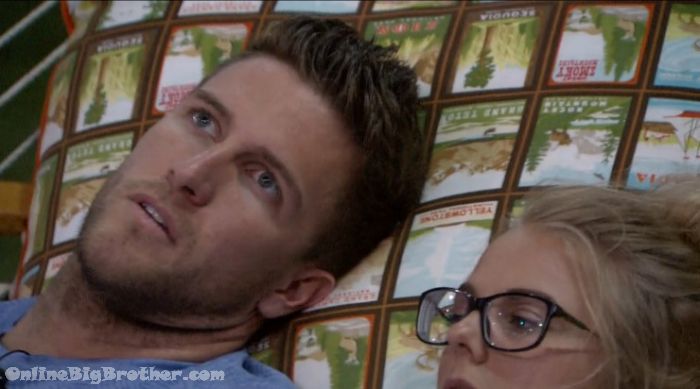 9:31pm Corey and Nicole hammock
Talking…
9:51pm Nicole says Zakiyah doesn't make food for herself she waits until people feels sorry for her. Corey says Victor is mad because nobody is hanging out in the HOH room. Nicole says it's because he's not very welcoming she calls Vic and Paul Selfish.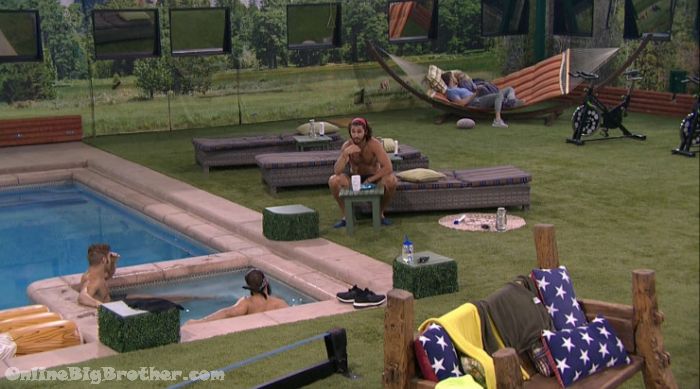 9:40pm In the backyard is PAulie, Victor and PAul talking about doing meet and greets after. Paulie says his dad can manage all that for them goes on to explain how his dad did it for Cody.
Paulie – that will be dope.. when we're done that we're just a bunch of party boys.. Live like a lifestyle sorta thing .. like YO we just come and try to have a good time .. whenever we roll into town you know it's going to be a party when we just f***G show up..
PAulie – and we document that shit put up on…
Victor – ayayyaya aaya
Victor wants to get a tour bus.
Paul wins the Rock-paper-scissors match but it was very close #BB18 @DawgsBigBrother pic.twitter.com/ByGcoXQyhO

— OnlineBigBrother.com (@bigbspoilers) August 9, 2016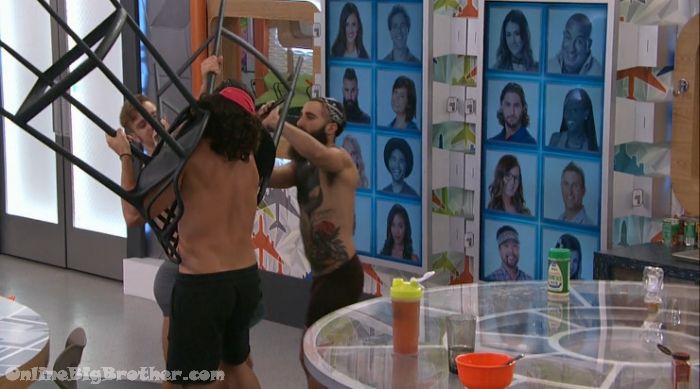 10:06pm Victor – can you help me with this one it's kinda stuck to my arm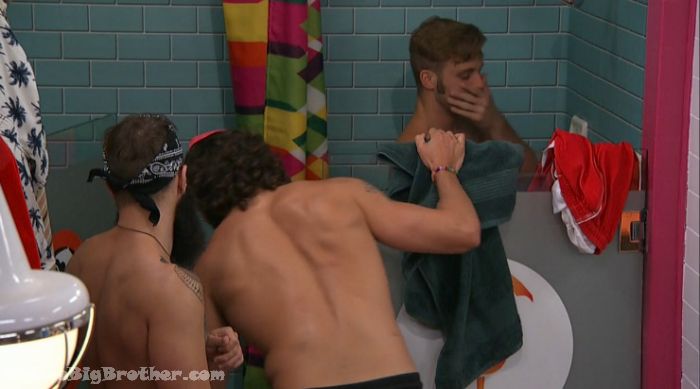 They find a clump of hair in the shower.. it's gross paul jokes about eating it and Paulie almost throws up.
Take a look at that shower..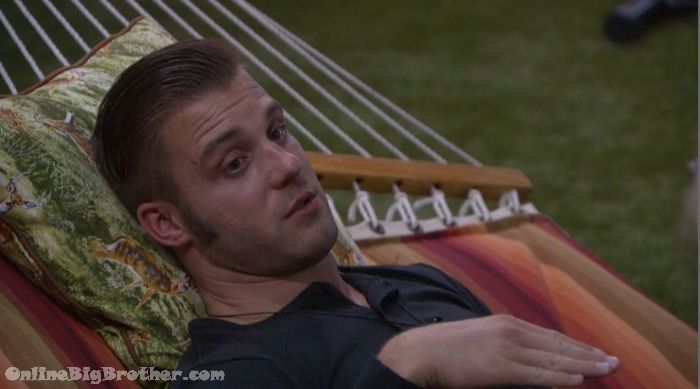 10:34pm Nicole and Paulie
Nicole says she told Zakiyah that PAul was trying to get her out. Nicole adds that Zakiyah doesn't think you know she wants me to tell you.
Nicole says Paul wants Z to leave to get closer to you.
Paulie agrees that Victor wanted Michelle out first but Paul talked him into Zakiyah.
Nicole says Zakiyah won't win any competitions, She won't flip and Paulie controls her so she's fine with her in the house.
Nicole – Don't tell paulllllll thaatttttttttttt.. it was a bondinggggggggggggggggggggggggggggg thinggggggggggggggggggggggggggggg i hadddddddddddddddddddddddddddddddddddddd to dooooooooooooooooo
Paulie tells her she did good Telling Zakiyah.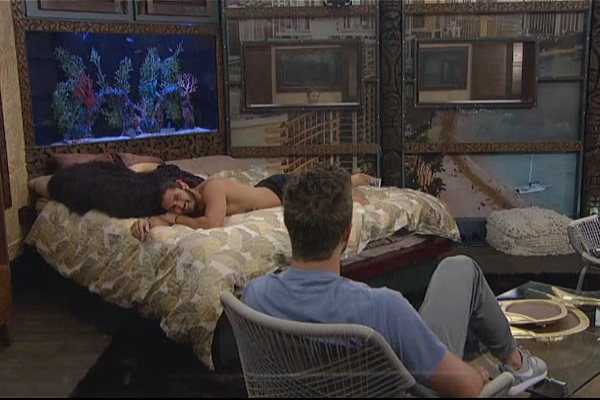 10:50pm Corey and Victor spending come some time together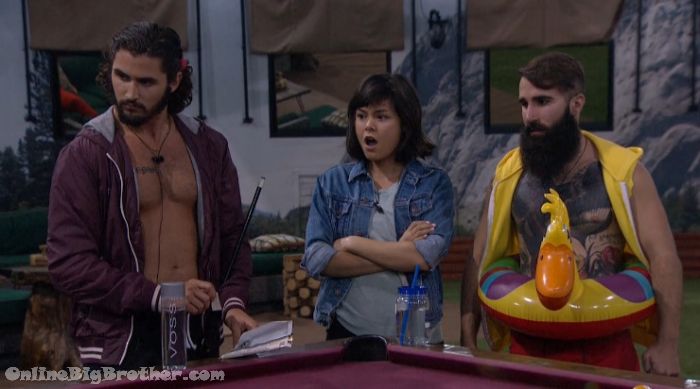 11:02pm Looks like the band is back together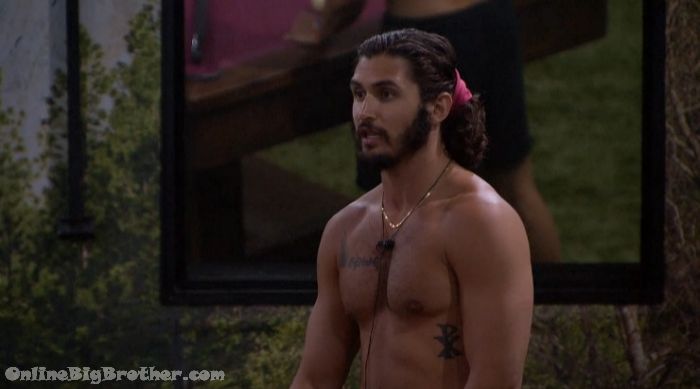 11:18pm Paulie and Victor pool table
Paulie says meech bringing up numbers hurt both of them because they have the most wins.
Paulie – we'll be fine as long as Paul or I win
Victor – James will try some sly sh1t
Corey comes back.. pool continues..
11:26pm Backyard couch Corey and Nicole are whispering to each other while Paulie and Victor play pool
Nicole says Bridgette told Z that Michelle brought up some good points during her speech.
Corey and Victor are planning on partying after the show. Along with the other guys they want to meet at Corey's place first.
Nicole says if she has Victor over she will die.
Corey brings up Pauls Halloween party and how there's 300 people there. Corey is going to go it'll be good for his "App" he thinks Paul knows some people that he could introduce it to.
Nicole – Oh my God you are so funny..
Paul joins them.
11:48pm Zakiyah, Bridgette and Nicole chit chatting..
Zakiyah – I went to the same school as Rachel Reilly.. for 1 semester
[polldaddy poll=9491180]
[polldaddy poll=9491957]