POV Holder:
Paulie
POV Competition
Aug 6th
POV Used
NO!
POV Ceremony
Aug 8th
HOH
Victor
Next HOH
Aug 11th
Original Nominations:
Michelle AND Zakiyah
After POV Nominations:
Michelle AND Zakiyah
Have Nots
Bridgette, James, Corey
POV was not used nominations stay the same
Watch the next week of the feeds for FREE – 1 week Trial!
12am In the kitchen – Nicole, Bridgette and Z.
They're talking about when they have babies. Vic and Paul play a game of chess. Paul wins and then he plays Paulie.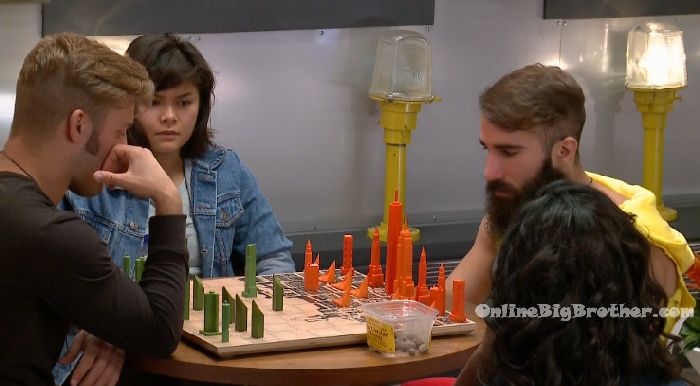 1:30am Z and Paulie head out to the backyard. Z says that Nicole told me about Paul. He was trying to get me out. Paulie asks I guess leaving you up there worked. when did he do that? Z says that he was trying to keep Meech because she's not a threat and apparently I'm not a competition beast. I don't know how when I haven't won any competitions. Paulie says so maybe my suspicion was correct that Vic, Paul, Meech and Bridgette were trying to do something. Z says I think its starting now. The hit on the couples. Paulie says it was inevitable. Z says she was going on and on and on about how you didn't pull me off and how she said I just think that's crazy. She was like if I'm leaving this week I am blowing his sh*t up .. whatever that means. Paulie asks should I call her out tomorrow? I don't really know what she can blow up of mine. Good thing I never gave her anything. I want to know where her hit on me is coming from .. Like where he anger is coming from. I asked her to talk on Sunday and she decided to sleep all day. There is really nothing she can say to blow up my spot. I only gave her misinformation. Z says I thought her whole crying episode was fake. Paulie says I think everything she does is fake.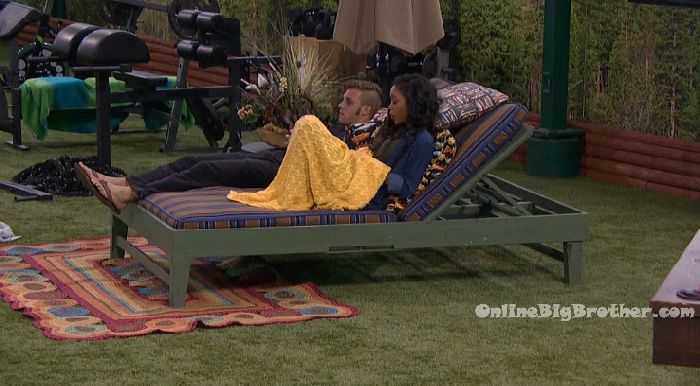 Paulie says I think I'll call her out tomorrow. Everyone liked when I called out Tiffany. Your crying is fake, You're not a superfan because you're getting out played by every single person in this house. Every single super fan is going to laugh at you. Z says don't say that. Paulie says no I'll go for the jugular and break her. You're just mad because everyone figured you out before you had a chance to figure them out. She literally tee-peed her own house because she was jealous other peoples house were. She made up a fake boyfriend because she was jealous of other girls with boyfriends. She is jealousy and attention driven. Everything she does is fake. Everything is done for a reaction and when she doesn't get a reaction she goes off on whoever is getting the attention. If it wasn't Natalie it was Bridgette, if it wasn't Bridgette it was Bronte, if it wasn't Bronte it was who the f**k else. I know for a fact that she's a liar. I know she made up the Advancmen, and the Jozea rumor. Coming at me is a big mistake. I have a Scorpio tongue. Let's talk about honour and integrity which you have none of. I will slay her on national television. If she wants to call me out, I will portray her as a loser that is going home. Z asks are you going to initiate this? Paulie says I might. Z says because I want a front row seat. I know she will try and blow me up to Vic. If I win I think I'll put up Vic and Paul. Or James can stop sliding by and win something. Z asks did you know anything (about her going up). Paulie says no I didn't. Paulie says I f**king protected her a$$ during my two HOH's. I'm not expecting hers or Da's vote in the end. They can go f**K themselves. Z asks anything I do that makes you mad? You can beat me up now. Choke me, Slap me. I'll take it. Paulie says I don't do those things… only in a s*xual sense. Z says okay.
FLASHBACK and watch everything you missed: CBS All Access FREE Trial!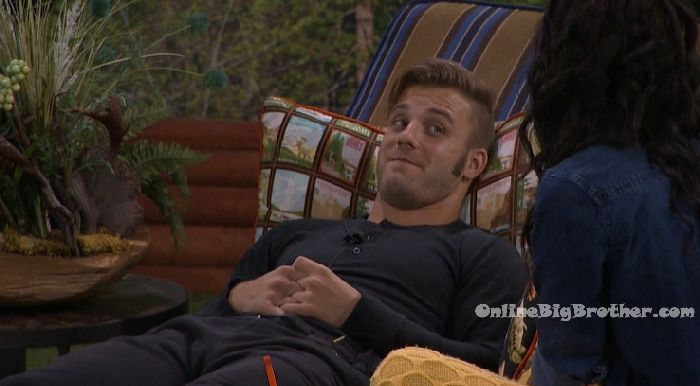 2am – 3am Paul and Vic come out to play pool. Corey watches from the sidelines.

3:40am – 4am Bathroom – Paulie and Vic chat in the bathroom. Paulie says f**king Z, it may have not been her time this week but it soon will be. Vic asks she still annoying you. Paulie says she wants to sit in on everything. Vic says fool has a girlfriend and didn't want one. That's a problem I'm happy I don't have. Paulie says trust me I'm not trying to have one when I get out. I'm not trying to have girlfriend. There is one more person that could target us and then we line up the final 3. Paulie says if I could pull out another win that would be great.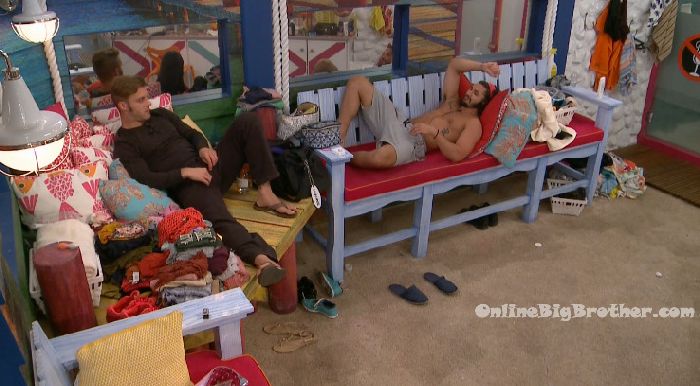 4:10am All the house guests are sleeping.
August 9th morning updates = Houseguests just starting to wake up. We'll be updating the posts this afternoon.
[polldaddy poll=9491180]
[polldaddy poll=9491957]