POV Holder:
?
POV Competition
Aug 6th
POV Used
?
POV Ceremony
Aug 8th
HOH
?
Next HOH
Aug 11th
Original Nominations:
? AND ?
After POV Nominations:
? AND ?
Have Nots
Bridgette, James, Corey
CBS All Access: Live feeds are only $5.99 per month – Try it FREE for 1 WEEK!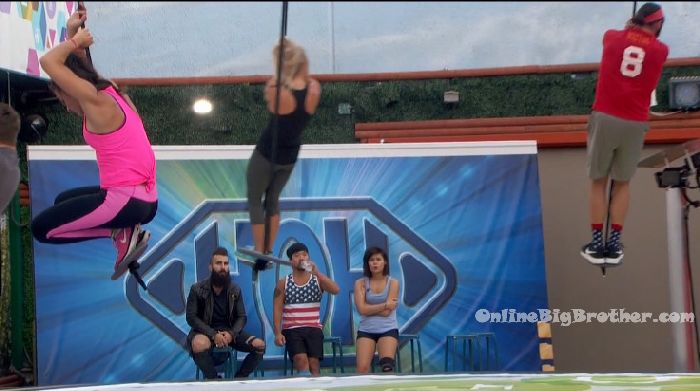 7pm When the live feeds return – The HOH endurance competition "Harsh Hashtags" is still underway. Bridgette and James have already fallen out of the competition and are 3 of the 4 havenots as they fell off first. Paulie says my Saturday nights are rougher than this! Victor says my pen!s hurts! Michelle says I can go all day!! James says if Nat falls she isn't a havenot. James asks who is going to go 5.5 hours on this one? Michelle says me! Paulie says I'm going to go 6 hours! Corey falls off and is the last have not. When the house guests fall off the internet trolls chase them and beat them with their hashtag bats.
Havenots:
Bridgette, James and Corey
WATCH the endurance competition for FREE on the live feeds: 1 WEEK Free Trial!
7:20pm Michelle throws up while spinning around. Soon after she falls off. The give her a bucket and she throws up some more in it. She starts crying. Paul says hashtag cry baby! Come on stop it. She starts crying and says I feel bad for whoever has to clean it up. Its not their job to clean up puke! Meech says vomit cry baby!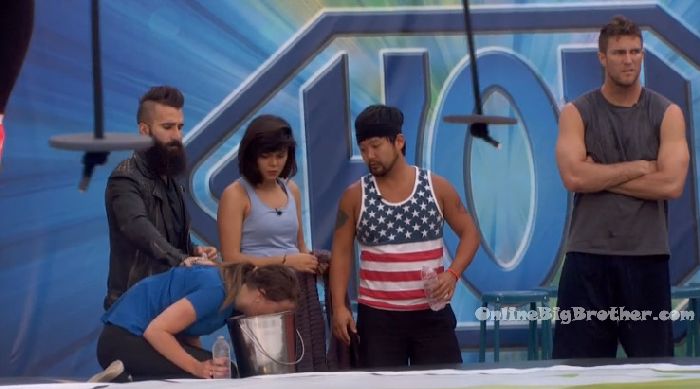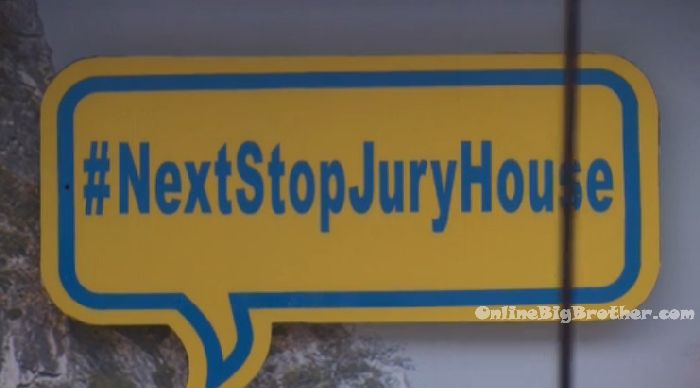 7:25pm The trolls surround Big Meech the other house guests say Awe come on! MEECH says "No I want it! Its not big Brother with out it! I suck!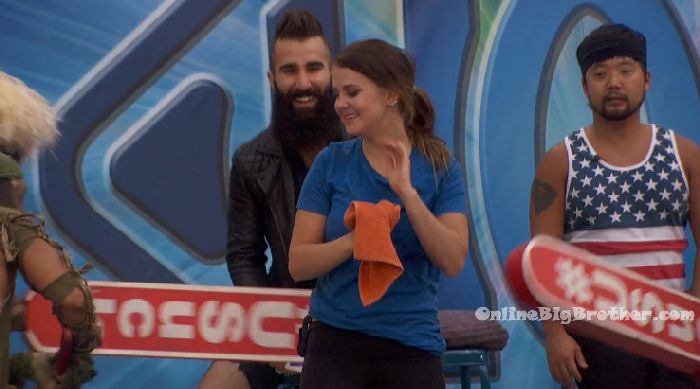 MEECH "No I want it! Its not Big Brother with out it! I SUCK!"@bigbspoilers #bb18 https://t.co/RlJcbemliP pic.twitter.com/Fzuw5hm7Q9

— Dawg (@DawgsBigBrother) August 5, 2016

7:35pm Nicole asks can you guys just not talk for 2 seconds. I'm going to throw up! Natalie says I'm going to too!
Paulie, Natalie, Z, Nicole, Victor are all still in it.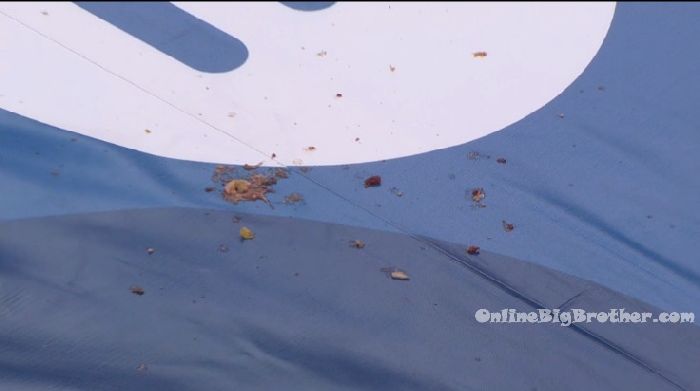 7:40pm Nicole falls off. She asks if she fell in the puke? They tell her she just missed it. The trolls come over and smack her around a bit.
FLASHBACK and watch everything you missed: CBS All Access FREE Trial!
7:47pm Michelle says I'm pissed because Ian won this comp. James says Vanessa won this on last season. Paulie says you can speed it up all you want… I ain't falling!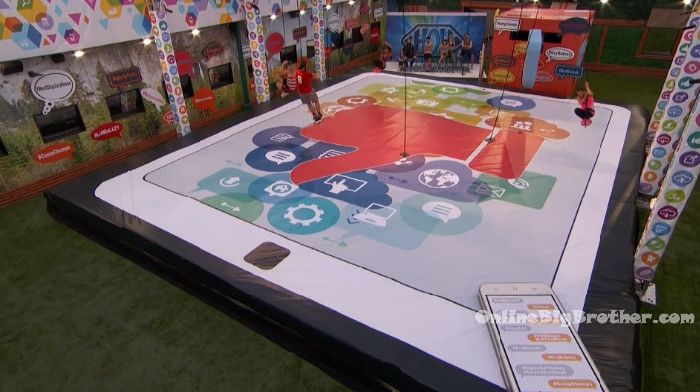 7:55pm Z says she is done. Paulie says you want me to win it for you. I'll protect you. (LOL Paulie wants her out.) Paul says stick it out! Z falls off. Paulie falls off soon after. Its only Vic and Nat left. Vic says he wants a letter from his mommy. Nat says she does too.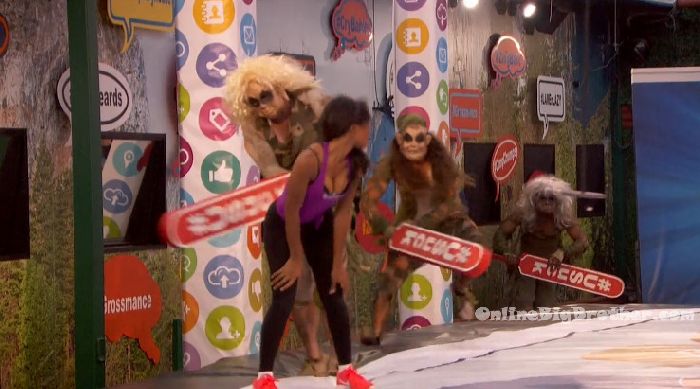 8:10pm – 8:50pm Natalie tells Vic she isn't going to put him up. Vic says I'm not going to put you up either. We're on the same page about that. I just want my letter.
Natalie says just give it to me PLEASSSSSEEEEEEE! Vic says I can't! I was evicted at one point remember?! Natalie says but you can win comps and I can't! Paulie sas seeing your mothers is the fun part .. putting 2 people up sucks! Nat asks can we just not play for our moms any more?! Vic says alright I just want a good bed and a nice shower. James says I know they (production) did not expect this comp to go this long. Vic asks Nat how she's doing? Nat says I'm fine .. just dying but I'm fine. Do you think I'll get glitter in my basket?! Natalie says I don't think I can do it any more. Ahhh this is so friggen painful! Paulie asks how ya'll doing? Vic says fabulous!! Nat says I'm never going to win HOH! This is the worst pain in the world!! Natalia asks Vic please let me win?!!? Vic says DON'T beg me!! Nat says I've got to win something! I don't think I can any more! Nat asks you're not going to put me up? Vic says no, not after you lasted this long! Soon after Nat drops off. Victor wins HOH!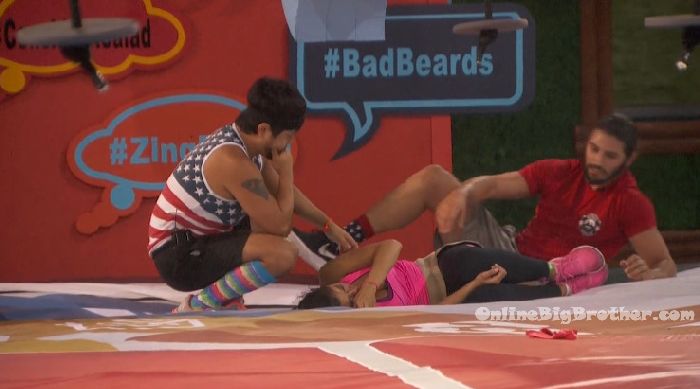 HOH WINNER: VICTOR
[polldaddy poll=9486231]
[polldaddy poll=9485811]
[polldaddy poll=9485817]