POV Holder:
Devin
Next POV
July 12th
POV Used
YES
POV Ceremony
July 7th
HOH Winner 1:
Amber
HOH Winner 2:
Devin
Battle of the Block Winner
Hayden & Nicole
Next HOH/ Next BOB
July 10/July 11
Original Nominations:
Devin's Noms (Pow Pow & Brittany) Amber's Noms (Hayden & Nicole)
Final Nominations:
POW POW & ZACH
Have Nots
Victoria Brittany, Zach and Derrick
POV Players
Host Donny, Players Devin, Brittany, POWPOW, Derrick, Zach, Amber
WATCH the LIVE FEEDS for FREE – 2 DAY TRIAL!
9:45am – 11:10am Big Brother wakes up the house guests. When the live feeds return – Brittany, Victoria, Nicole, Jocasta are in the bathroom getting ready for the live eviction day. In the kitchen Zach, Derrick, Devin, Cody and Frankie are chatting and making breakfast. Donny walks through and says this will be my first dump in the HOH room! Frankie says who wants to sh*t in my HOH room!! Devin heads up to the picnic table to watch over his peasants. Cody comments that 11:15am Big Brother will call them up to the HOH room for the usual live eviction day HOH lock down. Chirstine tells Cody that he looks scary when he wakes up. Cody laughs and says that was mean! Christine says all of you guys look intimidating in the morning. Derrick talks about how at 11:45pm tonight the havenots will get it cracking and start cooking something up to eat at 12am when they're off havenots. They ask Christine what she would eat if she's a havenot. Christine says milk and water. Derrick wonders if they would give her gluten free slop. Christine says probably not since they asked me if I was okay not having gluten free food and I said I was okay with it. Derrick says just so you know I won't ever put you on slop. Christine says it would be a good 7 day fast that's for sure. Derrick says my wife would slap me if I put you on slop. Caleb says I've never been a thief but if you don't watch out I'll steal your heart real quick! Jocasta comes out with a grapefruit and Caleb asks what is that?! Jocasta says a grapefruit. Caleb says he's never seen one before. He says he's seen one cut up but never whole before.
KING DEVIN watches of his PEASANTS @bigbspoilers #bb16 pic.twitter.com/NLiwzCkkk7

— Dawg (@DawgsBigBrother) July 10, 2014
11am – 11:10am In the fire room – Amber and Cody comment on how they really don't want to be locked up in the HOH room. Cody says I would rather be locked in here. Amber says to Cody that she doesn't think either Pow or Zach deserve to be on the block. She says that Devin should be going home. Cody agrees. Donny joins them. Cody says I hope you get HOH Donny. Just thinking about the letter you'll get I would be in tears. POW wakes up and says I just want to punch Devin in the face! The others laugh that those are the first words out of her mouth waking up. Pow asks which one of Devin's personalities will we get today?!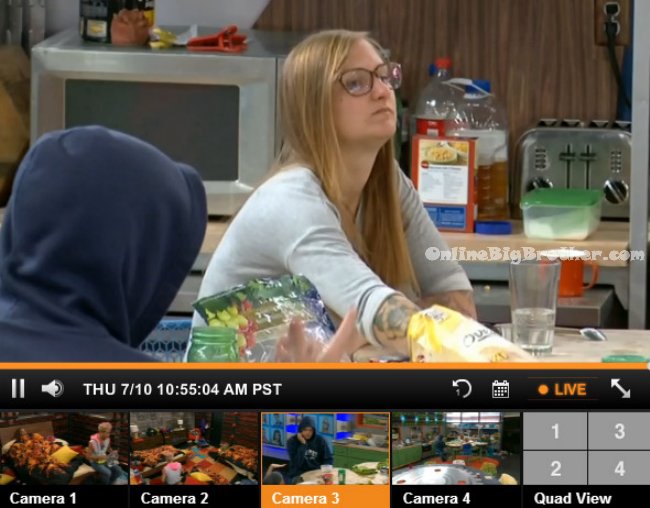 In the living room – Donny tells Jocasta that he is going to vote Zach out because he wants POW to stay. And I don't think it will hurt me one bit because its not going to change anything. Jocasta says that she can't vote to keep Zach either because of the comments he's made.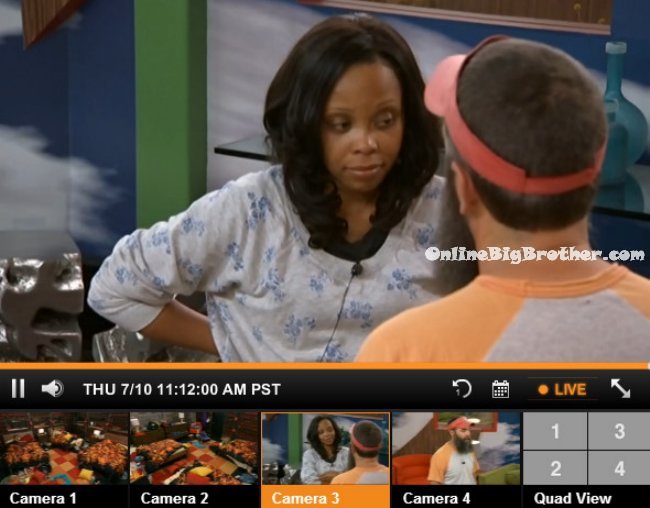 12:20pm The Live feeds are still blocked and likely won't return until after the live eviction episode..
1:50pm – 2pm The live feeds return with the house guests still getting ready / cleaning the house for the live show tonight. Frankie trims Devin's hair and then Derrick trims Frankie's hair. In the havenot room – Victoria asks what was Frankie talking about? Derrick said that he just asked me if we were all still voting out Pow Pow? Derrick says I told him we are. He just wasn't sure because he said you were asking. Victoria says I didn't ask him. Derrick says he probably just got your name confused, don't sweat it. They comment on how Pow Pow was up late with Caleb and Amber last night.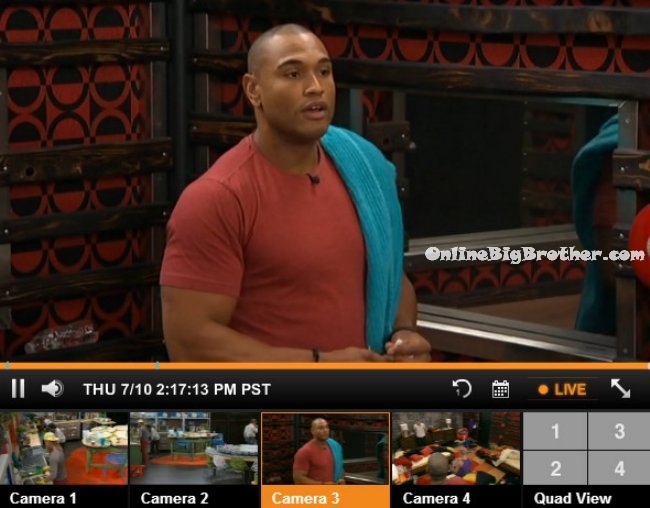 2:20pm – 2:30pm In the fire room – Devin apologizes to Derrick for throwing him under the bus. Derrick says it didn't have to be like that! You could have called me aside and talked to me. You've never heard anything I said about you did you?! Devin says no, I'm just trying to apologize. Derrick says I do want to be friends with outside the house and I appreciate you coming to me. Derrick says you blew up my game, we're both here for the same reason. Frankie and Derrick say that the damage is done lets just leave it and move on. Devin says what hurt me was that you have a daughter and I have a daughter… and I dont like the things Zach said about me and my daughter and you're keeping him here. Caleb enters the room. Devin says I am sorry for blowing things up. Derrick says it is what it is .. You will see something's that I said about you after. Devin says I saw everyone getting called into the hive room and then you (Caleb) made a truce with Zach .. I felt like okay I'm not a part of this. Caleb tells him he still wants to be friends outside the house. Devin leaves the room. Derrick tells Caleb the beginning of the conversation. Derrick calls Devin a rat! I'm not working with him any more. Frankie says he's poison! Derrick comments on how Devin apologized for making up lies about me but not to you guys. Derrick comments on how we have the votes Zach is staying..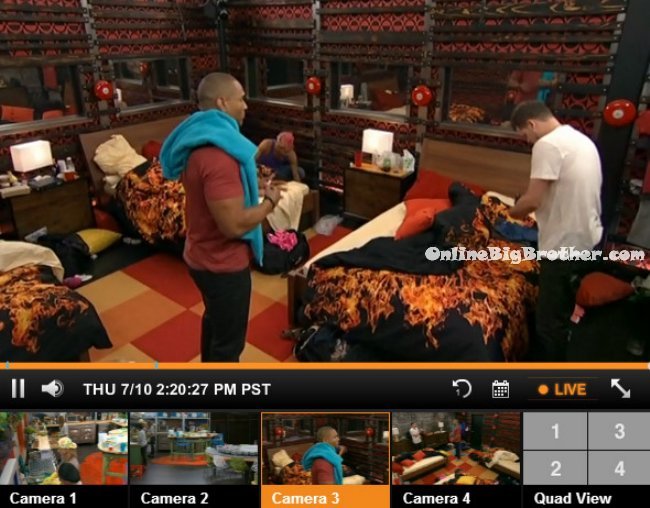 2:35pm In the hive room – Caleb talks to Zach and tells him about how Devin just apologized and hoped they could still be friends outside the house. Caleb brings up how Devin wants you gone because of the things you said about his daughter during the veto ceremony. Zach says didn't say those things about his daughter, that was Pow Pow. Zach tells Caleb that he has his back and that they'll go far. They leave the room. In the living room – Nicole asks Zach if she should dress sweet or feisty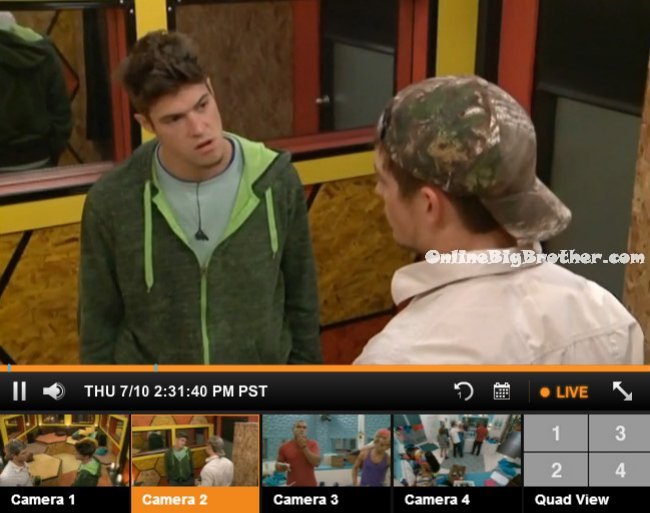 2:50pm In the hive room – Devin is talking to Derrick. Derrick says when you burned me .. you might have cost me 500,000! If I make it all the way I'll be able to forget about it but I might not make it that far now. You're a good looking guy ..you and some other people in here will have opportunities to do acting and modeling. But not me. This is strictly business for me. Devin says there was a bad period of my life where I couldn't work because I got arrested. Derrick says I know you got the DUI. Devin says I got a couple more times other than that. Devin says out of everyone in the group it went Frankie and then you. When I heard about it, I felt left out. Derrick says its this game .. it makes you paranoid. Guys in the game self sabotage! You blew up the game and we had a cake walk to jury. Devin says what can we do?! Derrick leaves. Devin and Frankie talk. Devin says I didnt know it wasn't set in stone. Frankie tells Devin the only thing he can do now is if Jocasta, Brittany or Donny win HOH … maybe you can direct this aim. Devin says all I can do is win comps.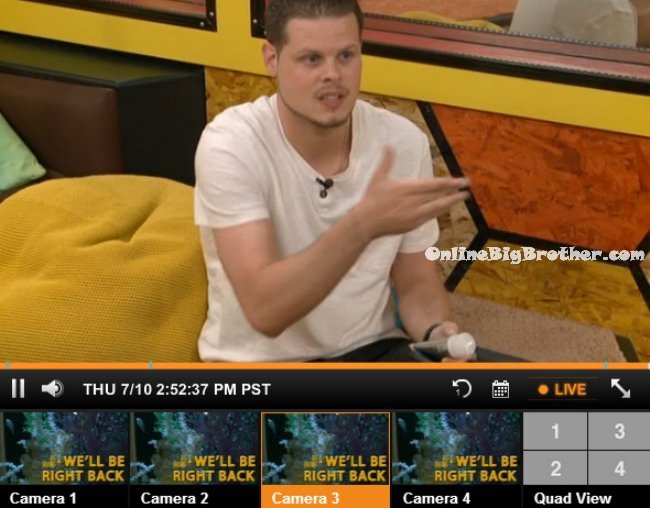 3:10pm In the fire room – Derrick tells Zach I think we're golden. Derrick says you don't f**k with a mans family or money! Derrick says I'll go home before I work with Devin again. Zach agrees. In the kitchen – Devin talks about how he will mention his and Brittany's kids if Julie Chen asks him a question. He goes and tells Brittany and she says that's a good idea. He says he hope he doesn't forget any because he'd feel bad.
3:10pm Big Brother switches the live feeds back to Jeff Schroeder showing high lights of the season again .. The live feeds won't be back again until after the live show tonight..
All purchases at Amazon.com made though these links helps support onlinebigbrother.com 
Where is the vote
Zach staying POWPOW leaving it's on lock

[polldaddy poll=8164185]
[polldaddy poll=8176232]