POV Holder:
Devin
Next POV
July 12th
POV Used
YES
POV Ceremony
July 7th
HOH Winner 1:
Amber
HOH Winner 2:
Devin
Battle of the Block Winner
Hayden & Nicole
Next HOH/ Next BOB
July 10/July 11
Original Nominations:
Devin's Noms (Pow Pow & Brittany) Amber's Noms (Hayden & Nicole)
Final Nominations:
POW POW & ZACH
Have Nots
Victoria Brittany, Zach and Derrick
POV Players
Host Donny, Players Devin, Brittany, POWPOW, Derrick, Zach, Amber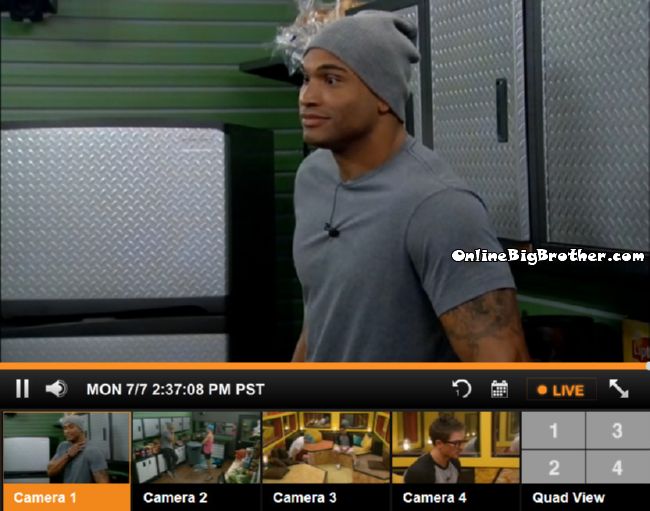 2:35pm Storage room Amber, Frankie and Christine
They want to send Zach home. Frankie tells the girls to get close with POWPOW make her feel like they're best friends. The girls leave
Devin comes in, Frankie – "we gotta send Zach packing"
Frankie says Zach blew up the bombs squad to Hayden. Frankie instructs him to be on his best behaviour because he's the swing vote. They have to work hard to get Zach out. Frankie says Devin needs to pull people up into the HOH and tell them Devin, Frankie and Caleb are going to be winning the HOH's it's better to stick with them than Zach. Devin doesn't hik this is will work it might sound like he's threatening them.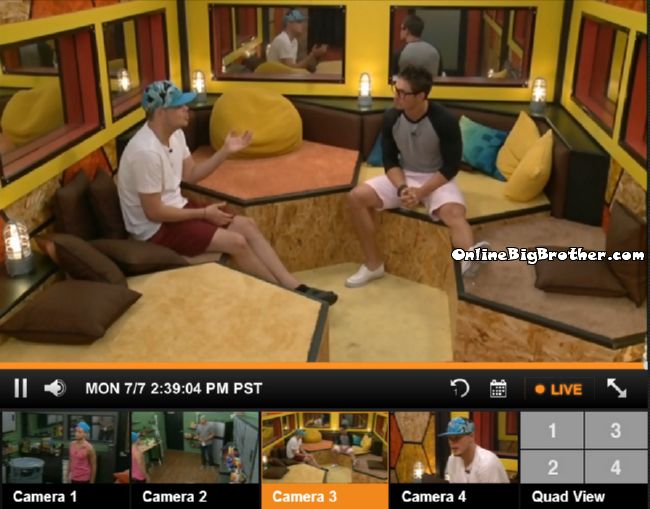 2:37pm BEEHIVE Caleb and Derrick
Derrick says Devin putting Zach up wasn't right. Caleb agrees but doesn't think what Zach did was right. Derick assure him there's heat on everyone right now.. Hayden and Brittany knew POW was going to throw the competitions they have heat on themselves to. Derrick points out that Hayden and iole are running around doing damage control so it's helping them out.
Derrick – "The only ones that are completely clean are Jocasta, Donny and Victoria"
Caleb says they have to stick together they have the numbers. Derrick isn't sure how many people will stick together but Derick still has his back.
Caleb's final 5 is Amber, Derrick, Frankie and Hayden. mention that Devin was once part of it but isn't now.
Amber comes in says they should pull hayden aside bring him into the bombsquad and say he's replacing Zach. Derrick suggests they play the bombsquad down as a 1 week deal. Derick is unsure Hayden may have told people already. Derrick says Caleb should be the one to talk with Hayden and offer the deal.
AMber and Caleb say they want Zach to go home. Derrick thinks Caleb should go talk to Hayden and offer him the deal.
Amber leaves. Derrick says the one thing he knew would break this alliance is if one of them would go up. Derrick points out that Zach got blindsided he didn't know he was going up. Caleb understands say he should have kept their names out of it and he did tell Devin to put him up. Derrick says Devin should have just put up Victoria and none of this would have happened.
Try the feeds for free.. help out OBB and get them using one of the links on this site. You can go back and watch everything we showed on this site. A live feed subscription comes with access to the Big Brother Archive letting you rewatch from day one. It's a pretty sweet setup!
FREE 2 Day TRIAL! watch the ENTIRE Season of Big Brother 16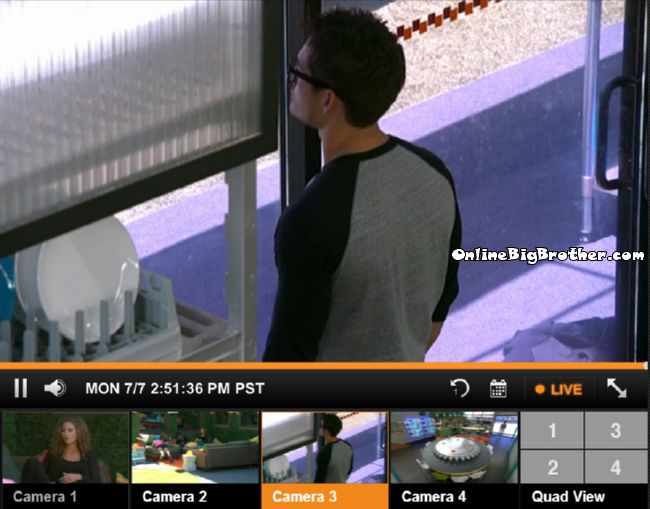 2:52pm Caleb staring at Hayden seeing if he's spilling the bombsquad to other people. (Hayden is in the pool with Zach, Brittany, Cody, Christine and ) Caleb continues to pace around the house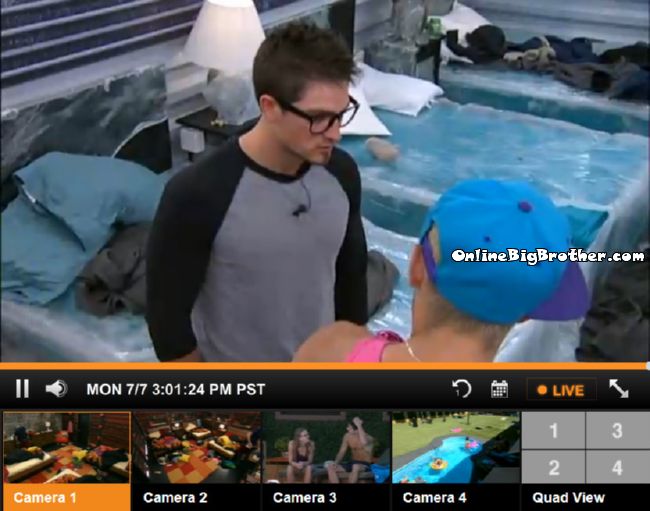 3:02pm Caleb and Frankie havenots
Caleb say he's going to pull Hayden in and drop Zach. Frankie doesn't know that will be enough, "The best thing is to get Zach out.. Zach is trying to form his own alliance with Cody, Brittany, Nicole, hayden and maybe jocasta and Donny.. I don't know about Derrick.. he drew a line in the sand there's no talking to Zach"
Caleb doesn't think Zach will be able to make an alliance.
Frankie – "What Devin did was smart now we have to do it take him out"
Caleb – who
Frankie – Zach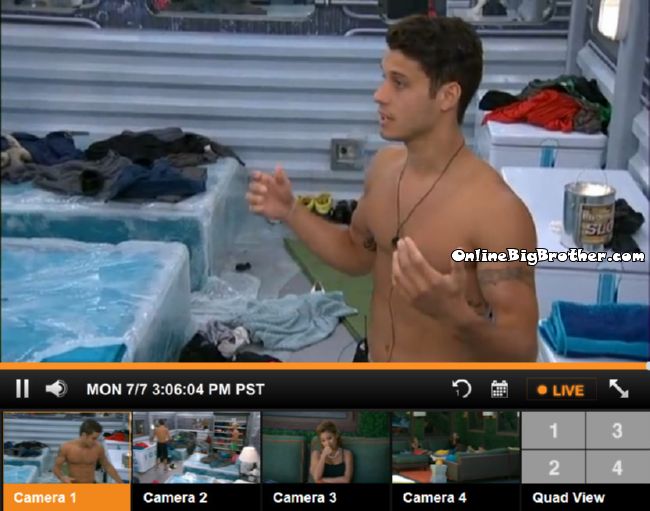 3:06pm Cody and Frankie
Cody says Zach is going to tell everyone about the alliance if he hasn't already.
Caleb joins them. Caleb says he told Devin not to put Zach up he cannot believe he did that.
Caleb – "I don't care I have a personal thing against you" caleb says putting up Zach was 100% personal
Caleb – "I'm going to stay true to the 8 I said I was going to stay true to "
Cody and Caleb are talking like Devin made a huge mistake and blew up the alliance
Caleb – "Devin no longer has my trust in this house.. he broke a promise we made.. I have a good feeling he's going home" (He said Devin which is
Frankie stay quiet (Frankie has been beating the get zach out war drum..)
Caleb feel sliek Zach is going to run around and forming his own alliance. Cody is going to talk Zach down from that. Caleb suggests they push Devin to the side and bring Hayden in and they are back to 8
Frankie says Zach wants to bring in Brittany and Nicole. Cody mentions that Zach is running around going crazy he's not thinking about the game right now.
Caleb says Brittany and Nicole and the rest of the outsiders are not going to trust Zach he just outed his alliance nobody is going to trust him.
Cody thinks when Zach brought up Devin's pills and his daughter he lost some people in the house (Jocasta)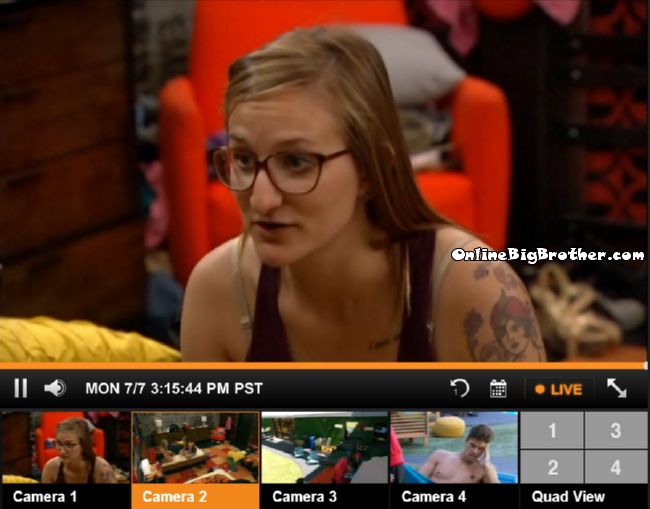 3:16pm Christine and Nicole Fireroom
Christine tells her about Devin pulling her into the bombsquad, "You can see in my DR's I always said i'm using this alliance to bring Nicole as far as I can"
Christine mentions Caleb told her straight up her and AMber were on the bottom of the alliance.
Christine tells her the bombs squad roster, says she was never really consulted about the nominees the only person that gave her any information is Frankie. Christine says they love Hayden and they want to pull Hayden into the alliance with you. (So a 10 person alliance)
Christine says the plan this week was for the bom squad to backd**r Devin but he won the HOH/POV.
They start comparing Amber's lies. Christine warns her about Derrick.
They agree the bombsquad was a stupid name. CHristine- "they tried so hard to puppet me"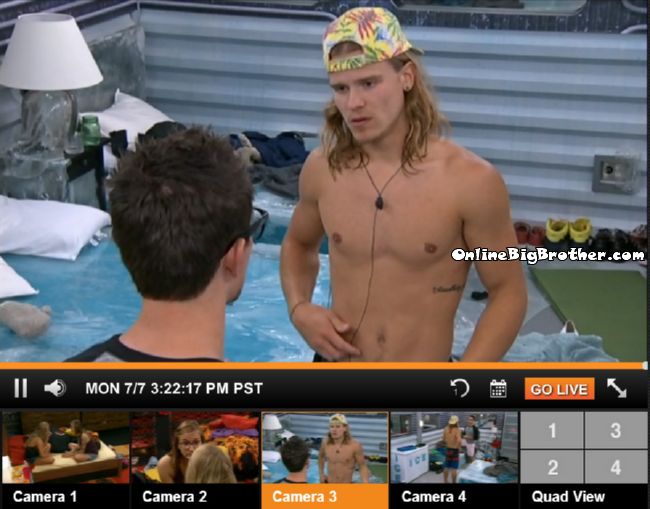 3:23pm Have nots Hayden and Caleb
Caleb says their alliance is still intact they have the numbers, Caleb – 'I will never put Zach up that was the Alliance's plan.. Devin made a HUGE mistake.. I told him to put Victoria up"
Caleb describes the Bomb Squad dream they all stick to the alliance and make it to Jury it was guaranteed Jury they only had to stick with the plan and not put each other up.
Caleb says if Zach keeps running his mouth he's going to end up going home. Caleb says his plan is "Push Devin out bring Hayden in" Caleb says he's got a top 4 and 5 because it is deserved, Hayden, Derrick, Caleb, Frankie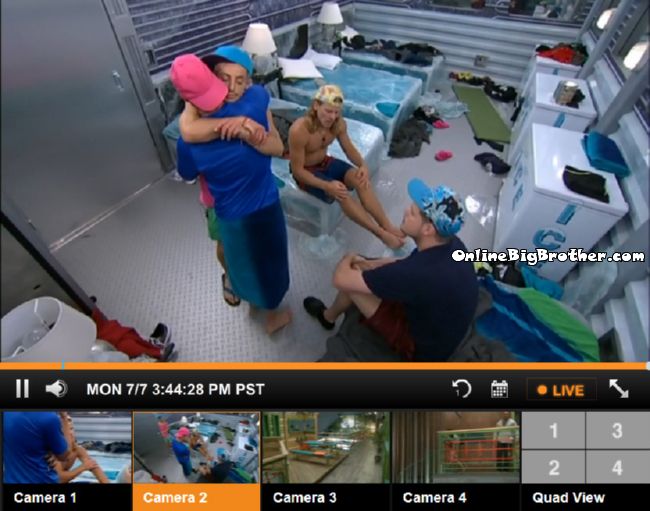 3:42pm Hayden and Derrick Have nots
Derrick says he's got to make sure 100% that people know Hayden and Nicole had no say in Devin's HOH. Derrick suggests he tells them if there's people going around saying they didn't know the nominations there was 2 other people in the room with hayden, Nicole and Devin.
Hayden rolls in tells Zach He's good let POW bury herself .
Derrick says Zach is good. Zach – "I need 6 vote no 7"
Derrick – "Don't be Joey she blew up"
Frankie comes in and gives him a hug, "It's all good"
Frankie – 'What's the plan"
Derrick leaves says he has to talk to Christine.

3:53pm HOH Caleb, Devin, Hayden and Frankie
Devin offers him a in with the bombsquad says the deal is for them to make it to Jury and never put each other up. Devin quickly adds he put Zach up because Zach had side deals going. (Devin is hilarious)
Devin – 'You are Guaranteed to make it to Jury Dude" Devin goes one about how tight and serious the alliance is put it's only good until jury. Devin – "We have the votes Zach is gone.. Pow is going next week.. we would like for you to be part of this.. if you want to be part of it we will protect you"
Devin wants Hayden to go around the house and help them deny the bombsquad exists.
Devin gets up on the TV screen and bring sup the Memory wall he starts showing Hayden the numbers.
Devin – "I would love for you to be part of this this is real we are your brothers we would all take care of each other"
hayden says right now everyone in the house is talking to him right now he needs time to process this all. Hayden appreciates Caleb's apology and knows Caleb didn't say he was using hayden like Zach said.
Devin – 'With that being said you don't want to me part of the alliance"
Hayden says he's not going to stay anything and he's not saying no he just needs time. Caleb chimes in says the bombsquad alliance is a guaranteed jury.
Frankie is quiet the entire time.
Devin says they had a 41.41% chance to get an alliance member in the HOH this week and it happened.
Hayden says the numbers work and it's keeping the strong in the house so ya he's down for that.They tells him Zach wanted to go up on the block he asked Devin yesterday. Hayden says he's always been up for taking out the weak players he thought everyone was planning that. Caleb says everyone outside their alliance have not shown or done anything they don't deserve to be in the game.
Devin – "You all for it"
Hayden – "ya"
Devin – "Welcome to the squad bro"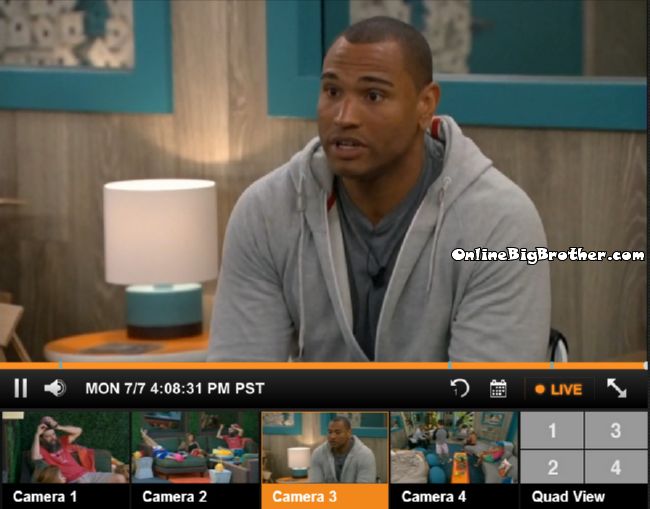 [polldaddy poll=8164185]