POV Holder:
Devin
Next POV
July 12th
POV Used
YES
POV Ceremony
July 7th
HOH Winner 1:
Amber
HOH Winner 2:
Devin
Battle of the Block Winner
Hayden & Nicole
Next HOH/ Next BOB
July 10/July 11
Original Nominations:
Devin's Noms (Pow Pow & Brittany) Amber's Noms (Hayden & Nicole)
Final Nominations:
POW POW & ZACH
Have Nots
Victoria Brittany, Zach and Derrick
POV Players
Host Donny, Players Devin, Brittany, POWPOW, Derrick, Zach, Amber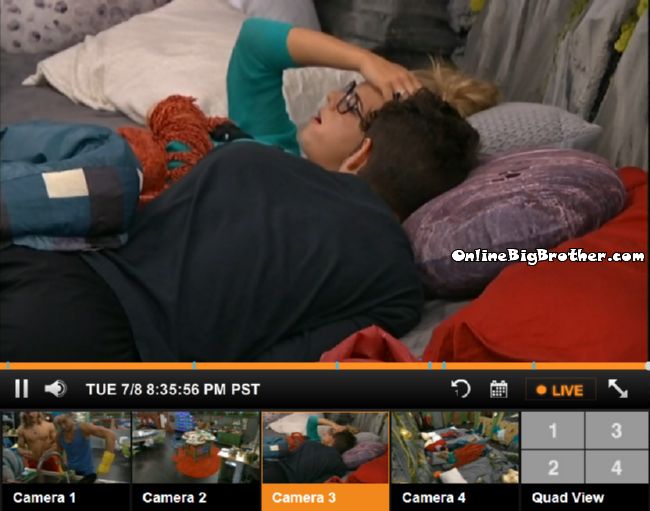 8:38pm Nicole and Cody
Nicole tells him they have the votes to keep Zach. Brittany is locked vote for Zach to stay. Nicole wants the vote to be 7-5 so they can fool the other side. Cody wants it to be 9-3
Nicole thinks Jocasta and Amber talk game. Cody doesn't think anyone talks game to jocasta but he had a good talk the other day about the power in the house.
Nicole – "I want to make a big mover so bad"
Cody just wants Caleb and Devin to know they don't have all the power they think they do.
Nicole says Caleb and Devin will be talking so much crap during the HOH. Cody isn't worried says Hayden is a BEAST and Cody is not going to let Caleb beat him. Caleb walks by 'You guys talking game" Cody – 'Who us.. a bit " Cody invites him to join them says they are mostly just bullshitting.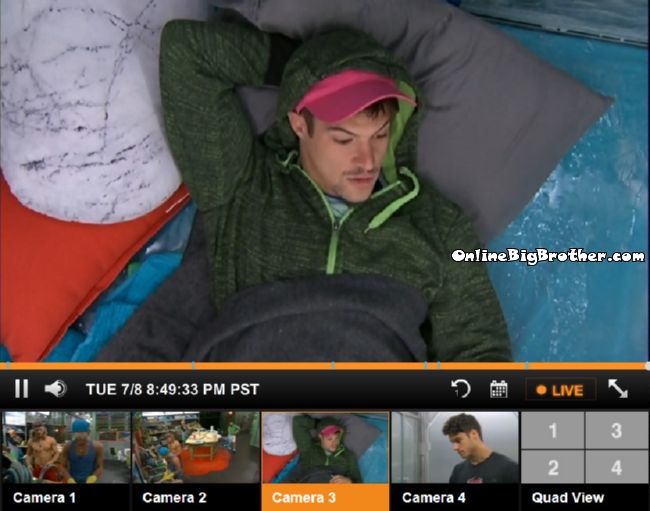 8:46pm Cody and Zach
Cody tells Zach they have the votes to keep him. "If the vote comes out 9-3 they will sh1t their pants.. Victoria is a key vote"
Cody says 'They" (Devin and Caleb) are pushing everyone in the house saying they have the votes to get rid of Zach but they don't have sh!t.
Zach counts his votes says the only people that are not voting for him are Jocasta, Amber and Caleb. That is why right before the HOH. Cody is going to work Jocasta and tell her she's voting against the house. Cody is going to throw his name out there. Zach – "you need to scare the F*** out of Amber tell her everyone is voting to keep Zach"
Cody "Hayden is a f****g beast I'm a Beast F***, F**** what they think they can do in a competition"
Cody says Victoria is really weak Devin was strong arming her she's legitimately scared.
Zach says they need the vote to be 9-3 or 10-2 Cody doesn't see them getting 10 votes.
Derrick rolls in says he thinks he's got Victoria, Cody is going to put his name on the line to try and get her vote. Derick is going to keep pushing Victoria telling her is Zach leaves she's the biggest target.
Zach – "I already have 7 locked up"
Derrick – "You need more"
Derrick says someone is Bullsh1itting them they should get 9 votes then at least if two are Bullsh1itting they still have the 7 votes.
Derrick says Donny scares him but Hayden is a lock.
Zach says he's got Frankie's vote, Cody doesn't thinks so, Frankie has him really worried. Derrick says Frankie has been super cool with him lately but still he warns them to watch what they saw to him.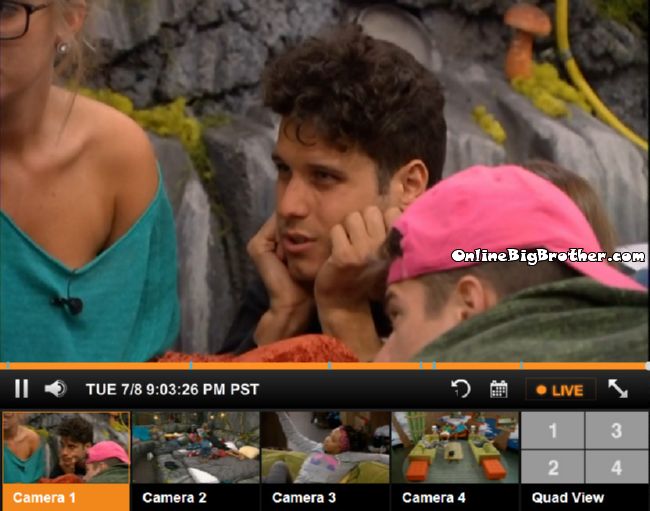 8:56pm ROCKROOM Victoria, Cody, Nicole, Zach, Christine
talking about the vote Zach tells them he wants the vote to be 9-3. Zach is pissed that Devin/caleb are going around tellign everyone the house is voting him out. Victoria says she's scared of Devin coming after her and torturing her. Zach tells her not to worry says he's going after Devin if he stays in the house, "If i'm in the HOH room i'm putting Caleb, Devin, Amber and Jocasta on slop". Cody hates the way Devin makes Victoria feel. Zach tells vIctoria he's the biggest target in the house Devin/Caleb are coming after him there's nothing to worry about if he stays either they win HOH or Caleb wins and puts Zach up.
Victoria just hopes it's going to work. Cody says there's no chance in hell he's voting to keep Zach. Nicole says they have 7 votes.
Try the feeds for free.. help out OBB and get them using one of the links on this site. You can go back and watch everything we showed on this site. A live feed subscription comes with access to the Big Brother Archive letting you rewatch from day one. It's a pretty sweet setup!
FREE 2 Day TRIAL! watch the ENTIRE Season of Big Brother 16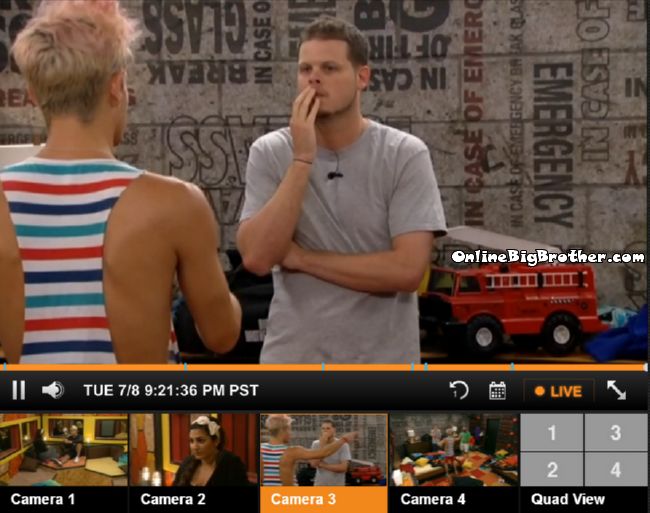 9:22pm FIREROOM Team America
Planning their votes Donny and Frankie are voting out Zach Derrick is voting to evict POW. they want the vote to be a 7-5 split so they can maximise the confusion in the house. They don't want either side to know where the votes went.
Derrick – I think we can all come to the consensus that the tide have turned on POW
Frankie agrees says keeping POW is the best plan for them.
Frankie – "we have to throw these girls under the Nicole, Jocasta, Amber"
Donny leaves, Derrick says they should go to Caleb tell him Zach is staying they can either vote with the house or vote against him.
Amber rolls in they strongly hint that they don't know where the vote is and Nicole has said she' voting out POW.
9:33pm FIREROOM Frankie and Derrick
Frankie says Zach's rant resulted in Cody not trusting him and if Cody wins HOH he's going to end up on the block.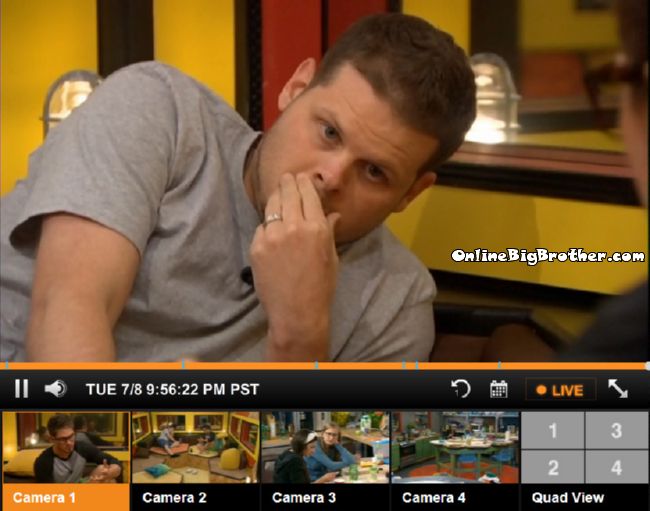 9:56pm Caleb and Derrick BEEHIVE
Derrick says it seems like something is going on. Caleb – "If you are true to what is going on we're going to have 6 votes."
Caleb counts his votes to evict Zach = Amber, Caleb, Christine , jocasta, Donny, Frankie
Derrick tells him he better hope they got those vote if they lose those two votes they are in the minority and if that happens they will be fighting for their lives the rest of the game.
Derrick – we got to play it safe
Caleb – What is playing it safe
Derrick – 'Well you and me we're safe"
Derick says Zach doesn't mind Caleb "He was not talking sh1t about you.. he wants Devin.. I don't think he can get Devin out"
Derick says if Zach stay and they don't show their cards it's a joey week.
Caleb says he can't trust Cody, "He told Devin straight up that alliance has his vote.. he's saying two different things to two different people"
Caleb doesn't think they have Hayden or Cody. Derick warns if Jocasta and Donny flip their vote they are in trouble. Caleb doesn't think Jocasta will flip he's certain it will be 6-6.
Derrick explains that they knew the eviction on Joey week because they control the vote if they keep Zach they know what is happening again because they control the vote. Derrick adds Just like last week we will
know who goes home.
Caleb – "Devin"
Derrick – "Who"
caleb – 'what"
Derrick points out that Zach will go after Devin and the girls, He's not a fan of Victoria and Brittany. Derrick says there will be no blood on their hands if they vote out POW, if they vote out Zach they got enemies. Derrick suggest Caleb talk to Zach and if he thinks he's being played they roll the dice but if they keep Zach theres five 5 people that will get taken out before them.
Caleb – 'I'm not going out before jury"
Caleb – "Our best case scenario for us next week is for Zach to stay"
Derrick – :His problem is Devin and only if he gets HOH is Devin in trouble"
Derrick says if Jocasta eisn HOH she's not putting Caleb up she's putting Zach up. Derrick explains they use Zach as their target, 'If we're on the block with him he's going home.. safe bet or the risk"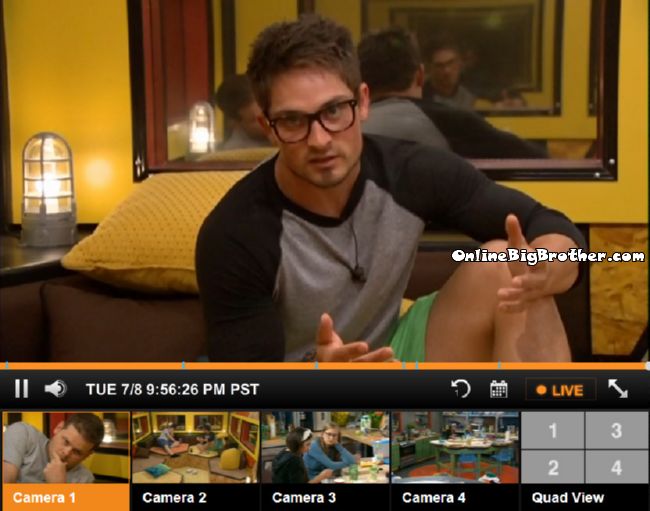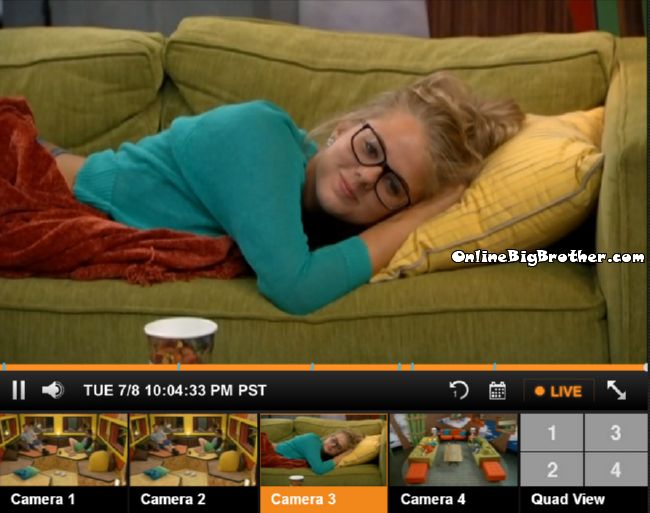 10:04pm Nicole to Zach "I'm excited for this upset"
10:21pm Derrick to Zach 
Derrick – "You're boy came through for you your 100% Staying.. I've convinced Caleb to keep you he's in the BEEHIVE room waiting for you"
Zach goes to talk to Caleb.
Cody says this means if he wins HOH he can't put up Calen. Derrick explains to him they do not want to go to battle right now. Derrick says now Caleb is going to get his people to vote to keep Zach.
Derrick – "we're getting POW out That's one of their people"